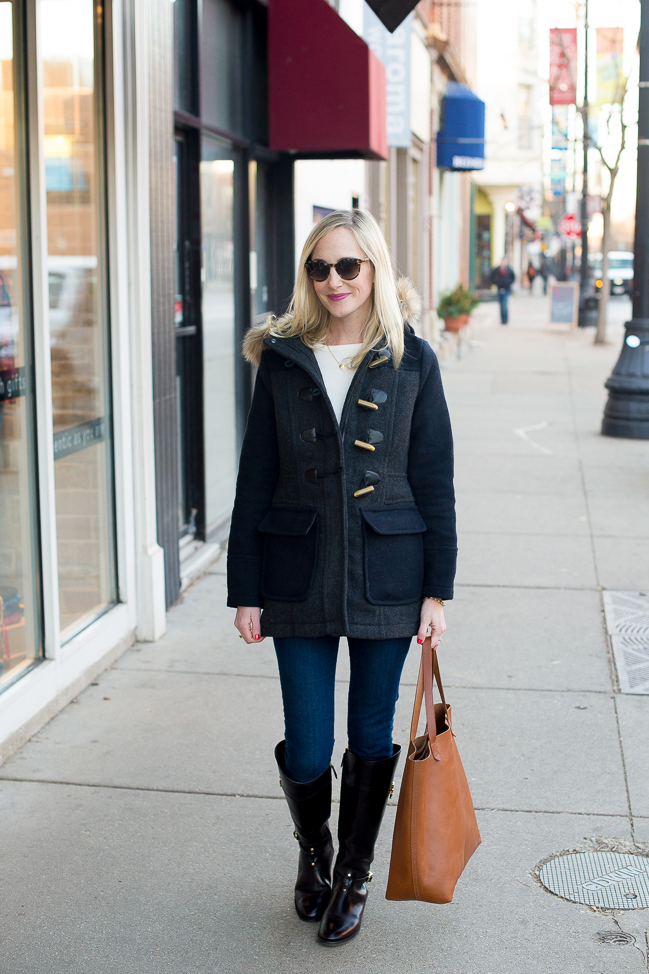 Piperlime Toggle Coat and Sweater (c/o) / J.Crew Jeans (Mine are sold out, but I love the new "Kelly" wash! Not because of the name. I swear.) and Earrings / Kate Spade Sunnies (Old, but newer styles here) and Bow Ring (Adjustable version here) / Madewell Transport Tote / Daniel Wellington Watch (c/o — Take 15 percent off with code "KELLYINTHECITY") / Joyiia Necklace (c/o — A portion of the proceeds goes to Safe Passage!)
Toggles. So cute, right? They remind me of Paddington Bear, visits to my grandparents' house out on Long Island, and trips to London with my mom and Mitch. (Well, isn't this post reminiscent of the tartan/Barbour post from a couple of days ago? ;))
But yeah: I love 'em. And I'm completely in love with my new coat (and sweater, complete with elbow patches!) that Piperlime recently sent me as part of its #momentsofchic campaign. I know that I usually skip over collaboration details (mostly because I don't think anyone wants to hear about them), but this collab was particularly interesting and fun. The Piperlime team actually hand selected items for all involved bloggers… so we didn't know what was coming! I have to admit that I was a bit nervous about what would arrive, but I adore my new gear as well as Piperlime's new collection. Perfect for the frigid temps we've been experiencing here in Chicago! :) And quite adorable.
But back to life!
Today, I'm tending to the mess that is both my apartment and e-mail inbox. Sigh. Guys, I currently have 50,445 unread emails, haha. I know, I know. Awful. And it's not because I get a ton of messages, either. It's just one long disaster story. (And a running joke with my family and friends.)
The short of it, though, is that I messed up after I got married and changed my email address. Understandably, I wanted a new email address to reflect my new name, but I hated the idea of "losing"  the messages from my first account–especially since I used GMail like a hard drive. So I imported my old emails into my new account.
Big mistake. I'm not the most computer-savvy person out there, so I have no idea how or why this happened, but every imported email–dating back to 2004–showed up as "unread." I know that I easily could have just marked everything as "read" upon importing, but unfortunately everything wasn't "read" at the time. So I didn't.
Another big mistake.
I suppose that's when it all started to spiral out of control. Work got crazy, blog-related emails starting coming in more frequently, I was busy creating content with what free time I actually had, and I moved cross-country–all factors that prevented me from working on cleaning up the inbox disaster. (I know. Excuses, excuses.) A year later, it's worse than it's ever been, and I'm constantly missing important messages from friends, family, bloggers and companies.
Clearly, the madness needs to stop, and so does the procrastination that caused this mess in the first place. So I'm starting today. (I seriously dream of a clean inbox!) Any tips for this disorganized gal? I'm working backwards, but I'm honestly not sure whether that's the best plan of attack! ;) #help
Photos by Jess (Thanks, #blogwife!)