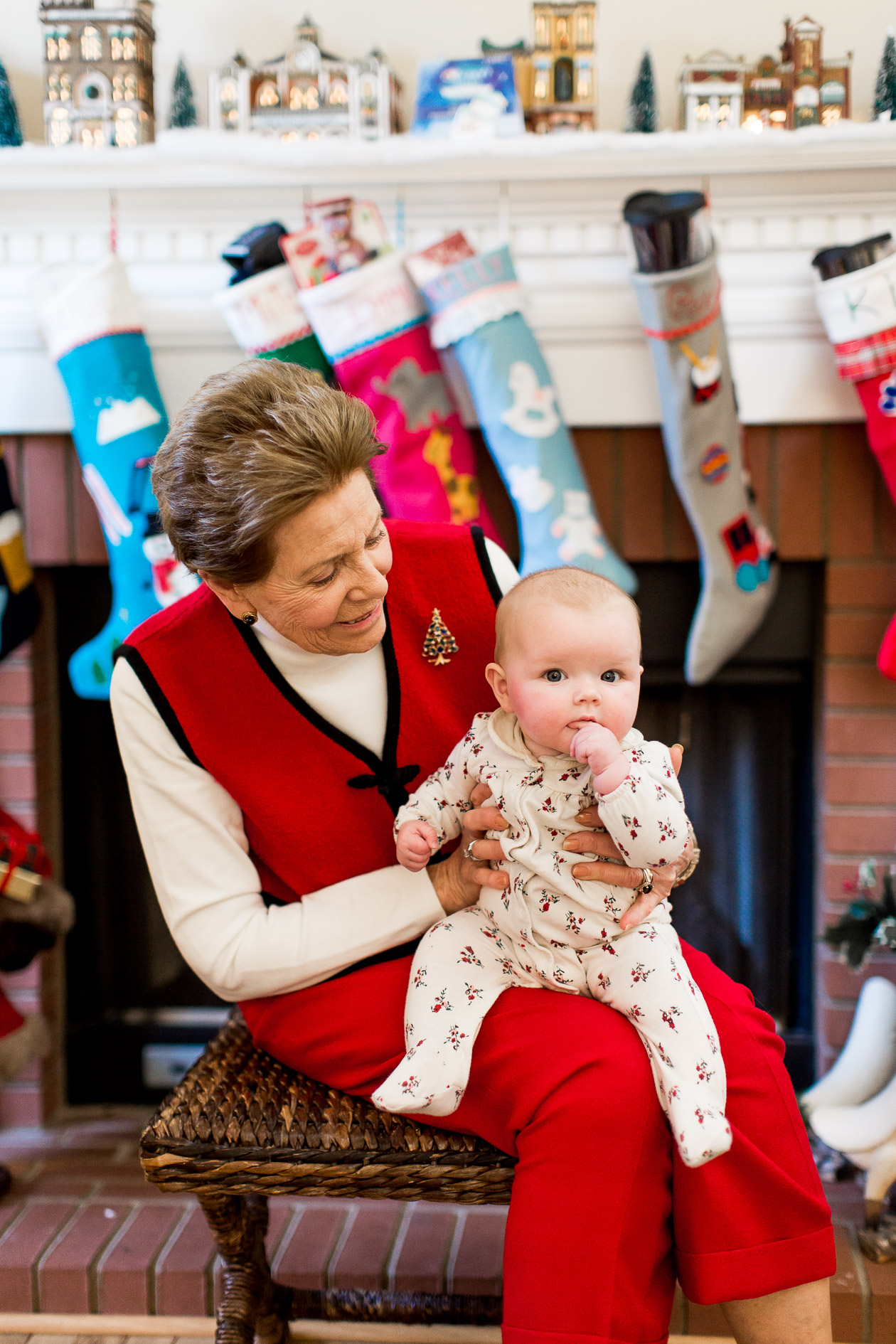 I have a confession: my hard drive is full. The reason? Emma photos. (Surprise, surprise.) She's growing and changing so much that I just can't help myself. I want to remember everything! But note to self: next week will be spent backing up my photos and getting rid of that "spinning wheel of death."
So here are 25+ photos of Emma's first Christmas, which we celebrated at my parents' home in Bucks County, Pennsylvania. I thought today was the perfect day to put them up, considering that this is the last time I can post Christmas stuff before it becomes kind of weird. ;) And since 2016 brought Emma into our worlds, I think there's no better way to celebrate this past year than by posting a gazillion snaps of our little girl!
I should mention that this trip wouldn't have been possible without the help of our favorite Dr. Brown's products. Twelve-hour road trips are no joke, and they're especially no joke when you have an infant in tow. In case you're wondering, I sat in the backseat with Emma for the entirety of the trip, and we ate and played and sang and slept together. From bottles and teethers to pacifiers and toys, our Dr. Brown's stuff kept us entertained and happy!
The Dr. Brown's products came in handy at my parents' home as well. As Emma recently started teething, her Ridgees toys were lifesavers. Developed by a pediatric dentist, they have textured surfaces to help sore gums, and they reach all areas of the mouth. (They're also freezer safe!)
Emma also used her Coolees Teethers, which are made to hold in the cold and to soothe sore gums. (Also freezer safe.) Timmy the Turtle Lovey Pacifier and Teether Holder brought us comfort during our roughest bouts of teething, too. Similarly, Gerry the Giraffe Lovey Pacifier and Teether Holder (the first toy that Emma picked up all on her own!) provided a ton of happiness. Gerry features multi-textured materials, is easy to clean, and holds Emma's pacifier so she's less likely to drop it on the floor.
As for that pacifier, we were big fans of the PreVent Contoured Pacifier. It has all the same benefits as the Regular Shield PreVent Pacifier, but it has a contoured shield design to keep the shield from touching Emma's face, and therefore helps to prevent any dental issues. For feeding, we brought our Options Pink Bottles, which gave us the option to use the bottles with or without the vent system. When Emma was having tummy issues, we used the vent system, and when wasn't, we went without!
Because of Dr. Brown's, Emma was all smiles and participated in nearly every Christmas-related activity! She did end up going down for a three-hour nap and missed the filet mignon, but we're not quite at the whole solid foods stage yet anyway, haha. Really, though: it was probably the most magical holiday I've ever had, save for that one Christmas when I found Little Foot under the tree. ;)
Anyway, stay tuned for Mitch's travel post, Noodle's New Year's Resolutions post, and my "Year in Review" post. And eventually, my resolutions post. (Is it bad I haven't even started thinking about those yet?!) For now, though, those 25+ pics of the little girl who's captured our families' hearts so completely. :)
Hope everyone has a happy (and safe) New Year's! Thank you for being a part of our lives, and sharing in the joy that 2016 brought us.
This post was sponsored by Dr. Brown's, but all opinions are our own. Thank you so much for supporting the partnerships that keep Kelly in the City up and running!