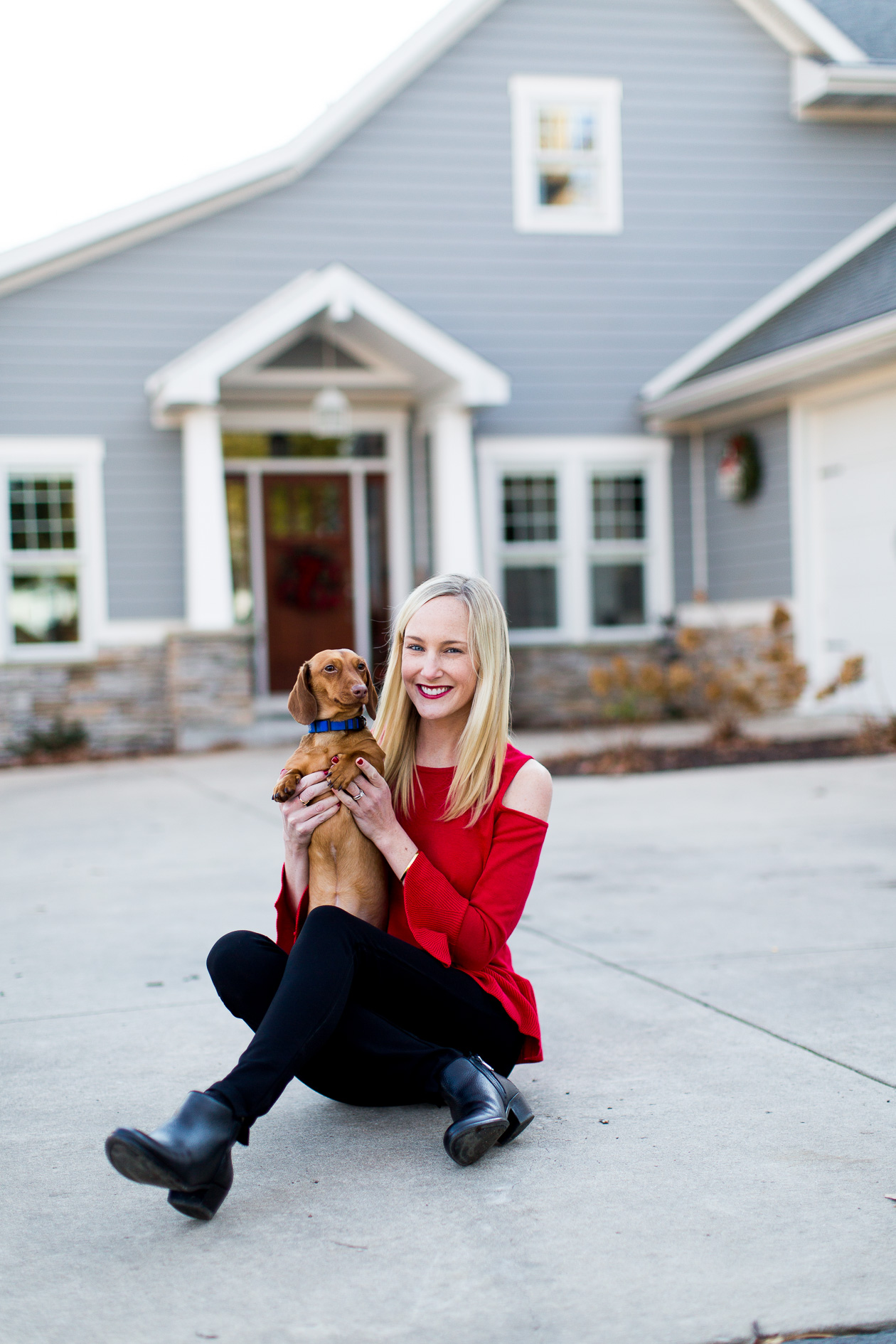 CeCe Sweater and Ponte Pants c/o Macy's / Similar Booties here, here and here / Similar Bracelet
By the time that we arrive back in Chicago on January 2nd, the Larkin Family will have been on the road for over two weeks. Seventeen days, to be exact! While I normally pack WAY too much for our holiday trips, I was really good about it this year, and packed only four sweaters and four pairs of shoes, since sweaters and shoes tend to take up the most space in my suitcase. Yes, running this blog is a bit challenging while living out of a suitcase for over two weeks, but I've been astounded by how much easier traveling has been when I simply bring less.
After New Year's, I'm going to write a post about exactly what I packed and how I decided on those things, but for now, I thought I'd show you a couple of pieces that I got quite a bit of wear out of. The first is this pair of ponte pants. I had a pair of ponte pants a couple of years ago and used to wear them all the time, but I slipped on the ice during my first Chicago winter (#truth) and tore a hole in the knee. I couldn't find a replacement that fit me well, so I went without until I recently found this pair from CeCe. If you're a ponte pant newbie, a good pair is just like any good pair of leggings: super comfortable, but thicker, warmer and more versatile. True leggings, in my opinion, should be reserved for oversized sweaters… but ponte pants provide far more coverage and therefore can be worn with shorter tops. The CeCe pair is awesome because they feature a mid-rise cut, which really minimizes any leftover cookie or baby bumps, and they're machine-washable. (As you know, my baby puke game remains STRONG.)
As for the cold shoulder sweater (also from CeCe), look at me being all trendy! :) I'm sure you've noticed, but I'm pretty much the last blogger to jump on trends. I swore up and down that I hated over-the-knee boots, for example, and then last year, I was suddenly like, "Oh my gosh. I love them." I mean, it's definitely because my Chicago girlfriends have such great style. Isn't it funny how your taste can change so significantly depending on who you spend the most time with?! When I'm back with my family on the East Coast, I totally revert to 100-percent prep, but when I'm in Chicago, I'm all about the boho rugs and whatever trends my girlfriends are into. (Love you, guys! Thanks for expanding my horizons!)
Anyway, my first inclination was to get the sweater in white, black or gray, but I'm so glad I went with the red. So far, I've worn it to three nighttime events during which I didn't want to be cold. (And yes: I realize the irony in that statement, haha. But any sweater–even one doesn't have shoulders–provides more warmth than a flimsy silk or polyester top!) I love the ruffled sleeves and hemline, and I can't tell you how many compliments I've received on its color.
I'm so in love with the entire CeCe collection, available at Macy's. Think: everything girly, and tons of ruffles, lace and bows. My eyes are on this collared sweater, this striped dress (look at the bows on the sleeves!), this bow sleeve blouse, this tweed dress, this sequined dress, this bow coat, and this ruffled turtleneck. You can shop some of my other faves from CeCe above!
What are your go-to items that you pack for winter trips? I'd love to include readers' advice in next week's post!
Shop the post:
CeCe Sweater and Ponte Pants c/o Macy's / Similar Booties here, here and here / Similar Bracelet
This post was sponsored by Macy's and ShopStyle, but all opinions are my own. As always, thank you so much for supporting the partnerships that keep Kelly in the City up and running!