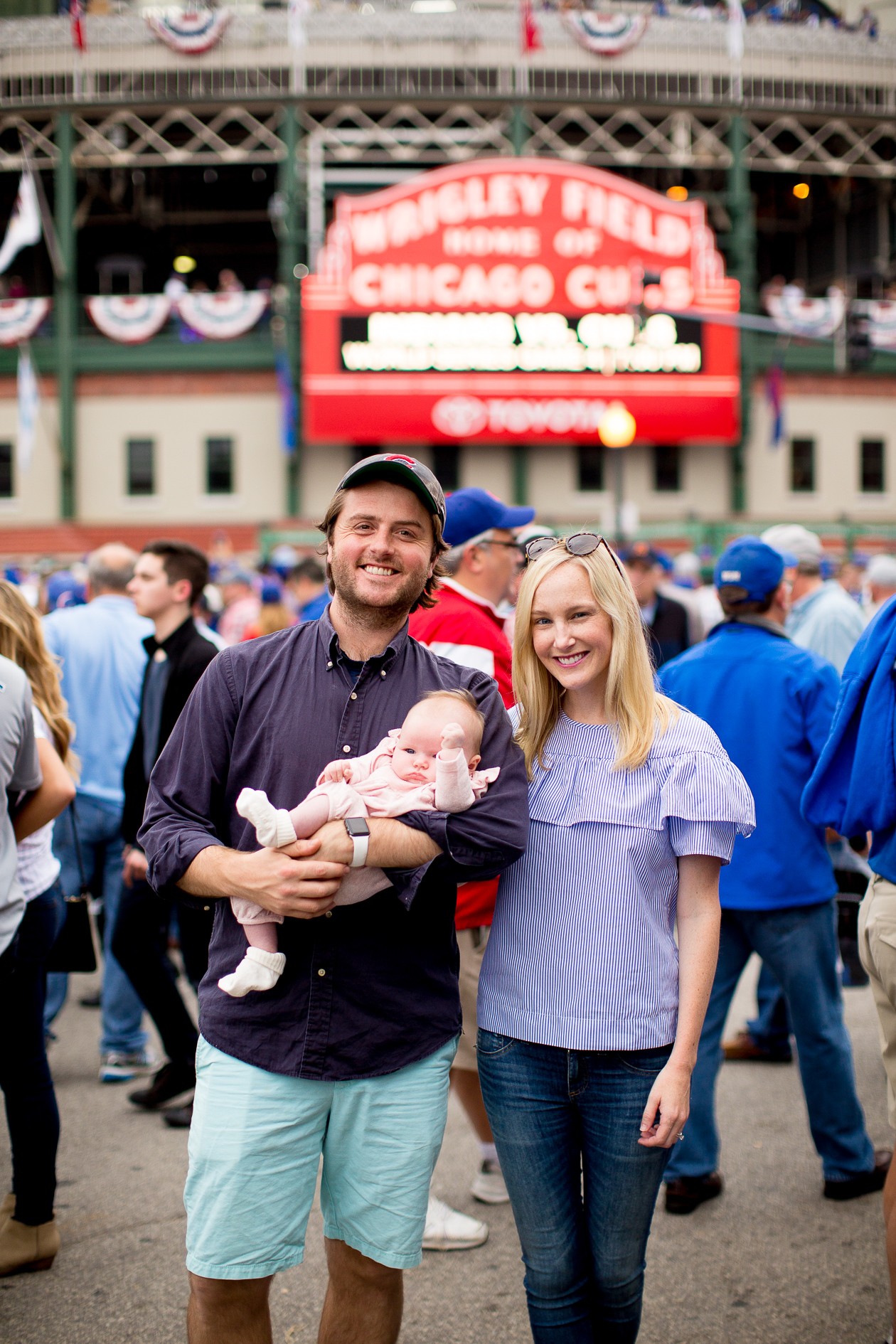 Wearing: Favorite Jeans (They're on sale! Don't worry — I now have a couple of pairs!) / Ruffle Top (Under $35 today! Also available here. See my other favorite ruffled tops below.) / Pumps c/o (Love these, too.)
Emma's wearing: Pink One-Piece

Tonight is a BIG night for the Cubs, so in honor of the game, I thought I'd share some photos of Emma's first trip to Wrigley! Our little family walked up to the neighborhood and stadium this past Saturday, and we had a ton of fun soaking up the excitement of the World Series. Needless to say, we feel very lucky to live so close to all the action!
We went up before the game started, as we didn't want to be there for the craziness that usually ensues during and after. Wrigleyville is well known for its lively bars and house parties, and we decided that the nighttime atmosphere probably wouldn't jive well with a baby. ;) But there were tons of kids up there during the day, and Emma clearly had a great time!
Something that's taken us a while to master as new parents is traveling with baby. Whether we're walking around our own neighborhood or taking a walk to another one, we've learned that we need to be prepared for anything and everything. I'm currently using this tote in the medium size (I have it in navy!) from MZ Wallace as a baby bag, as Mitch isn't embarrassed by it and it doesn't actually look like a diaper bag. It's also squishy and therefore fits under the stroller super easily. But it's not the bag that's most important. It's what's inside. And that can be the difference between a great trip and a disastrous one! ;)
First, I always make sure to pack Emma's favorite bottles from Dr. Brown's. They're called "Options Bottles," and for a good reason: you can use 'em with or without the green vent system, which helps reduce feeding problems, aids in digestion, and preserves vitamins. We love it, as it seems to really help Emma with gas. But lots of parents remove it once their baby's feeding develops. (As you can see, Emma loves the food, haha. So that might happen for us sooner rather than later!) We fill the bottles beforehand and store everything in our Insulated Bottle Tote, which includes a freezable gel pack to keep bottles cool but also has a thermal interior that insulated warm bottles.
And yes: in case you're wondering, I still breastfeed Emma. I'm just personally not so great at nursing in public, as I'm kind of shy and have flashed way too many people over the last three months. I pump and we use formula when we're in a pinch, and this has worked well for us. Every family is different, though! I know I stress this all the time, but I think it's very important that mothers support each other's decisions, even if they're different from our own. :)
I also always have Dr. Brown's Nose & Face Wipes in my tote. Bottle-feeding can get messy, but these wipes are a savior! They safely clean the nose and face and dissolve mucus, and they gently moisturize sore, stuffy noses. They're great for spit-up disasters, too! Mitch is a big fan of the Pacifier & Bottle Wipes as well. We drop our fair share of pacifiers and bottles, and we used to have to carry a TON of them for that reason. Now, though, we can get away with bringing just a few, and things are a lot more orderly as a result.
While we use these pacifiers on the regular, we recently introduced Gerry the Giraffe to Emma, and she LOVES it! She just started showing an interest in toys this past week, and it's been so fun to watch her with Gerry. He definitely comforts and occupies her, but he also weighs the pacifier down and therefore the pacifier is less likely to be lost. We love Gerry, haha!
Anyway, I know it's only Tuesday, but I can't WAIT for this weekend. We're planning on spending some time in downtown Chicago as well as driving out to Barrington to see the estates. A big thank you goes out to Dr. Brown's for making our family weekends so easy and fun!
Also: cross your fingers for the Cubs tonight. (Did you SEE Emma's Halloween costume yesterday?! Hehe!)
Go Cubs Go!
This post was sponsored by Dr. Brown's, but all opinions are our own. Thank you so much for supporting the partnerships that keep Kelly in the City up and running!