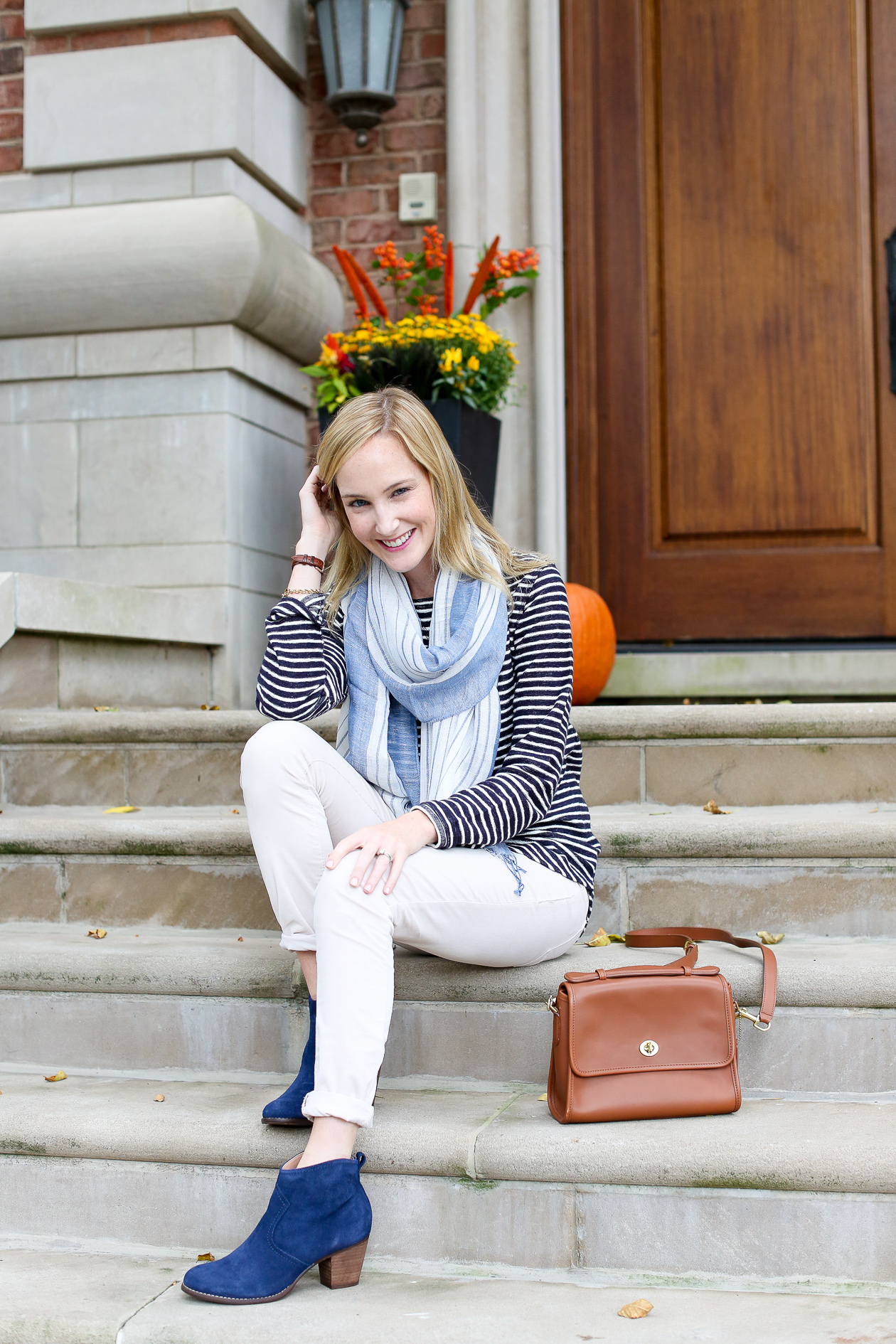 Lands' Terry-Like Top, Chambray Scarf and Booties c/o / Coach Bag (It's the "Court" bag — available soon!) / Daniel Wellington Watch c/o / Blank NYC Cords (Old, similar here)
I think it's become pretty clear that I've yet to find my tub of fall clothing in our mess of a basement. ;) I tell myself every day that I'm going to go down there and attempt to locate and organize stuff, but then… I don't, haha. It's just so daunting. Plus there's the issue of where to put the sweaters, puffer vests and corduroys once I actually find them. Piles on the floor? Under our twin-sized beds? Maybe it's time to invest in a guest room dresser. Or maybe it's time to start rebuilding! (Update on that soon, I hope!)
Thank goodness for Lands' End. The brand, which is making a HUGE comeback in my opinion, has made dressing for fall without a bedroom or closet a lot easier for me. ;) They sent over a fall care package a couple of weeks ago, and I've been living in its contents. (#lifesaver) I can't get enough! The brand is currently carrying a ton of stripes, and it has some pretty amazing designer collections. The best part? Everything goes with everything. The mix-and-match possibilities are endless, and Lands' End proves that you don't need to invest a ridiculous amount of money into your wardrobe to create fresh, fall-ready looks.
And have I spoken at length about these boots, yet? Don't waste your money on other brands' more expensive versions. These are the comfiest booties I've ever owned. Typically, my feel hurt even in kitten heels, but the 2.5-inch Lands' End Harris Booties are honestly more comfortable than my flat boots. Now sure how it's possible to walk several miles per day in heels without so much as a little discomfort, so I really can't recommend them enough. I have them in both navy suede and brown leather, and I've been wearing them every day! (Ahum, ahum. As if you haven't noticed.)
Anyway, today I'm working on some pretty fun projects: creating a gallery wall with Minted, shooting with Jess, organizing my office for an upcoming collaboration, and tackling my email inbox. (We'll see if the last one works out.) Mitch and I also FINALLY sold our old couch on eBay, so we're looking forward to unloading it tonight and reclaiming our dining room!
What are you up to today?
And with that, this girl is off!
PS — Thanks for all your sweet comments and recommendations yesterday. They meant the world, and they were so helpful!