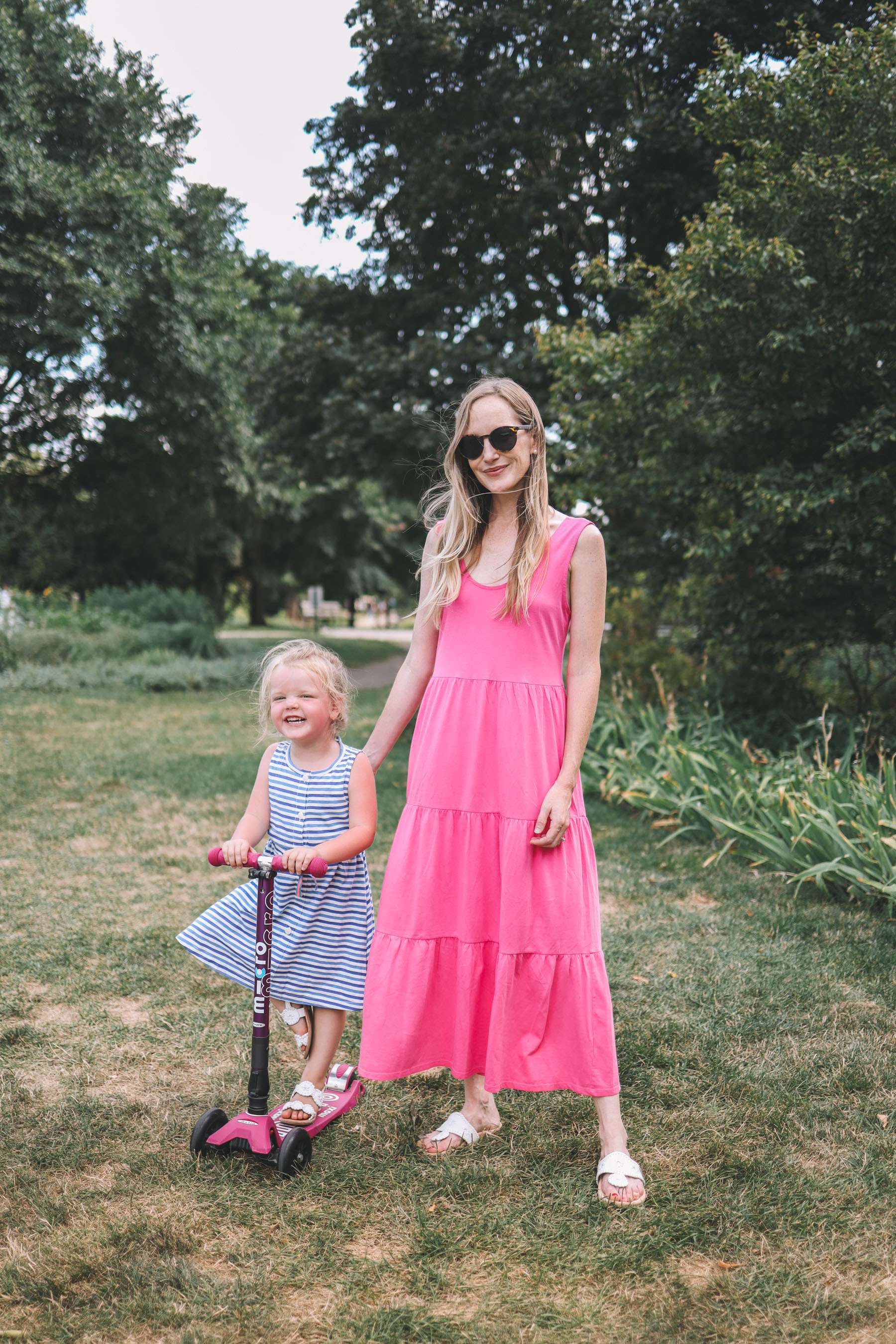 Jack Rogers Comfort Sandals c/o (Shop the entire Comfort Collection here. I also love the Leopard, the Cork and the Slide versions.) / Same Tiered Knit Maxi Dress (Here with lace at the bottom. Similar here.) / Kids' Jack Rogers (Emma's are rare toddler Jacks that are sadly no longer carried. But they're called the "Little Miss Lauren," and I'm just a psychopath and ordered several sizes for the girls because I sensed they were being phased out.) / Emma's Dress & Lucy's Dress / Play Mat / Stroller / Scooter
It's happened, guys.
Jack Rogers launched a comfort collection, and they're available for pre-order.
The brand sent me the "Jacks Comfort Sandal" for an Instagram we're doing together, but I also wanted to give you my honest thoughts on 'em today on the blog:
They're GREAT. More below, haha. But I highly recommend.
The between-the-toes thong takes a little time to break in, but nothing else does. The original sandal isn't really known for its footbed comfort, which is why an old pair is often more coveted than a brand new pair. (Though the footbed has been improved in recent years. And the sandals are worth the break-in time. 😉 They're classics!) The Comfort Sandal, though, feels like a soft little suede cloud. The molded foam wrapped footbed was created with all-day extended wear in mind, and it follows the contours of your feet. Minimal break-in time!
The "Jacks Comfort Sandal" looks very much like the original. It's an iconic style, and it isn't lost here! I assumed that they'd have the same look as a clunky Birkenstock–which, btw, I love as well 😜–and while they do have a little bit of that, they lean more toward the Jack style.
The regular comfort sandals are better than the cork ones in terms of actual comfort. I tried the cork ones a few months ago, and I did really like them. (Thought their comfort factor was an improvement over the originals'.) That said, the regular comfort ones are a lot comfier.
I went up a half size. I'm a true 7.5, and tried both the 7.5 and the 8. My heel hung off the back of the 7.5, but the 8 worked perfectly!
They're great for mom-ing. Obviously this is 2020 Kelly speaking, but I'm not sure I'll ever wear real heels again. A one- or two-inch chunky pump? Okay. But I think that's about it for me. I'm just such a happier person in comfy footwear, and life's too short to be in pain! But yeah. The Jacks Comfort Sandal is great for when I'm running around with the girls.
I love all the colors. I've always been a huge fan of white Jacks because I think they're timeless and make outfits pop. But I also love the platinum, navy and black colors offered for the Jacks Comfort Sandal. (Really into simple black t-shirt dresses right now, so I think the black would be a great addition to my wardrobe!)
I'm intrigued by the "Lauren Comfort Sandal." Has anyone tried it? Thoughts?
Anyway, I love these photos. We took them this past weekend in Lincoln Park–and the cutest part is that Emma was behind the camera for a LOT of them. I can't get over how good she's getting; she asks for the camera almost every time we spread out the play mat… and I have to admit that I always hand it over to her because her work is excellent and it gives me a much-needed work break. 😂 Thanks, Emma! 
Shop the post:
Jack Rogers Comfort Sandals c/o (Shop the entire Comfort Collection here. I also love the Leopard, the Cork and the Slide versions.) / Same Tiered Knit Maxi Dress (Here with lace at the bottom. Similar here.) / Kids' Jack Rogers (Emma's are rare toddler Jacks that are sadly no longer carried. But they're called the "Little Miss Lauren," and I'm just a psychopath and ordered several sizes for the girls because I sensed they were being phased out.) / Emma's Dress & Lucy's Dress / Play Mat / Stroller / Scooter