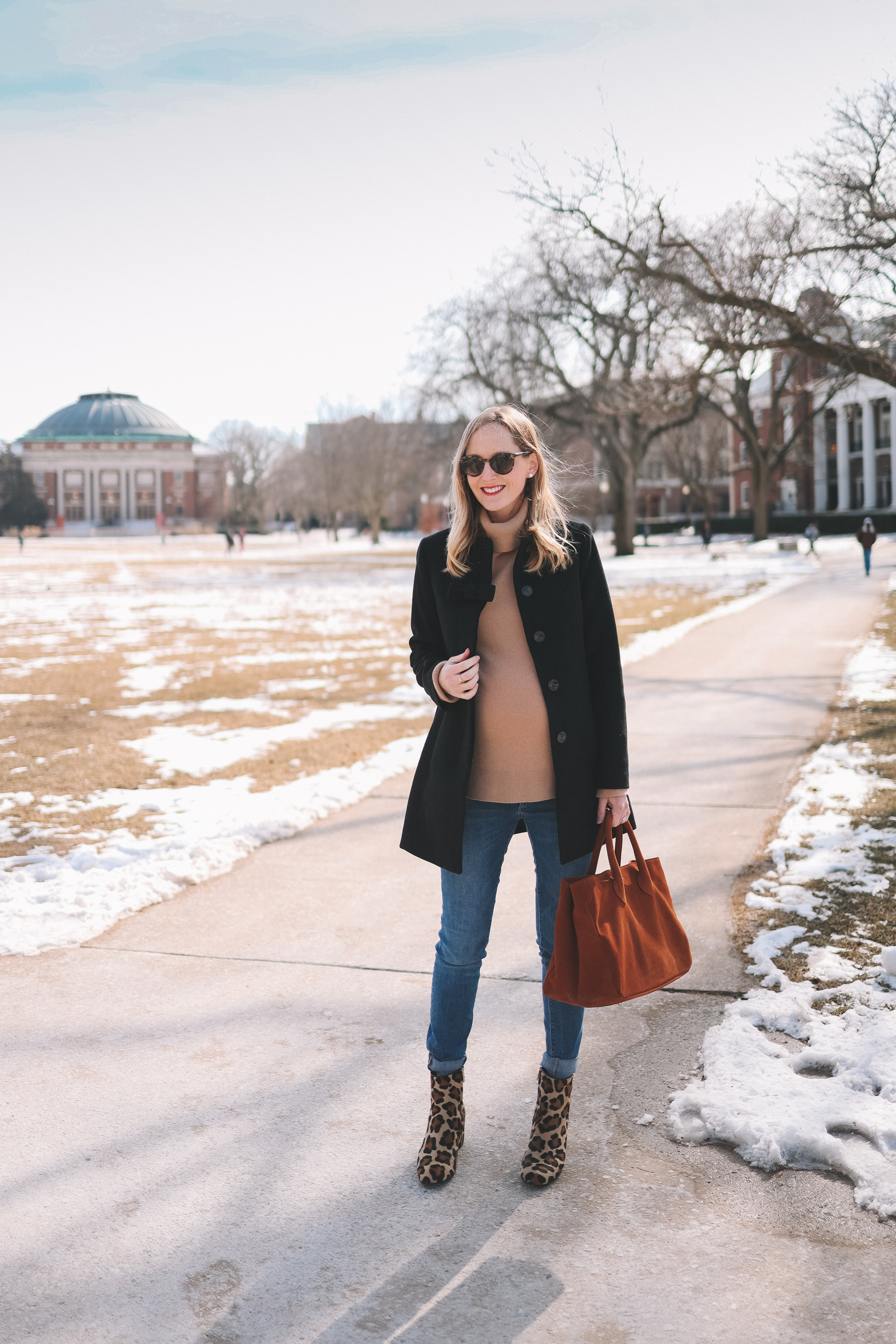 Margaux NY "The Boot" in Leopard c/o (Also comes in brown and black.) / Black Bow Coat (Looking for a classic black wool coat that won't break the bank? This one is great!) / Turtleneck Cashmere Sweater (Mine is the older version. If you're pregnant, go up two sizes. Looking for camel? Try this one, this one, this one and this one.) / Mark & Graham Suede Elisabetta Tote (LOVE this tote. I also have the pink version, and I'm swooning over the navy.) / DL 1961 Maternity Jeans (These light wash maternity jeans are better, though, in all honesty! Also on sale! Also, OMG. Gap just came out with white demi-panel maternity jeans. FINALLY!)
I won't lie: Getting dressed in the morning has started to become challenging, never mind putting together outfits that are "blog-worthy." 😂
But I felt somewhat put-together in this very simple look–comprised of mostly basics–that I wore on our drive down to Nashville last week! Huzzah. Thirty+ weeks and going strong. ;) Btw: Here's my 30-piece maternity capsule wardrobe, in case you're struggling, too.
These photos were taken on the quad at the University of Illinois, where we stopped off for lunch. Mitch went to undergrad at U of I, and we try to get down there every couple of years so he can walk down memory lane. It's now pretty special to me, too, since we've been so many times! He actually took me a few months after we started dating, and I remember walking around campus with that butterfly feeling in my stomach. And now here I am, with a basketball in there, haha. Oh, how things have changed! 😉
Everything that I'm wearing is linked above and below, but I definitely want to highlight the gorgeous leopard booties that my friends at Margaux NY sent me recently. As Jenna Lyons says, "leopard is a neutral." But I really miss my leopard shoes in the winter; it's just too cold to wear them most days! Which is why I was so excited to discover the Margaux boots, as they allow me to get the look when it's freezing, too. They also have a 2.5-inch heel and 5mm of foam padding, which means that they give me some height without compromising comfort. (Walked all day in 'em and no problem whatsoever.) And because they go up a bit higher, I can wear socks without worrying about them showing. SUCH a game-changer!
In terms of sizing, I would go up a half size. I normally wear a size 7.5, but took these in an 8 so I could wear socks–not just hosiery–with them. My friend Carly, who originally recommended them to me, also went up a half size!
That's about it for me today!
We're currently getting ready for our LAST press trip before Baby #2: Rhode Island. Yes, we went a little nuts with the travel this season, but this godforsaken winter has been tough on my already suppressed immune system (due to pregnancy), and I think getting away is the only reason I haven't been sick the entire time, haha. Of course, Rhode Island isn't exactly going to be warm 😂, but we're planning on treating it as our "babymoon," and taking things nice and slow. I'm excited for some quality time with Mitch, and to kick back and relax before things get hella crazy for the Larkin Family. ;)
Over and out; catch you back here tomorrow!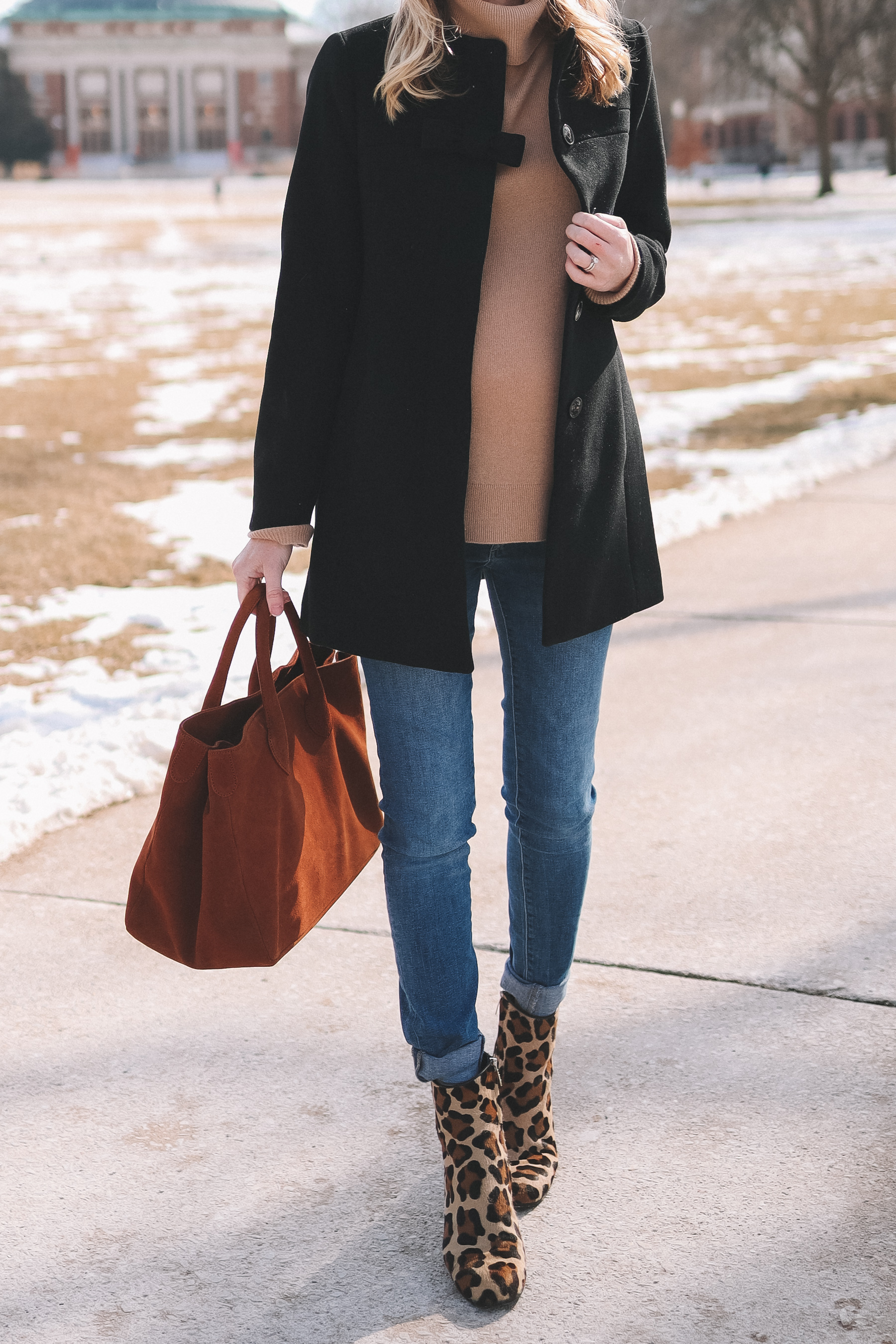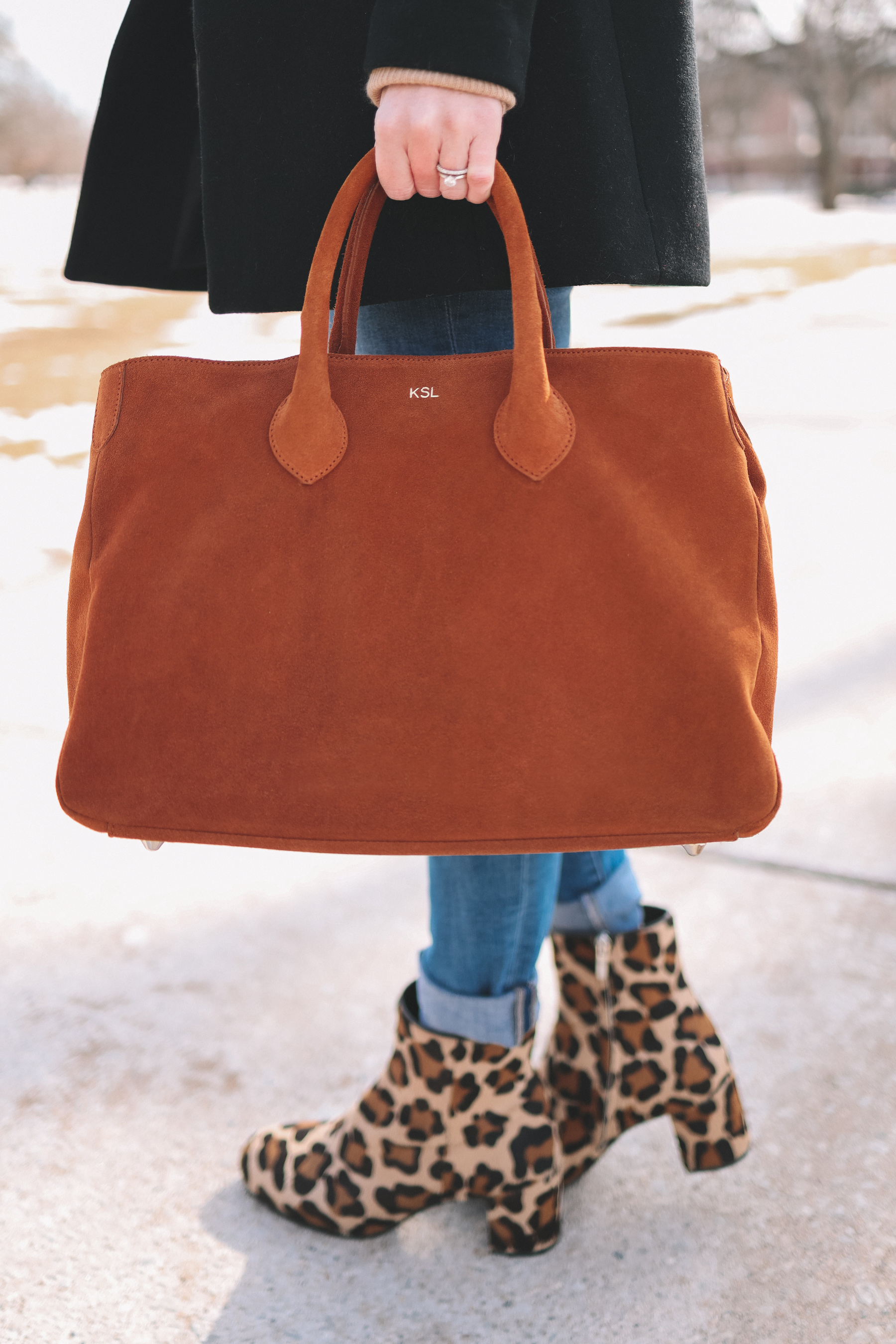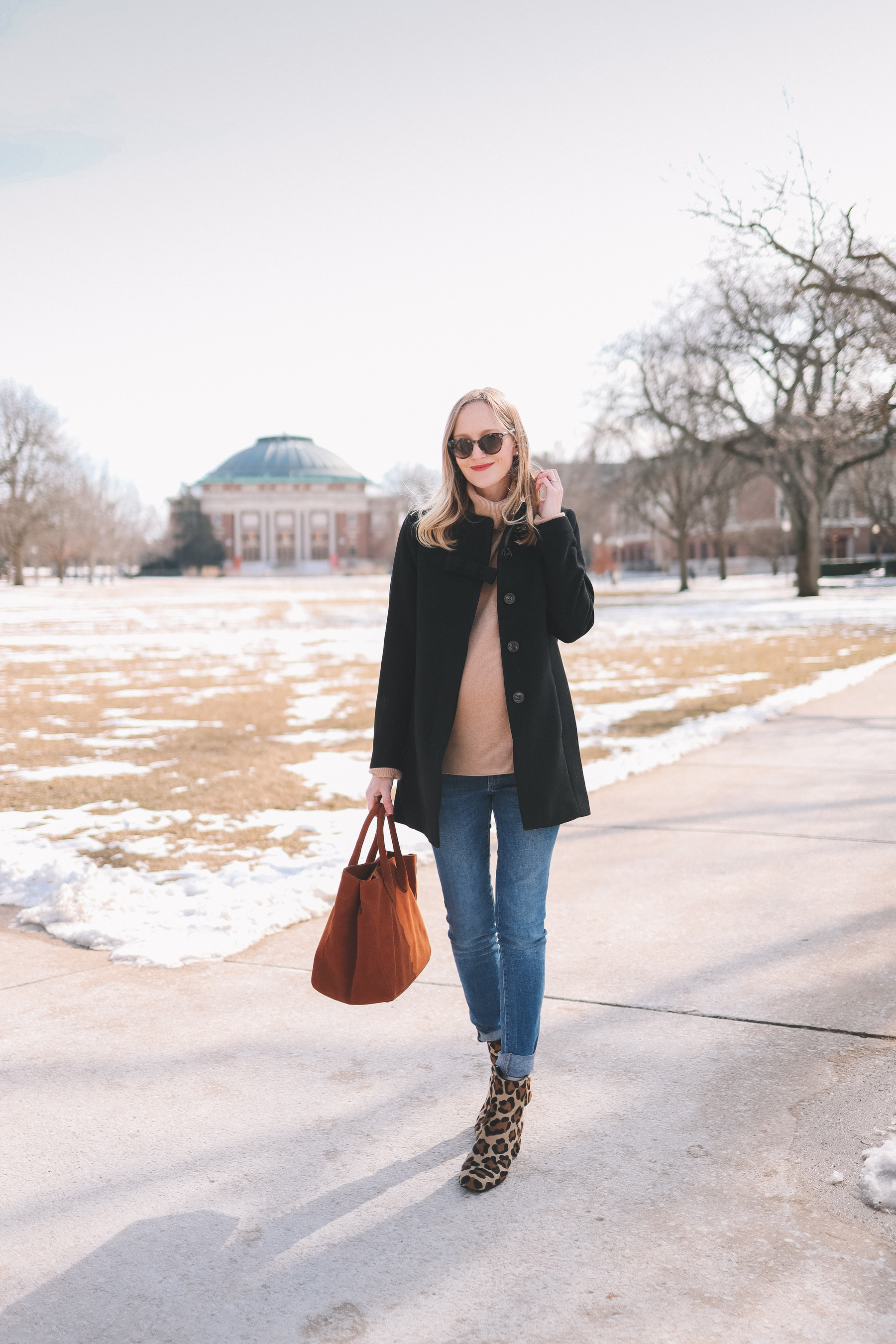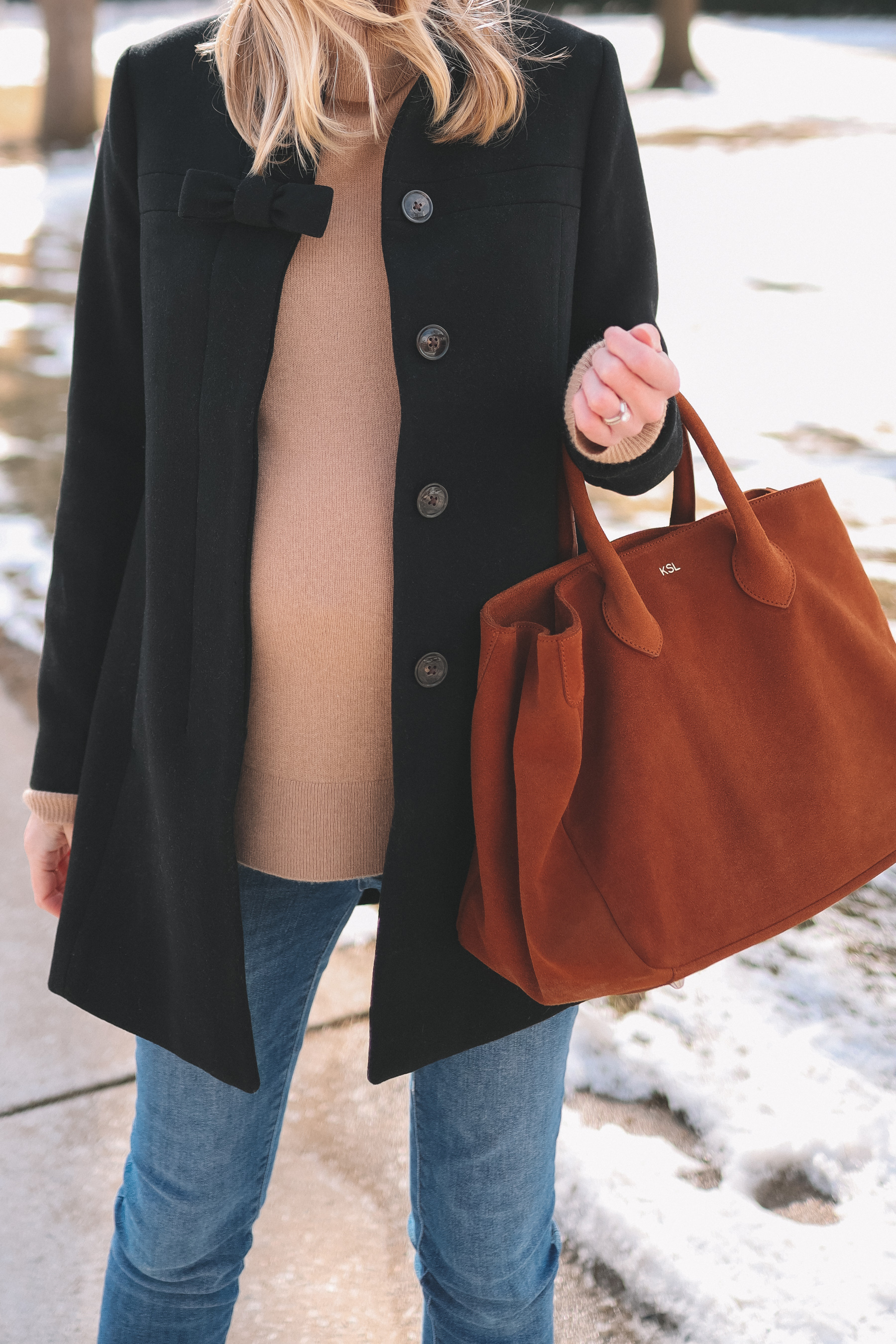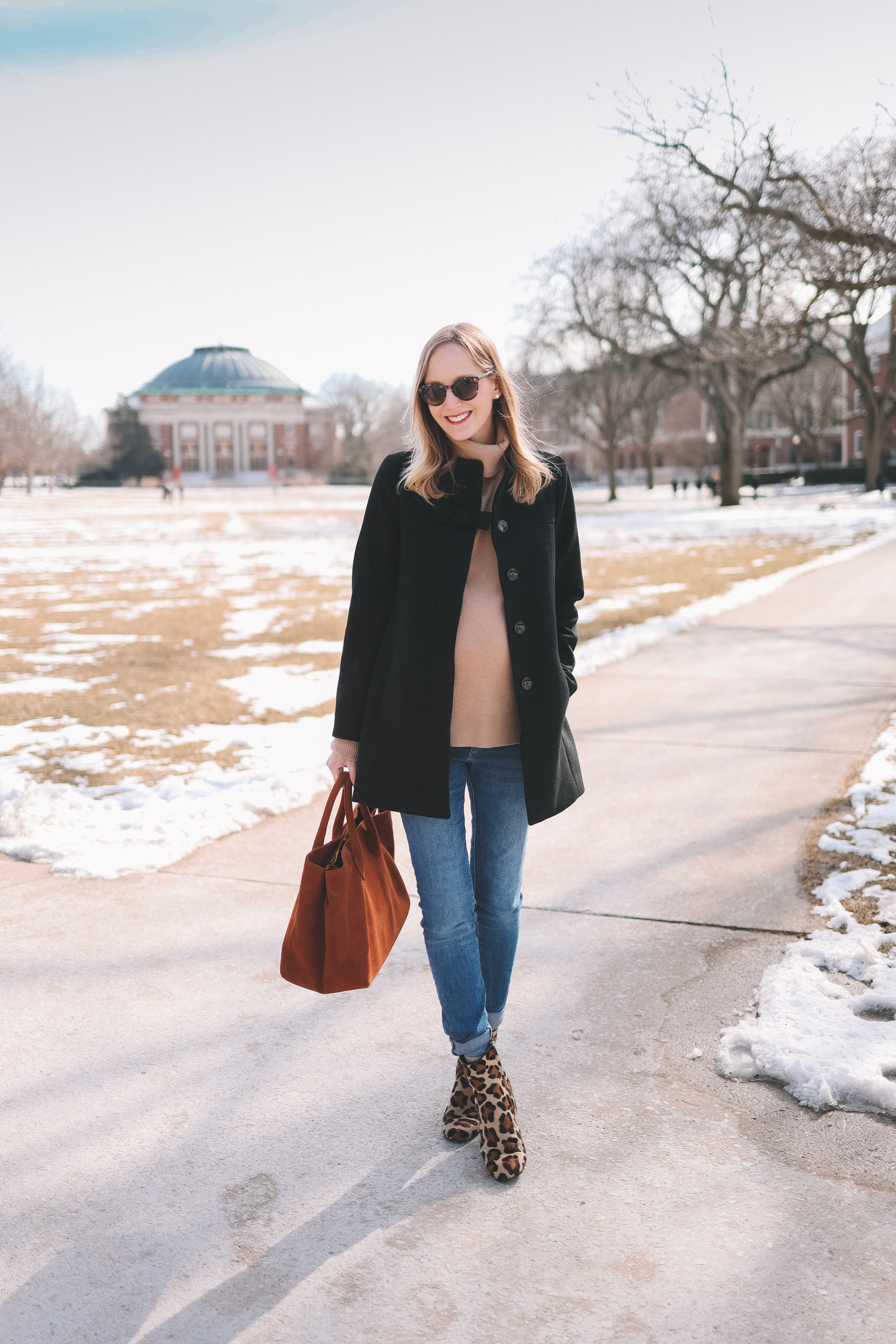 Shop the post:
Margaux NY "The Boot" in Leopard c/o (Also comes in brown and black.) / Black Bow Coat (Looking for a classic black wool coat that won't break the bank? This one is great!) / Turtleneck Cashmere Sweater (Mine is the older version. If you're pregnant, go up two sizes. Looking for camel? Try this one, this one, this one and this one.) / Mark & Graham Suede Elisabetta Tote (LOVE this tote. I also have the pink version, and I'm swooning over the navy.) / DL 1961 Maternity Jeans (These light wash maternity jeans are better, though, in all honesty! Also on sale! Also, OMG. Gap just came out with white demi-panel maternity jeans. FINALLY!)