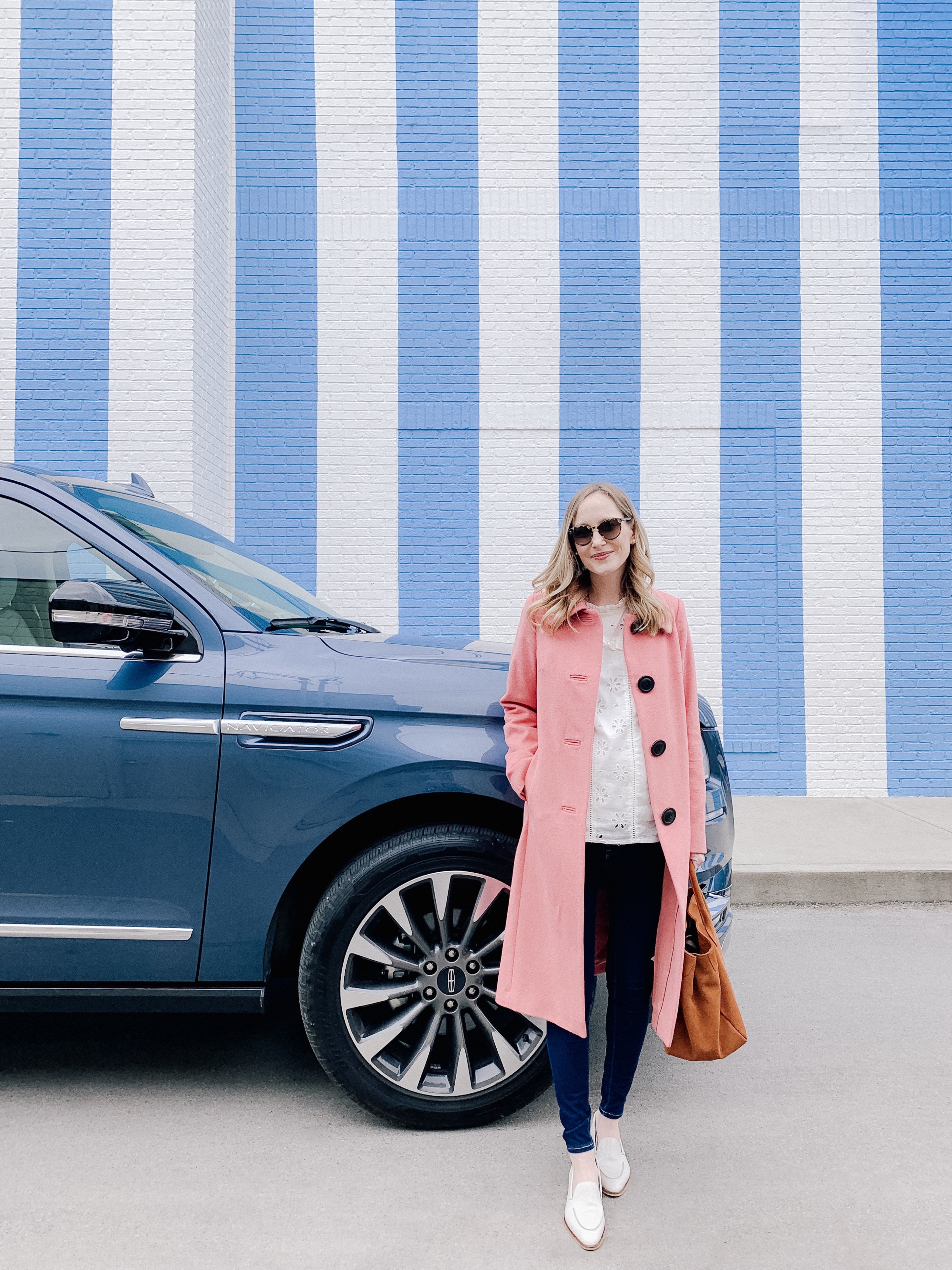 Boden Pink Conwy Coat (On sale! Runs large! Go down one size. It also comes in green and navy.) / Eyelet Blouse (Also runs large. Go down one size! I'm wearing a small here, which more than accommodates the bump. Love the black and pink, too.) / Mark & Graham Suede Elisabetta Tote (LOVE this tote. I also have the pink version, and I'm swooning over the navy.) / Everlane Modern Loafer (And a huge fan of the Day Boot—full review here–and the Day Heel–full review here!) / Old Navy Rockstar Jeans (I'm wearing the maternity version. Here are all the Rockstar jeans; so soft and stretchy but don't bag out!) / Similar Sunglasses Here, Here and Here
We're back from Nashville! Mitch and I headed down to Music City for a couple of days on a press trip with Lincoln to celebrate the grand opening of Dream Nashville. (Isn't it beautiful? Lincoln is supplying a fleet of luxury cars for guests to zip around the city in, free of charge!) I'd been only once before, during college for a journalism conference, and had always wanted to go back. And while this visit was a bit of a whirlwind, we had a GREAT time and we both fell in love with the city. We're definitely returning next year when I'm a little less pregnant! 😉 I feel like it would make for the nicest (long) date weekend since it's just under a seven-hour drive from Chicago.
Today, though, I wanted to take a minute to highlight the pink Conwy Coat from Boden that you see in these photos, because it's currently on sale! I LOVE it. As a Chicagoan–still feels kind of crazy to say that, even after five years! 😂–I've developed a real love for outerwear, and I'll admit that I own more than I need. But winters here are brutal, and they start earlier and last longer than most other places in the country… and bright coats sure do help my outlook. ;) When I spotted this one a few months ago, I knew it was destined for my closet, haha! There's just something so timeless about a pink coat with a classic cut. I know I'll have it forever!
A few details about it:
It runs large. Take note that sizes are listed in U.S. sizes; they automatically populate on the U.S. version of Boden's site. (The UK sizes are only listed on the UK site, so you really don't have to worry about sizing confusion, but just wanted to mention this because I received a lot of questions about it last time!) Still, the coat runs large. I normally wear a size U.S. 4 in Boden outerwear (for extra room in the shoulders), and I had to return the Conwy Coat for a size U.S. 2. So my best recommendation would be to go down one size! This is in keeping with the reviews, which I should have read, haha. It's just an oversized coat, so keep that in mind!
It's not a true winter coat. The Conwy isn't for 10-degree days. It's more so for 30 degrees and up; a great in-between-seasons coat. It was perfect for Nashville, as temps were in the 30s and 40s, and it'll be a go-to for me this spring in Chicago!
It's on sale! Currently, both the pink and navy are priced at $238, which is quite the steal for such a stunning coat. :)
Other outfit details worth mentioning:
LOVE this new eyelet blouse from J.Crew. Like the coat, it runs large, and I would recommend going down one or two sizes depending on how you like your tops to fit. I went with my normal size (small) because I adored it and wanted it for after the baby arrives, but it ended up totally fitting the bump! So yes, definitely size down. 😂 So cute, and I love how the ruffle sleeves stick out of sweaters. A great detail!
And then there are my Everlane Modern Loafers, which I got in "Bone" to make my outfits look a bit more springy. (I'm kind of desperate for the red, but they're sadly sold out.) A lot of the reviews say to go up a half size, but I tried both my normal size (7.5) and a half size up, and the half size up was way too large. Hope that helps! Also, I wear these no-show socks to add warmth.
Finally, my Mark & Graham Suede Elisabetta Tote is perfect for the transition from winter to spring. It's so well-made, and whenever I carry it, I get so many questions about it! Note the gold monogram. Beautiful, #amiright?! I also have the pink version of the Elisabetta Tote, and I'm swooning over the navy.
Over and out, Friends! Hope you have a lovely Sunday!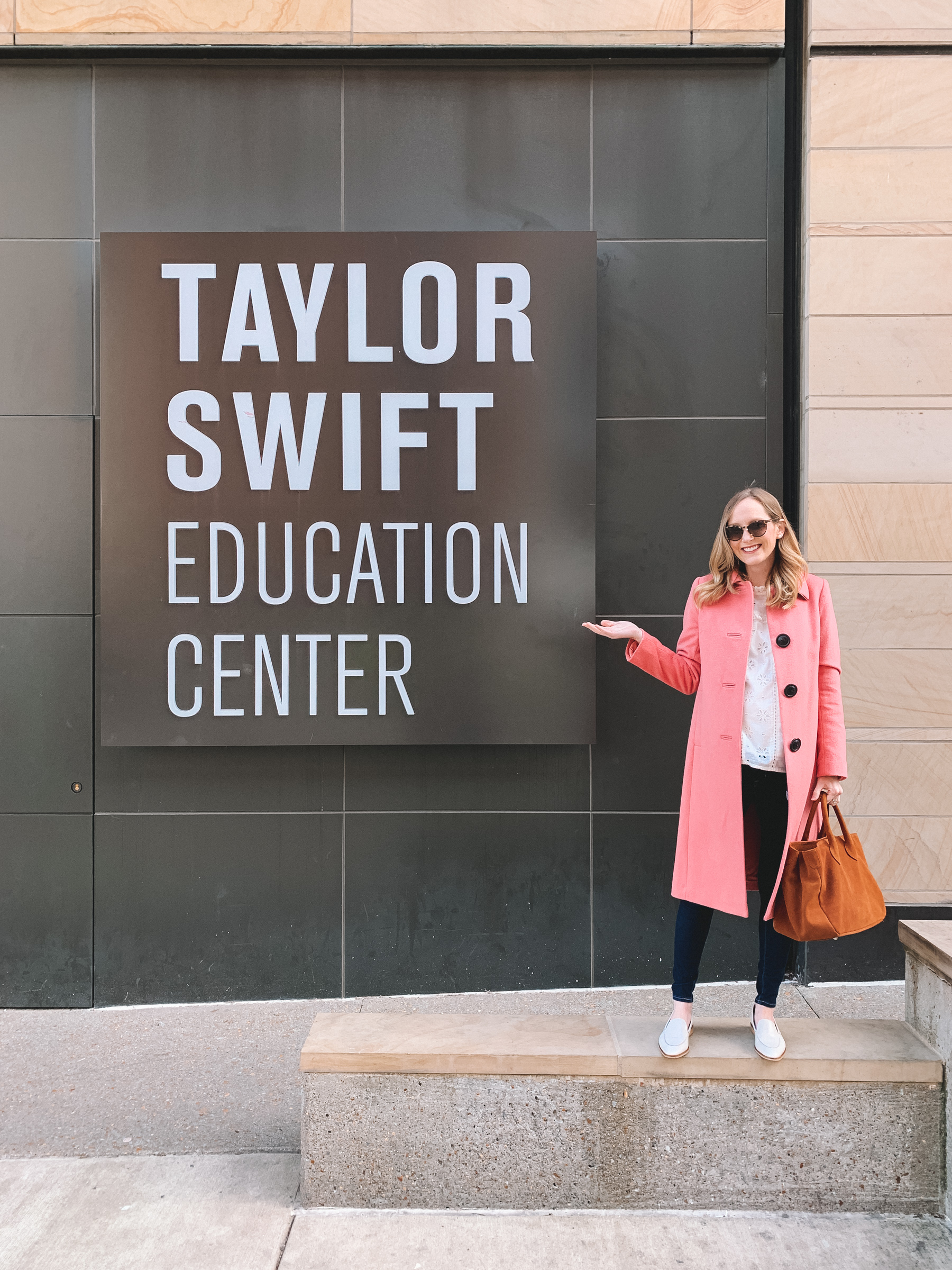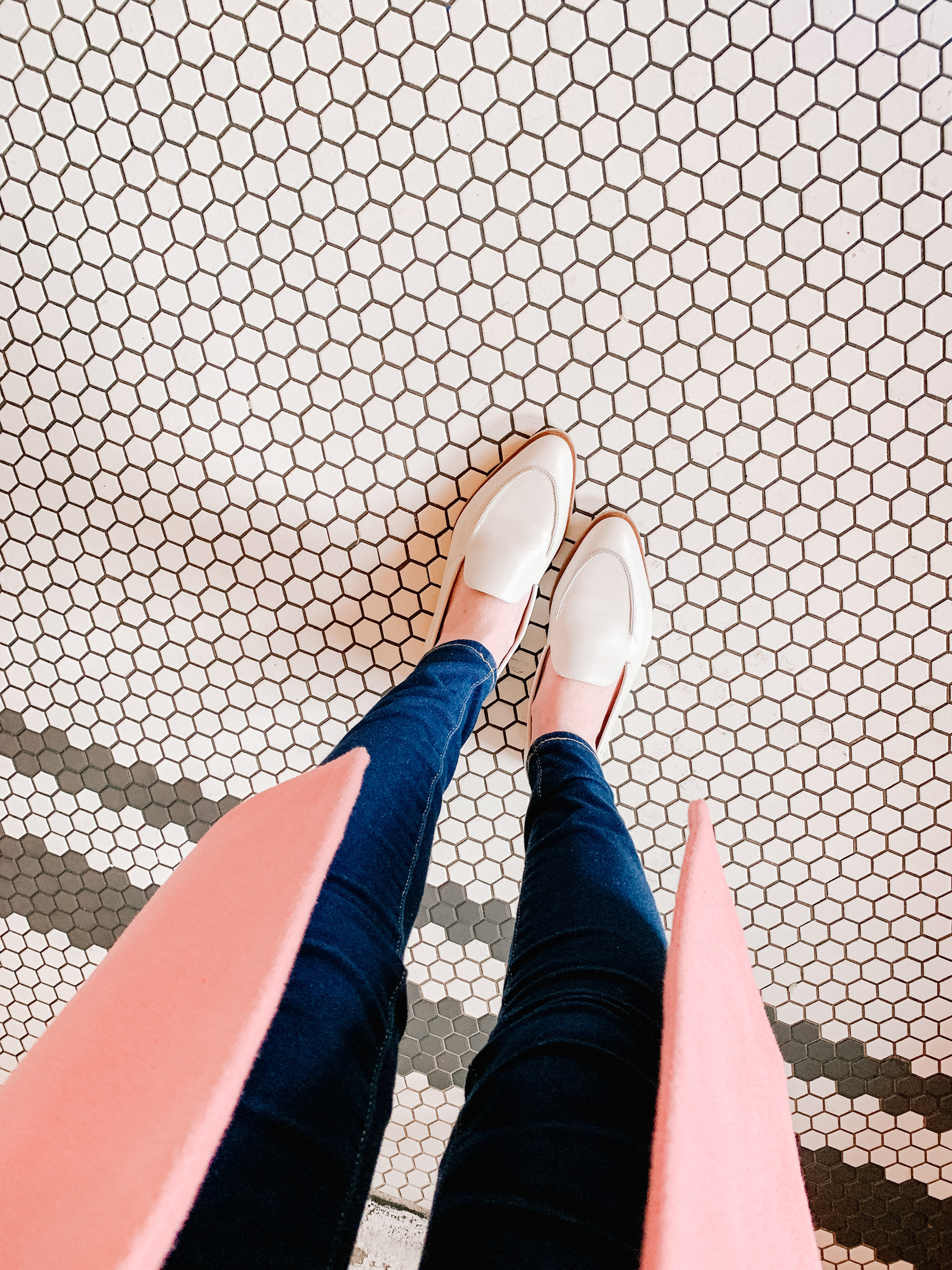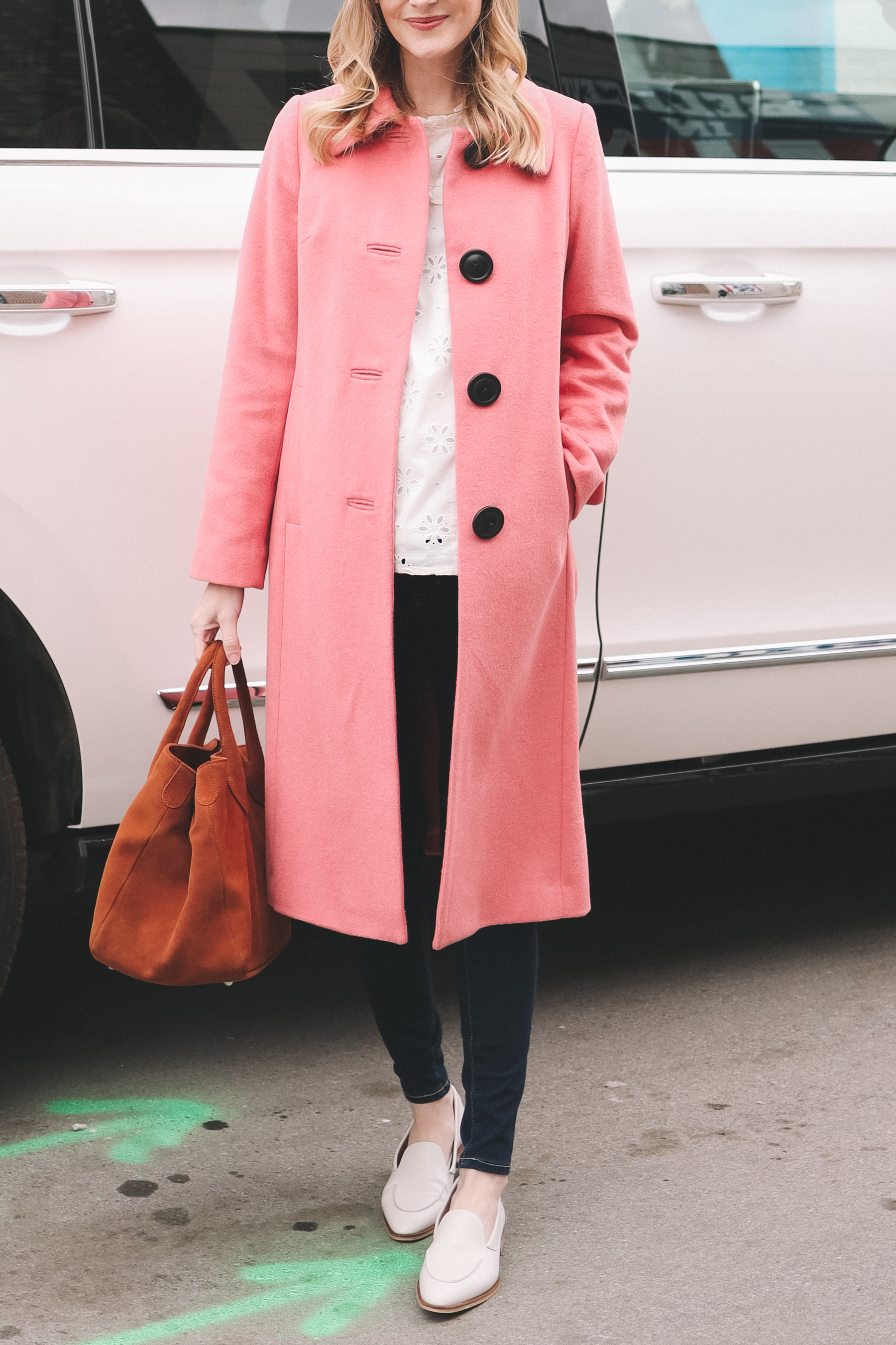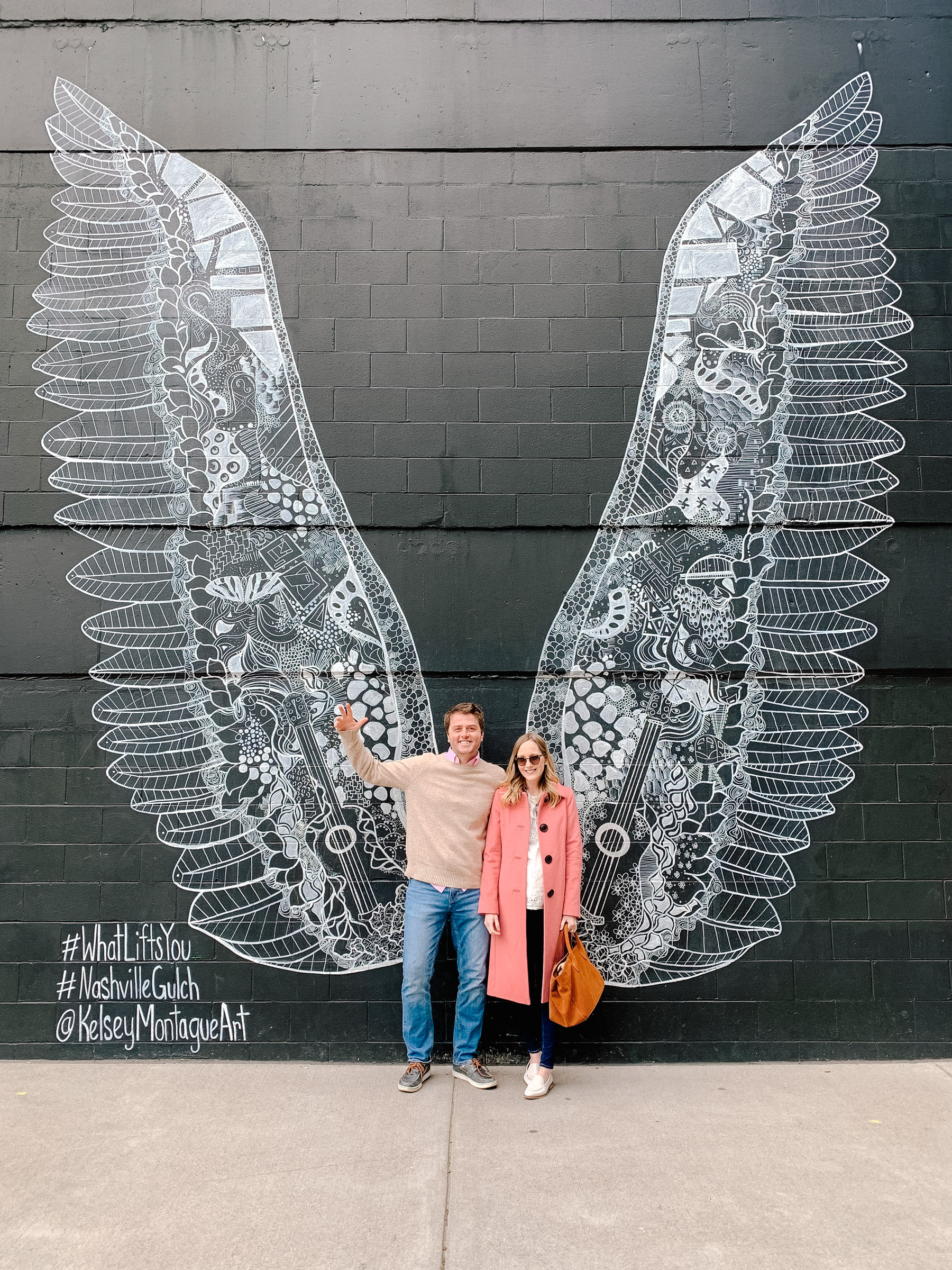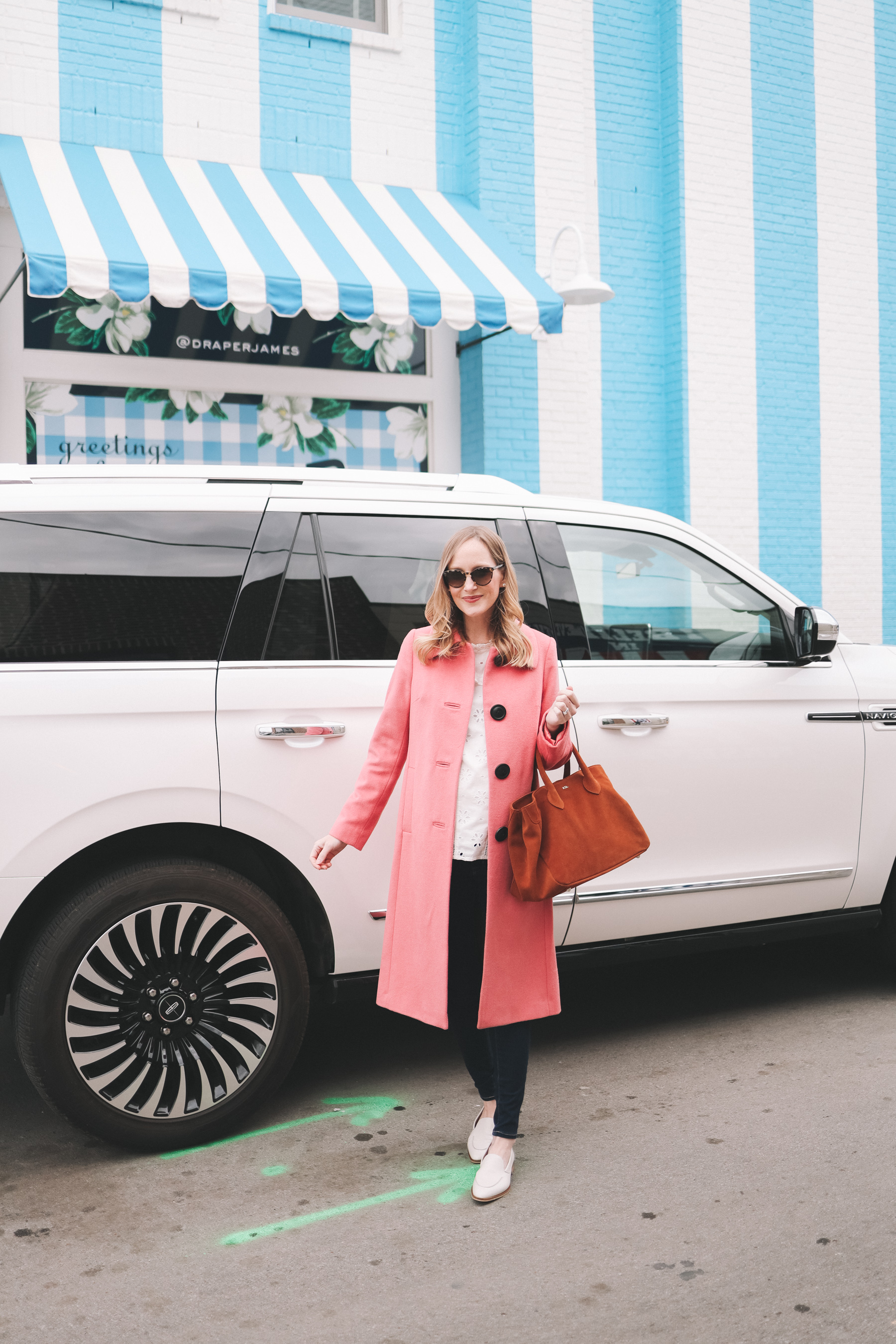 Shop the post:
Boden Conwy Coat in Pink (On sale! Runs large! Go down one size. It also comes in green and navy.) / Eyelet Blouse (Also runs large. Go down one size! I'm wearing a small here, which more than accommodates the bump. Love the black and pink, too.) / Mark & Graham Suede Elisabetta Tote (LOVE this tote. I also have the pink version, and I'm swooning over the navy.) / Everlane Modern Loafer (And a huge fan of the Day Boot—full review here–and the Day Heel–full review here!) / Old Navy Rockstar Jeans (I'm wearing the maternity version. Here are all the Rockstar jeans; so soft and stretchy but don't bag out!) / Similar Sunglasses Here, Here and Here