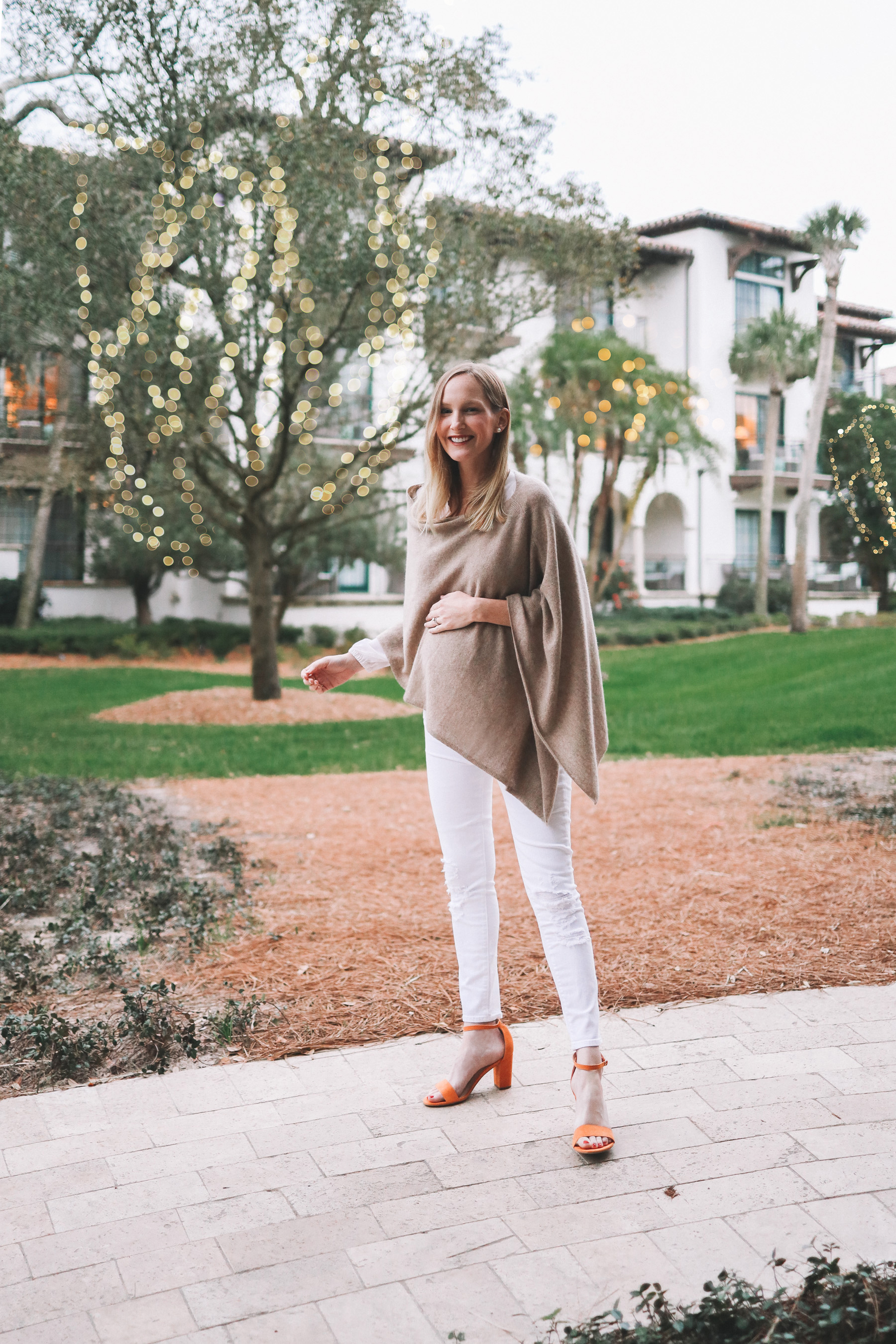 Tuckernuck Cashmere Camel Wrap (On sale! I'm also a huge fan of Lilly's ruffled version.) / Lilly Pulitzer Elsa Top (I also have the navy, which I wear all the time. Isn't this new hydrangea-looking one the cutest, too?!) / White Maternity Jeans (These are better, though. And these are my favorite non-maternity white jeans that are still available! I would also look into these budget-friendly jeans from BlankNYC that I own and love, and these pull-on jeans from Liverpool.) / DSW Sandals c/o
I wanted to take a moment today to highlight one of my favorite wardrobe staples–Tuckernuck's cashmere topper/wrap–which is currently on sale. :)
I've had mine for a few years now, and I adore it. First of all, it's one-size-fits-all, which makes ordering very easy. It's also incredibly soft and easy to style.
I don't know about you, but when cashmere wraps first became popular, I was like, "Oh yeah.
This is going to look adorable on all the models and ridiculous on me." 😜 But you kind of can't go wrong with them! They look great over simple white blouses paired with jeans… or thrown over dresses when the sun goes down. They honestly elevate nearly any look, and they make me appear like I kind of know what I'm doing, fashion-wise. ;) Every time I wear mine, I get so many compliments and questions about it!
I also love how well the cashmere topper travels. It folds up into a tiny square and takes up very little space in my suitcase, yet it allows me extra wear out of outfits. Again, I normally just throw it over jeans and a blouse, and voilà! A new look. OH. And I should mention that while the camel color is currently on sale for $105, the black is priced at only $77. Quite the steal!
A bonus for my pregnant friends:
It works with bumps, too. I'm six months pregnant here, and I'll definitely be able to wear it through the end.
The one cashmere wrap I might love even more is Lilly Pulitzer's version of it, since it features the sweetest ruffle. Adorable, right?! Which do you like better? ❤️