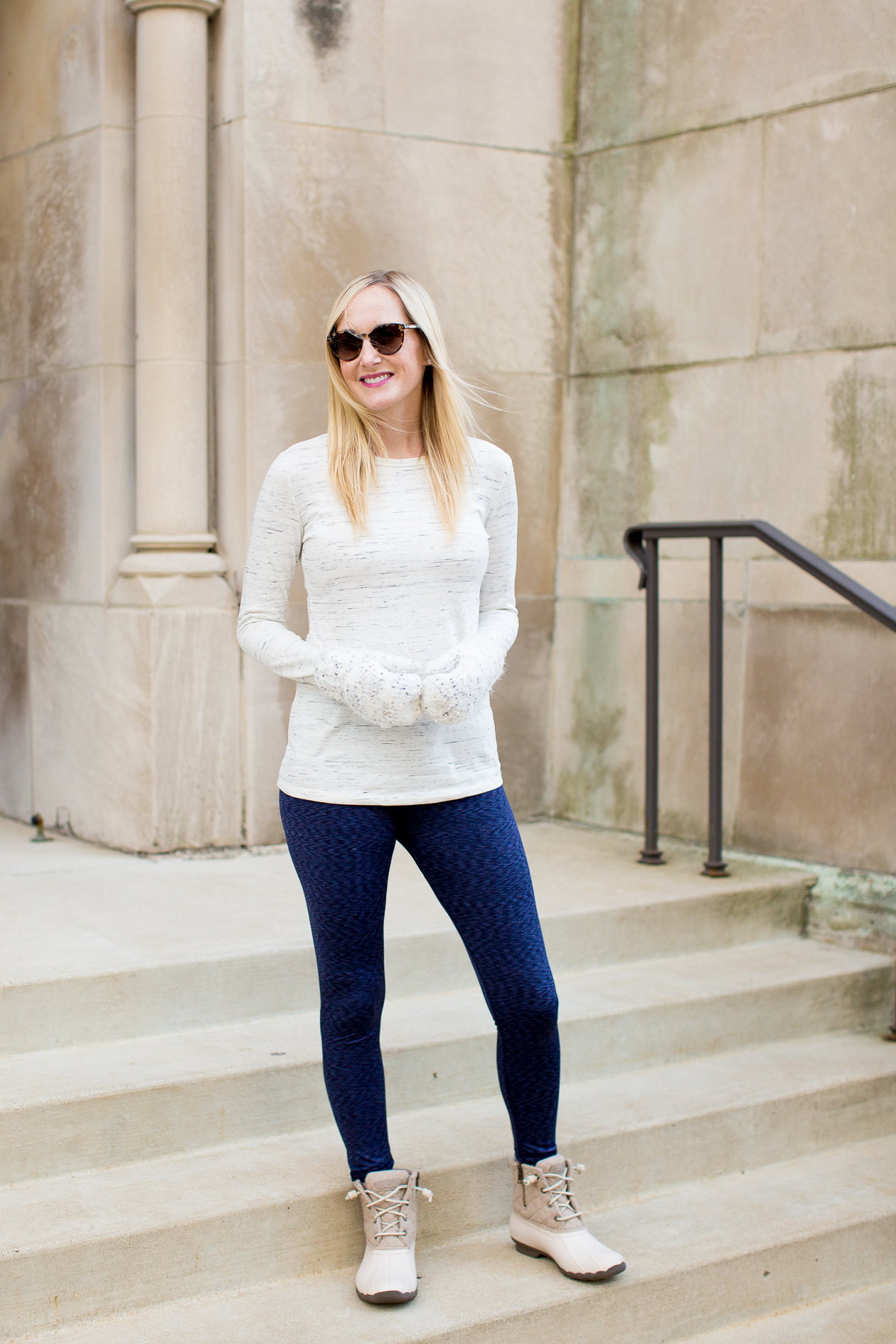 Cuddl Duds FlexFit Leggings, Comfortwear Top and Cuddl Duds Mittens / Sperry Boots (All c/o Bon-Ton)
I know I talk about this all the time, but I am all about walking. I see the other more seasoned mothers of Lincoln Park running with their strollers, but I'm pretty content with the walking for the time being. I love being able to talk to Emma, drink my coffee, bring along Noodle, call my mom, and chit-chat with neighbors. So for now, I'm just going to continue happily strolling along. ;)
Just because I'm not running doesn't mean I don't need comfy clothing for my walks, though. Enter Cuddl Duds, a brand carried at Bon-Ton that specializes in combining style and comfort for women with layered lifestyles.
How cute are these navy (insanely stretchy and therefore extremely comfy) leggings? And what about this top? It's brushed on inside for comfort and warmth, and it has thumb holes! (Which means easy-on, easy-off for these super soft mittens.) I paired my look with quilted Sperry duck boots, which are both warm and waterproof for those blustery Chicago days. ;)
One of the best parts about the outfit you see here is that it's great for working and hanging out at home, too. There's just nothing better than snuggling up in your coziest clothing at home during the fall! (Though I kick my boots off at the door and opt for slippers, haha.)
Over and out, guys. Emma, Noodle and I are off on our morning walk! Say hi if you see us. And if you're looking to upgrade your "loungingwear" game, be sure to check out the entire Cuddl Duds collection, available at Bon-Ton!