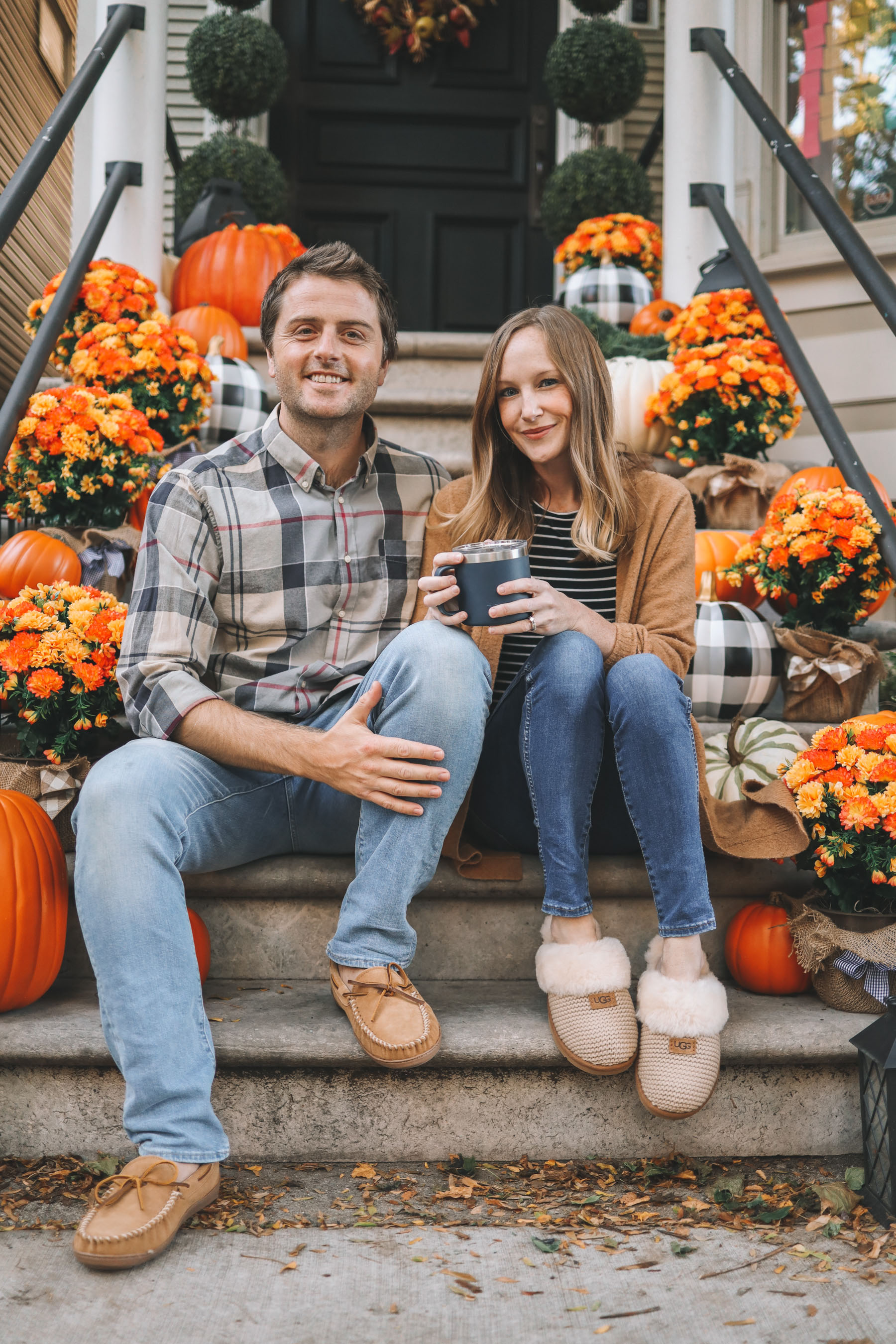 Ugg Scuff Slippers / Minnetonka Trevor Slipper / Jeans, Cardigan and Newer Long-Sleeved Tee / Front Stoop Decor
Good morning from the Larkin Fam, and happy birthday, Mitch! ♥️ (We're three days apart!)
So lately there's been this weird stretch of time every day when Emma is in her remote learning pre-k class in her room and Lucy is napping. And we find ourselves alone. ALONE. 🤭 Sure, the quiet usually only lasts for 15 or 20 minutes—but it's crazy. Because we're very rarely alone before 8:30 p.m. these days. I mean, it's 2020, after all. 😆
When the stars first aligned, Mitch and I rushed around and tried to be as productive as possible. We wanted to get all the things done. But then one day, in a state of utter exhaustion, we pressed pause and sat down on the front stoop with coffees and the baby monitors. And it was… lovely. Now we do it a few times per week, whether out front or on the patio, and I actually find that I'm far more productive on those days compared to others! I get to actually talk to my husband. I get to recharge. I get to take a minute. (I should note, however, that Noodle and Emma take turns waking up Lucy. It's a sport. For example, last week a restaurant worker was yelling in the alley and Noodle started barking and it was over before we knew it. And a couple of days ago, Emma couldn't find her eraser and, well, you would have thought the world was ending. 😂)
Anyway, Mitch and I are both wearing our comfy footwear from DSW in these photos, which are perfect for our "everything-from-home" lifestyles. DSW really is the destination for affordable shoes for the whole family, no matter what fall activity you're up to this season. And they have a bunch of awesome options for customers: curbside services, safe and clean in-store shopping, and free shipping for VIP members.
Because both pairs of slippers have solid soles—Mitch's mocs are indoor/outdoor!—we keep them by the door for coffee breaks, dog walks, outdoor happy hours with the neighbors, and kiddie "scoots" and bike rides around the block. We love that neither pair requires socks or lacing up; just slip 'em on and get the most out of those 15-20 minutes! :)
For the record, my Ugg slippers are the best footwear to have ever graced the planet, haha. But seriously. They're ridiculously soft, cozy and warm. They're basically feet sweaters. I love feet sweaters. (They run totally TTS, btw.)

I loved shopping around the DSW site and found so many gems in the process! The girls both got these adorably preppy (and affordable!) bow boots by Koolaburra by Ugg—don't worry, blog post incoming 😉—and they haven't taken them off since receiving. (Sizing tip for those: Size up! Emma normally wears a size 8.5 and I got her a size 11; Lucy normally wears a size 4.5 and I got her a size 6. You also want them to be able to wear them for a few years!)
Above, though, are my other favorites from DSW. :) Happy shopping!
Shop the post:
Ugg Scuff Slippers / Minnetonka Trevor Slipper / Jeans, Cardigan and Newer Long-Sleeved Tee / Front Stoop Decor
This post is sponsored by DSW; All opinions are my own. As always, thank you so, so much for supporting the partnerships that keep Kelly in the City up and running!