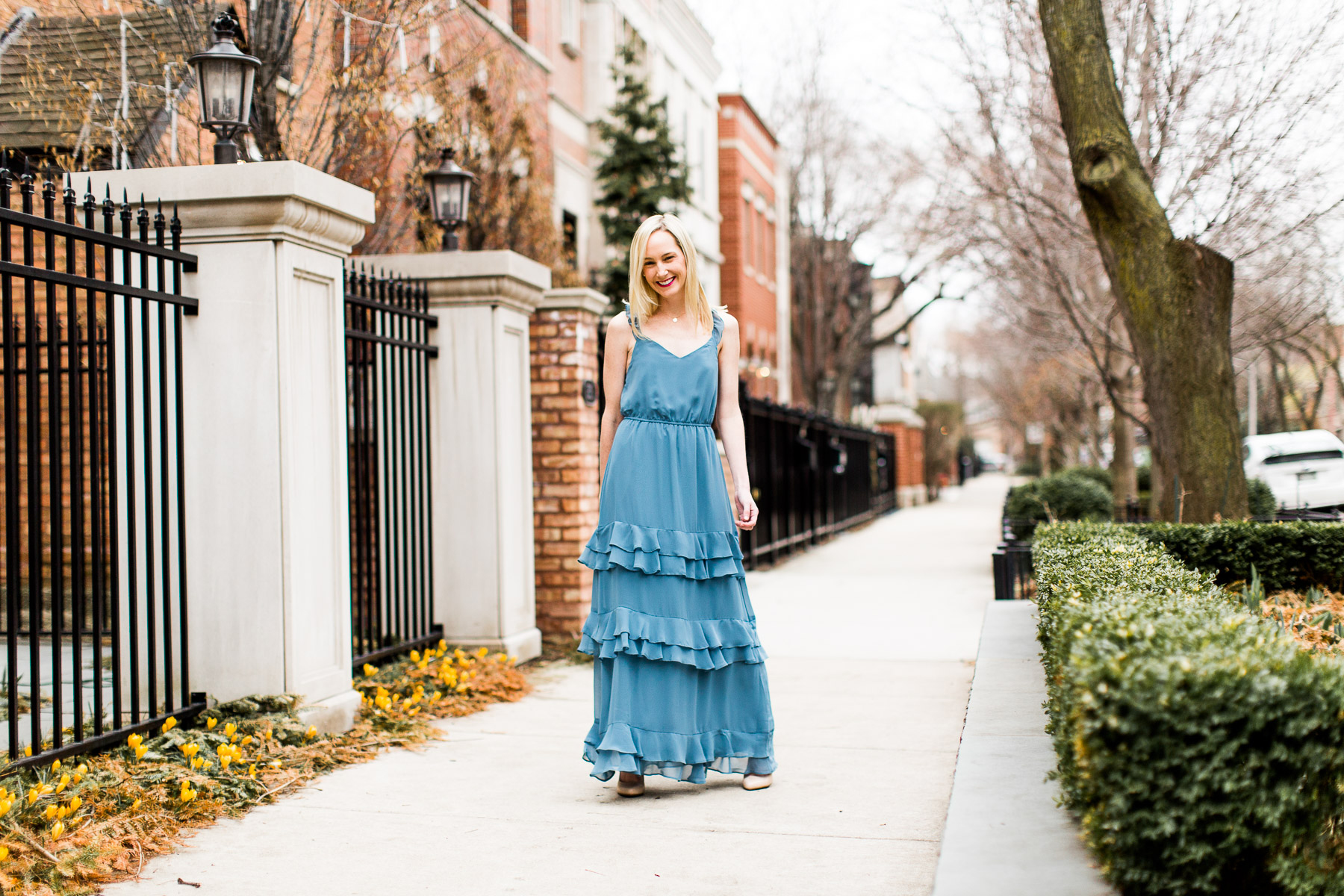 LC Lauren Conrad Dress (It also comes in white. Here's the skirt version, too!), Bag, Pumps and Initial Necklace
Happy Monday, Friends! Last week was way too crazy for me, but I'm so excited about starting fresh today. It's the beginning of the second half of my One Month Challenge (update here!) and I don't have too much on the schedule, which is unbelievably nice. It's going to be a rainy week, but Emma and I are determined to get out during the day, and I'm going to try my hardest to get ahead during nap times, as my brother and sister-in-law are flying in from Philadelphia on Friday to spend the weekend with us. Isn't it wonderful when you have something to really look forward to at the end of the week?!
Anyway, I'm wearing a dress in these pictures, guys. Last week, I blogged about how it would likely be a while until you'd see me wearing one on this site, on account of the fact that springtime in Chicago is what I imagine springtime in Antarctica to be like. ;) But it was 75 degrees on Friday, and suddenly, I found myself in the prettiest dress from the LC Lauren Conrad Dress Up Shop. What a gift!
Let's back up for a minute, though. I have something to discuss with you: I feel myself gravitating to long dresses these days. Anyone else? I think there are a few reasons:
They're easier with Baby. SO much easier. I've learned that short dresses often ride up when I have a baby on my hip or lap, but long dresses provide more coverage and help me stay respectable.
They're no fuss. Jewelry is optional, since longer dresses tend to make a statement on their own. I love this, as I don't have a lot of time to get ready these days. (Emma also pulls and tugs on most statement jewelry I own.) In these photos, I'm simply wearing a small, classic initial necklace.
They cover up my knees and legs. I have a circulatory disorder and my knees are almost always a lovely shade of purple, even when it's warm outside. I'm also a little self-conscious about my pale legs, which can be pretty blinding especially when they haven't seen the light of day for several months. Yes, I realize that wearing long dresses will only further accentuate my vampirish qualities, and I also realize that I shouldn't be so concerned about what I look like. But we all have our hangups, right? ;) Plus, long dresses serve as added sun protection!
They elongate. I'm somewhere around 5'4 or 5'5, so anything that adds a little height to my frame makes me happy! While I'm wearing heels in these pics, I totally wore sandals with the dress during the day while strolling Emma around–and it still made me look taller!
I'm getting old. I know. I'm not old. But I'm getting there! And don't get me wrong: I'm still totally going to wear shorter dresses, as I think they're appropriate for women of all ages. I'm just not going to wear super short ones, as they personally make me feel a little weird these days. (Maybe it has something to do with becoming a mom, too? Who knows!)
And now back to the dress I'm wearing here, because I'm in love with it. Again, it's by LC by Lauren Conrad, and it's available via Kohl's. When I first saw it, I fell head over heels for the ruffles, and then I learned that it criss-crosses in the back, it's machine-washable, and it doesn't require hemming. If you're taller, you can see that the model wearing the dress has it hitting at her ankles and it looks adorable, too. So I feel like it will work with everyone, which is rare for a maxi dress! (Also, in case you're wondering, I found that it runs true to size.) Oh! The dress also comes in white and there's a skirt version, too.
I love that the LC by Lauren Conrad LC Lauren Conrad Dress Up Shop offers so many longer options. I've included a few of my favorites above! The best part is that from March 29 through April 2nd, you can take 20 percent off your order with code "FF20OFF."
So now it's time to weigh in. What do you gravitate towards? Long or short dresses?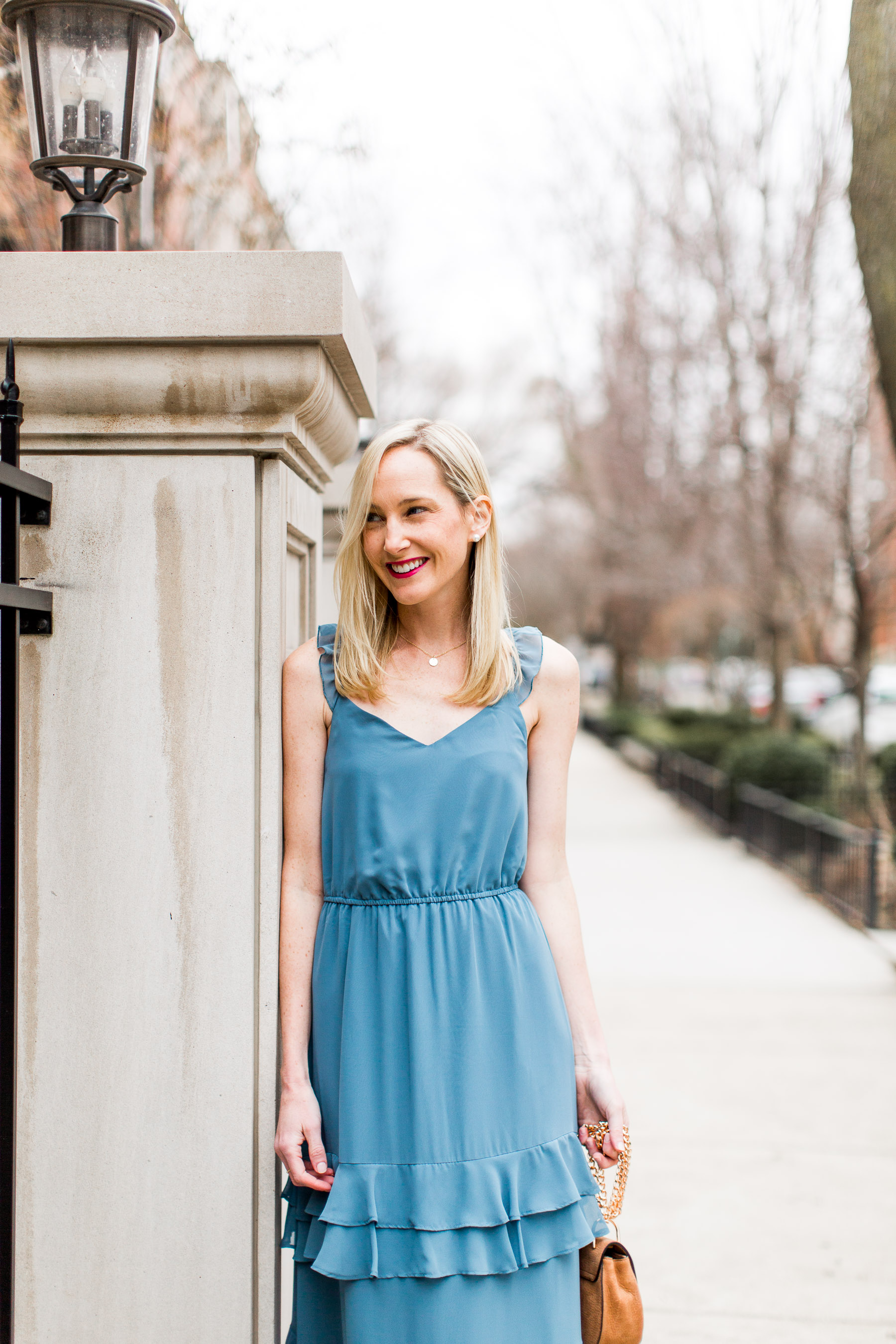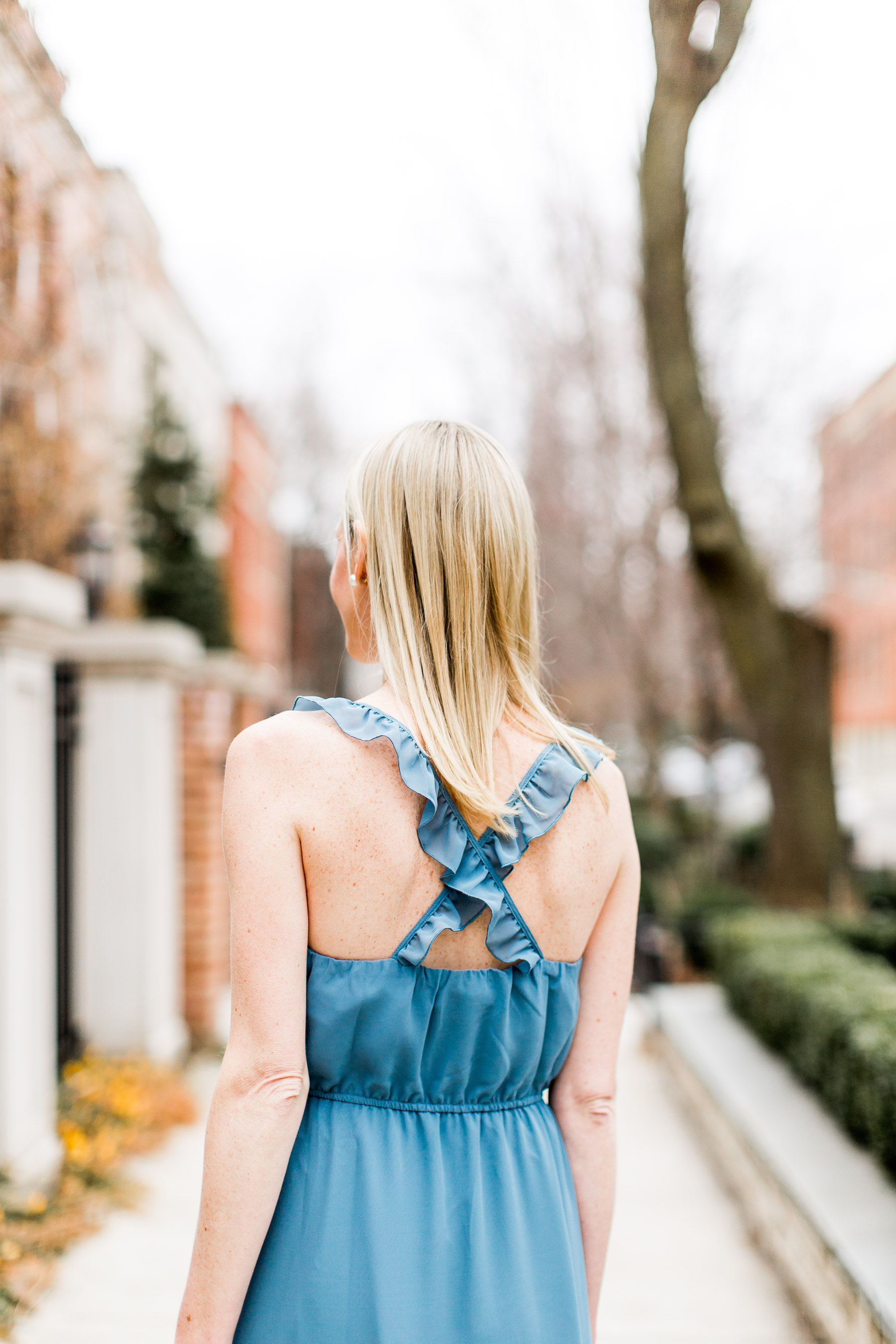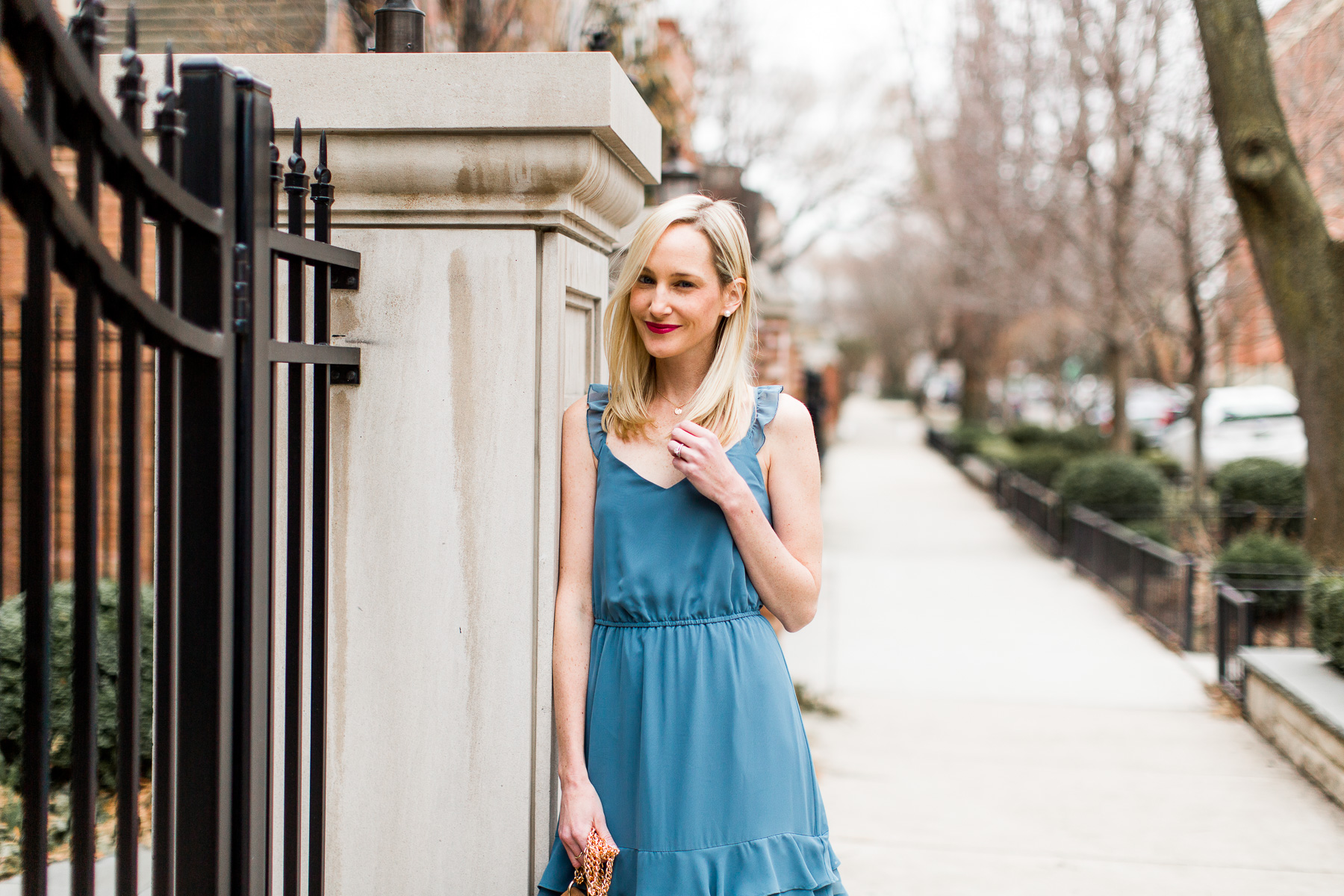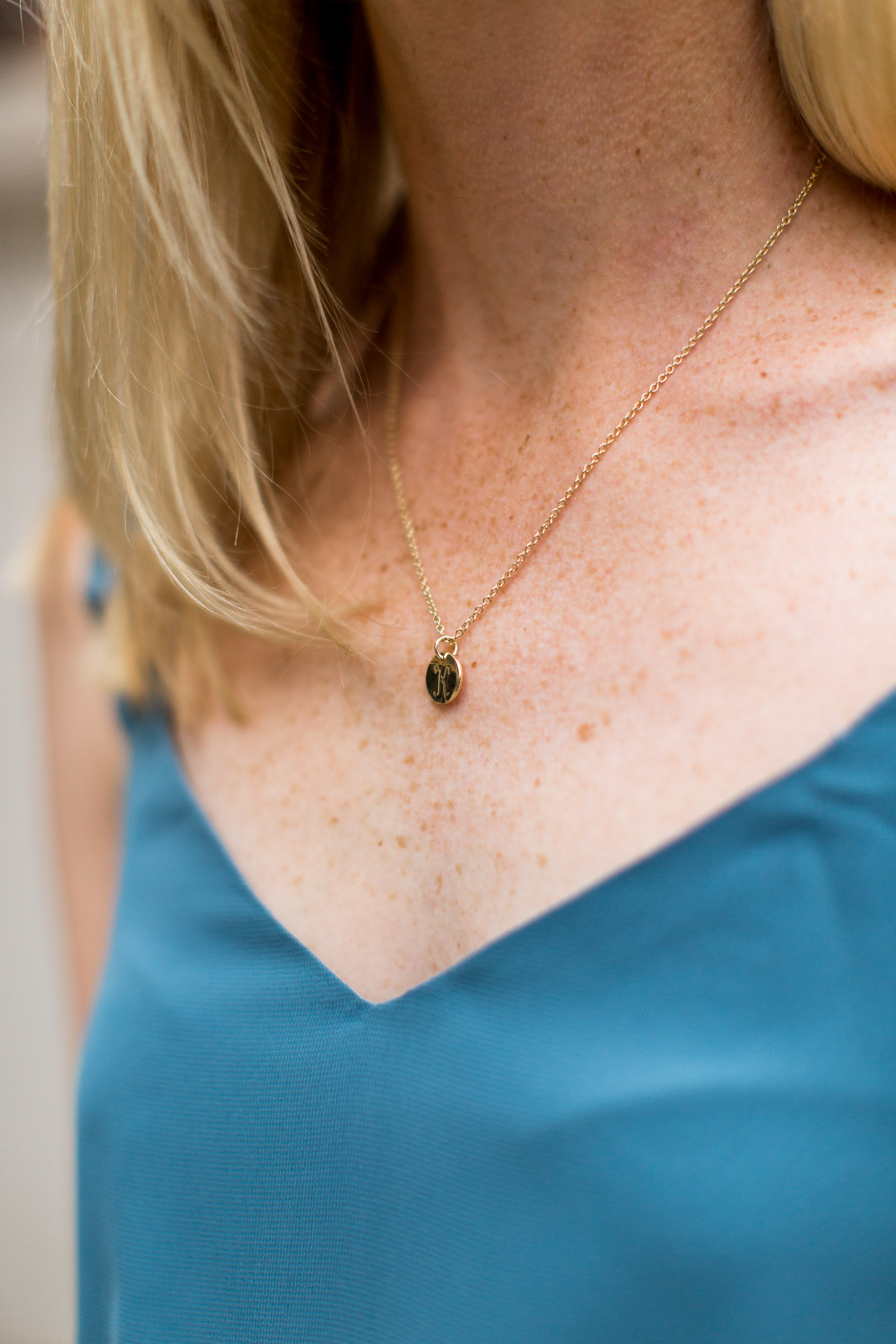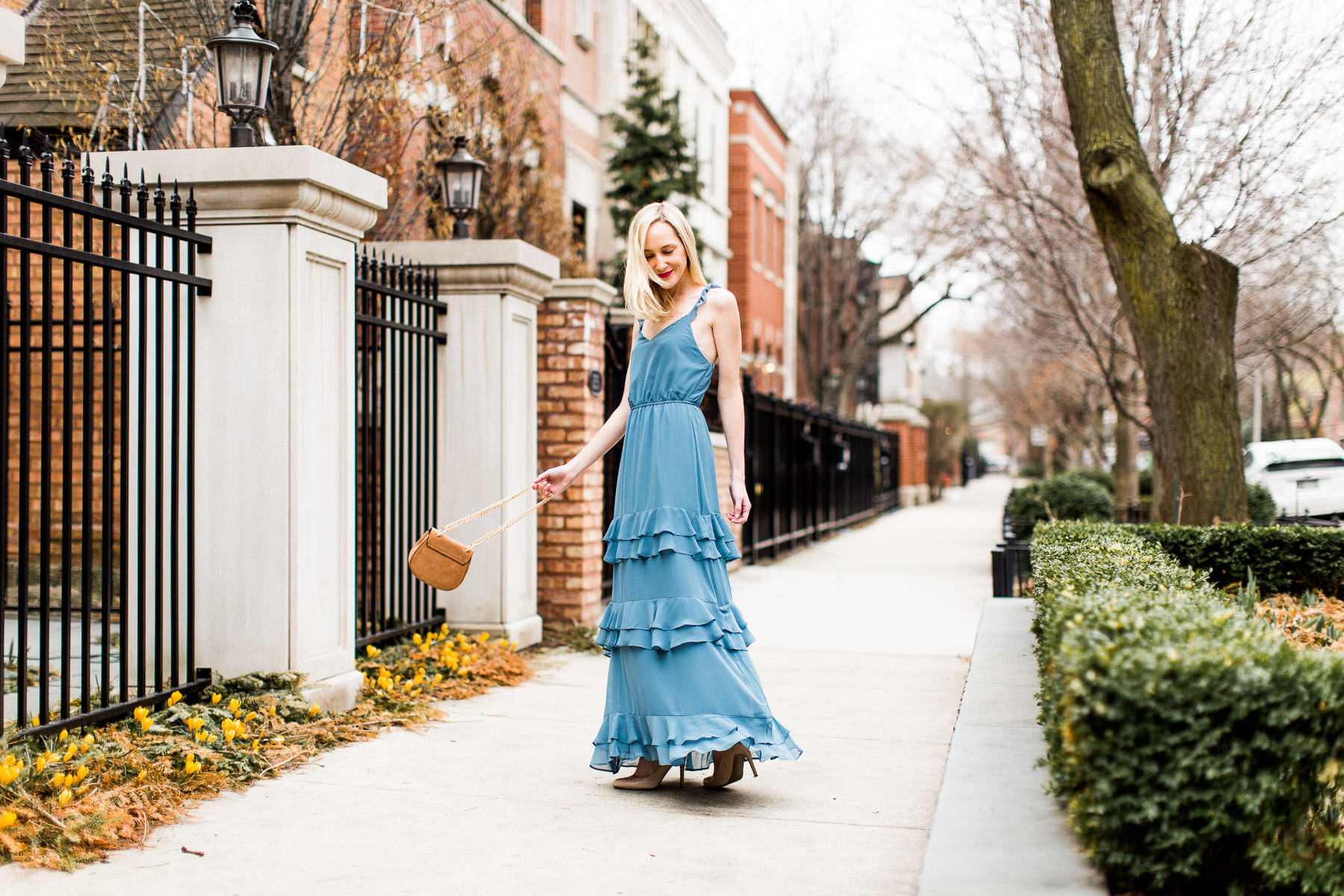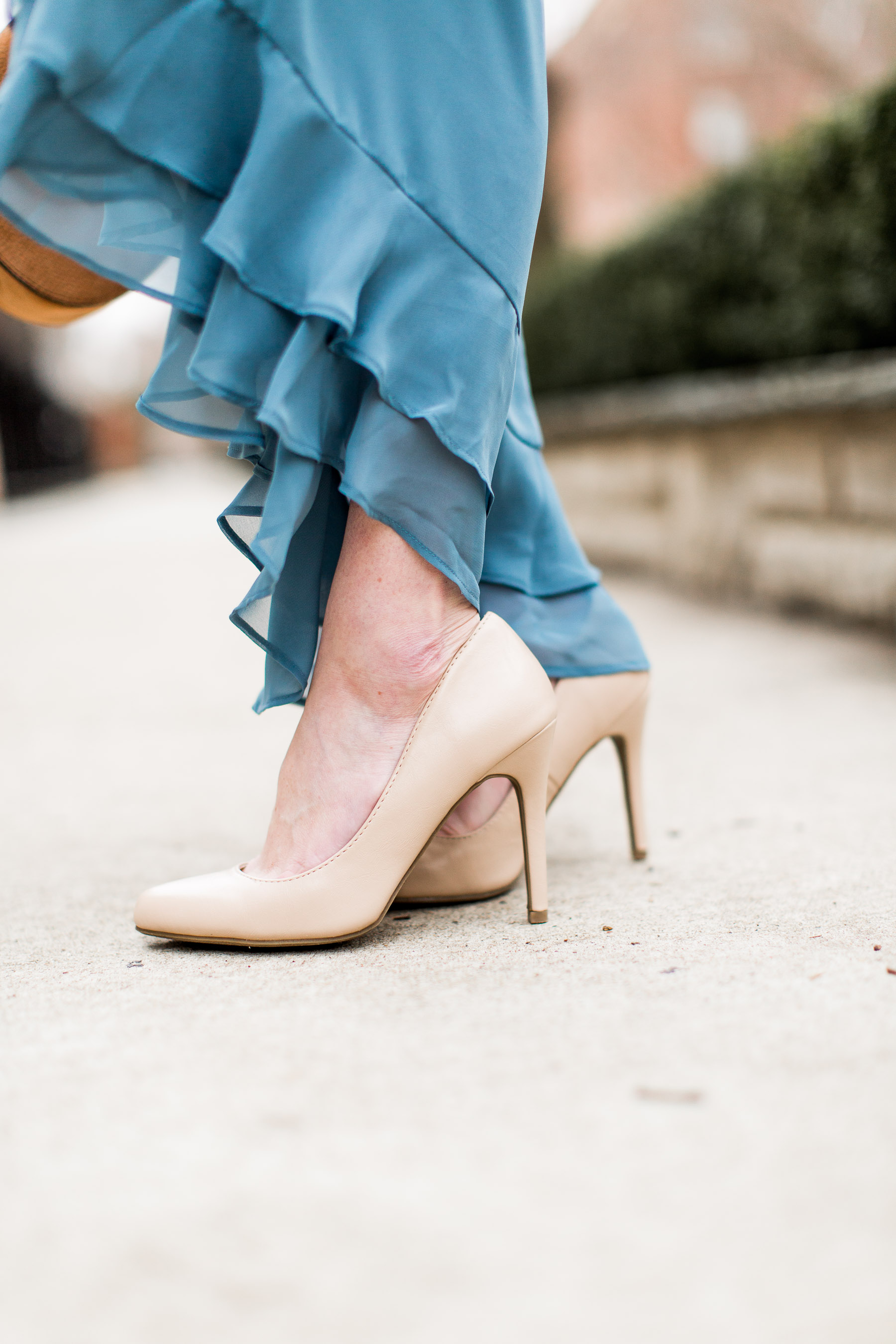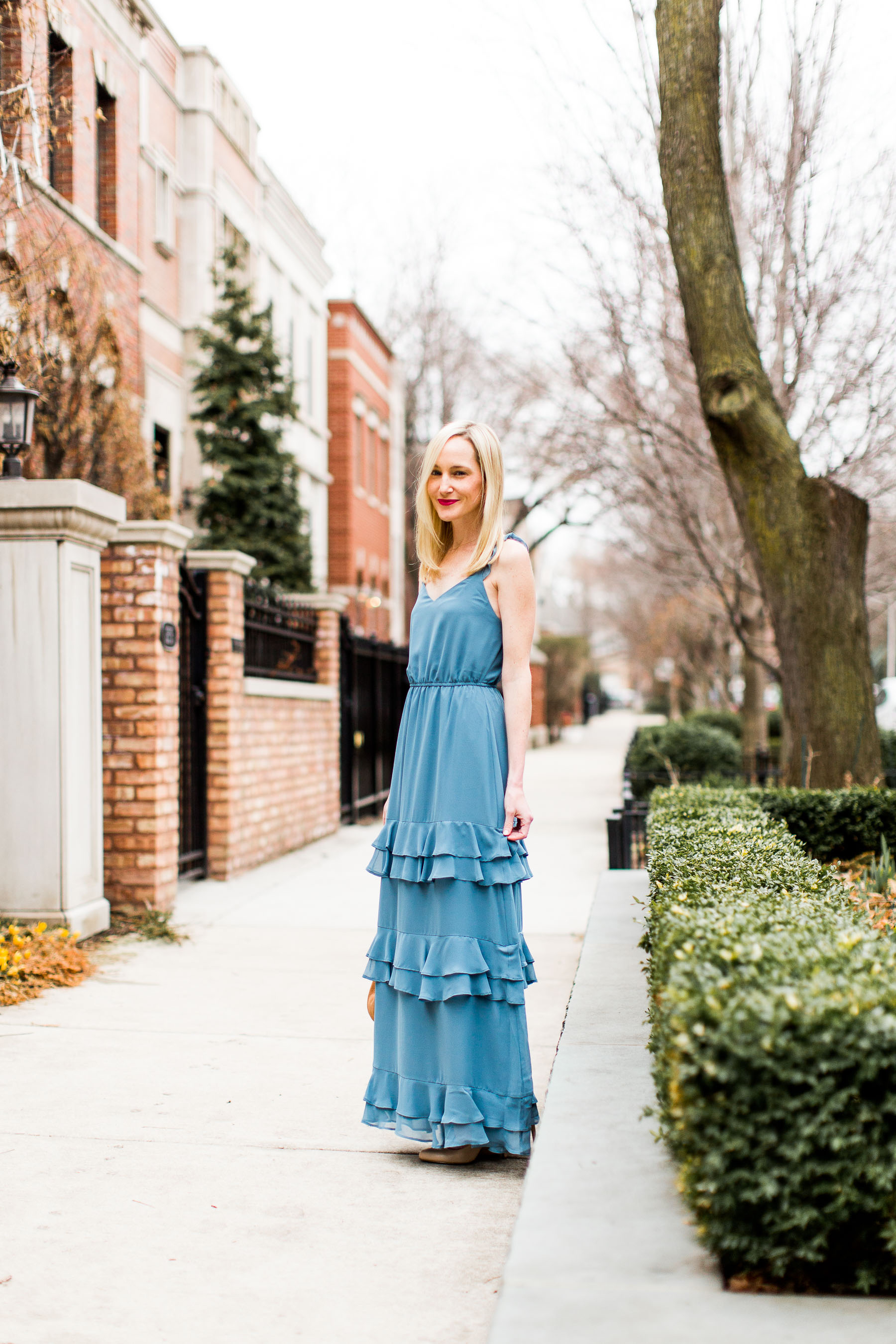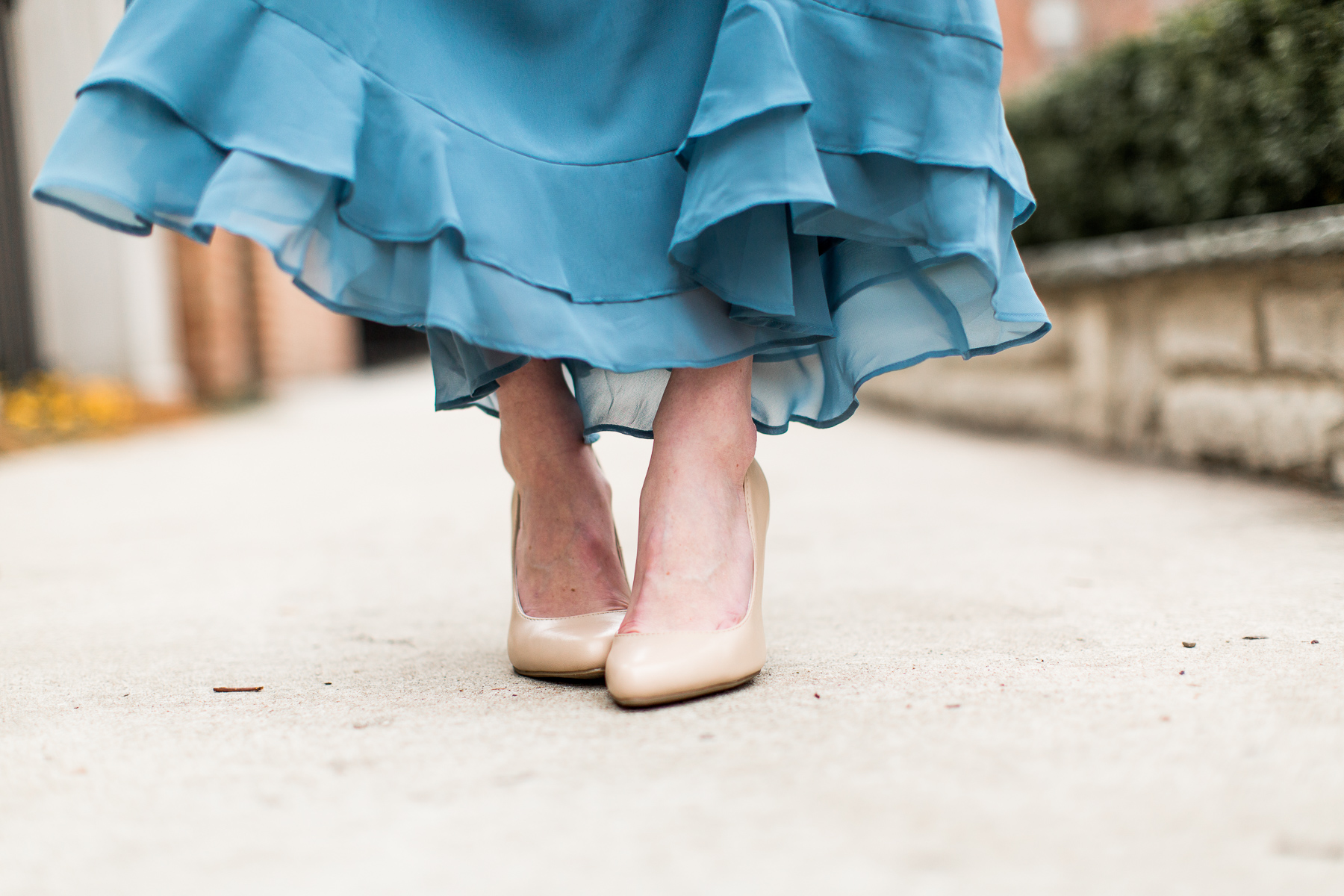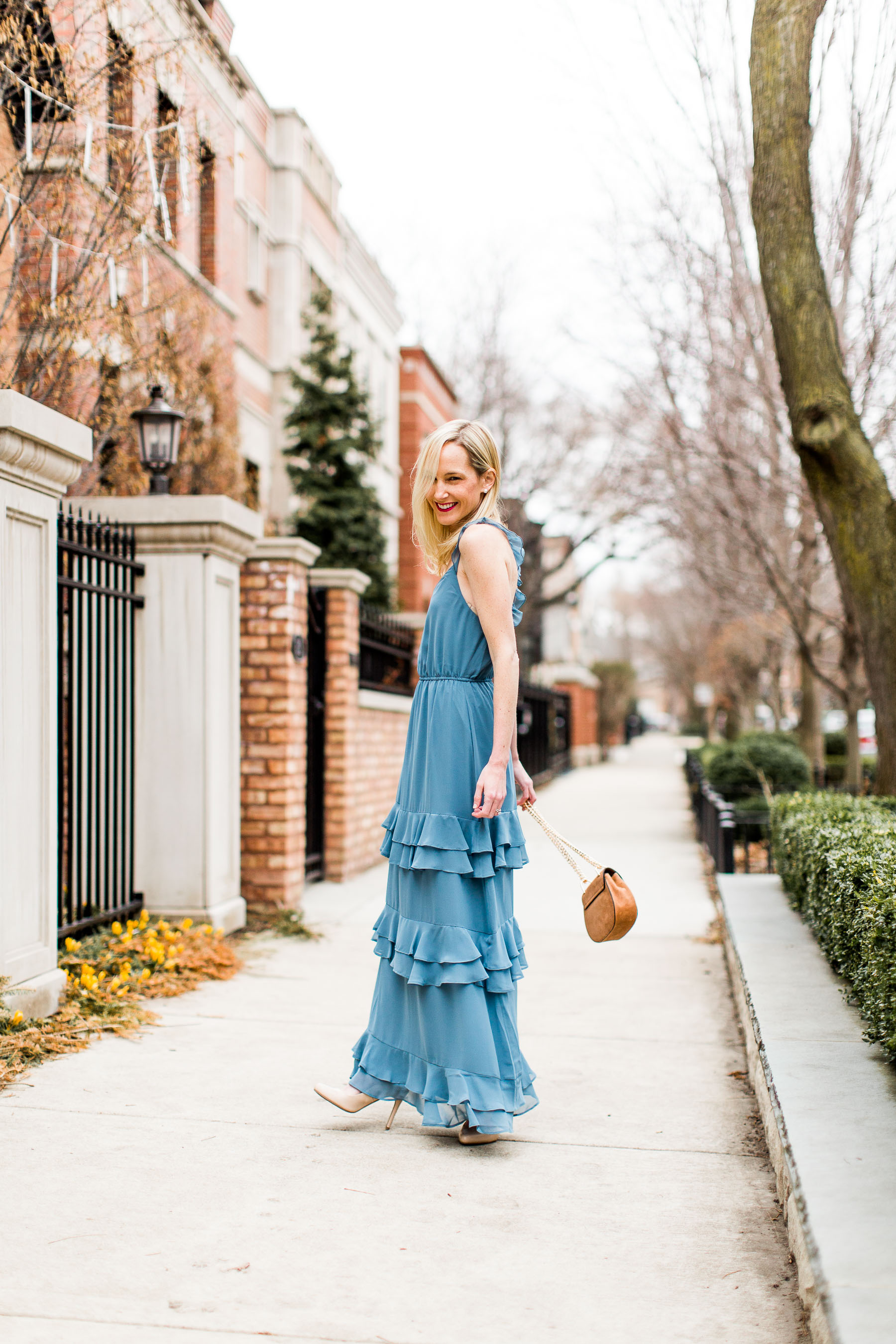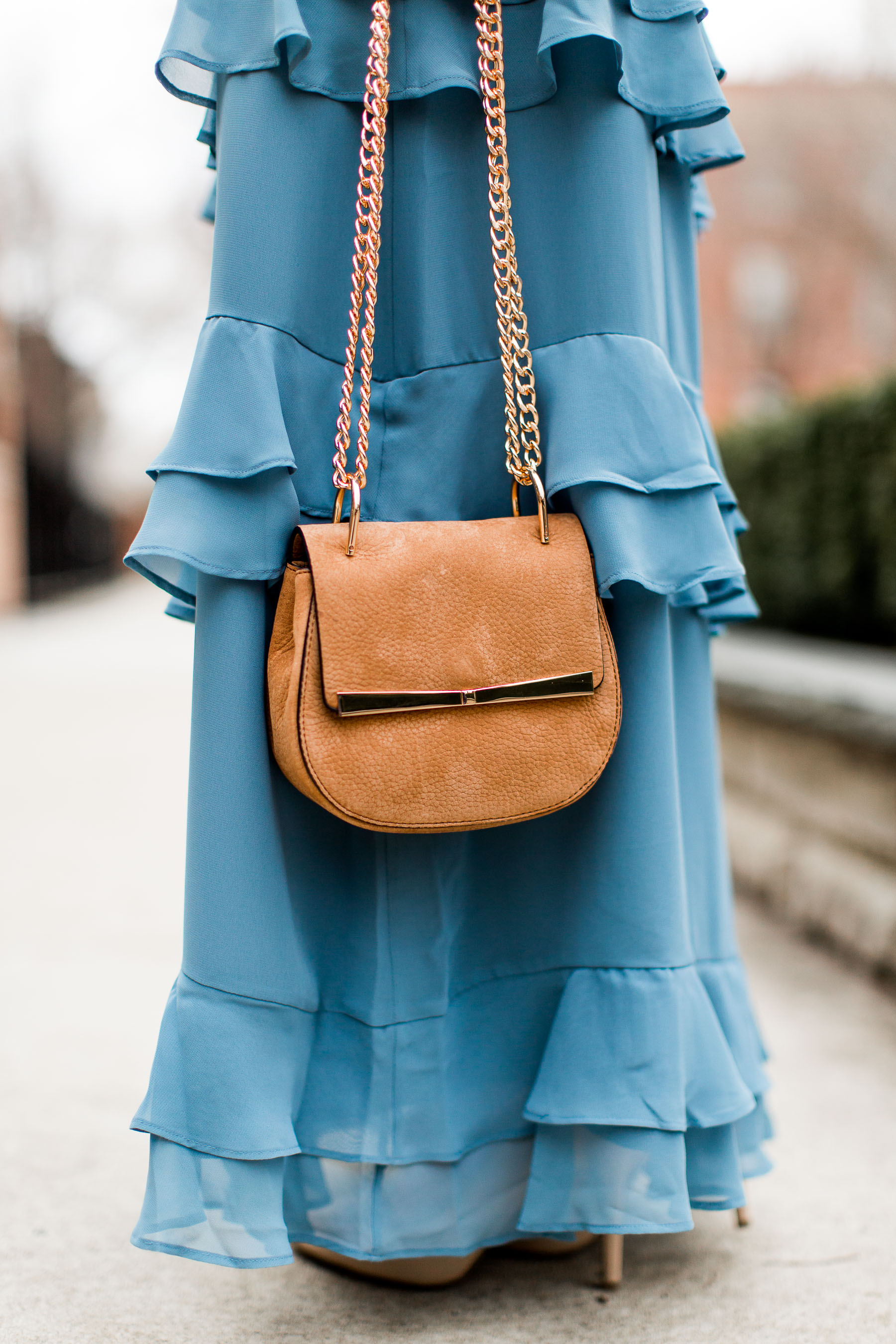 Shop the post:
LC Lauren Conrad Dress (It also comes in white. Here's the skirt version, too!), Bag, Pumps and Initial Necklace
This post was sponsored by by Kohl's and ShopStyle, but all opinions are my own. As always, thank you so much for supporting the partnerships that keep Kelly in the City up and running!