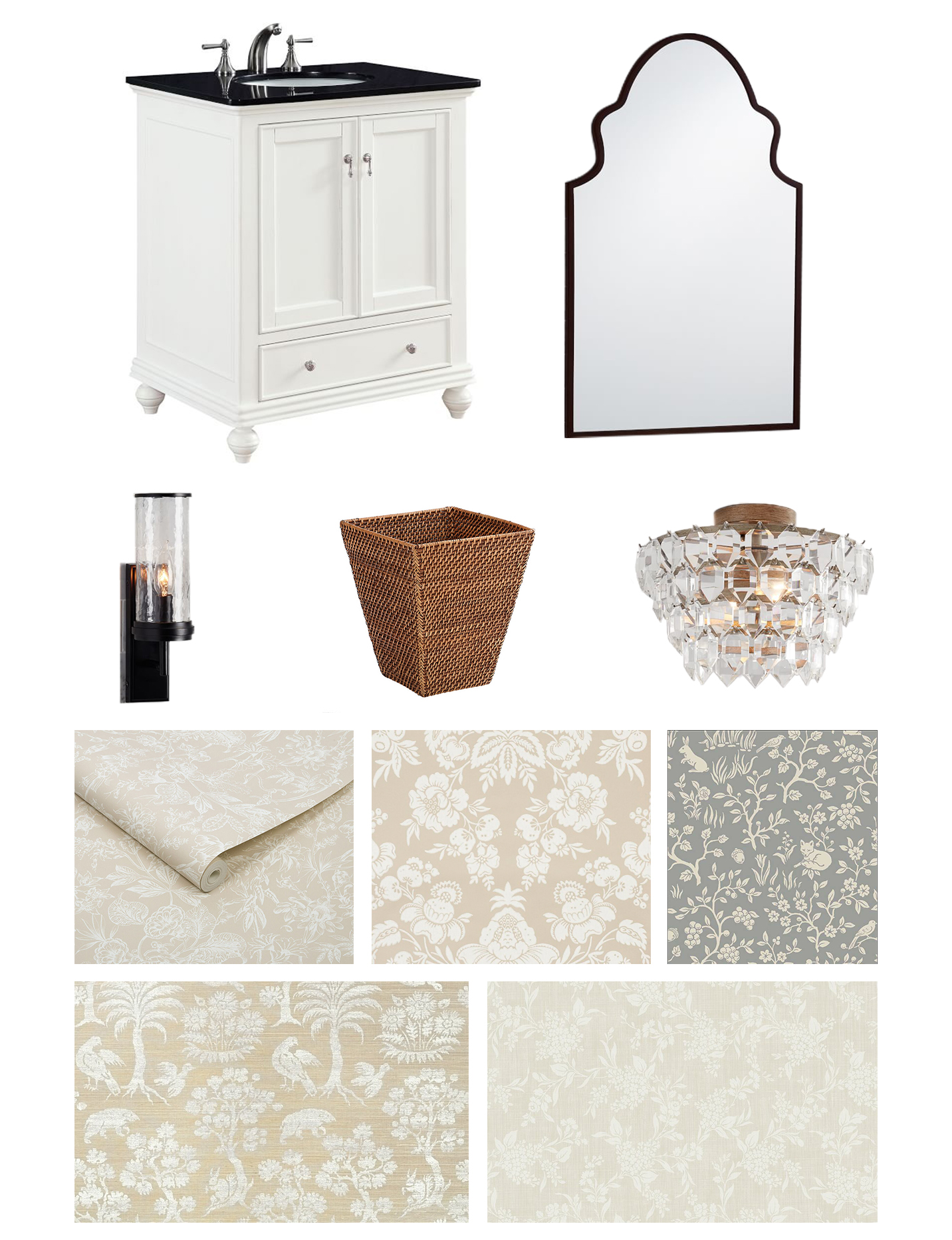 Vanity (On MAJOR sale via Wayfair. 30″ for us.) / Scalloped Mirror / Sconces / Waste Basket / Flushmount Chandelier / Wallpaper: Option One, Option Two, Option Three, Option Four, Option Five
Our powder room toilet broke. It's been fun! 😜
It's okay. It's a very strange toilet, haha. It's "comfort height," which is unusually low to the ground. I can't tell you how many times friends have been like, "Hey, what's up with your toilet?" 😆 On one hand, it's great for potty training. On the other hand, it looks awfully weird.
So yeah. New toilet inbound. The exciting part, though, is that because we had some Pottery Barn credit/rewards expiring and there was a timely bathroom sale going on, we decided to make other updates! (The fact that my family is spending Christmas with us in Chicago was also motivating! I'm definitely excited to spruce it up in time for their stay.) The plumbing and flooring is in good shape, so it's not too extensive—and Kira of Kira David Design, who I consult on everything, says it should only take a couple of days. Woo!
I normally hem and haw and overthink design decisions, but I went with my gut this time and nearly everything is currently on its way. So hopefully you like what I picked out because if not, too late. 😂
~
Vanity: (30." On MAJOR sale via Wayfair.) I can't BELIEVE I found this. The design is almost identical to our kitchen cabinets, and the color—"Antique White"—looks like it matches the color of the kitchen cabinets, which is "Ivory White" by Benjamin Moore. I know most people go with marble countertops these days, and I do adore that look. But the powder room is a high-traffic space as it's right off the kitchen, and we have young children. (Emma basically paints the current vanity in toothpaste every day.) For us, the goal with every design decision has been to create a warm and welcoming home that's as kid-friendly and worry-free as possible. I also personally love the look of black countertops!
Scalloped Mirror: I saw it and liked it and the size was right and it was on sale and so I added it to the cart, haha. Because the vanity will only be 30″ and we wanted sconces on either side of it, we needed something relatively small. This fit the bill!
Flushmount Chandelier: I used to place zero importance on lighting fixtures in rooms, but over the last year and a half of working on the house, I've come to learn that they can make a big statement. I love powder rooms with fancy chandeliers; I always seem to be drawn to them on Pinterest. The powder room ceiling, though, is on the shorter side because the plumbing to the upstairs bathroom is above it. But this flush mount works!
Sconces: They're only 2.5″ wide! I really hope that's not a typo otherwise my plan is FOILED.
Waste Basket: This is similar to the old one we have.
Wainscoting and crown molding: We're going to do picture frame wainscoting to match the rest of the first floor. I love how it looks, but the main reason we have it throughout the house is so we don't have to worry about fingerprints on the walls. Just wipe clean! As for the crown molding, I feel like it's an easy way to make a room—and wallpaper—pop.
Wallpaper: Yes, I'm out of control. But I've had cream wallpaper for the powder room "favorited" for a long time. It'll only be on the top half of the powder room, as the picture frame wainscoting will be on the bottom half. An added benefit to wainscoting is that you only need half the amount of wallpaper you'd normally use! Right now, I'm between Option One, Option Two and Option Five. (Option four is stupid expensive, btw. Didn't realize it at first because wallpaper can be stupid confusing, haha.) Which do you like? This is the one thing I'm undecided on!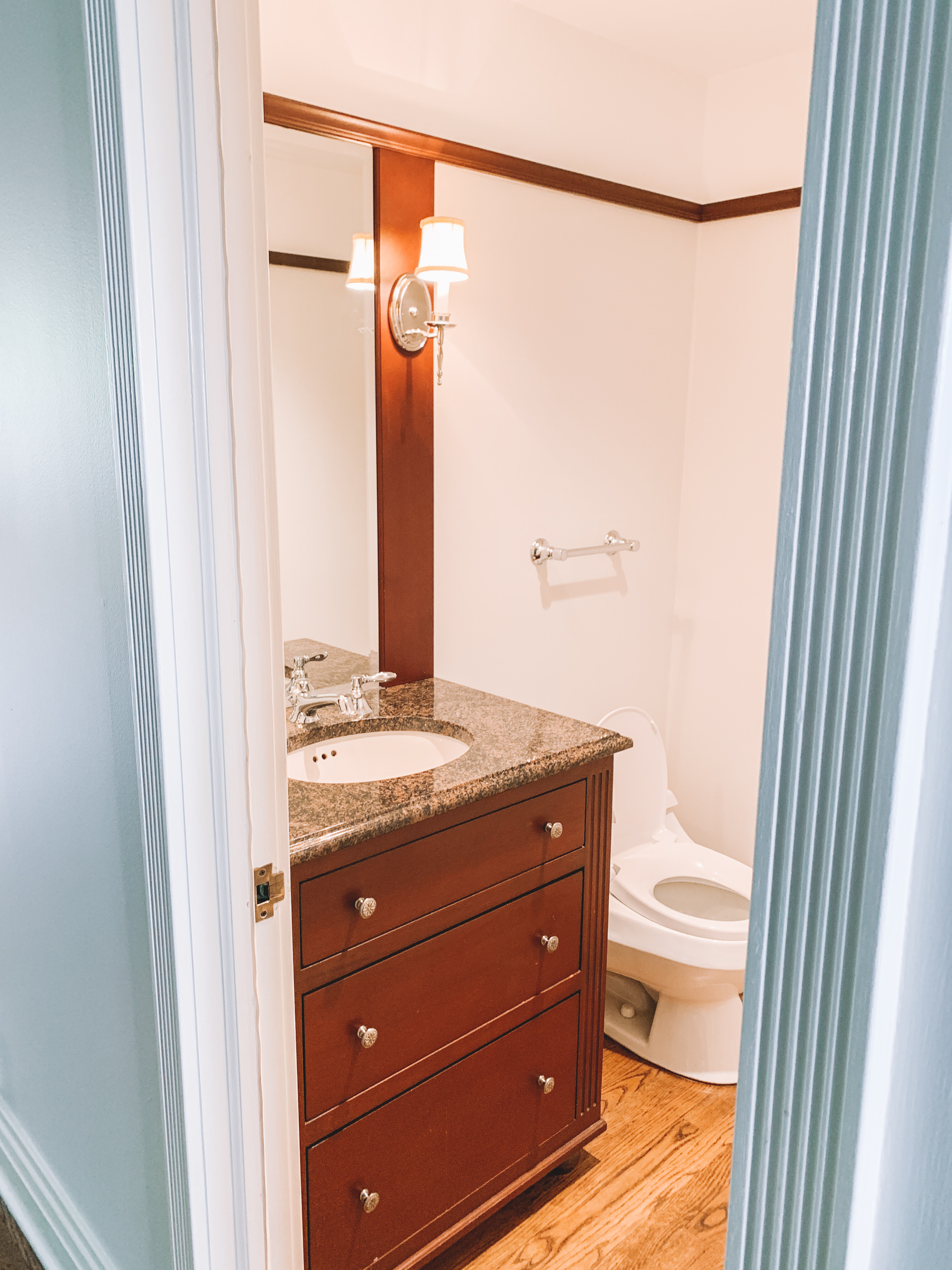 This is what the powder room looks like now! Sorry about the open toilet. I had a baby like two hours after I took this photo.