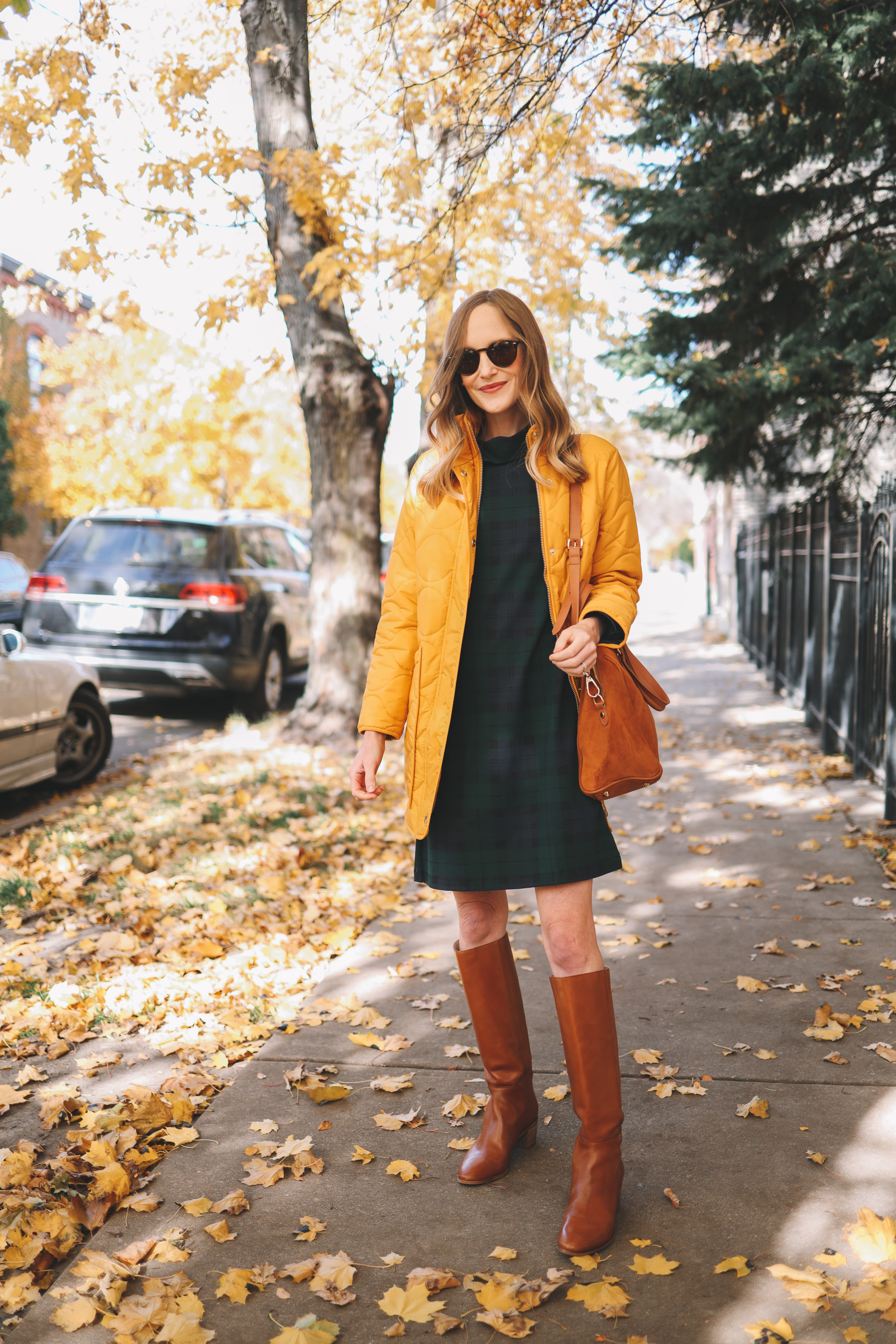 Blackwatch Plaid Turtleneck Dress (Sizes 12-16 tend to fit adult sizes between XS-L. I'm wearing a size 14 here, which probably fits like an adult medium.) / Leather Riding Boots (TTS. These are fantastic as well.) / Quilted Cocoon Coat (Size down one to two sizes! Runs very big. Here's the wool version. I size down one size in that.) / Mark & Graham Suede Crossbody / Sunglasses (More affordable here and here.)
Aaaaand we're finally here with our review of the J.Crew Quilted Puffer Coat!
J.Crew Quilted Cocoon Puffer Coat Review
Here's what you should know:
It's modeled after the wool Cocoon Coat. The Cocoon silhouette has been around since 2011, and for good reason. It's wonderfully warm and oversized yet somehow flattering. It's iconic, really! LOVE that J.Crew turned the classic wardrobe staple into a puffer coat. It's truly perfect for this ultra casual year we're having!
It runs larger than the wool Cocoon Coat. I normally go one size down in the wool Cocoon Coat, but I needed to go two sizes down in the quilted one. It's oversized to begin with, so don't order your normal size!
It's filled with Primaloft, which provides a great deal of warmth. That said, it's not a true winter coat. I would say that once temps drop into the 20s, I'll be in a true puffer coat. (This is my favorite. Runs huge. Size down.)
The collar is higher than the wool version. This is awesome for keeping the wind out.
It has deep pockets. Really great when you want to be hands- or bag-free when running out. It's got great patch pockets with side entry that fit everything I need. My wallet, keys, phone, mask, sunglasses—all the essentials.
It has a zipper. Again, nice for keeping the wind out. I really love that it has cute buttons, though. They act has a snap closure with a hidden zip to make sure you stay nice and warm.
It's machine-washable. HUGE. Just throw it in there. If you're going to dry it a little—which you probably should—be sure to put a tennis ball into the dryer with it to maintain fluffiness. It's crafted with durable recycled polyester so it won't shrink as long as you don't dry it on the highest setting.
It comes in five colors and they're all great. I love the hot pink, but the olive and navy are fantastic as well. And the yellow, while perhaps not as versatile as the others, just makes me happy. ;)
Tips for Styling Puffer Coats
Puffer coats have made a comeback in a big way this winter season – and for good reason! But let's be real, they can be a bit tricky to style, making it easy to fall into a fashion rut. So, here's some tips:
Quality over quantity: Don't be tempted by the cheap options out there. Invest in a high-quality puffer coat like J.Crew's that will keep you warm and stylish for seasons to come.
Accessorize! Add layers with a scarf, hat, or gloves. It'll not only keep you warm but also add a pop of color to your look. Think outside the box and try mixing and matching different textures to take your outfit to the next level.
Tighten it. To avoid looking like the Michelin Man, pair your puffer coat with tighter-fitting clothes underneath. This will help balance out the bulk and create a sleek silhouette.
As always, don't be afraid to get creative. Puffer coats come in a variety of styles and colors, so don't be afraid to play around with different looks. Try pairing a bright-colored puffer coat with a printed scarf. Or, you switch things up and play around with different winter boots and shoes to see what you like. Just have fun with it!
What do you think about the J. Crew Quilted Cocoon Puffer coat?
It gets an A+ from me!
The honest truth its that the J. Crew Quilted Cocoon Puffer Coat is so versatile and perfect for everyday wear. It's functional, stylish, and cozy…. So really what more could you want in a slim fit cocoon coat? No wonder it's practically famous for being one of J.Crew's customer favorites since 2011. I really really love the sophisticated, quilted design. It's seriously worth considering if you're in the market for a new puffer!
Shop the post:
Blackwatch Plaid Turtleneck Dress (Sizes 12-16 tend to fit adult sizes between XS-L. I'm wearing a size 14 here, which probably fits like an adult medium.) / Leather Riding Boots (TTS. These are fantastic as well.) / Quilted Cocoon Coat (Size down one to two sizes! Runs very big. Here's the wool version. I size down one size in that.) / Mark & Graham Suede Crossbody / Sunglasses (More affordable here and here.)