As most of you already know, the key to getting dressed in the winter is lots of layers, so today, I'm sharing three winter layering outfit ideas. From a classic sweater and a button-up combo to a snow day outfit to a versatile neutrals look.
Sweater and a Button-up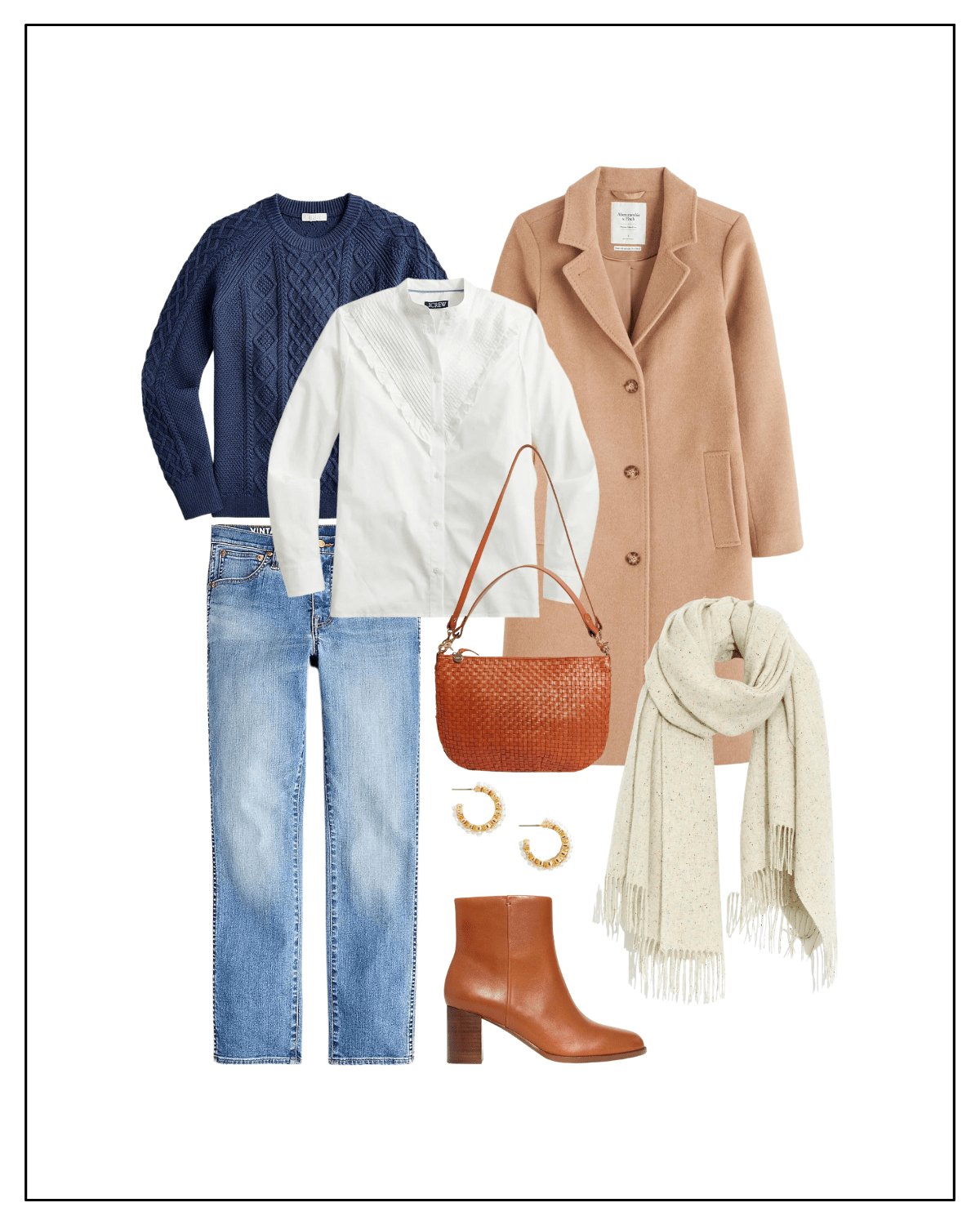 Navy Cable-Knit Sweater / White Poplin Button-Up / Straight-Fit Jeans / Tan Topcoat / Leather Woven Messenger Bag / Pearl Hoop Earrings / Wool Scarf / Leather Ankle Boots
I love the look of layering a button-up with a sweater. It adds contrast by breaking up the sweater from the jeans and ties together the outfit. These cotton cable-knit sweaters are 30% off right now with the code SHOPNOW and are a wonderful winter wardrobe staple. They're available in navy, tan, and ivory. The white ruffle-trim poplin button-up and straight-fit jeans are also included in the sale. Layer a tan wool topcoat (20% off – discount applied in cart) and a wool scarf for extra warmth. Lastly, accessorize with this gorgeous leather woven messenger bag and these pearl hoop earrings, and wear a pair of leather ankle boots or loafers.
Snow Day Outfit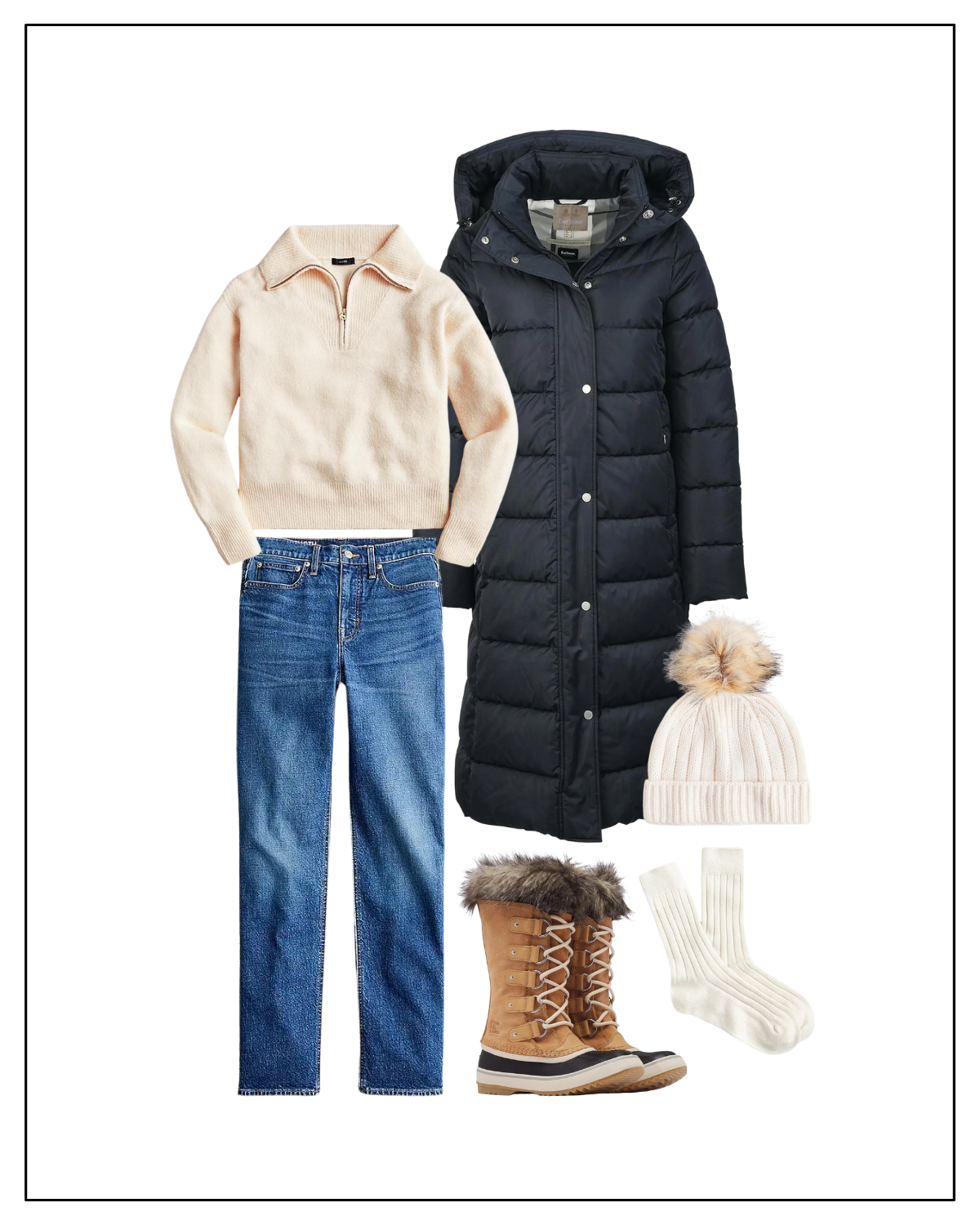 Cream Half-Zip Sweater / White Long Sleeve Base Layer / Straight-Fit Jeans / Black Quilted Puffer Jacket / Cream Ribbed Pom-Pom Beanie / Cream Cashmere Blend Trouser Socks / Sorel Winter Boots
This snow day outfit looks cute but, most importantly, will keep you nice and toasty. Start with a white base layer, and then layer this cream half-zip sweater over. Style it with your go-to pair of jeans. For the last layer, I'd opt for an insulated puffer coat like this black quilted jacket. This jacket has a funnel collar and an oversized hood, which will keep you extra warm. Accessorize with a ribbed pom-pom beanie and slip on a pair of cashmere blend trouser socks before putting on your snow boots. I can't recommend these Sorel winter boots enough. I reach for them anytime we have a significant snowfall because they keep your feet incredibly warm, even in some of the coldest temps.
Versatile Neutrals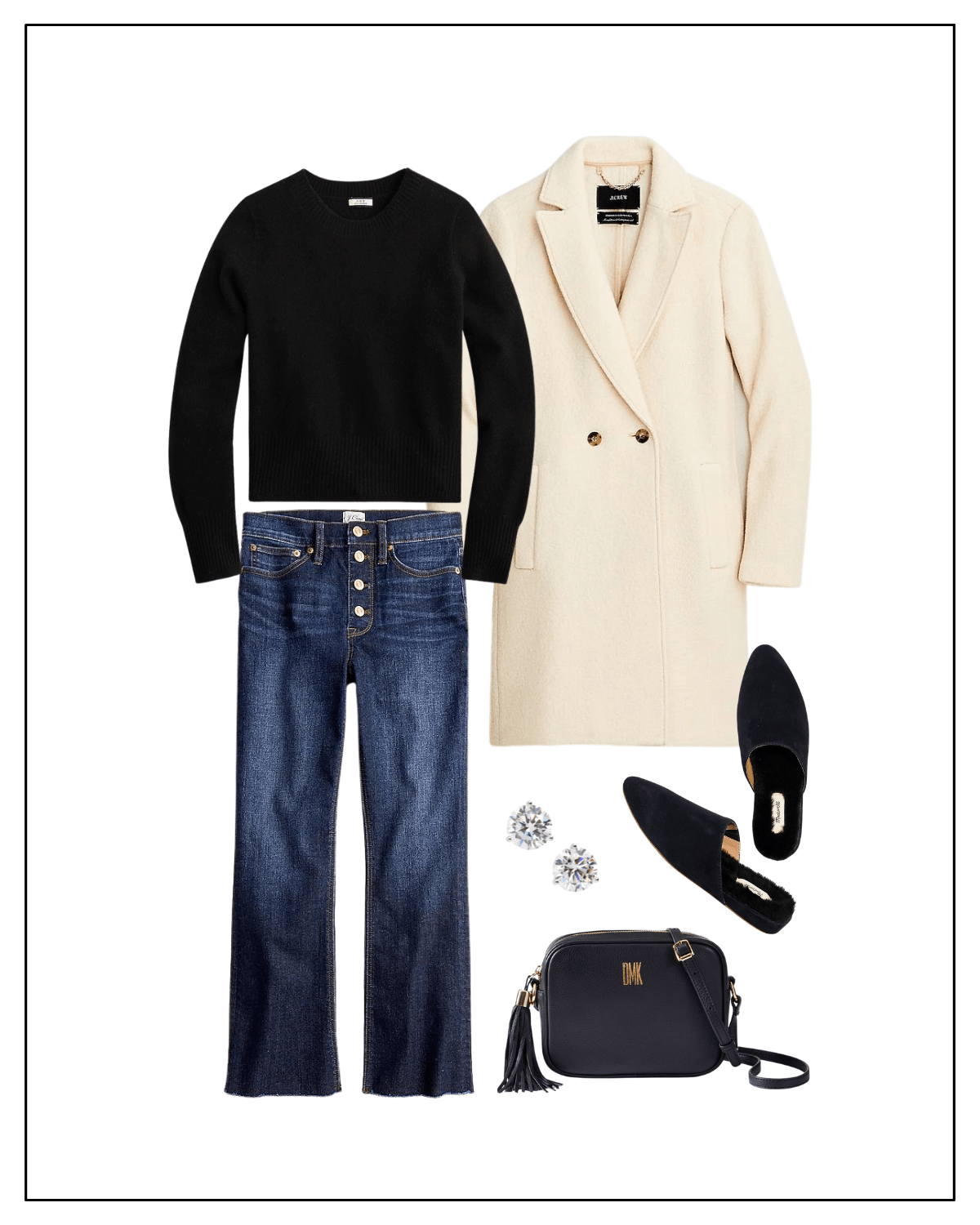 Black Cashmere Crewneck Sweater / Demi-Boot Jeans / Ivory Topcoat / Cubic Zirconia Stud Earrings / Black Leather Crossbody Bag / Black Faux Shearling Mules
Neutrals for the win! I wear a variation of this outfit pretty frequently. It's what I reach for on busy mornings because it's comfortable yet still looks put together. Start with this cozy black cashmere crewneck sweater; it's such a great basic. It's also worth checking out some of the other colors on sale for under $60, which is such a DEAL since J.Crew never includes cashmere in sales. These cropped demi-boot jeans are incredibly comfy, and I love the dark wash. If I'm staying inside, I'll slip on my favorite shearling-lined mules, but if I'm leaving the house, I can dress it up with ankle boots, stud earrings, a black leather crossbody bag, and this gorgeous ivory topcoat to tie together the look.