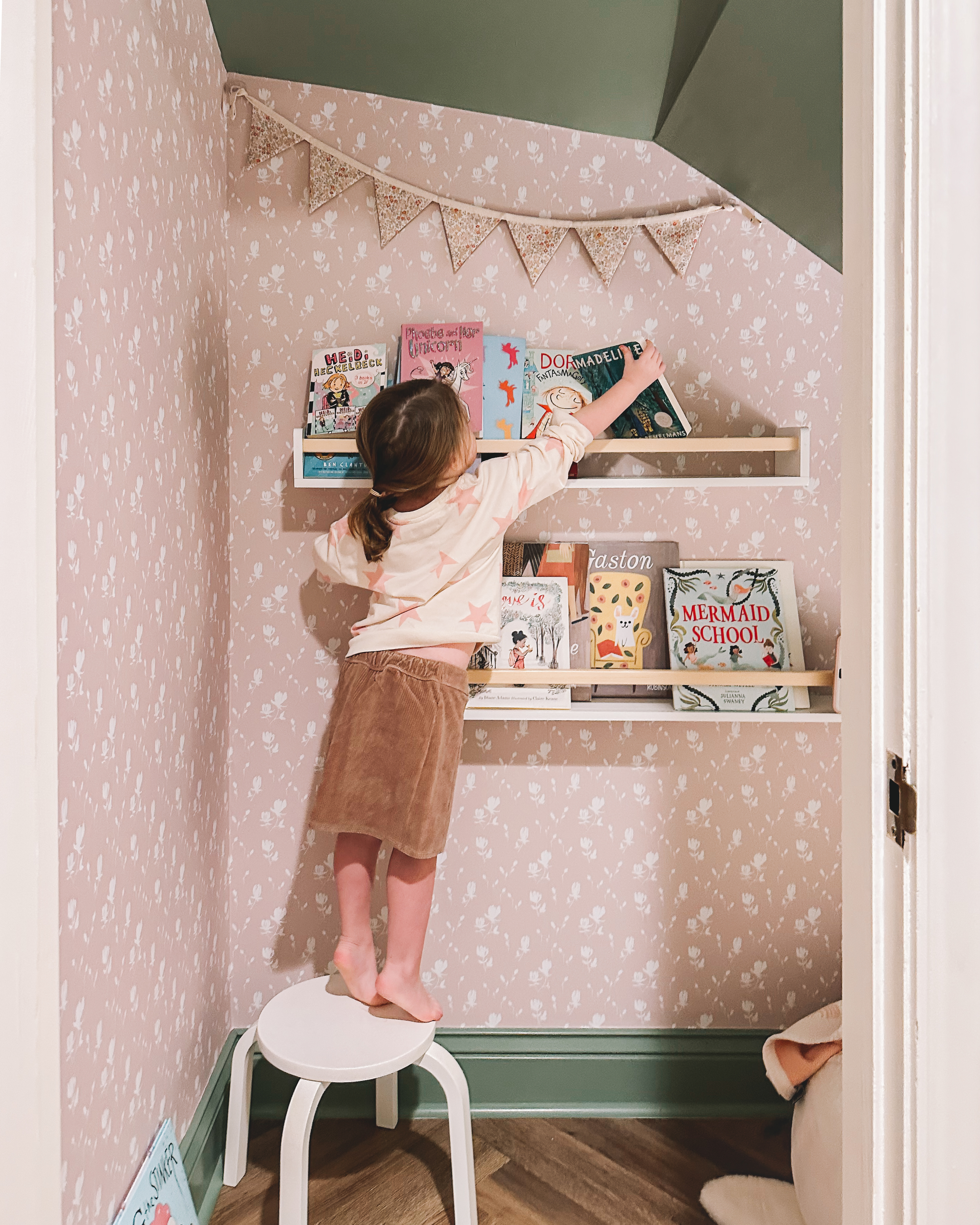 It's happening!
Here's the backstory:
I know this might sound shocking (😉), but I've wanted to learn how to wallpaper for the longest time. I mean, can you imagine?! The ability to totally change up the look and feel of an entire room within a day or two (or week or whatever)?! What a superpower!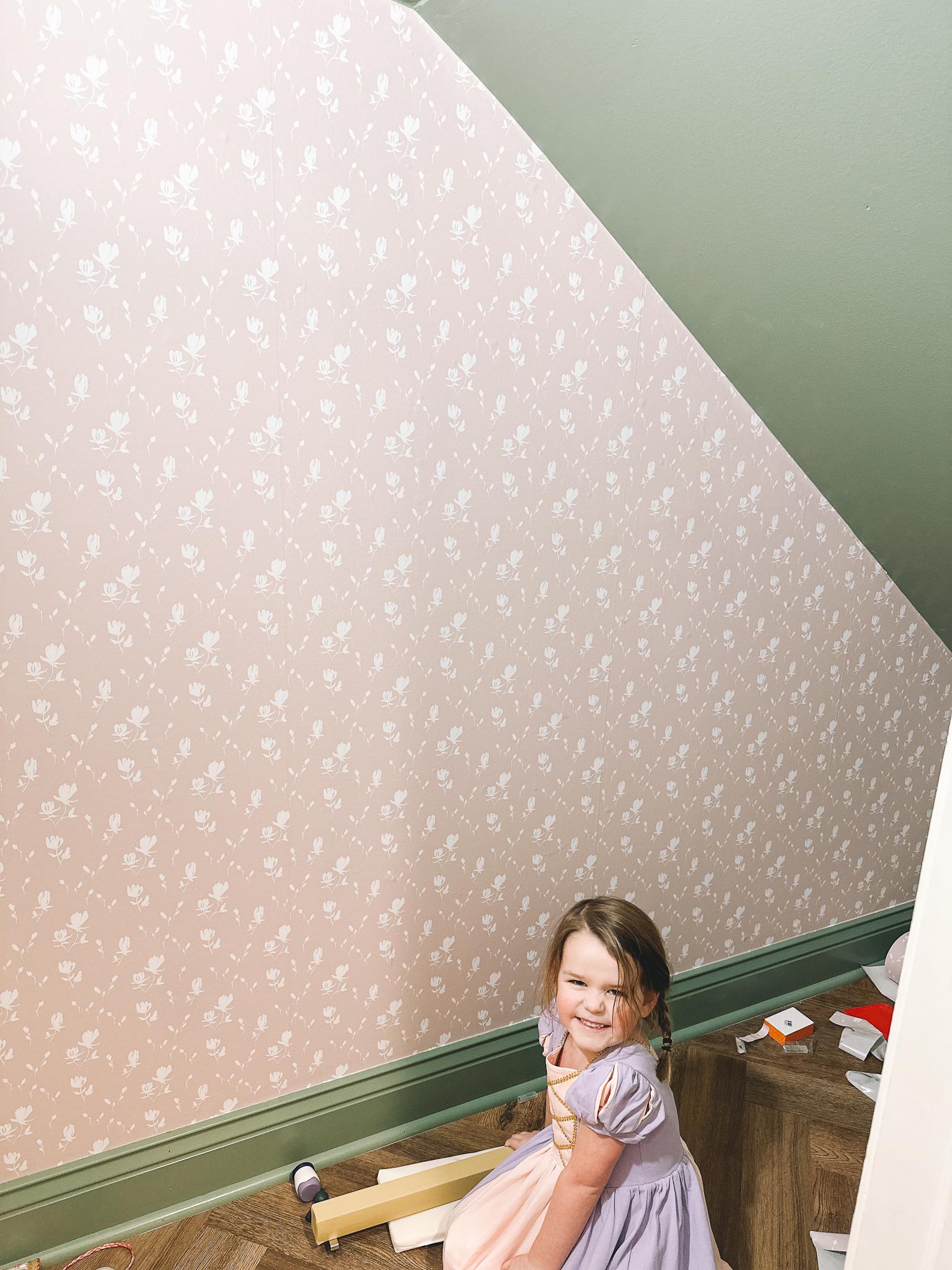 Princess Dress / Peel-and-Stick Wallpaper
So I set a goal for 2023. Not for anything crazy; I just wanted to try my hand at peel-and-stick wallpaper. In a closet. As low-risk as it gets. 😆
But here's the thing about goals and me:
I'm a whole lot of talk and not so much game. In Januarys past, I've been like, "I'm going to change everything about my life!" and I genuinely meant it in those moments. But I always fizzled out. Because forming a habit takes some time, work and dedication—and therefore forming multiple habits at once has a low likelihood of success.
I figured that the only way I could make my less-than-aspirational dream come true was by tackling it in the first week or two of January. So I rummaged around in my garage and found a can of green paint, and I picked out some cute blush peel-and-stick wallpaper from Chasing Paper. (Which is where we got Emma's bathroom wallpaper from.) I watched this very informative video on peel-and-stick application, ordered this cheap amateur wallpapering kit, crossed my fingers, and went for it. With both my kids at my feet. (Though for the most part, they thankfully played outside the closet.)
At first, the goal was truly to just wallpaper the storage closet and make it look nicer while learning a new skill. But once I got the shelves down, I realized just how big the space was—and just how much potential it had! Mitch had a similar reaction. And so did Lucy.
"Can this be my room?!" she actually exclaimed when I got the first couple of panels of paper up. "I LOVE IT."
(She loves tight, cozy spaces.)
Before! (And Lucy bringing me "breakfast in closet.")
It took no more than a couple seconds before I told Mitch I wasn't sure I wanted to put the shelves back up. Which was quite fortunate, because we weren't entirely sure how to do that anyway. 😜 Looked intense.
Growing up, I spent every Christmas with my cousins in Vermont. And they had not one but TWO secret closets: one in the basement that I actually slept in—sounds bad but it was absolutely lovely; so warm and toasty and private!—and one off the girls' closet, which housed a big village of Playmobil toys. I can't tell you how magical all that was to us as children: the idea that it was a secret.
Funny enough, all of this was brought up over Christmas at my parents' house—just how fun all of that had been. So it must have been at the forefront of my mind when I vowed to turn our under-the-stairs closet into the ultimate secret hideout/reading nook/sleepover space. :)
I did the painting on Saturday, and the wallpapering on Sunday. Surprisingly, the wallpapering was easier than I assumed it would be… and the painting was much, much more difficult. But with a little trial and error, I got through it, and the room is currently prepped for "furnishing." (Though I'm still waiting on one last roll of paper, as I didn't order enough. I know, I know. Dye lots. But it's a closet, and this particular corner is very hidden. So I figure it doesn't matter too much. And lesson learned for other rooms!)
Btw: In case you're wondering, we sold the toddler climbing blocks on Facebook Marketplace since the girls are bigger now and don't use them anymore! And I'm going to repurpose the storage cubes and use them in another closet. We also set aside our old guitars to sell. We're more into piano these days!
In the future, I could see the girls on the phone with their friends in the mini triangular room… you know, if that's still a thing in five or 10 years. Mitch says he'll raise hell if they ever try to take significant others in there, but we'll cross that bridge when we come to it. ;) For now, it's the sweetest new room we never knew we had, and I can wait to decorate and make it functional for Emma and Lucy, ages 6 and 3.
More to come soon. Here's the inspiration: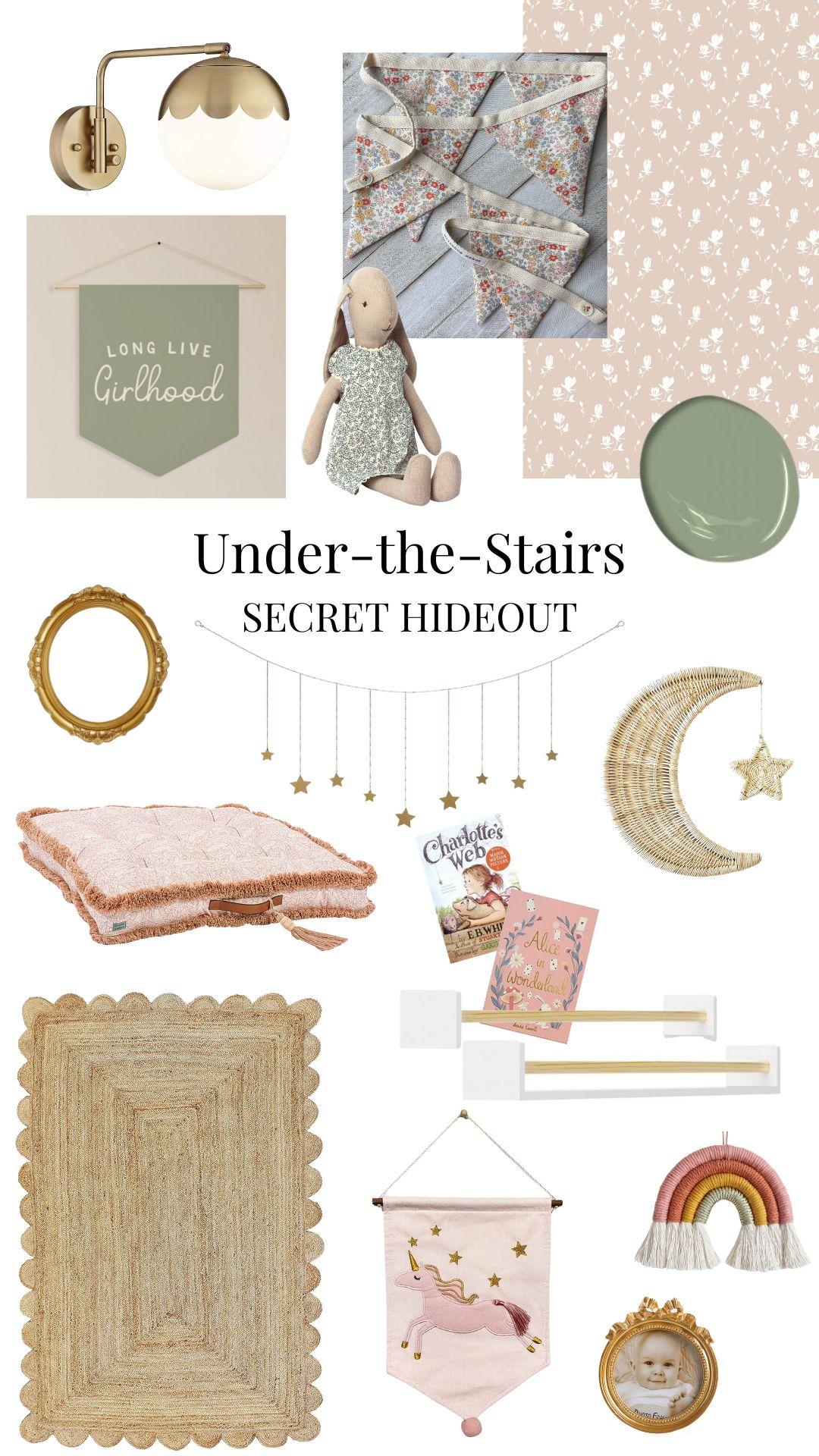 Scalloped Sconce / Liberty of London Flag Garland / Peel-and-Stick Wallpaper / "Long Live Girlhood" Sign / Maileg Bunny / Benjamin Moore Kennebunkport Green Paint / "Vintage" Mirror / Star Banner / Rattan Moon / Floor Cushion / Scalloped Jute Rug / Floating Bookshelves / Rainbow / Unicorn Sign / Tiny Brass Frame (Great find, Carly!)
Next steps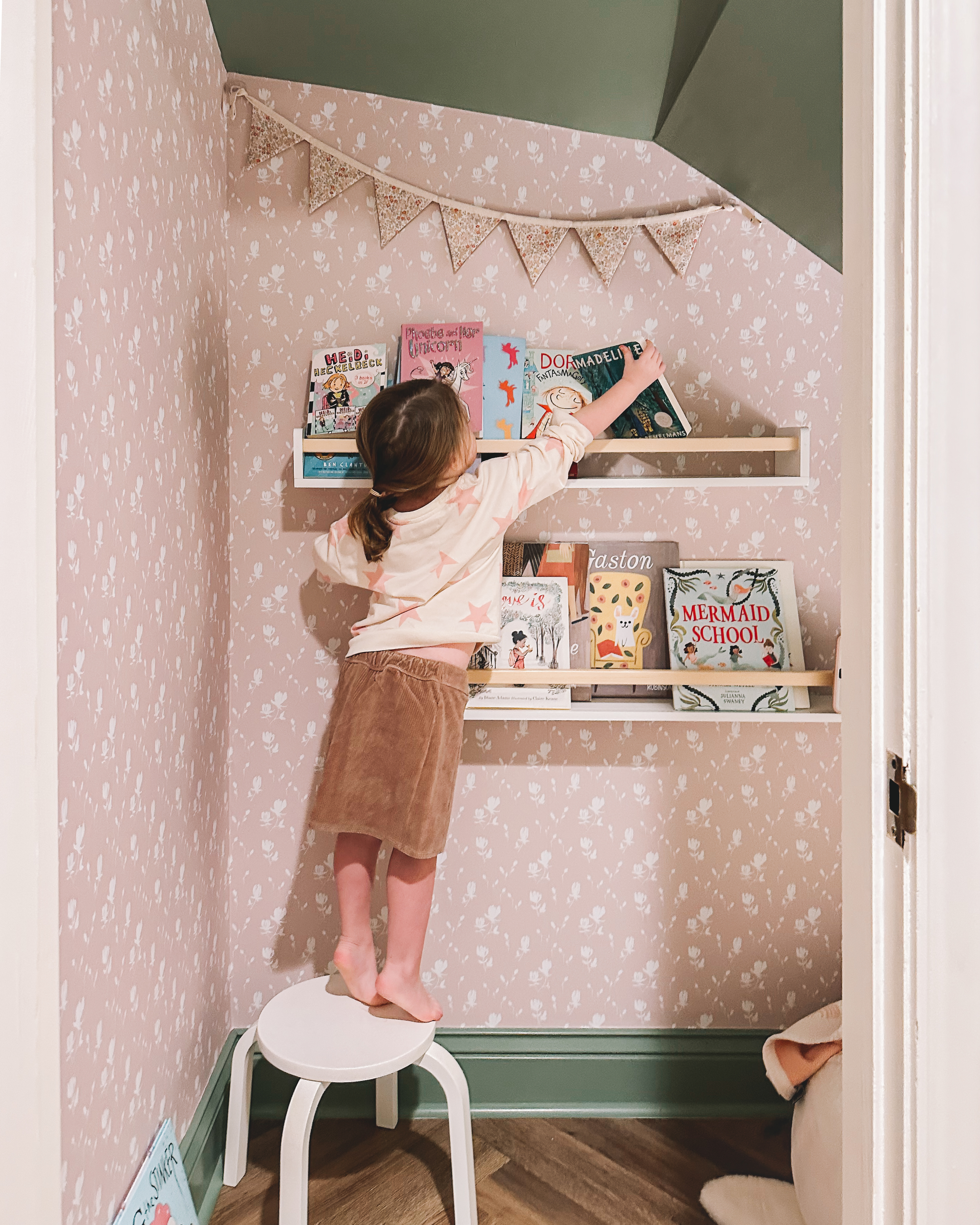 Decor
Scalloped Sconce / Liberty of London Flag Garland / Peel-and-Stick Wallpaper / "Long Live Girlhood" Sign / Maileg Bunny / Benjamin Moore Kennebunkport Green Paint / "Vintage" Mirror / Star Banner / Rattan Moon / Floor Cushion / Scalloped Jute Rug / Floating Bookshelves / Rainbow / Unicorn Sign / Tiny Brass Frame (Great find, Carly!)
Update: It's taking some time to decorate the secret hideout because we're waiting on a few products. But the shelves and banner are up, and it's already starting to feel cozier!
Electrical for reading light
I really wanted the reading light to be hardwired, so we had an outlet/switch installed (by an electrician) and ran the wires. I wired the cloud sconce on my own, which proved to be far more challenging than I thought it would be 😆, but it's up!
As you can see, there are some imperfections on the wall. If this were a bedroom, I would definitely have fixed them. But it's just a closet, haha, so I'm instead going to hang decor over the spots that are noticeable.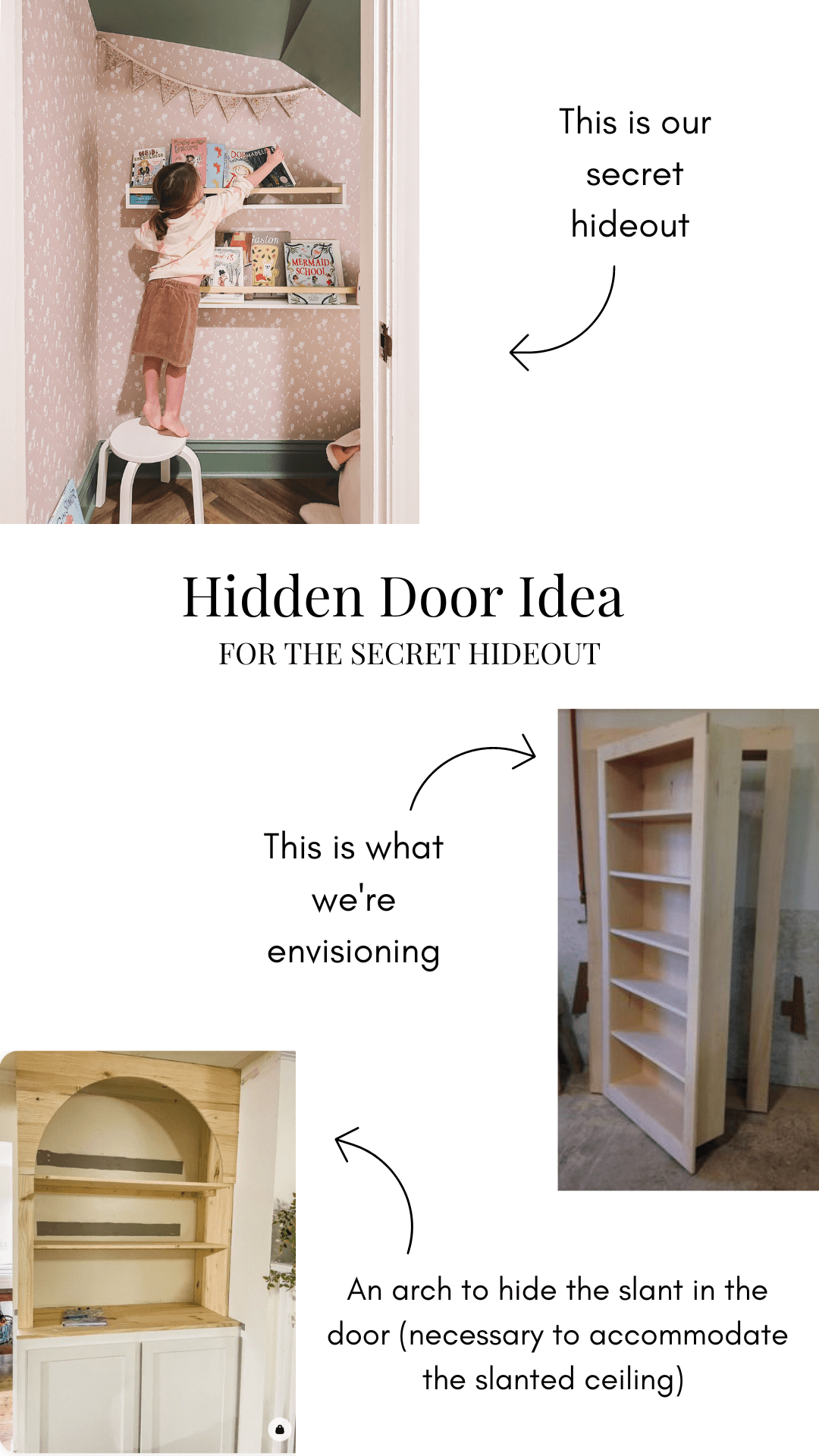 Option A for hidden door
I originally thought that I could do this on my own with a pre-made hidden door from The Murphy Door, InvisiDoor, and Hide-A-Way Doors. But unfortunately, the slant in the ceiling won't really allow for that. Though I have reached out to those companies in the hopes that they do custom work! Another thought is just hiring a carpenter to make the slant alteration on something like this.
Then we considered doing it ourselves at my father-in-law's house since he has a lot of tools. But he grounded us, saying this project was likely out of everyone's wheelhouse. 😆
I found the above (middle) inspiration photo online, and turns out that the carpenter is from the Chicago area! Sent an e-mail and waiting to hear back. ;) Fingers crossed! If you know anyone in the Chicago area who you think would do this, please drop me a line at Kelly@kellyinthecity.com. Thank you in advance! ♥️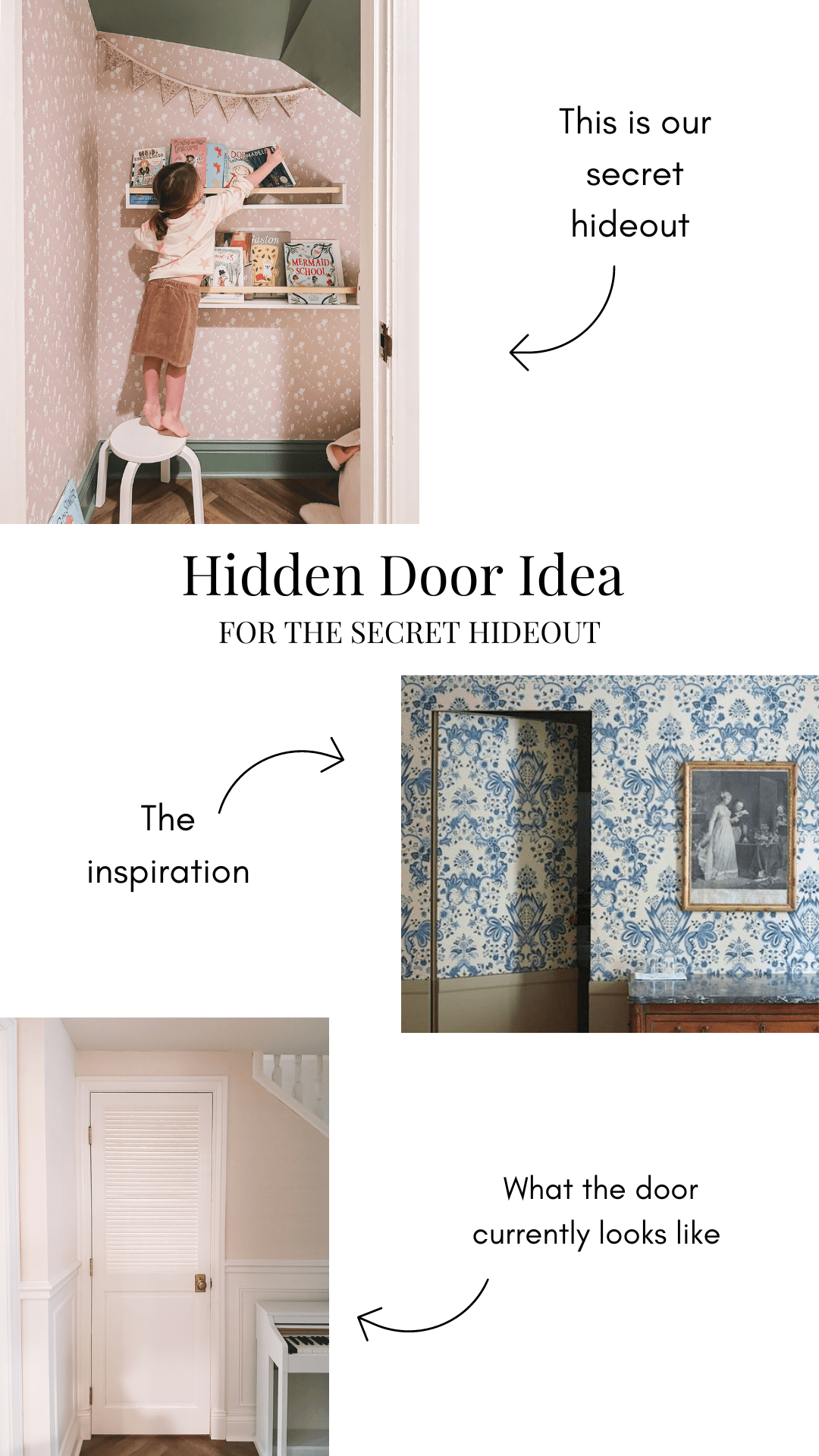 Option B for hidden door
Randomly saw a photo of the hidden door in the Oval Office and realized that something like that would likely be far more doable and affordable, haha. So this is what I'm currently thinking! PS: The cloud light has been hard-wired, and it's functional!
Stay tuned for more updates!