Last night, we ran over to Old Navy to pick up some socks for Emma because she only has a few pairs left that fit her and they're dirty… and our dryer isn't working. 🙈 (#momfail for sure, but all things considered, I think our first week of school is going pretty well!)
I walked in there and almost immediately was like, "Oh no. This is going to be bad." 😂 So. Much. Goodness. Even Mitch wandered away to explore the men's section and came back with armfuls of stuff. (Btw: the manager at the Lincoln Park store on North Avenue, Kelsey, is awesome. Definitely stop in if you live in the area!)
For the last few years, Old Navy has been killin' it with classic, preppy pieces that I know I'll have in my closet for a LONG time. Yes, the quality varies product by product, but there are always at least 10 gems per season, ranging in price from about $15 to $65 full price. (Though let's be serious: there's almost always a sale going on at Old Navy.)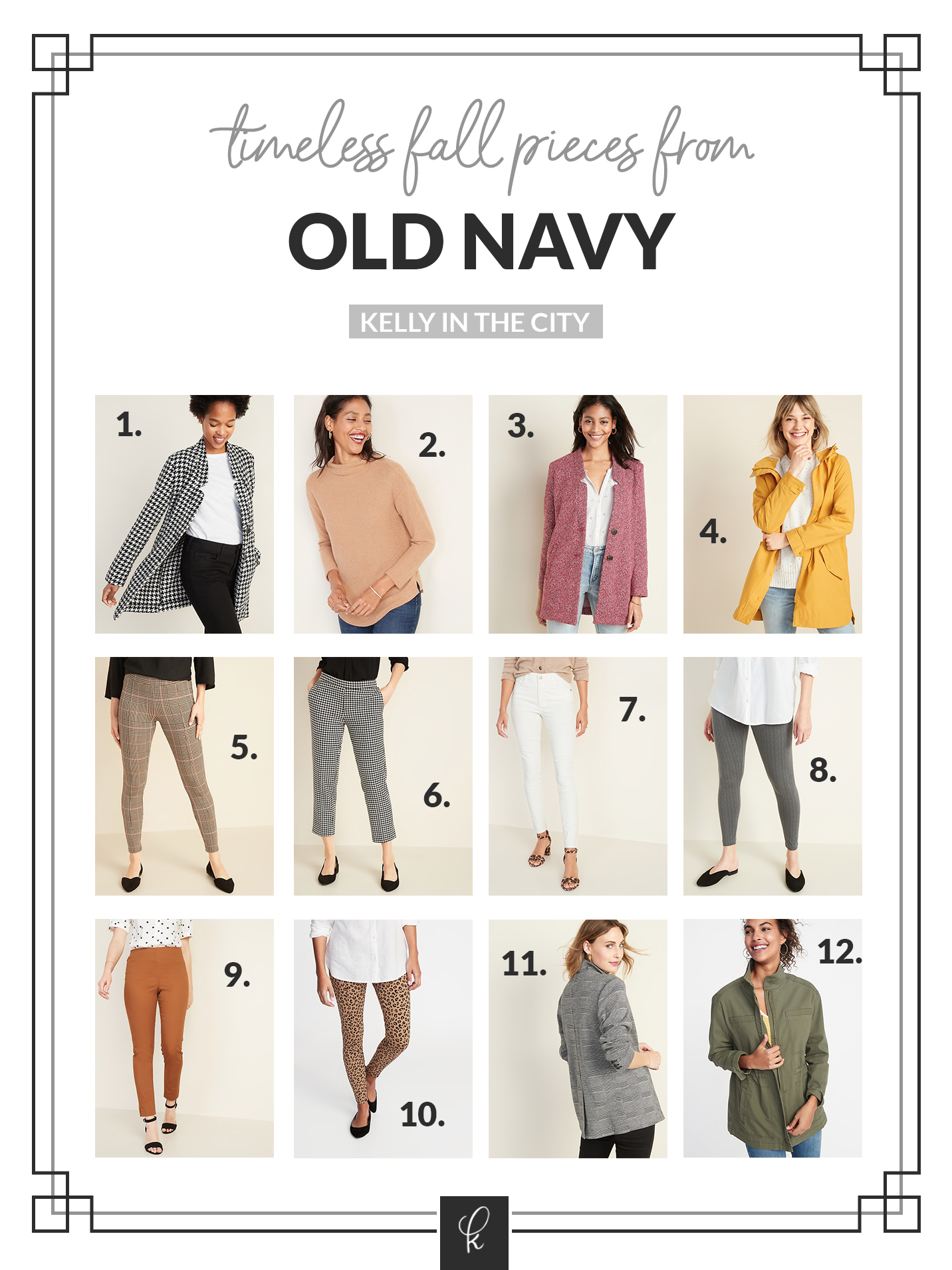 One / Two / Three / Four / Five / Six / Seven / Eight / Nine / Ten / Eleven / Twelve
Anyway, I thought I'd highlight a few of my favorite finds today. I should also note that you can now do the whole "buy online/pick up in store" thing, which is awesome. (It's really easy. Learn how it works here.) Also, I'll also attempt to do a little try-on at some point today or tomorrow on Instagram Stories now that I have a little more time on my hands! So look out for that. But here's what I love:
1. Houndstooth Overcoat: Stop the presses. Like what?! This is adorable. Pair it with basics and you've got a quick and easy standout look.
2. Plush-Knit Funnel Neck Sweater: Saw this in-store and was amazed by how soft and cozy it was. I'm freezing all the time, and this is a great (very) lightweight sweater that I can wear under blazers as the weather changes.
5. Stevie High-Waisted Plaid Ponte Pants/Leggings: Huge fan of the Stevie Pants. They're thick and substantial which means you can totally wear them to work… yet they feel just like leggings. The wide waistband sucks you in and flattens bumps, and they're just beyond flattering. The plaid pair is a must this season! (They also come in Houndstooth but not sure how I feel about the zippers.)
6. Pull-On Houndstooth Pants: If you've been following along with me for a while, you know my hatred for hook-and-eye closure pants. (I just think they're SO uncomfortable!) But when I saw these pull-on houndstooth pants, I pounced. Dressier pants I can wear comfortably are so hard to find!
7. High-Waisted Rockstar Cords: Haven't tried these yet, but I'm a huge fan of the Rockstar line in general, especially these. Excited to see if the cords are winners! Love white cords in the fall and winter.
8. Herringbone Leggings: Ah-maz-ing. I love them paired with a white top or sweater, just as the model does here.
10. Stevie High-Waisted Leopard Ponte Pants/Leggings: Another must-have. I do like the look of leopard jeans but they're also a little extra for me. ;) Leopard leggings, though? I'm on board, haha! (They also come in Houndstooth but not sure how I feel about the zippers.)
11. Plaid Boyfriend Blazer: Get this! Adore long oversized plaid blazers. This one's a steal and the pattern is fantastic. Looks about $200 more than it actually is.
12. Utility Jacket: The best utility jackets come from Old Navy. I've tried tons over the years, and I always come back to my ON one!