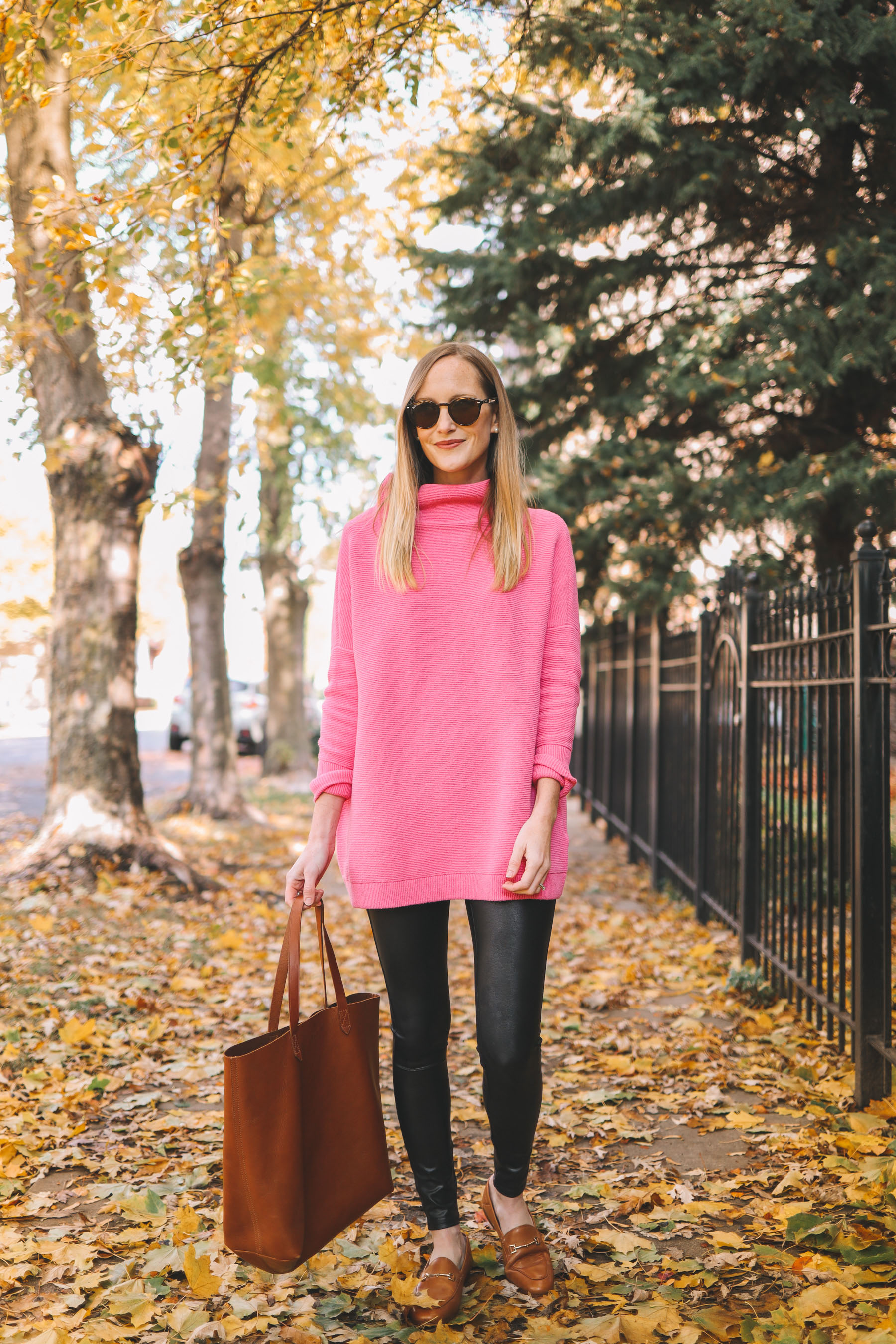 Free People Ottoman Slouchy Sweater Tunic / Faux Leather Leggings / Lior Loafer / Leather Transport Tote (Love this one, too. And here are the rest of the Transport Totes! So many to choose from.) / Highstreet Tortoise Sunglasses
I'm here today to talk about Free People's Ottoman Slouchy Sweater Tunic. Because you need it in your life. It's.so.good.
I bought my first one a couple of years ago, but somehow I don't think I've ever worn it on the blog?! (I should maybe up my editorial calendar game. 😂) It's heavenly, though. It's super soft, kind of stretchy, very warm, machine-washable, and *amazingly* flattering while also forgiving. And it looks great with faux leather leggings or jegging-like jeans. I kid you not: I own it in white, burgundy and this hot pink color. It's just so good for Chicago winters, and it makes me feel chic even when I'm bundled up to the nines!
The one thing you should know is that the FP Tunic runs large. Of course, it's intended to have an oversized look… but just keep this in mind when ordering. I normally size up in most sweaters and tops, but for this one, I had to size down–and it's still plenty roomy! (Wearing the XS here.)
Conversely, if you're looking at my favorite faux leather leggings, you kind of can't go wrong with sizing. I originally bought mine when I was pregnant, so I went two sizes up. But that pair still totally fits… just as well as my usual size does! So I don't know. I'd suggest ordering your regular size, but you can go up a size if you'd like. :) They all look about the same, haha.
I should add that some of my best finds–like the FP Tunic, Gucci lookalike loafers, leather tote and tortoise sunglasses!–have come from Nordstrom's Juniors section. Yes, I'm old… but there are just so many hidden gems in there, many of which are super affordable, I suppose because they're categorized as "juniors." Below are my favorites and most-worn products from my #1 retailer. ;)
Wubby Fleece Pullover: If you don't own this, add to cart now! It's my coziest sweatshirt, and what I normally wear when I walk Noodle in the morning. (If you see me out and about, I apologize for my appearance, haha.)
$38 Pea Coat: This thing is amazing. It's great for early autumn, or for people who live in warmer climates yet want a cute fall coat. It remains a favorite of mine! I went up one size.
Dolman Ribbed Top: This is a great basic. I wear it with some of my louder holiday pants.
Platform Slip-On Sneakers: Don't have these but interested in trying. A little unlike me, but even my mom (the preppiest) has voiced that she loves them!
Lior Loafer: The very best Gucci Brixton loafer lookalike. Very comfy! TTS.
Highstreet Sunglasses: When my beloved Kate Spade sunglasses bit it, I started wearing these… and I'm proud to say I'm now able to function again! (Losing the KS sunnies was a TOUGH one for me. 😜)
Chunky Cable-Knit Sweater: Don't have this but I want it.
Softest Kent Cardigan: Madewell makes my favorite cardigans.
Felicia Ballet Flat: Have these in brown and red. They're like butter! If you haven't been able to find a pair of ballet flats that don't cut into your feet, try these. TTS.
Rails Hunter Plaid Shirt: I want to know what all the hype is surrounding this shirt… but I don't want to spend the money to find out. SOMEONE TELL ME!
Ribbed Turtleneck Sweater: Apparently it's super soft. Another great basic.
Frances Loafer: One of my most-worn pairs of loafers! So polished and perfect for the office, yet wonderfully comfy. TTS.
Button-Front High-Rise Jeans: I just ordered these! Aren't they cute?!
High-Knee Boot: A lot of my girlfriends have these. I think they're awesome for going out in Chicago during the colder months. I'm sorry, but you'll NEVER see me out in heels that expose my skin unless I'm Ubering to and from my locations, haha. These look fancy yet keep you warm!
Smocked Swing Top: A great top to wear under blazers.
Road Tripper Crop Jeggings: I hear great things about these! They're apparently fantastic when paired with boots because there's no bunching.
Plaid Scarf: Cute, right?! I mean, we're currently doing #60daysofplaid over on Instagram, so I should probably get this…
Cashmere Jeans: Intrigued. Anything that provides extra warmth gets an A+ in my book.
Bow-Neck Denim Shirt: Cute!
Ottoman Slouchy Tunic: You know my feeling about this one. 😂
Petty Chelsea Boot: I've been wearing these since 2013. True story. One of the comfiest pairs of booties I've ever owned.
Camel Car Coat: Every girl needs a camel coat for the fall/winter. It's a staple!
Plaid Blazer: VERY in style this season.
Oversized Scarf: It's back! If you're interested, you should probably buy now because they sell out very quickly every season.
Supersoft White Cardigan: I love it in white. Would be great over a festive tartan shirt. ;)
Faux Fur Vest: SO hard to find. This one's great.
Check Double-Breasted Jacket: Love this! A nice take on the plaid blazer that we're seeing everywhere this season.
Leopard Bow Flat: Adorable.
Pink Flannel Shirt: It's back! I've had this for three or four years and it's still a go-to in the winter for me. It's definitely an oversized look, so consider that when buying. Love the pink! Makes me happy during the gloomiest months.
Buffalo Check Flannel Shirt: I don't know how I feel about the tie. Adorable or yuck? I can't decide! With high-waisted jeans might be so cute but I'm sleep-deprived so tell me what you think. ;)
Button-Front Henley: It keeps selling out, but I love it in white!
Stripe Sweater: This looks like scallops to me! (It's not but I'm here for it.)
Hope everyone is having a wonderful weekend! See you back here tomorrow!
Shop the post:
Free People Ottoman Slouchy Sweater Tunic / Faux Leather Leggings / Lior Loafer / Leather Transport Tote (Love this one, too. And here are the rest of the Transport Totes! So many to choose from.) / Highstreet Tortoise Sunglasses
This post is sponsored by Nordstrom, but all opinions are my own. As always, thank you so, so much for supporting the partnerships that keep Kelly in the City up and running!