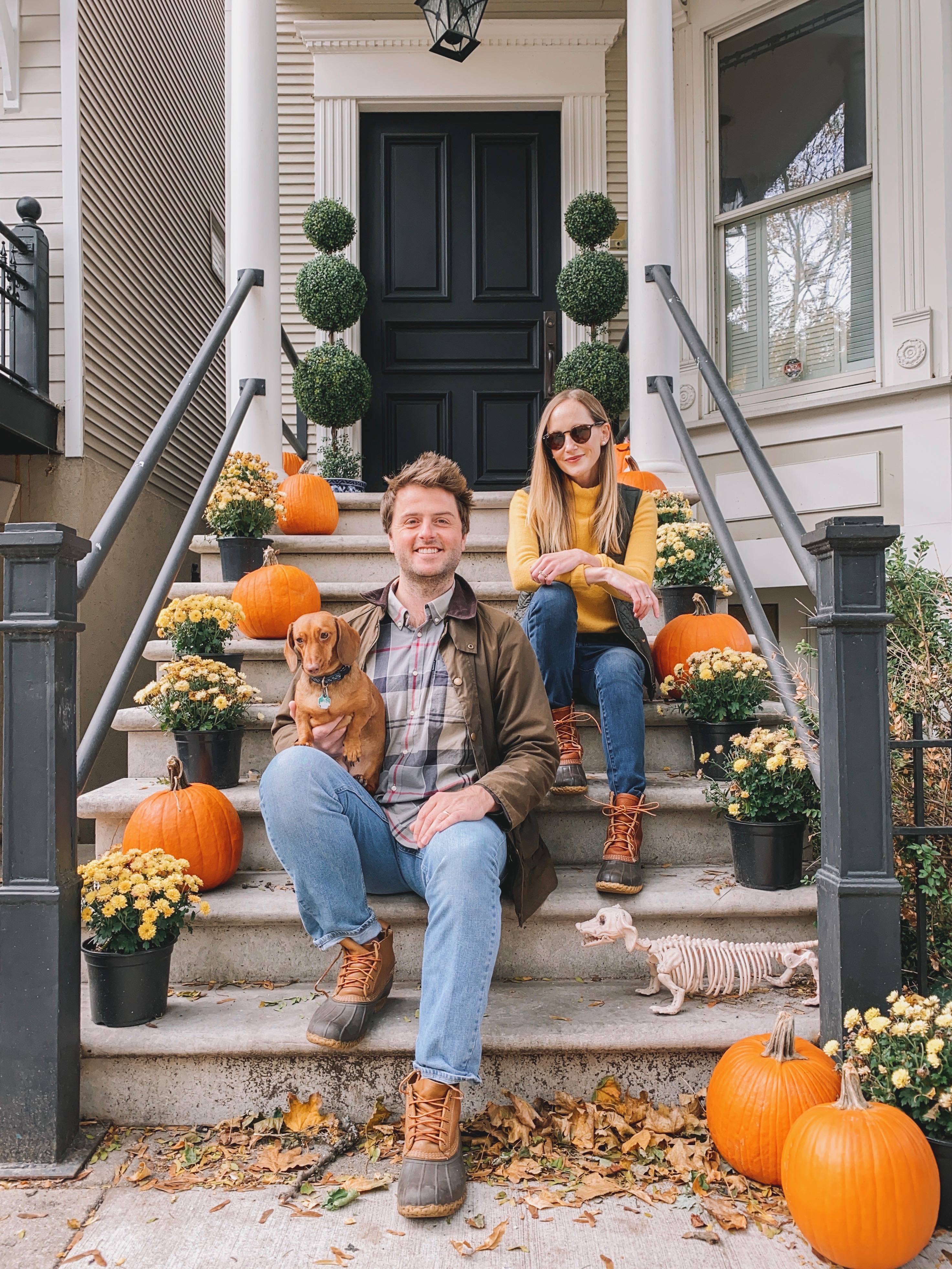 Kelly's Bean Boots / Mitch's Bean Boots / Supersoft Sweater (My favorite sweater of the season! It's SO SOFT.) / Fleece-Lined Barbour Betty Vest c/o (Also available at Tuckernuck. It zips into most Barbour jackets! I also LOVE this Barbour vest and this one, too.) / Gap High-Rise Jeans
I can't believe we got through October! I love October; it's probably my favorite month of the year, and it's especially beautiful in Chicago. This one, though, was a bit insane… and we were go go go nearly every day. But as I sit here typing this, surrounded by the aftermath–piles of clutter and tons of laundry 😂–I feel reinvigorated and ready to enjoy November!
Anyway, before we get to this week's Recent Finds, thought I'd share what's been going on with the Larkins as of late:
Chicago Public Schools are open!
The strike lasted a full two weeks. On Thursday, though, the union and the city came to a tentative agreement, and students returned to classes today (Friday). It looks like teachers won't receive additional prep time, but schools will soon have a nurse and a social worker in every day (by 2023), teachers will receive 16 percent raises, and class size limits will be instated for the 2020-2021 year. (In the meantime, CPS is providing $35 million for class size relief.) CPS will also be spending $500,000 to recruit and train nurses, social workers, case managers, school psychologists, physical and occupational therapists, language pathologists and audiologists. And there will be staffing increases and improvements made for the special education, English language learners, and IEP programs. (There are a bunch of other positive changes, but these are the big ones.) Teachers obviously didn't get everything they were hoping for, but the agreement seems like a step in the right direction for them, and I'm *so* happy about that. (Can't show teachers enough love and support, btw! They're responsible for the future of our country, and teaching is an incredibly challenging and demanding job. If you're a teacher, THANK YOU! You deserve more.) And most families seem thrilled that their children are returning to school and receiving instructional time again. For many, obtaining childcare was also extremely difficult and expensive, so it's nice that families are no longer in "emergency mode."
Anyway, drop off this morning wasn't as bad as I thought it would be! I was a tad nervous that all progress we'd made during Emma's first month of school had been erased, but she really surprised me, and the transition back went as well as it could have gone. Albeit a day late, the school still had its Halloween parade (and the kids were allowed to wear their costumes to school), so that was very helpful, too! We're just really happy to be back. I tried to plan educational activities for Emma during the strike, but woo-ee. It's hard when you have a baby on your lap, too. ;) So glad that Emma's back in an environment where she's being challenged! Fingers crossed that she has a good first day back.
We're three weeks away from being done with home renovations!
I'm PUMPED. I'm certainly not complaining; it's all very exciting. But I can't believe that soon, we'll have a functional home… without construction workers popping in during breakfast to ask about grout colors. 😂 It's funny. I always thought I'd love this stuff and that I'd be good at it. But it feels like there are zillions of decisions to  make every day, and it's overwhelming and I'm ready for it to stop, haha. I just want to watch a movie with my family on the couch in front of the fireplace without tarps up and cardboard on the floor and dust everywhere. And it's happening… so soon! (If you've lived through renovations with kids, do you have any tips?! Anything that made things easier?! We did it in our last home but we only had one baby.)
If you missed it, we're currently having built-ins installed in the living and dining rooms as well as in the basement playroom. Mitch's biggest complaint with the house originally was that it lacked structures to gather around, so we said that we'd try to remedy that as soon as possible. Our fireplace and built-ins in our last place were our FAVORITE part of our home, and so much of life revolved around them. Definitely excited to have 'em again! I'll try to share some progress photos soon. :)
We bought a projector.
Back when I was in high school, I decided to give up TV in an effort to become a better photographer and learn guitar. (Photography kind of worked out but guitar did NOT. I'm awful. Downright terrible. 😜) And while I'm glad I did that, I somehow never got back into TV after high school and it's been kind of a bummer. "Having" a few shows is so nice. No, I don't want to live in front of my television… but there's something to be said for letting one's mind unwind for 30 minutes or an hour at night. Right now, we're watching "This is Us," and I look forward to it all week! At Jess and Neal's Halloween party, their friends recommended "Living with Myself" and "A Million Little Things," so I think we're going to try those next week. But any recommendations are welcome! (Honestly, something along the lines of "This is Us." I need sappy/happy stuff. Nothing scary, violent or sad. I NEED TO END MY DAY ON A POSITIVE NOTE. 😂)
Anyway, because of construction, we don't have a television, which has made watching shows even harder. But Mitch recently purchased a projector for our basement–we're going to have family movie nights every Friday!–and we temporarily hooked it up in the kitchen and have been projecting onto a blank wall there. It's. So. Nice. Also, I'm just now learning how expensive this thing was. MITCH! Haha…
Mitch is really into tech, and this kind of stuff is his passion. But if you're a normal person, check out this one. I had it in my classroom when I was a teacher and it was phenomenal! Super high quality. Can't recommend it more. And it really does make movie nights very fun! (If you're looking for a screen, there are so many on Amazon.) I'm thinking now that his setup could make for a great blog post. Anyone interested in seeing something like that?!
It's FREEZING.
It snowed yesterday, on Halloween. Like… a LOT. What a rude awakening! It was actually pretty beautiful, and it made the holiday very fun. But I'll admit that I wasn't ready. Today is freezing, too, and I don't want to look at the forecast because I'm terrified that this is it. That the fall is over and now it's just going to be months and months of winter… until June. Hoping we still have a few warm weeks left.
I am excited, though, about doing this Chicago winter and seeing whether the house makes a difference in our happiness. We're banking on the idea that having space and comfortable places to hang out will keep our spirits high?! If not, we made a huge mistake. 😜
But yeah. Need to get the girls new winter boots, hats and gloves.
It's the weekend!
My plan today is to get ahead on work and put the house back together (as much as I can) so we can have a nice weekend together. We're going to a family happy hour/pizza-making thing with Lincoln Park friends tonight, and then Mitch and I have tickets to go see Jerry Seinfeld (his birthday present!) on Saturday night. What are your plans?!
Recent Finds
Now that I'm rambled on and on and talked your ear off, here are this week's "Recent Finds." :)
I keep talking about this sweater but it's the BEST. It's so soft. I have it in yellow but I desperately want to invest in other colors because it's the first sweater I reach for! It looks great French-tucked into pants.