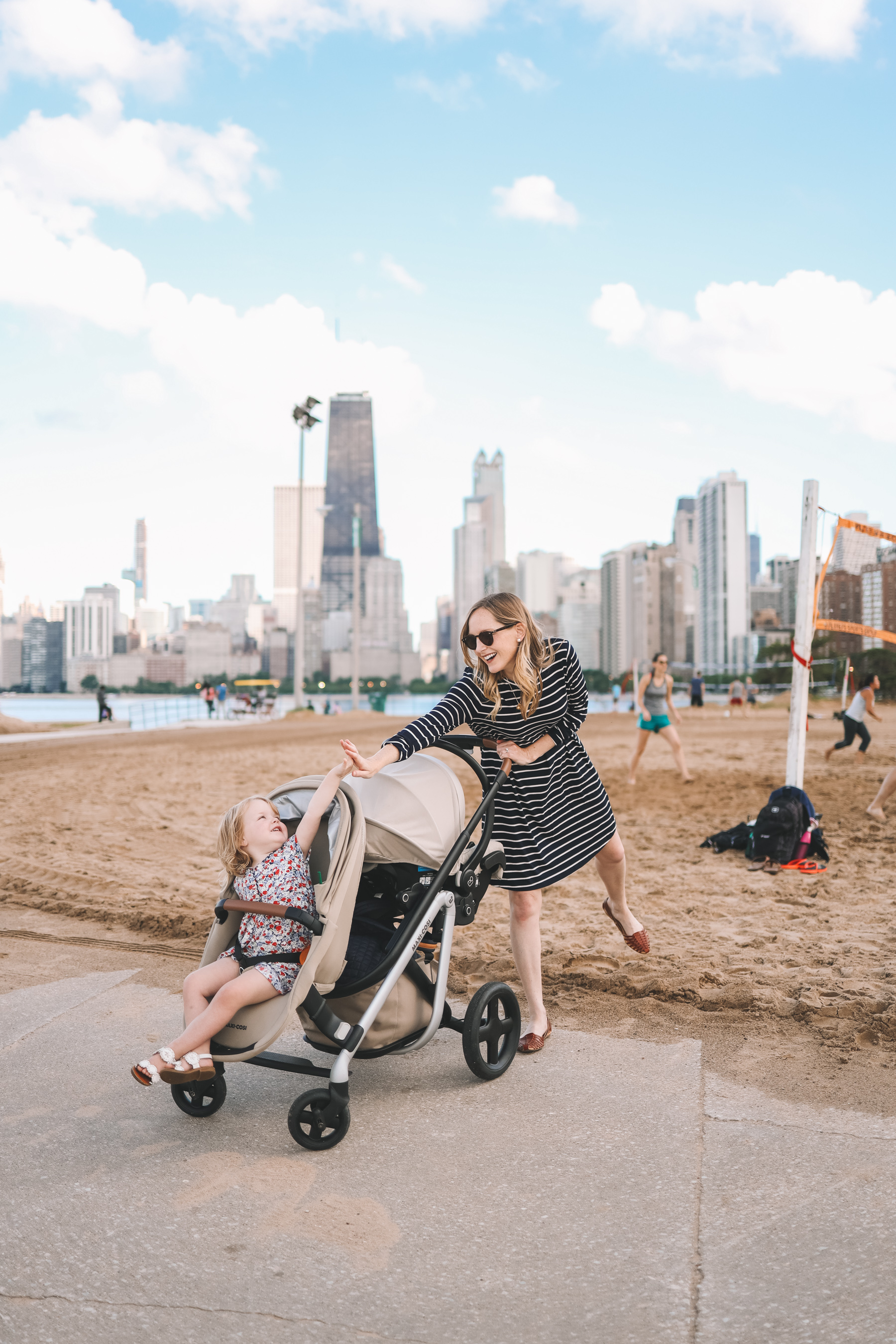 Photos taken shortly after Lucy was born. ❤️ Maxi-Cosi Lila details in red at the bottom of this post!
Mitch here!
When I was a kid, my parents pulled us around Chicago in a rusty wagon, but times have changed. It's hard to overstate what a big deal it is to buy a stroller today. The stroller is the Mobile Parenting Headquarters, and deciding which one to buy is intimidating.
The problem is that figuring out the stroller puzzle requires a bit of imagination. I mean, sure, my kid is a foot and a half tall now… but soon she'll weigh as much as a bowling ball… and I'll need this thing to plow through snow drifts… and then I'll probably have another kid!
But I think we've found the best stroller in the world in Maxi-Cosi's Lila. And I'll tell you why.
Tandem vs Side-by-Side
This is a hotly debated topic amongst Chicago's new parents, and people literally stop me on the street to talk about it. While I hear all you side-by-side families out there, I'm obviously Team Tandem. I'll break our decision out as a pro/con list below because I'm a dad and this is what we do:
Pro
Slim profile to more easily navigate busy blocks, hallways, doorways and elevators
Much smaller footprint when folded up
Fits in our tiny car
Versatility to convert back into a single stroller when it's an option (Side note: Having one kid is so easy. Why did I ever complain?!)
Con
One kid is far away (Though sometimes this is a pro)
Getting over curbs requires a little muscle (Though I could use the workout)
So after we made up our minds to go tandem, we quickly settled on the Maxi-Cosi Lila.
Design
The saying goes "Design isn't how it looks. Design is how it works." But I'm happy to report that the Lila stroller wins in both of these departments. It both looks and works perfectly. Okay, I'm not proud to admit it, but I was a little nervous about how I was going to look wheeling a double stroller around. But the Lila has this cool-looking vegan leather handle, it comes in four shades of "Nomad" color varieties (we have the Nomad "Sand" here), and it features a handsome silver-colored frame. I love the look of this stroller, and so does Kelly… and she's a tough critic.
Features
A stroller isn't just a wheelie thing to move your kids around anymore. Today's strollers need to have a little something for everyone in the family, and the Lila delivers in spades.
It has a full-coverage privacy shade. Full coverage! How is this not standard on all strollers?! We use this feature all the time.
It has "one-hand flat fold" capability. The Lila has taken the art of folding up the stroller to the next level. They call it the one-hand flat fold, which I now say loudly whenever I'm packing up. In all seriousness, though, this is super helpful when you're holding a crying baby and only have use of one arm.
This stroller glides like Kristi Yamaguchi on a fresh sheet of ice. The Smooth Ride Suspension lives up to its name. While it's a double, it feels like a single stroller even with two kids are on board. It's so much smoother than any other stroller we've owned, and we've owned a bunch.
The undercarriage storage is actually a tote. It's removable, making for some very simple trips to and fro. Kelly often treats it like a purse.
There are so many other nice attributes: Adjustable handlebar? Check. Memory foam inlay? Check. Child snack tray? Check. Adult cupholder? Ahem. Double check.
Versatility
This thing has eight modes. Eight! How is it even possible for someone to design something that should be extraordinarily complicated into such a simple and easy-to-understand package? It doesn't compute.
The mode I'd like to highlight here is called "Duo Mode," which is enabled by the Duo Kit (sold separately). The kit makes it possible to accommodate both the baby and the toddler at the same time. It works flawlessly. When in Duo Mode, the Lila's seat turns into a basinet at the touch of a button to make both the girls super comfortable.
Also, when we're in a rush, the Duo Kit works with our Mico Infant Car Seat (sold separately). Lucy loves that thing so much. She passes out almost instantly when we take her on strolls!
The Giveaway
And now for the best part! We're teaming up with Maxi-Cosi today to give away Lila stroller to one lucky reader.
To enter, comment on this blog post in the comment section. Tell us why you'd love to own the Lila (or who in your life it would be perfect for!) and leave your e-mail in the following non-spammy format: Kelly [at] kellyinthecity [dot] com.

For an extra chance, follow the directions in this Instagram post.
Winner will be announced and contacted on November 17th, 2019. Good luck!
Mitch. OUT!
This post is sponsored by Maxi-Cosi, but all opinions are my own. As always, thank you so, so much for supporting the partnerships that keep Kelly in the City up and running!