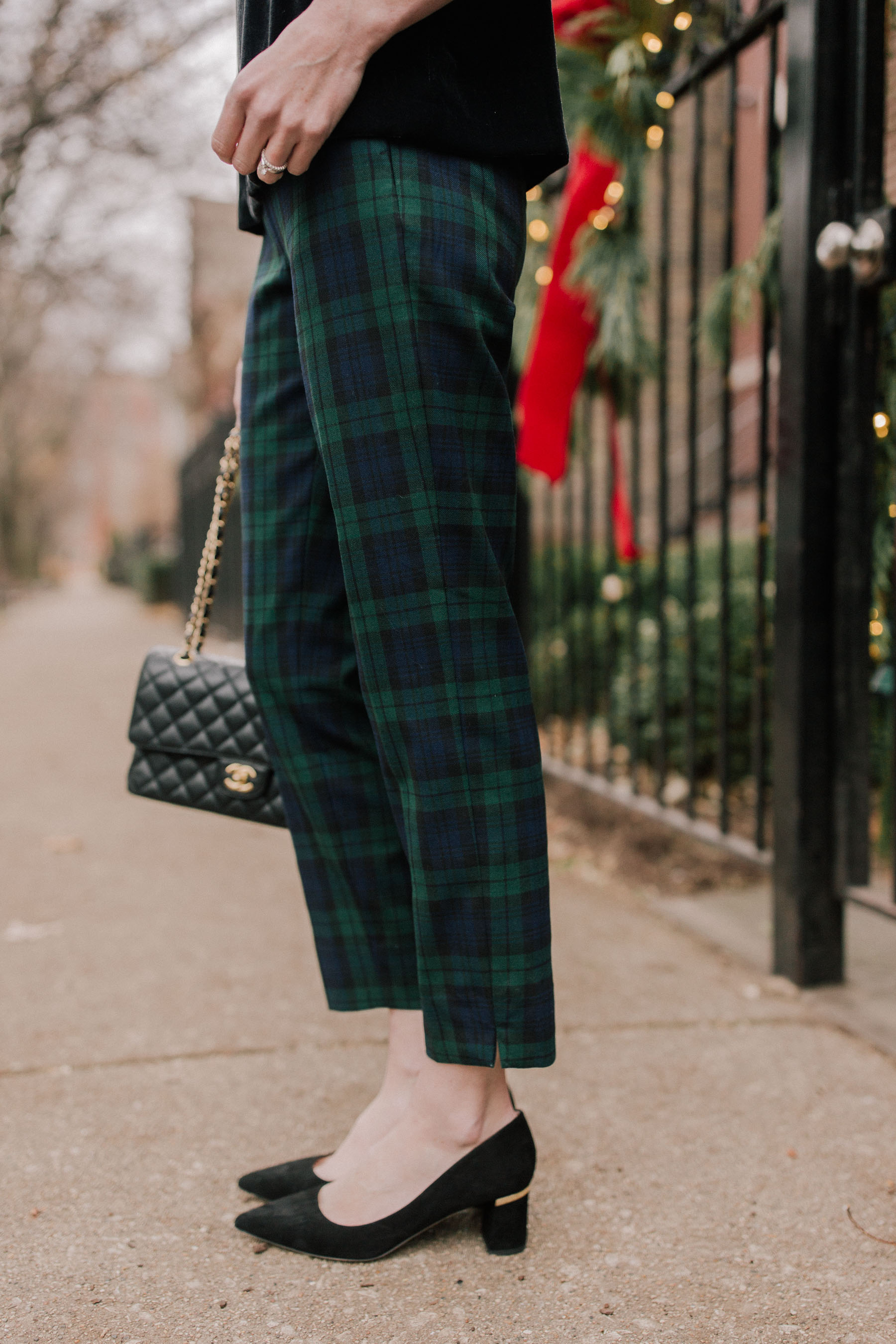 Okay! J.Crew's Friends & Family Sale is ON, and it's the brand's largest sale of the year. It's a great time to buy basics, gifts and holiday outfits. You can use code "FAMILY" to take 40 percent off your purchase! Here are my recommendations: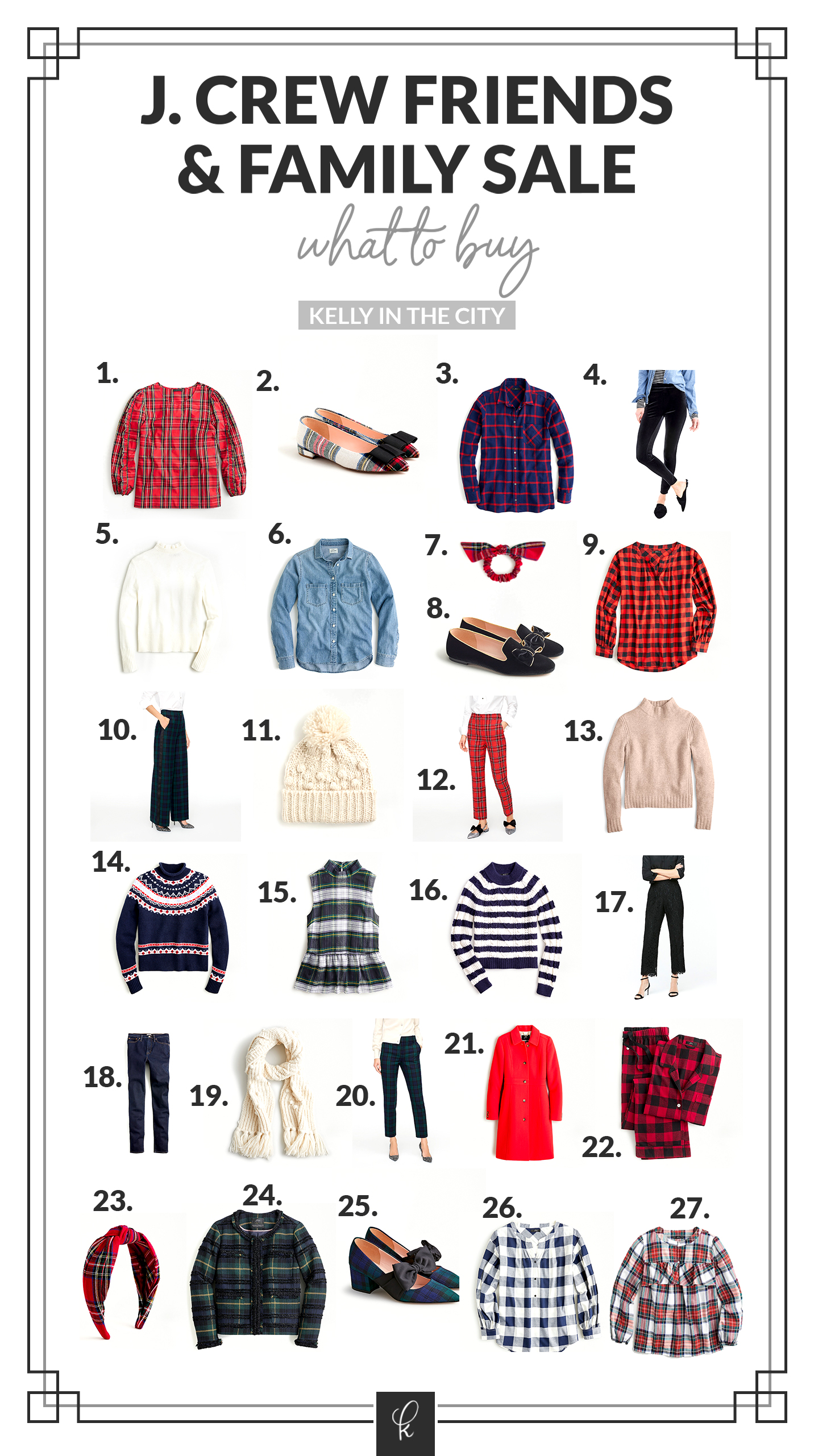 One / Two / Three / Four / Five / Six / Seven / Eight / Nine / Ten / Eleven / Twelve / Thirteen / Fourteen / Fifteen / Sixteen / Seventeen / Eighteen / Nineteen / Twenty / Twenty-One / Twenty-Two / Twenty-Three / Twenty-Four / Twenty-Five / Twenty-Six / Twenty-Seven
1. Ruffle Sleeve Red Tartan Top: If you live in a warmer climate, this top would be perfect for the holidays as you'll get the tartan print without the warmth. In colder climates, this would be adorable under a black blazer or long cardigan!
2. Stewart Plaid Bow Flats: STOP. Without a doubt my favorite from J.Crew's New Arrivals section. I have an older pair of J.Crew Stewart plaid pumps that I've been looking to replace for some time since they're a bit childish for me now that I'm THIRTY-FIVE. ;) These are pretty much perfect! (Btw: they come in a heeled version, too!)
3. Flannel Block Plaid Shirt: Love that this shirt can be worn well past Christmas. Apparently it's very soft!
4. Velvet Leggings: Wore these all the time last year! They're ridiculously comfortable and soft, and I wore them under tunics and longer sweaters.
5. Ruffle-Neck Sweater: If you're all about the statement holiday pants like I am, you know it's important to have great solid tops and sweaters to pair with them, lest you end up looking like a lunatic. ;) This is a fabulous option! Adore the ruffled detailing around the neck.
6. Everyday Chambray Shirt: This is my favorite chambray shirt. It's a great year-round top, and it looks adorable paired with plaids and tartans during fall and the holidays.
7. Tartan Scrunchie: Wish I had more hair so I could wear this, but I'm just going to have Emma rock it. Which–let's be serious–is way better.
8. Velvet Bow Flats: Anything with bows, guys. Anything with bows.
9. Red Buffalo Check Flannel Top: Yes! I love my flannel, but it does stink that I'm always in button-downs in order to get that warmth. This is a great compromise! Fancier… yet still flannel.
10. Blackwatch Plaid Frankie Wide-Leg Pants: I'm so intrigued by these and I think I might order! I don't know. Yes, you can find tartan dress pants all over the place this time of the year… but they all feature a similar slim cut. These are wildly different, and I'm likin' it! Paired with a slim-fit sweater or slinky top if you're less of a baby than I am? Gorgeous.
11. Pom Pom Beanie: Similar to my obsession with bows, I have an obsession with poms.
12. Cameron High-Rise Pants in Red Stewart Plaid: High-rise plaid pants! Love how festive they are. Desperate that they look good on me. I don't have the best track record with dress pants.
13. Softest Mockneck Sweater: This. Sweater. Is. The. Sweater. Of. The. Year. I have the yellow, but I have two other colors in my cart! It's just SO soft. And the cut is nice enough that you'd totally be able to pair it with cute skirts or dress pants and look amazing. Can't recommend this one enough. My #2 pick right behind those tartan flats. ;)
14. Fair Isle Sweater: Absolutely adorable. But J.Crew Factory's fair isle sweater is made out of that supersoft material… so I can't decide!
15. Sleeveless Tartan Top: I could never get away with wearing this but it's stunning! I love it paired with simple black jeans.
16. Striped Pom Pom Cable-Knit Sweater: THIS IS A MUST! #3 pick from the sale. ;) I'm sorry, but the combination of navy stripes, pom poms and cable-knit is just too much for me to handle I'm freaking out HELP.
17. High-Rise Lace Pull-On Pants: Love this concept! I know the practical buy would be the black, but I'm SO drawn to the red. :)
18. Highest Rise Tencel Jeans: Got these last month and love how they fit. I went one size up.
19. Pom Pom Scarf: Yes to all the pom poms.
20. High-Rise Blackwatch Plaid Slim Pants: Here's that slimmer cut! Don't get me wrong: I love it as well and definitely plan on trying.
21. Lady Day Coat: A favorite! I have it in pink and light blue, but the red is beautiful, and would be perfect throughout the entirety of winter. This one's made of Thinsulate so it's extra warm!
22. Buffalo Check Flannel PJs: I just got the girls Buffalo check PJs to wear during Christmas so now I'm like, "Well, I probably need to match…"
23. Tartan Headband: SO.CUTE.
24. Blackwatch Plaid Jacket: This needs to go with velvet skinny jeans and black pumps. And a silky white top. So classic!
25. Blackwatch Plaid Bow Pumps: You know how obsessed I am with these. I'm stopping.
26. Navy Buffalo Check Flannel Top: Here's that lovely flannel top in navy!
27. Ruffle Top in Stewart Tartan: #4 pick. I can't really tell from the product description, but it looks cozy. Fingers crossed!
What do you have your eye on?!