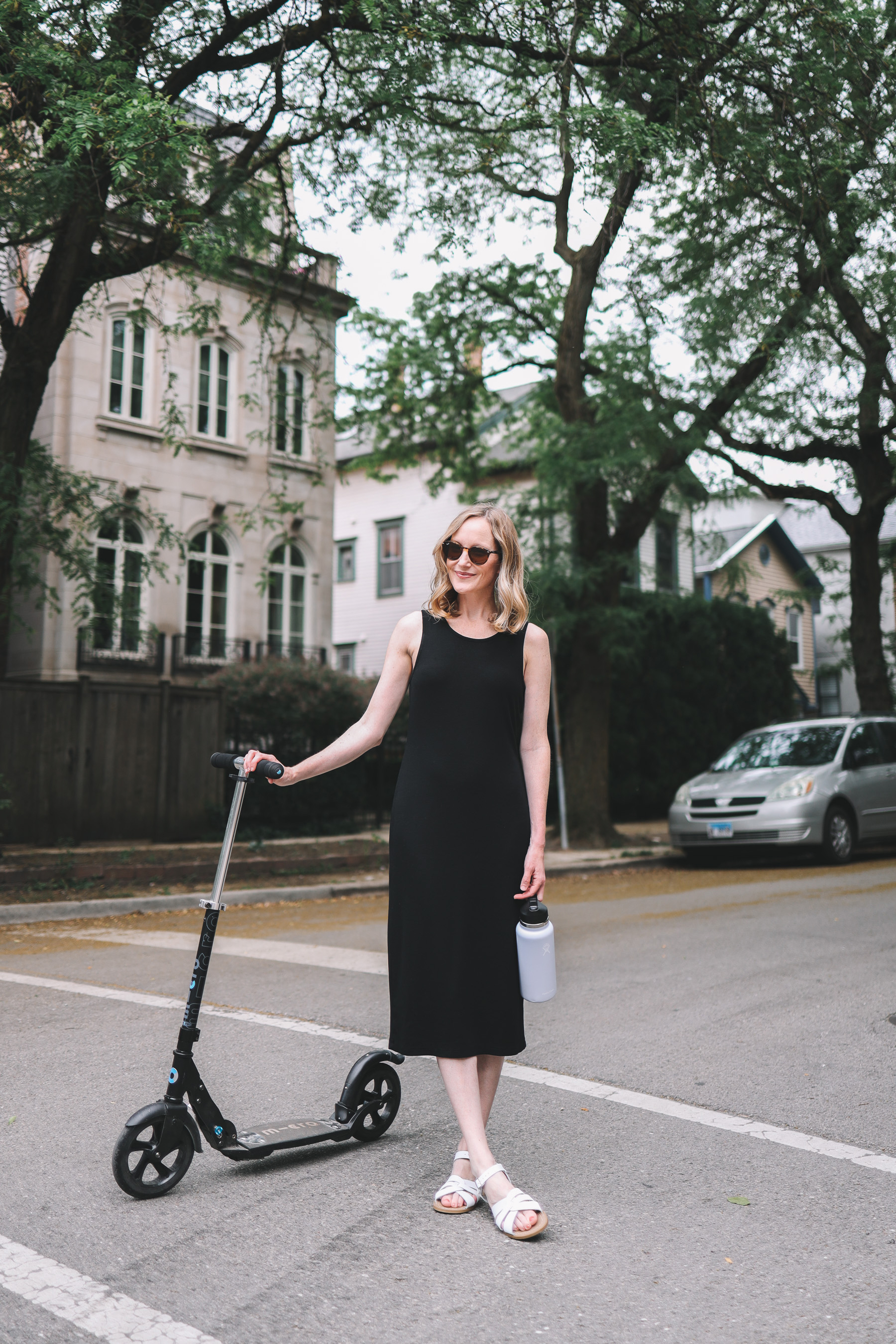 As you may have picked up on by now 😉, Backcountry is the Larkin Family's #1 destination for all things active and outdoorsy. And now that spring has finally sprung in Chicago, we're out and about—and using our favorite gear—more than ever! So today I'm going to be highlighting a few of our favorite Backcountry activewear products, and sharing a coupon code. :)
My code for 15 percent off your first Backcountry order—"INTHECITY15"—is still active, so definitely take advantage! It applies to so many brands that normally don't go on sale, too. (Note: Exclusions may apply in association with the code.) And during the Memorial Day Sale, save up to 50 percent on gear & apparel!

Favorite spring/summer products
Teva Sandals: I bought Emma and Lucy Teva sandals at the end of last summer, and I can't get over how awesome they are. Yes, the purchase was in part due to some childhood nostalgia. 😜 But they're just as good as I remember, and both Emma says she loves how "squishy" (i.e. padded) they are. If your kids are like my kids, they have sensitive feet and are constantly tugging on their shoes. But we wore our Tevas all weekend long last weekend, and zero complaints out of either of them. I'd say that deserves an A+ rating! These are the girls' Tevas and these are mine. (Sizing: They run slightly large. Emma wears a size 11, for example, and the 10 was a better fit.)
Salt Water Sandals: This is a new discovery for me, but now that I know about them, I see them all over the city! The St. Louis, Missouri-based company has been manufacturing classic sandals since the 1940s, and their tagline—"It's the next best thing to going barefoot!"—speaks to me. And now that that the girls and I have them, I can say that it's true. They feature incredibly soft and flexible leather, and they'll mold to your feet if you dampen them and wear them while they dry. Highly recommend if you're looking for timeless-looking sandals that'll go with everything this spring/summer and allow you to stay active. These are my sandals and these are the girls'. (Sizing: TTS. I ordered a size 8, which is what I normally order in sandals, and they're great.)
Birkenstock Sandals: Every member of our family has a pair of Birkenstock sandals! (Okay, except for Noods. 😉) From the classic styles to the waterproof versions, they're fantastic—and wonderfully easy to slip on when running out the door. These are my Birkenstock sandals, these are Mitch's, and these are Emma's. (Sizing: I would say that they run slightly large. I normally wear a size 7.5 in flats and a size 8 in sandals, but I order a size 37 in Birkenstocks.)
Patagonia P-6 T-Shirts: I love these, both for the girls but also for Mitch! Now that Emma is playing field hockey again, I recently picked up a few of these for practice. They're so cute on her, and I love that they protect her shoulders from the sun and also allow her to move. Similarly, I think the men's t-shirts look pretty cute on Mitch. ;) He's also always low on t-shirts. Not sure what the man does with them, but it seems like we're in t-shirt emergency mode every few months with him. P-6 tees for the win! This is Emma's t-shirt, this is Mitch's t-shirt, and this is Lucy's t-shirt. (Sizing: TTS, but I do size up in t-shirts for the girls so they can get a few years' wear out of them.)
Marine Layer Dresses: Have you tried Marine Layer before?! I'm a first-timer, and a big fan. Everything is so soft! I picked up this black dress and this gray dress, and the quality is off the charts. I also love that they're awesome for running around/scooting with the kids (so stretchy!) but can also be dressed up if need be. (Sizing: I found the dresses to run small. I ended up exchanging for a size up!)
Patagonia Nano Puff Jackets: These are the ultimate spring/summer/fall jackets. They're exceptionally lightweight yet warm, and pack into these tiny pouches, making them super easy to bring along on adventures. In Chicago at least, temps can be all over the place—and cold fronts can roll in very quickly. (Especially when by the lake!) These jackets have saved us more times than I can count! This is my Nano Puff, this is Mitch's, this is Emma's, and this is Lucy's. (Sizing: I find Patagonia to run a little small. I went up one size in mine.)
Yeti Mugs: These are the best. If you live in Lincoln Park, you've likely seen me walking around in the morning with my Yeti mug! I love mine so much that I bought a backup for when one is in the dishwasher, haha. Anyway, the magic of Yeti is that their products keep liquids (or food) cold/hot for extraordinarily long periods of time. So if you're a parent who never gets to enjoy a hot cup of coffee, please get yourself a Yeti. Changed my life!
Hydro Flask Water Bottles: These are fantastic, too. My water bottle of choice is this one from Hydro Flask, as I like the straw attachment. (I tend to drink way more water when a straw's involved!) I also love that I only need to consume two Hydro Flask bottles per day to be drinking enough water. This thing honestly changed my life in that regard; I never used to get enough water before!
Barbour Dog Gear: Noodle requires very little in terms of gear, but we love her Barbour stuff. The quality is simply off the charts. We've had it for years—before the girls were born, actually!—and everything has held up so well. I can't recommend the collars or leashes more. The dog bed is a favorite, too.
Remember: Use code "INTHECITY15" to take 15 percent off your first Backcountry order! It applies to so many brands that normally don't go on sale, too. (Note: Exclusions may apply in association with the code.) And during the Memorial Day Sale, save up to 50 percent on gear & apparel!
This post is sponsored by Backcountry; all opinions are my own. As always, thank you so, so much for supporting the partnerships that keep Kelly in the City up and running!