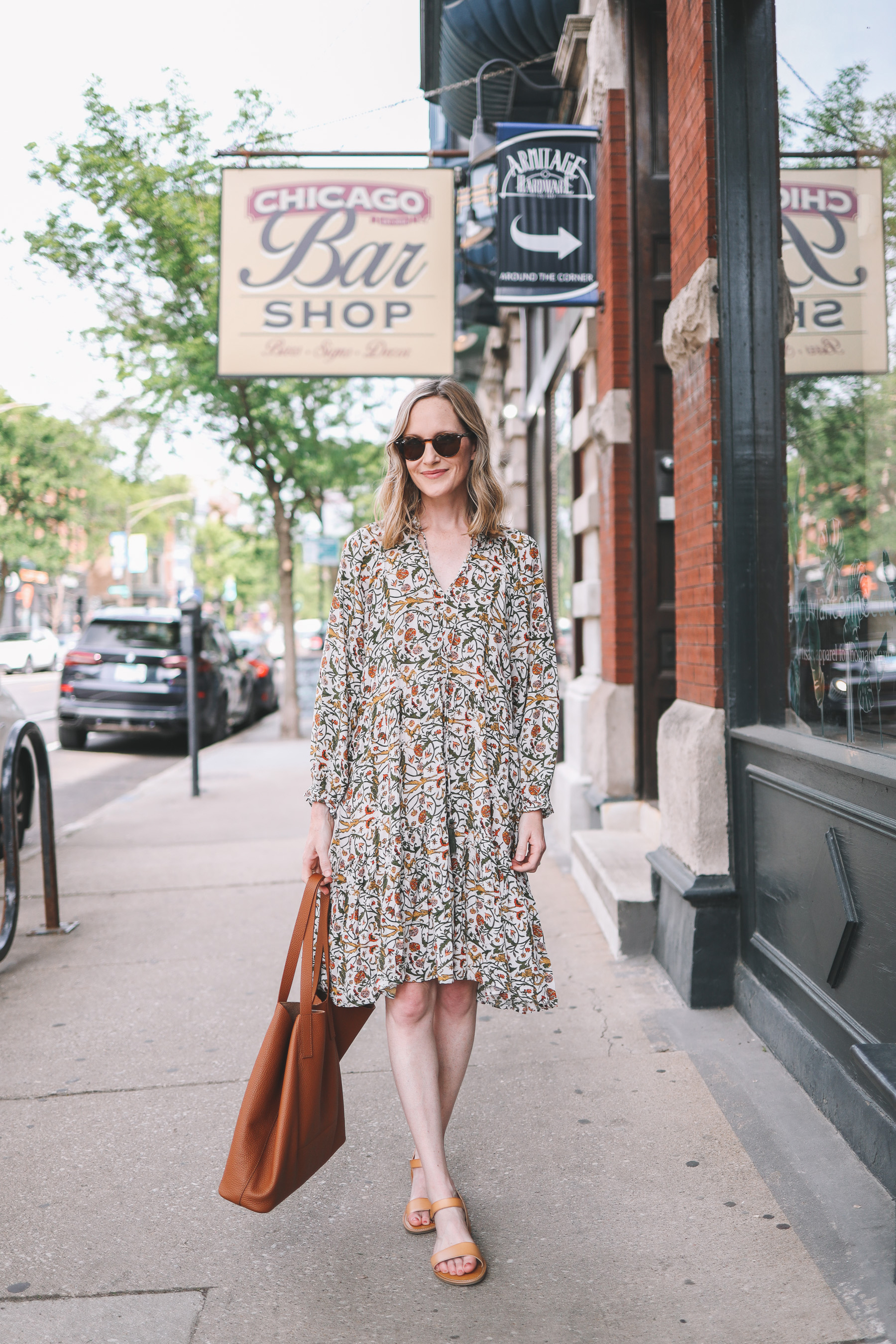 Roma Label Dress (Available via Maisonette and the Roma Label website.) / ~$20 Amazon Essentials Sandals (So crazy soft and comfy! Check out all Amazon Essential Sandals on this page. They're made from the same awesome material. A+!) / Old Tote, similar here / Ray-Ban Sunglasses
I stumbled upon the small women-owned business Roma Label (also available via Maisonette) while looking for school-appropriate dresses for Emma. And I ordered a couple of the women's dresses for myself on a whim because everything looked so comfy yet elegant. The verdict? I'm obsessed.
The midi and maxi dresses are amazing! Designed by a mom who wanted more clothing that she could throw on and still feel put-together in, the dresses are made from made from sustainable and lightweight Lenzing Ecovero fabric; resist wrinkles; hide stains; pack like a dream; and fit loosely and comfortably but fall beautifully. They also come in mini sizes for little girls.
Even better, the founder—a Brazil native who now lives in LA—decided early on that part of the profits would go to The Union Rescue Mission, a nonprofit organization that helps men, women and children escape homelessness through food, shelter, education, counseling and long-term recovery programs. ♥️

Anyway, I'll be in this dress all summer long, so expect to see it a lot! ;) Above are some favorite picks for women and girls.
Shop the post:
Roma Label Dress (Available via Maisonette and the Roma Label website.) / ~$20 Amazon Essentials Sandals (So crazy soft and comfy! Check out all Amazon Essential Sandals on this page. They're made from the same awesome material. A+!) / Old Tote, similar here / Ray-Ban Sunglasses