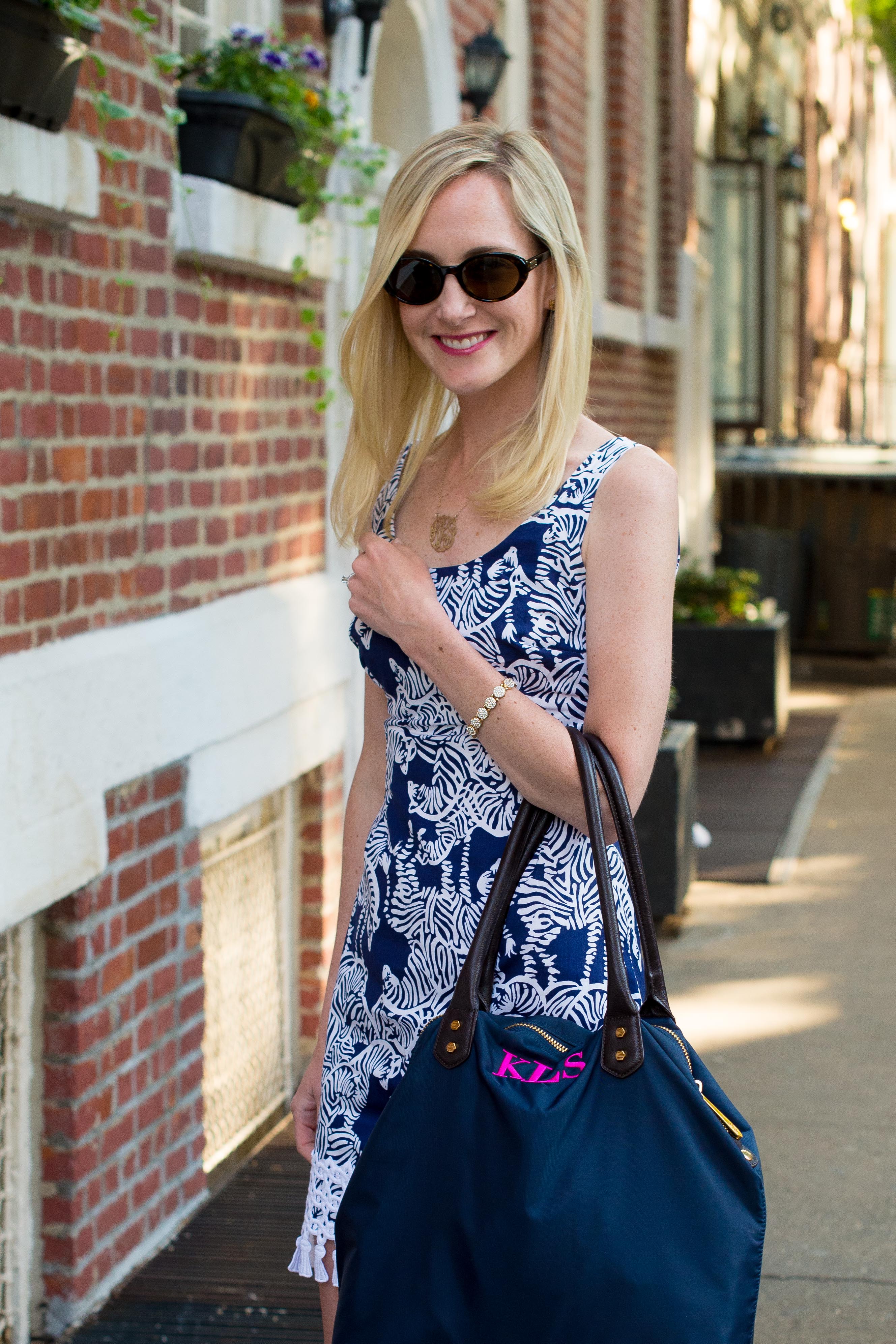 Dress: Lilly Pulitzer, print also still available in the tunic, bikini top and bikini bottom! / Sandals: Tory Burch / Bracelets: Armed & Readi (c/o) / Bag: C.Wonder / Necklace: Paradise, similar here / Earrings: Tory Burch / Sunnies: Kate Spade (Old), newer styles here
Saturday, being the first official day of summer, was National Wear Your Lilly Day. I, of course, forgot. But in typical Kelly fashion, I promptly remembered the following day–and broke it out for a Sunday brunch date at The Dutch with Jessica from Bows & Sequins. Better late than never!
Jessica is such a sweetheart. She actually inspired me to start Kelly in the City! She grew up in Illinois, attended the University of Illinois (like Mitch), and moved to Chicago after college. I'm definitely a little nervous about next week's move–but it was super helpful and encouraging hearing Jess talk about how much she loved living in the Windy City! Thanks, girl. You're the best. :)
After brunch, we wandered over to Ladurée on West Broadway in SoHo to pick up macarons. (Ummm… gorgeous spot. The backyard garden? Oui.) We then cabbed it to Color Me Courtney's #macaronsandmimosas blogger event in the West Village. What a fun time! First of all, Courtney is an insanely talented decorator. Her apartment looks like it belongs on Pinterest. (So jealous!) Secondly, she's a fabulous host. Scroll down to see photos from the event. Amazing, right? Finally, she has a French Bulldog named "Waffles." Enough said, hehe. Thanks so much for having us, Courtney!
One thing's for sure: I'm going to miss interacting with the New York City blogging community in person. I started my blog last year as most of my girlfriends were getting married and leaving the Big Apple. I was lonely. Now, though, I have a network of amazingly kind and supportive girls. (Most of whom I met online, haha, which sounds creepy–but I'm so grateful!) I suppose I'm a little sad that I'm leaving just as I'm starting to get to know everyone, but that's okay. Another excuse to come back all the time, right? And I hear the Chicago blogging community is just as wonderful!
So thank you, lovely ladies. You made my last 1.5 years here a blast! :)