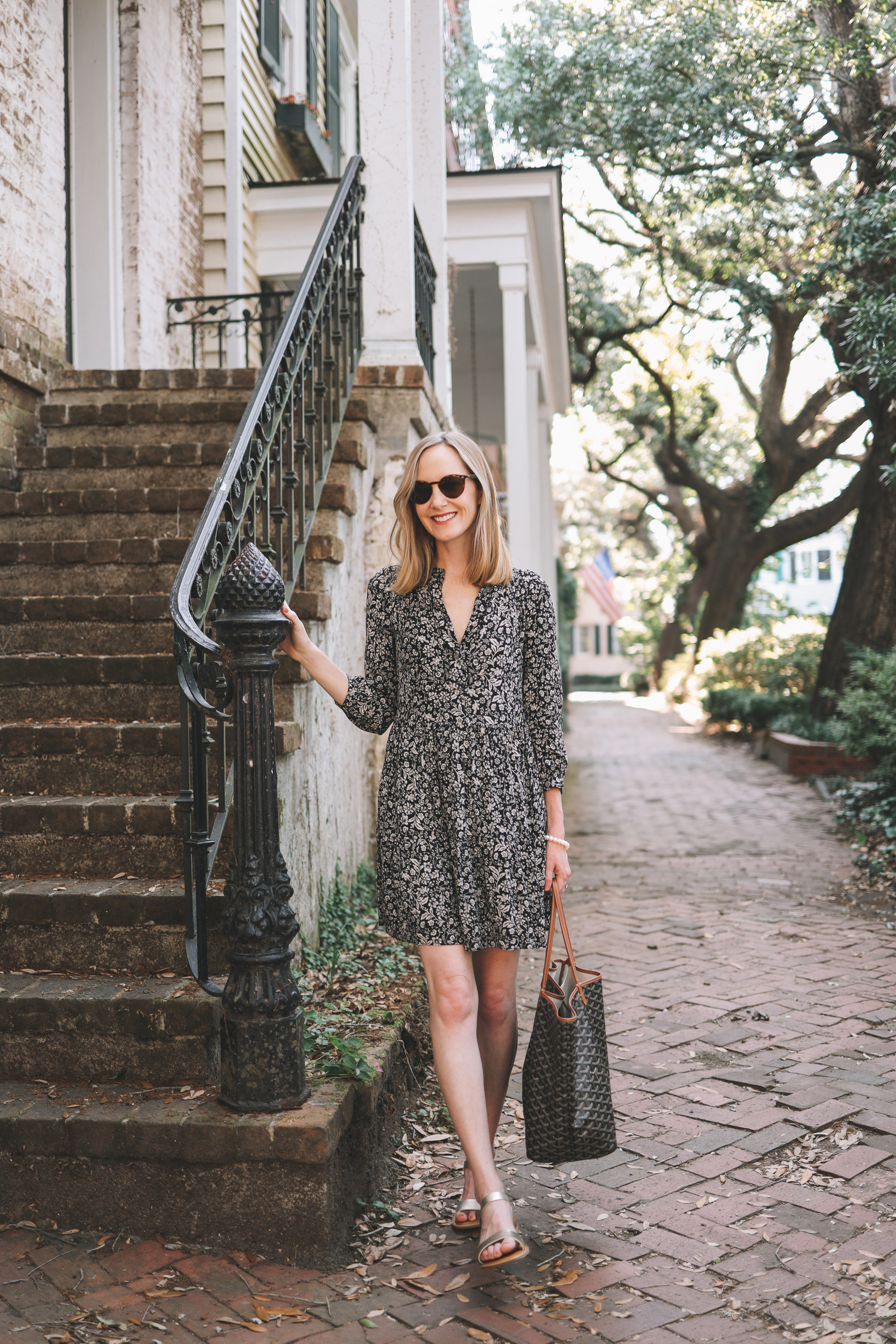 ~$20 Amazon Essentials Sandals (Wedge version here.) / Old J.Crew Dress (But I would recommend this black Tuckernuck shirt dress. It's my go-to summer dress! I also love this very similar dress from Madewell, made out of the same material as the one I'm wearing.) / Goyard Bag (That's my review!) / Clara Williams Magnetic Pearl Bracelet / Ray-Ban Sunglasses / Pearl Bow Earrings
It's about time I did a post on Amazon Essentials Sandals, because they're wildlycomfortable and ridiculously affordable.
I credit my sister-in-law, Kim, for this find. When we were down in New Orleans visiting my brother's family over spring break, she swore up and down about these sandals… and I figured why not give 'em a try?
AMAZING. They feature padding and super soft faux leather, and they come in a zillion styles. They also require absolutely zero break-in time and run true to size. (I normally wear a size 7.5 in flats, but order a size 8 in sandals and boots for extra room. Size 8 in Amazon Essentials sandals fits perfectly!) Even better, there are kids' velcro sandals available.

Above are the best styles! Keep in mind that they go in and out of stock constantly. So if you have your heart set on a certain pair, just check back frequently. That's how I was able to get my hands on a pair of these metallic sandals!
xoxo
Shop the post:
~$20 Amazon Essentials Sandals (Wedge version here.) / Old J.Crew Dress (But I would recommend this black Tuckernuck shirt dress. It's my go-to summer dress! I also love this very similar dress from Madewell, made out of the same material as the one I'm wearing.) / Goyard Bag (That's my review!) / Clara Williams Magnetic Pearl Bracelet / Ray-Ban Sunglasses / Pearl Bow Earrings

Easy summer dresses ^