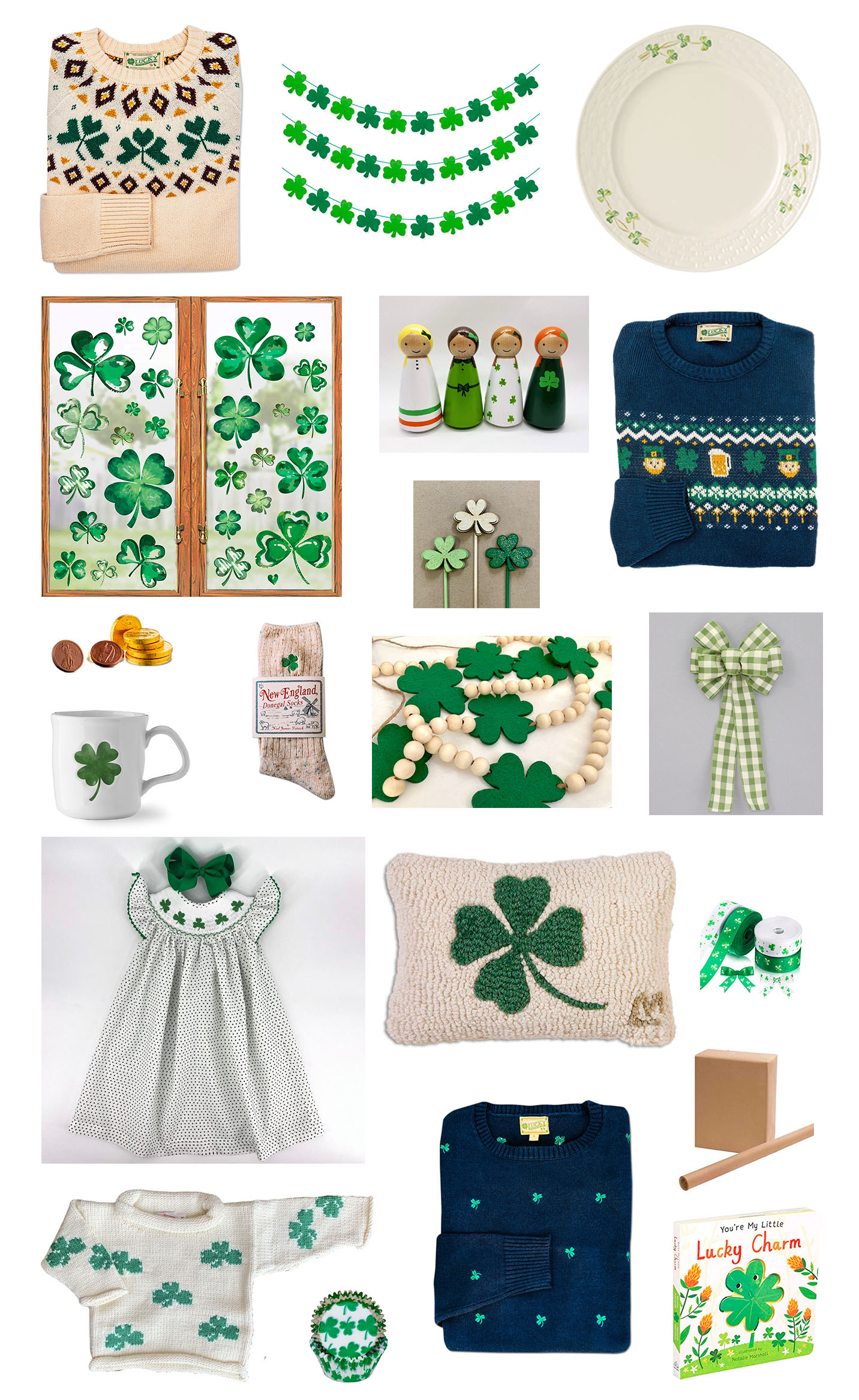 On to the next holiday, Friends! 🍀
You'd better believe that I'm doing it up. 😜 From books and treats to outfits and decor, I'm all in. So here are some cute finds for Saint Paddy's Day!
Shamrock cupcake liners: I love baking with Emma. It's surprisingly relaxing, and she loves having little jobs. Over the last year, I've acquired some themed accessories, and it's made holiday baking even more special. One of the easiest ways to make things fun for Saint Patrick's Day—without breaking the bank–is cupcake liners and food coloring. What kid wouldn't go nuts over green cupcakes?! (Or pancakes/cookies, for that matter. Get this cookie cutter!)
Chocolate gold coins: I plan on putting these on top of the cupcakes!
Four leaf clover mug: We have the heart version for Valentine's Day, and adore them. Mitch says that they're his favorite coffee mugs! (These are from last year, btw. Fingers crossed that WS brings them back!) Looking for another great Saint Patrick's Day mug? Try Rae Dunn's "Top O' The Morning" mug. It's one of my favorites!
KJP beer sweater: I gave this to Mitch for Valentine's Day. (I know. Trying to be a planner, though. Ha!) The girls and I have the Red Wagon sweaters (adult sizes here and kids' sizes here) and I didn't want him to feel left out!
KJP Navy Clover Sweater: I believe these are new this year and they're downright adorable.
Shamrock plant/grass stakes: These would look very sweet along a walkway or in plants on a front stoop.
Shamrock dress: If I lived in a warmer climate, the girls would so be wearing these!
Shamrock sweater: But alas. It's like -45 degrees here, haha. So we'll be in our awesome Red Wagon sweaters this year and probably always. ;) Adult sizes here and kids' sizes here. (I went with a small, in case you're wondering. It's a little roomy but that's definitely how I wanted it considering it's on the shorter side. Can't recommend Red Wagon enough!)
You're My Little Lucky Charm: I just love this line of books! Other titles to check out include Lucky Tucker, Elmo's Lucky Day, Pete the Cat and the Great Leprechaun Chase, and How to Catch a Leprechaun.
Shamrock ribbon: I tried to find cute Saint Patrick's Day wrapping paper and came up with nothing. SO SAD, haha. But there's an abundance of shamrock ribbon out there, which would make little gifts look pretty cute.
Craft wrapping paper: I'd simply pair it with craft wrapping paper! This is the exact stuff I buy, and it works year-round for any occasion.
Shamrock window clings: Looked at a lot of options for these—the pandemic has done some weird things to me 🙈—and these were by far the nicest. The girls get so excited when I break out the window clings, and it's an activity. Which should be music to any pandemic mom's ears right about now.
Felt shamrock garland: Lightweight and pre-strung, I usually put these fun garlands on the wall behind the kitchen table to make things special.
Wooden beads + shamrocks garland: BUT THIS IS WAY CUTER. This would look amazing draped across the mantle. The seller has garland for all holidays, too!
Shamrock hooked pillow: Favorite hooked pillow company.
KJP fair isle shamrock sweater: KJP sweaters are the softest!
KJP lucky charm Socks: If I didn't already own a pair of Noodle-themed Saint Patrick's Day socks…
Green wreath bow: I feel like this would work for Easter, too!
Shamrock plates: As I mentioned before, I'm hoping that Williams-Sonoma will bring back their line of shamrock dishwater… but these are very good runners up. (Also available via Amazon.)
Wooden Irish Dolls: Emma would go nuts over these little girls!