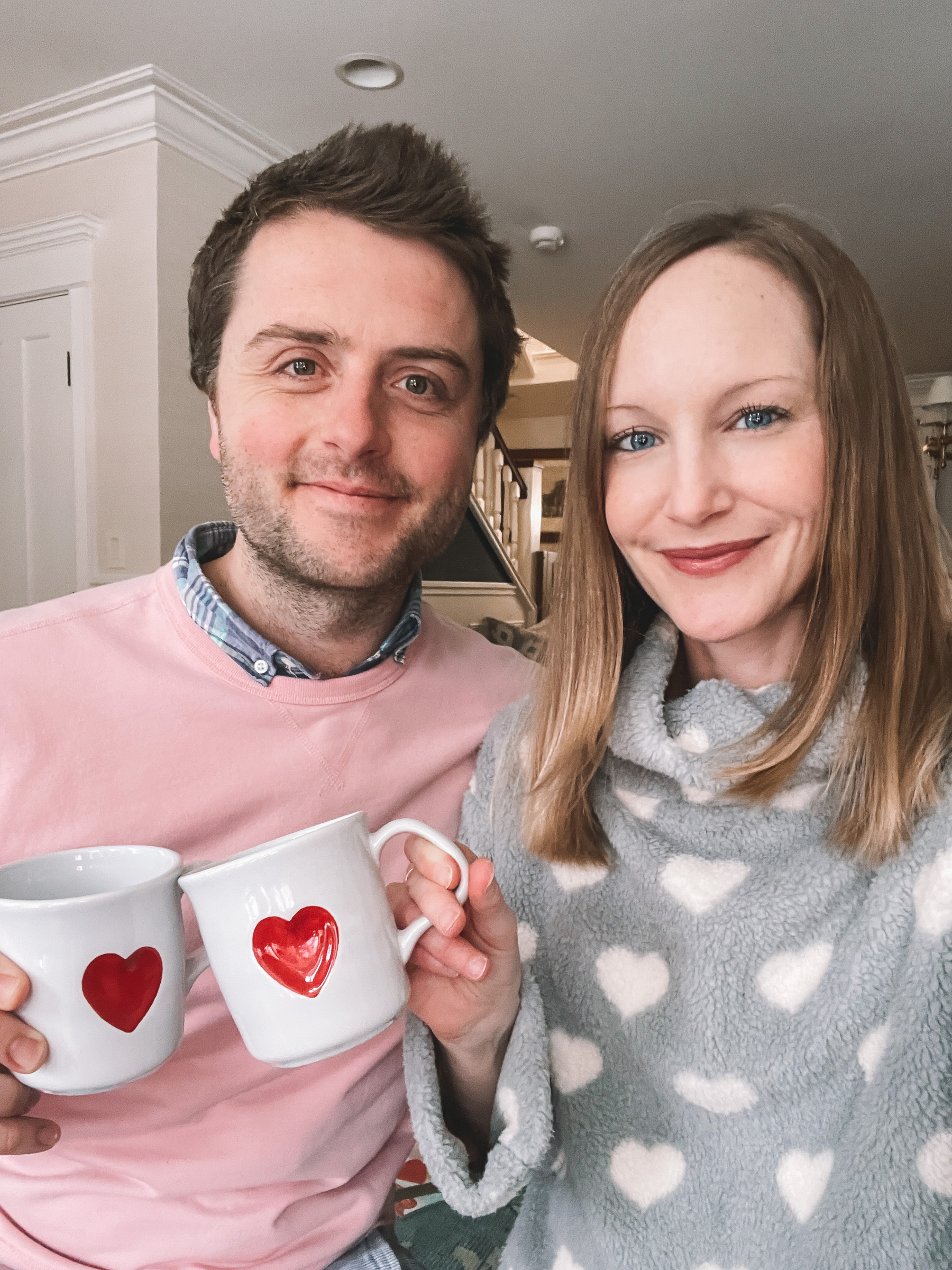 My Heart Fleece is linked here / Heart Mugs
This was taken last week, but I'm still not ready to give up my Valentine's Day stuff. It's bringing me joy! 🥰
Have you heard of the term "Nice TV"? I loved this piece in the NYT. It spoke to me on so many levels. Not sure if anyone else feels this way, but I don't watch much television because it tends to make me sad. And as someone who has struggled with depression on and off for most of her adult life, voluntarily submitting myself to potentially depressing material isn't exactly appealing. (Nothing worse than watching a downer of a show and then going to bed sad—especially during a global pandemic!) But this article hit the nail on the head for me. And I have to hand it to you guys, because "Ted Lasso" was your recommendation and it did wonders for my tired mom self! Similarly, thanks for the "Firefly Lane" recommendation. I'd still say that "Ted Lasso" was the ultimate pick-me-up show, but "Firefly Lane" has been pretty upbeat despite the premise!
JESS AND NEAL ARE HAVING A BABY! MY HEART. I can't even tell you how utterly overjoyed we are. I know that saying "it's a dream come true" sounds a tad ridiculous, but it is a dream come true, haha. I just can't wait to A) see our best friends become parents because they're going to be so, so wonderful… and B) do all the family stuff together all over Chicago. It's going to be the best. Okay, I'm definitely stressing about accidentally revealing the gender so I'm going to stop here. But WE LOVE YOU, LOFTUS FAM. Here's to a lifetime of happiness and love!
Here is a Google Spreadsheet of people in Texas with urgent needs. Helping is extraordinarily easy. Read people's stories and pick someone to help; each story includes Venmo, PayPal and/or Cashapp info. As so many people have noted in their stories, anything helps! (Tip: I would start at the bottom and work your way up since the bottom entries have fewer donations.)
Rouzati Rugs in Wilmette is offering 15 percent off any stair runner project to Kelly in the City readers! They service ALL of Chicagoland, including all suburbs. Simply mention the code "KELLYINTHECITY" to get the discount. And ask for Ali; he's our bud! Call (847) 328-0000 or e-mail rouzatirugs@gmail.com to get started on your project. (Here's our stair runner project!)
We have a growing number of (completely) vaccinated friends in the healthcare industry, and it's the BEST. When they got their first shots, I'll admit that it felt like a bit of a tease; I wanted nothing more than to celebrate with them. But the wait after the second shot is finally over for a few, and it's been really nice to be able to see another person every couple of weeks! It's all happening.
The snow here is out of control. I'm writing this in advance—always do that with these posts so I can enjoy the weekend with my family–but there has to be at least four feet of snow on either side of our sidewalk right now. It feels like there's a significant snowstorm here every other day, and I honestly can't remember a day when it didn't flurry! To be honest, the snow has been helping with my outlook. Otherwise it would just be February in Chicago during a pandemic, which would be tough. Of course, my "happiness walks" have been kind of non-existent because it's been insanely cold. (Often between 0 and 10 degrees!) So looking forward to getting back to those. But I'm grateful for all the magic. (Also, cutest thing ever: Emma's dance class last week was remote! So sweet.)
The girls are into Playmobil 123! My brothers, cousins and I were huge fans of Playmobil when we were little. Obsessed, actually. (But only recently realized that it's not spelled "Playmobile." Mind. BLOWN.) We got Lucy this specific set for Valentine's Day, and it's been a huge hit with both girls! It really makes my heart swell to see them playing so happily together. My first impressions of Playmobil 123's toddler line are as follows:
Unlike legos, Playmobil 123 stays together for the most part. Don't get me wrong: I love Legos. (I'm really into kids' toys, haha.) Emma and I are actually currently building this house together! They offer something that Playmobil does not. However, once the kit is "broken down," do to say, it's kind of over—unless you're one of those highly organized parents who's able to keep all the kit legos separate from the others. (I, for one, am not that kind of parent.) With Playmobil, that really doesn't happen as there are far fewer pieces! So it's a tradeoff, I suppose: Not as much a building experience, but more play longterm. (Though we of course play with the Lego pieces once the kits are broken down! Just have never succeeded in recreating whatever the thing originally was.)
I'm wildly impressed by the quality. I remember Playmobil being well-made when I was a kid, but it kind of blows other similar toys that we own out of the water. (Anyone else SO ready to ditch all the LOL dolls and Peppa Pig junk?!) We will undoubtedly own our Playmobil until the girls grow out of it entirely… and that's really saying something considering I'm always on a warpath to reduce the number of toys we have in our home!
It encourages collaborative and imaginative play. I mean, most toys do, right? ;) But again, the girls will play with this set together for more than an hour. They're learning to share, take turns, and create their own little games. Right now Lucy is very into pretending that the roof is a slide for the baby. (Utterly terrifying in real life but adorable in play. 😉)
Lucy is refusing to nap and things are getting INTENSE OVER HERE. 🙈 We're in struggle city and can't seem to find a way out. Seriously, right when Emma goes back to school, Lucy A) refuses to sleep and B) starts playing Playmobil with her sister. It's fine. But it's not. We're so tired. We've been staying up late for the last couple of weeks in order to get our work done and maintain the house, and I feel death creeping in. 😆 At the moment, playing baby lullabies has been helping a little. But my eyes are heavy as I type this and we're out of milk and therefore I can't make coffee which is kind of unrelated but I'm so tired. Moving on…
These white sneakers are really cute. This past year has made me sporty. Okay, not sporty, per se. But definitely more active. As I mentioned before, I haven't been able to take a ton of "happiness walks" as of late because of the weather. But once things warm up, I fully intend on kicking off the snow boots in favor of the sneaks! These are one of the top-selling pairs of sneakers of the year, and I get it!
What's up with "one house project per day?" no one asked. ;) WELL…
I just cleaned out my bathroom! (Did it this time last year, too.) Thrilling, I know. I'll say that I get a lot of beauty products sent to the house for the blog, so it builds up quickly and all of a sudden, I can't close my drawers. So off most of it went—I included some great donation locations for Chicago readers in this post, btw—and now getting ready in the morning is a lot more enjoyable. Isn't it crazy how dependent our mental state can be on the amount of crap in our homes?!
I went to town on the playroom again. I did the playroom recently, but I have to admit that things were a bit dire in there after the holidays. So a second swoop was necessary. And let me tell you: those 30 minutes of additional clean-out time have made quite the difference!
More specifically, I cleaned out a ton of books. We had so many! I kept the girls' favorites, and am now going to do a "book rotation" in the playroom. (Will set out five books on their play table every week, and then swap 'em out the following week. Before, they rarely pulled a title from the bookshelf. But I heard that this gets them excited about books they already own! Will report back.)
Read: "Stop Keeping Score": This was a very interesting read from The Atlantic. I really like Arthur C. Brooks; he makes me rethink how and why I'm living my life. Naturally, I think I've really slowed down in my 30s, and I'm 100-percent happier because of it. For me, success ≠ happiness in the traditional sense, and I think Brooks makes a lot of good points in this piece.
Emma outgrew her toddler Black Dog sweatshirt so it's time for a new kids' one! I always buy her Black Dog sweatshirts and t-shirts on Nantucket, and I'm definitely bummed that we couldn't make that happen this year. But I passed the old sweatshirt down to Lucy, and she wore it the other day. Adorable. She looked like she was on her way to a jazzercise class or something. 😜
Have you heard of Tock? It's a fine dining reservations, delivery and carryout app that we're working with this month. Our friends Peter and Bradley use the app often, and they're the reason I actually decided to take on the partnership and give it a try! I'll report back soon. We have reservations through Tock to eat in a rooftop igloo next weekend so I'm pumped. This mom needs to GET OUT.
Noodle got a puffer coat. I went with the most ridiculous one—gold with arms—because YOLO.
Read: "How to Diversify Your Toy Box": Another good read! Over the last year, I've been trying to make sure that diverse characters are represented in the books Emma and Lucy read, the toys they play with, and the shows/movies they watch. But this piece brought up some other areas that I can work on, too. Conscious parenting can be daunting. I'm overwhelmed by it—and whether I'm doing the right things—all the time. But I can't believe how many conversations it's prompted this year between Emma and us. Kids are sponges and it's never too late!
I'm starting to plan for Saint Patrick's Day. As you might have picked up on, I went all out for Valentine's Day and it was great to have something to look forward to. Our small us-only celebrations—yes, plural—were so much fun, too! So on to the next. Expect a blog post soon. Just wrote and scheduled it!
I can't wait for my mom to visit. It's going to be so nice. Her vaccine will take full effect mid-March, so we still have a bit to wait. But I'm already brainstorming ideas! I'm very much interested in having her take the girls to the Children's Museum since she'll be vaccinated… and then I'm hoping it'll be warm enough for us to eat a few lunches and dinners in some igloos around the city. Otherwise, though, I think we'll just be doing a lot of chatting and crafting over chardonnay, haha.
I bought this ridiculously affordable and super-soft sweater and can't get over how beautiful it is. I also have and love this ribbed duster cardigan—which I wear opened with a cami underneath–and it's so pretty.