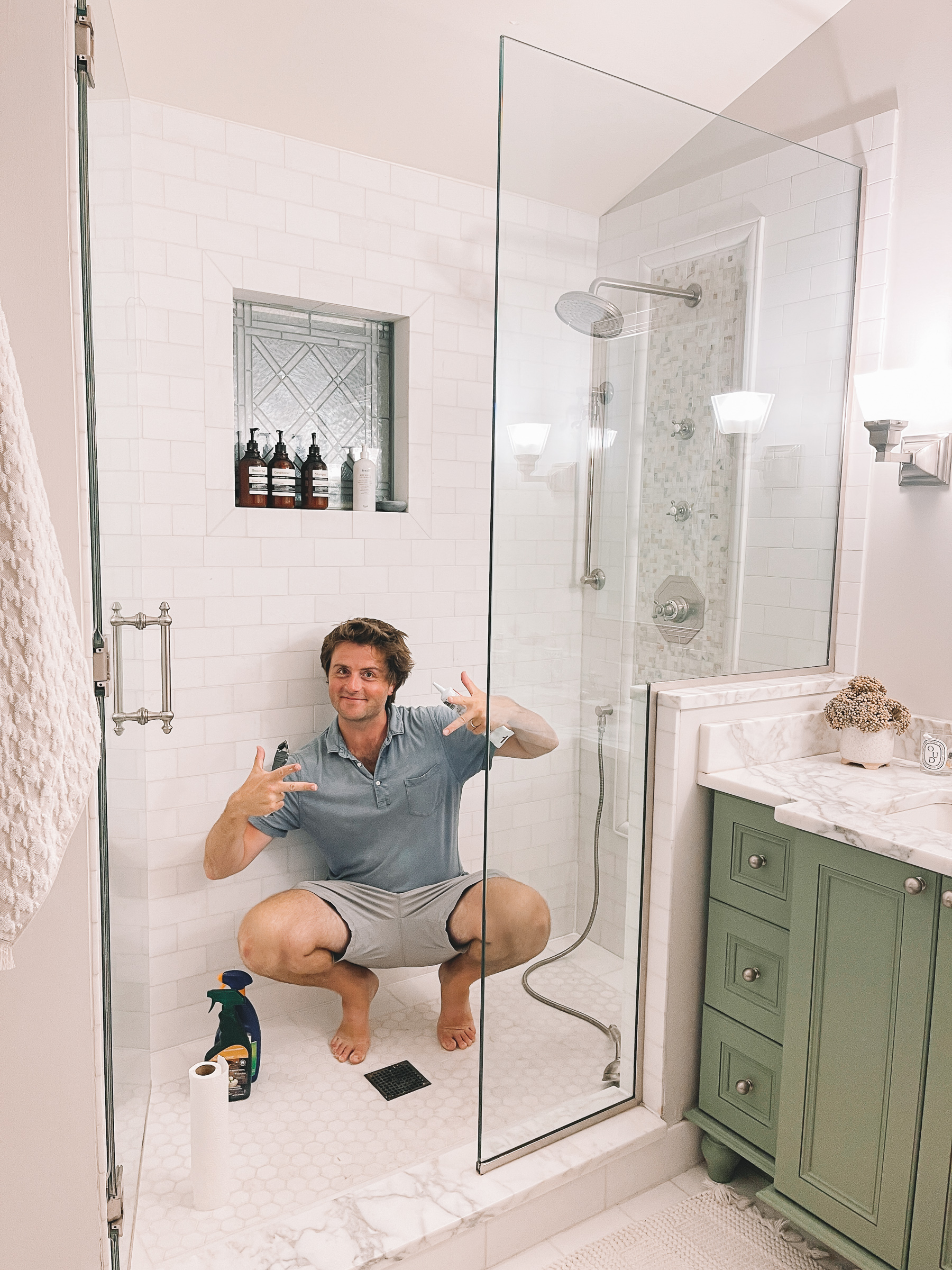 Green color: Benjamin Moore Kennebunkport Green / Target Houndstooth Towels / Target Floral Arrangement (Love this newer one, though!) / Amazon Plastic Amber Shampoo/Conditioner/Soap Bottles
Let's just jump right in here with the first 10 things that come to mind today:
WE MET JUNE! Shaheen and I coordinated to meet Jess and Neal's perfect daughter together this past weekend in an effort to not add to the stress of house guests during month #1 that we both remembered so well when we had our own children. 😉 (The outpouring of love was truly incredible but we were also exhausted and overwhelmed!) And GOSH. Meeting her—and seeing Jess and Neal rocking their newfound roles as parents—was indescribable. First, June is gorgeous and adorable and oh-so-sweet… and Jess and Neal are easy-going yet on top of things at the same time, and clearly over the moon in love with their little girl. What an awesome night. Love you guys! Congrats!!!
My friend Carlypublished a BOOK, and I couldn't be more proud. Guys, she did it while pregnant during a pandemic. Insanity, right?! Carly, you never cease to amaze me! Business Minded is actually what I'm currently reading right now on my Kindle, as I was graciously given a sneak peek of the book. ;) I highly recommend preordering here!
The Larkins had a wild and crazy weekend and we totally crashed on Sunday. Between late (super fun) nights with Shaheen's family and late (super fun) nights with our friends Bradley and Peter's family, I guess we were just pooped. Tried so hard to hold it together but each person had their own mini meltdown and/or fell asleep on a couch, on the floor, or in a crib during the afternoon. Very much worth it, though, ha! ;)
J.Crew Factory has arrived in Chicago! It's located at 662 West Diversey on the border of Lincoln Park and Lakeview, and it's BIG and awesome. You have to stop by; the staff is awesome, the selection is crazy good, and the kids' section is the largest I've seen. So many cute wear-now fall arrivals, too!
We found warehousing. We are up to our eyeballs in inventory for Mitch's business. It's honestly never been this bad. 😆 Everything sells through Amazon, and up until recently, their warehouses stored most of it. Now, though, they have much stricter rules about exactly how much product we can send—and as a result, our garage and Mitch's office are exploding. We knew right away that it wasn't a tenable solution, but finding a space—and the right person to handle deliveries and shipments—took some time. We're both just so thrilled about regaining use of the garage and Mitch's office… and not tripping over boxes anymore!
I'm seeing The Indigo Girls with a bunch of my Chicago girlfriends at Ravinia! Ravinia is an open-air concert venue on the North Shore of Chicago, and I've never been before! I'm psyched. I loved the Indigo Girls so much back in the day; my roommate Beth and I used to dance around to them in the dorms all the time 🙈, and then my friend Annie and I were pretty obsessive about them when we were in our 20s in New York. (Hi, Annie! Miss you!)
I'm starting to get into making videos again. I made four from experiences around Chicago over the last few weeks! It's so enjoyable. I have a lot of room for improvement, but I love artistic challenges. First up will probably be getting a gimbal because I have very shaky hands, haha. You can see my first attempt here. And by the time this post is published, I will have posted another one in my Instagram feed!
I'm tossing five things per day in my room/office. WOW. It's been so cathartic. I start the morning by taking only five minutes and going through a drawer or shelf or whatever, and setting aside five things I no longer use or need. Funny enough, I always find more than five things to toss. I feel lighter, and my work days are more productive because of it! (Marie Kondo brainwashed me.)
"One Home Project Every Day":

I took care of our snail mail problem. Eek. Snail mail stresses me out. When I get it out of the mailbox—which I don't do often—all I see is tasks. So I often throw it in in our kitchen "mail drawer," which of course is utterly ridiculous, so I can deal with it another day when I don't have much going on. (HA.) Yes, this is clearly a result of anxiety, and yes, I realize I should just open it on the spot. But here we are. Anyway, I did it. And man! My friends take some really awesome Christmas card photos. Great job, guys! Merry Christmas!
Mitch made some Amazon returns. Anyone else have a pile in the corner somewhere? We got that stuff OUT.
Mitch caulked our shower. On our anniversary. 😜 But truthfully it was part of our anniversary gift to each other; we spruced up the bathroom by painting the cabinets, re-caulking, and cleaning. I'm in love with the "new" space, and can't wait to show you!
I donated some stuffed animals and dolls. Serious question: Where do all the stuffed animals come from? And how do they seem to reproduce? No one plays with them. No one hugs them. No one even gives them the time of day. Of course, I had some "Toy Story" nightmares while doing it. But here's hoping they find better homes.
I went the velvet hanger route in the girls' closets. I personally love the wooden hangers, and LOOK WHAT MITCH AND I MADE! (Seriously. I designed them, and now Mitch manufactures and sells them on Amazon. I'm so proud, haha!) However, the girls are no longer babies. And from field hockey and ballet to school and camp, they require so much clothing! I really stay on top of their closets, but we needed space… and the velvet hangers totally solved all our problems. Everything fits with ease!
I started digitizing the contents of my desk. I'm nearly paper-free, but what paper I have left in there is creative writing—and I can't be sure I have it saved on a hard drive somewhere. When I'm done getting all that digitized, I'm going to start organizing the contents of my hard drives. The goal is to live an organized digital life, too!
I'm rotating out shelf decor and things feel fresh and new! I learned this trick from my mother-in-law. She is constantly moving decor from room to room, and the house always looks different when we come to visit. This costs $0, too!

We celebrated eight years of marriage last week. We tend not to do up anniversaries, mostly because at this stage in life, we have a bit too much on our plate to handle set-in-stone reservations and plans. (We'd much rather play things by ear and go out if we're feeling up to it, instead of knowing we have to be somewhere by 7 p.m., for example.) So we took the girls to Athenian Room, which is our favorite restaurant in Lincoln Park… and also where we've celebrated many happy life events. It was hot, we sat outside, and it was awesome!
Biking is still my favorite way to get around Chicago in the summer. We've took the girls to camp/peewee every morning on the bikes last week and it was the best. Great one-on-one time, much less fuss than the car, and sunshine/fresh air. Mitch and I also get to ride solo on the way home, which has been lovely.
I'm starting to freak out about winter. YES, I'M CRAZY. And I'm probably associating winter with Covid… but things are just so good right now. I can't bear to think that in six months, temps will be in the negatives and skies will be gray. I'm hoping we can travel to New Orleans to see my brothers a lot in Winter 2022.
We saw a movie in the park last week, and it was so cool! If you live in Chicago, check out all "Movies in the Parks" on the Chicago Park District website. It's a great (free) activity for everyone!
Emma's going to "Camp Gammy" in a couple of weeks and I'm so excited for her. She's even more excited. ;) She'll be with her three cousins who live in Virginia! Last year was the best, and when Mitch and I came to get her, she said to us, "Ummm. I'm not ready. I need a few more days." Little Miss Independent. Thank you, Lisa, for giving your grandchildren this incredible gift of family and fun at the lake!