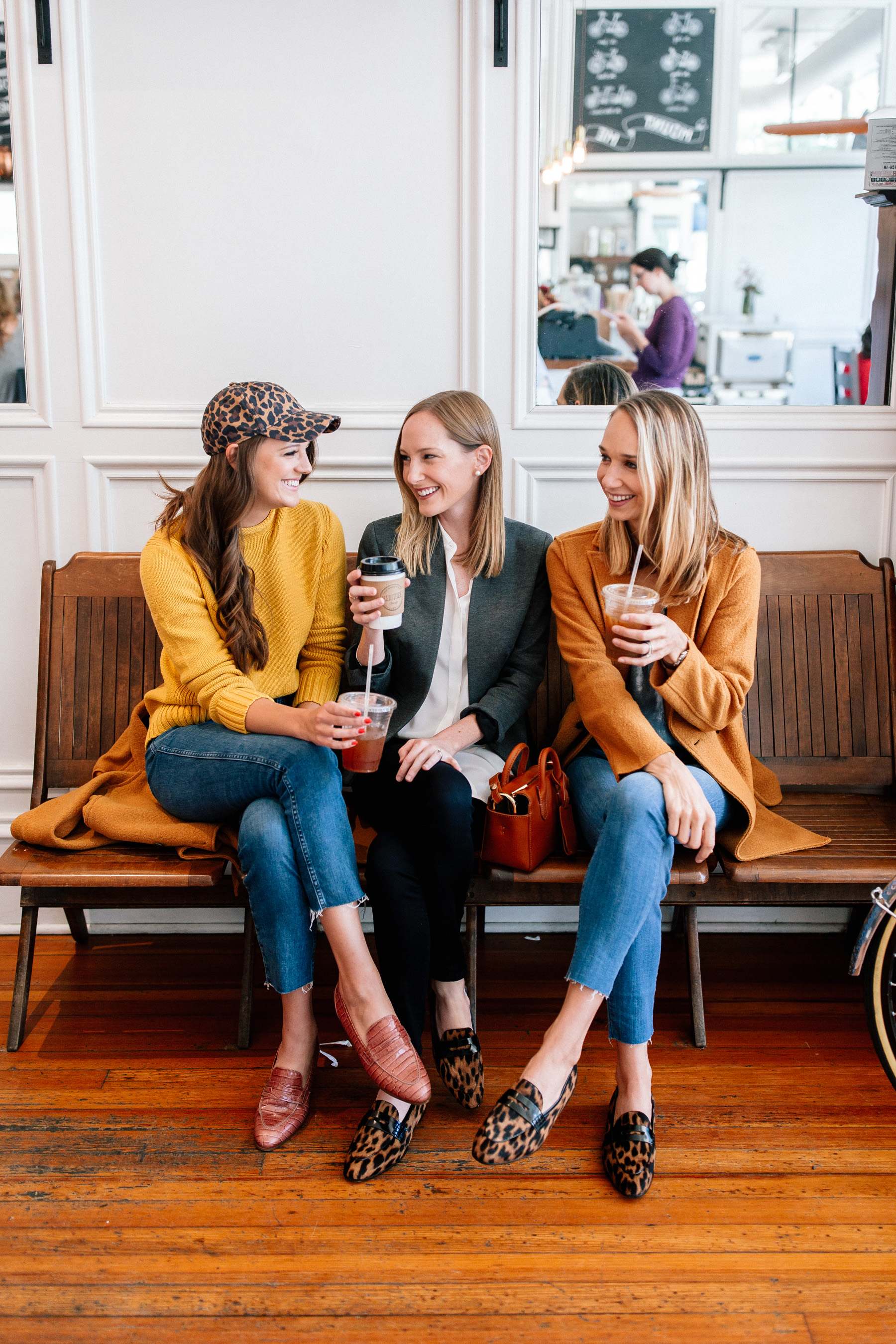 Leopard Loafers / Pink Loafers (Love these new convertible pink velvet loafers, too.) / Yellow Roll-Neck Sweater (In polka dot here; in stripe here. Love the ruffle neck sweater, too.) / Silk Shirt / Gray Blazer / Leopard Hat coming soon; J.Crew's current leopard line here. / Leather Bag / Camel Wool Coat / Raw Hem Jeans / Distressed Jeans / Newer Black Jeans / Velvet Tank all c/o
Last week, I did a sponsored Instagram project last week for J.Crew with my girlfriends Jess and Blair, and we had the best time. We were helping to promote the company's #meetmycrew campaign, and we basically needed to capture a fun girls' day in Chicago through video and photos. Some of the content would end up on J.Crew's Instagram account and the company's Instagram Stories, and some of it would appear on our own. (In case you missed it, you can see my videos in my #meetmycrew highlight here!)
We obviously ended up taking way more photos than we actually needed 😂, but I love how they came out, and I hope you don't mind that I'm sharing a few faves on the blog today! Of course, they're completely incomplete, as Shaheen is missing from them. (She moved to Kentucky over the summer. 😭) But she's there in spirit, and we'll just have to re-take some of these when we all get our butts to Kentucky this fall. ;)
In case you're wondering, our itinerary was:
Visit Heritage Bicycle Shop for coffee. (The most beautiful coffee shop in the area! Also a bike shop, as the name suggests.)
Ride the El (If you're not from Chicago, the subway is called the "El" here, for "elevated train," because most of the time, it's above ground.
Get ice cream at Jeni's on the Southport Corridor.
Go shopping across the street at J.Crew.
Grab lunch at Crosby's Kitchen down the street. (Couldn't recommend this spot more. My favorite is the Wrightwood Salad.)
Pulling this off was no small feat, either. I was in New York for the better part of the previous week, and Jess was in Austin when I returned… so we had ONE day to pull it all off. Luckily, Blair was able to arrange for her nanny to watch both Owen and Emma for a few hours, it didn't rain, Mitch killed it with the photography/videography (thank you, Love!), and everything went off without a hitch. And most importantly and as I said before, it was so much fun.
A big thanks to J.Crew for thinking of us for this project, too. It was such an honor, and we totally called each other screaming when we first found out. :) And a personal thanks to Jess, Blair and Shaheen–without whom I'd be lost. (Figuratively and literally. Always freakin' lost in Chicago… 😂)
Btw: If you shop in-store with a crew of three or more this month, you can take 20 percent off your purchases! There are also a ton of other awesome online promotions currently going on: take up to 40 percent off full-priced styled with code "SAVEMORE," up to 75 percent off the sale, and 25 percent off @work styles with code "SUITUP." I've linked everything you see in these photos at the end of this post as well. :)
Happy shopping!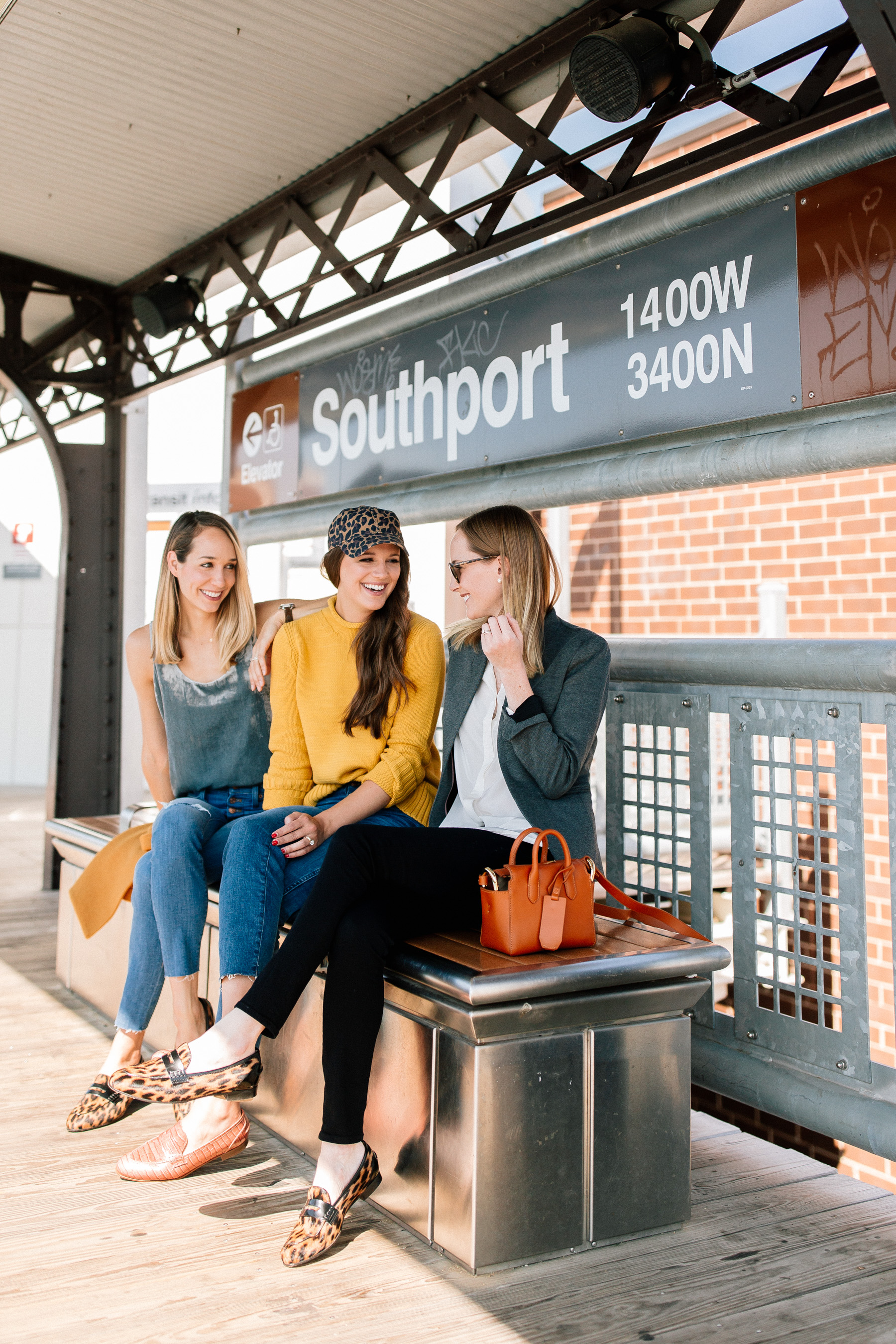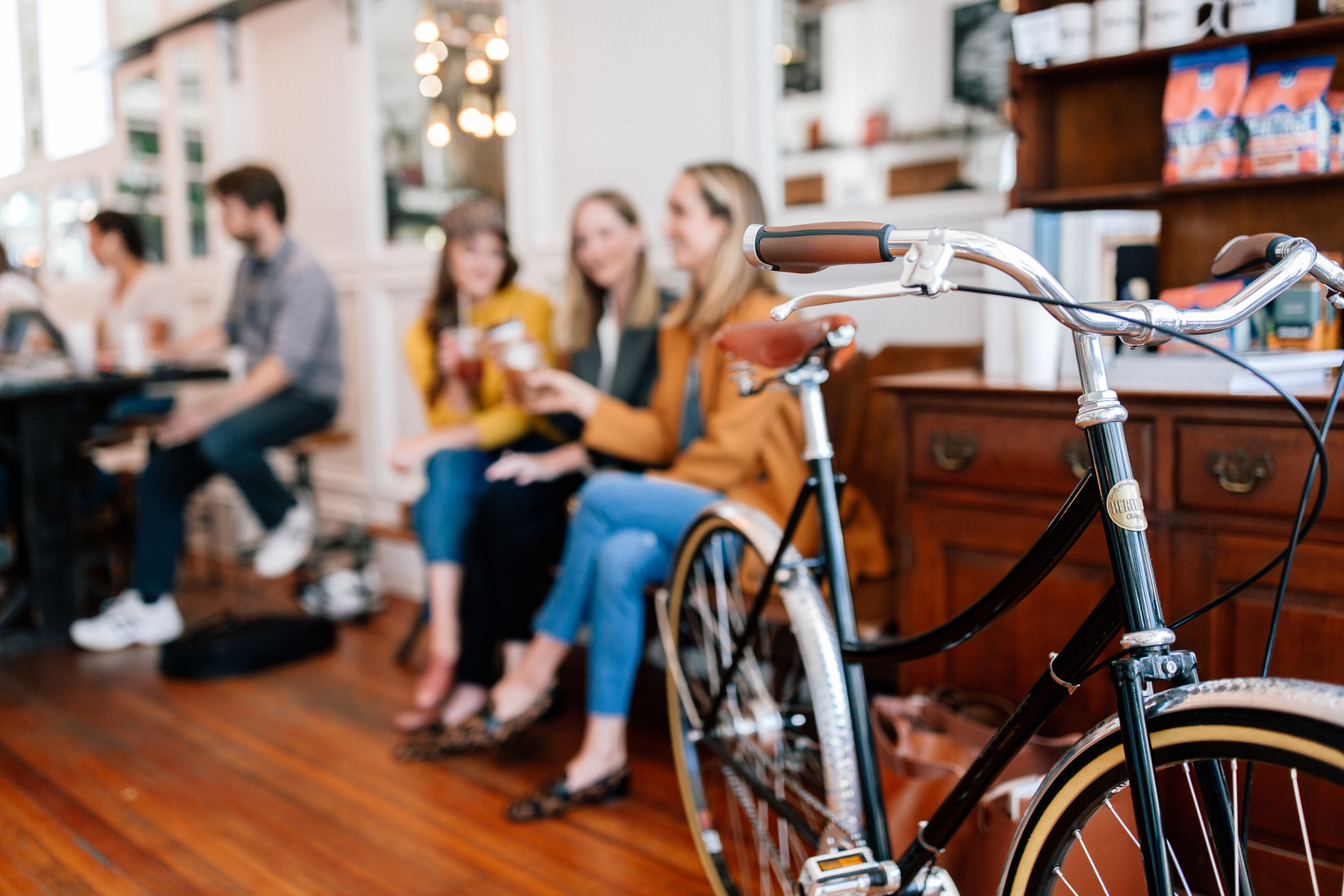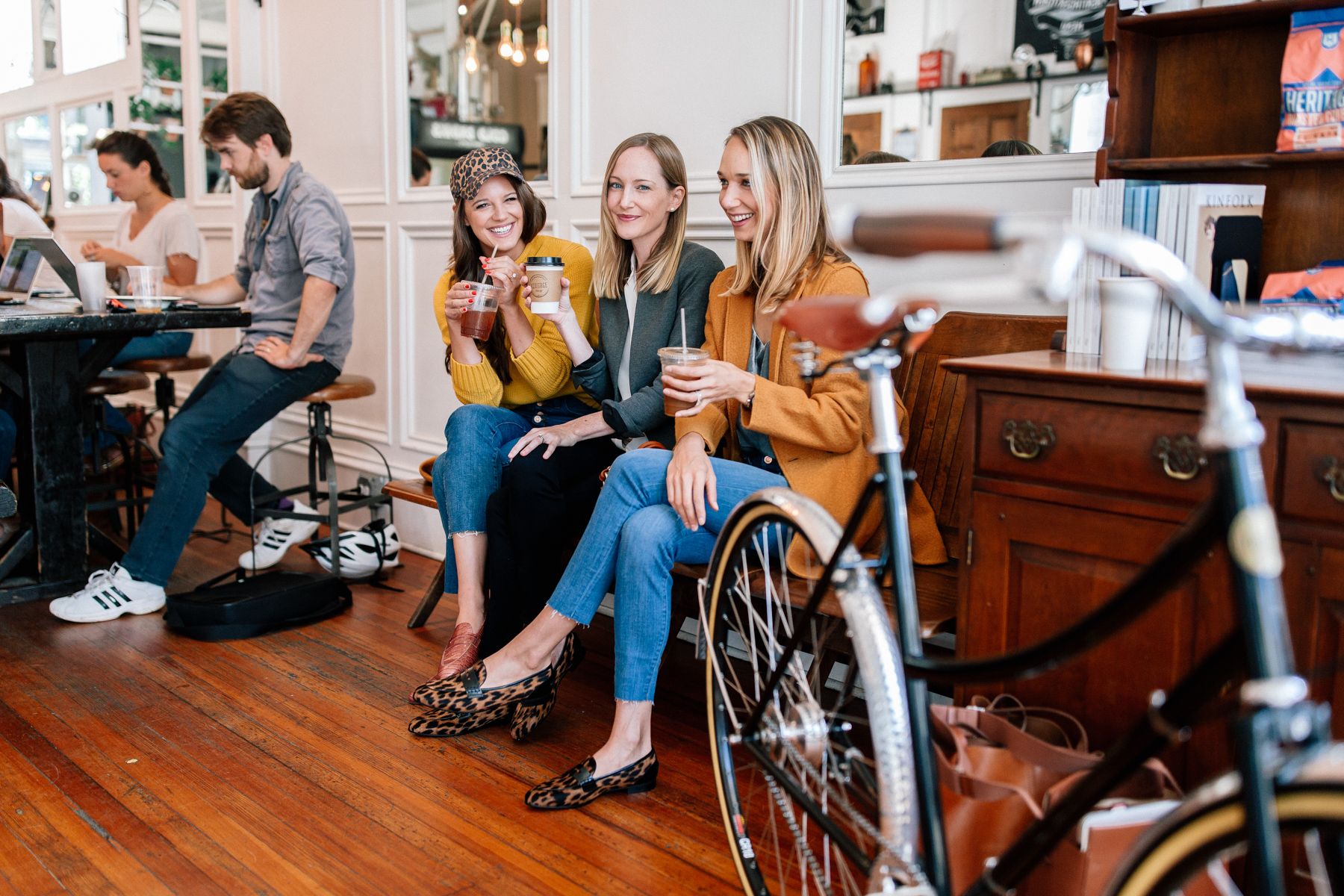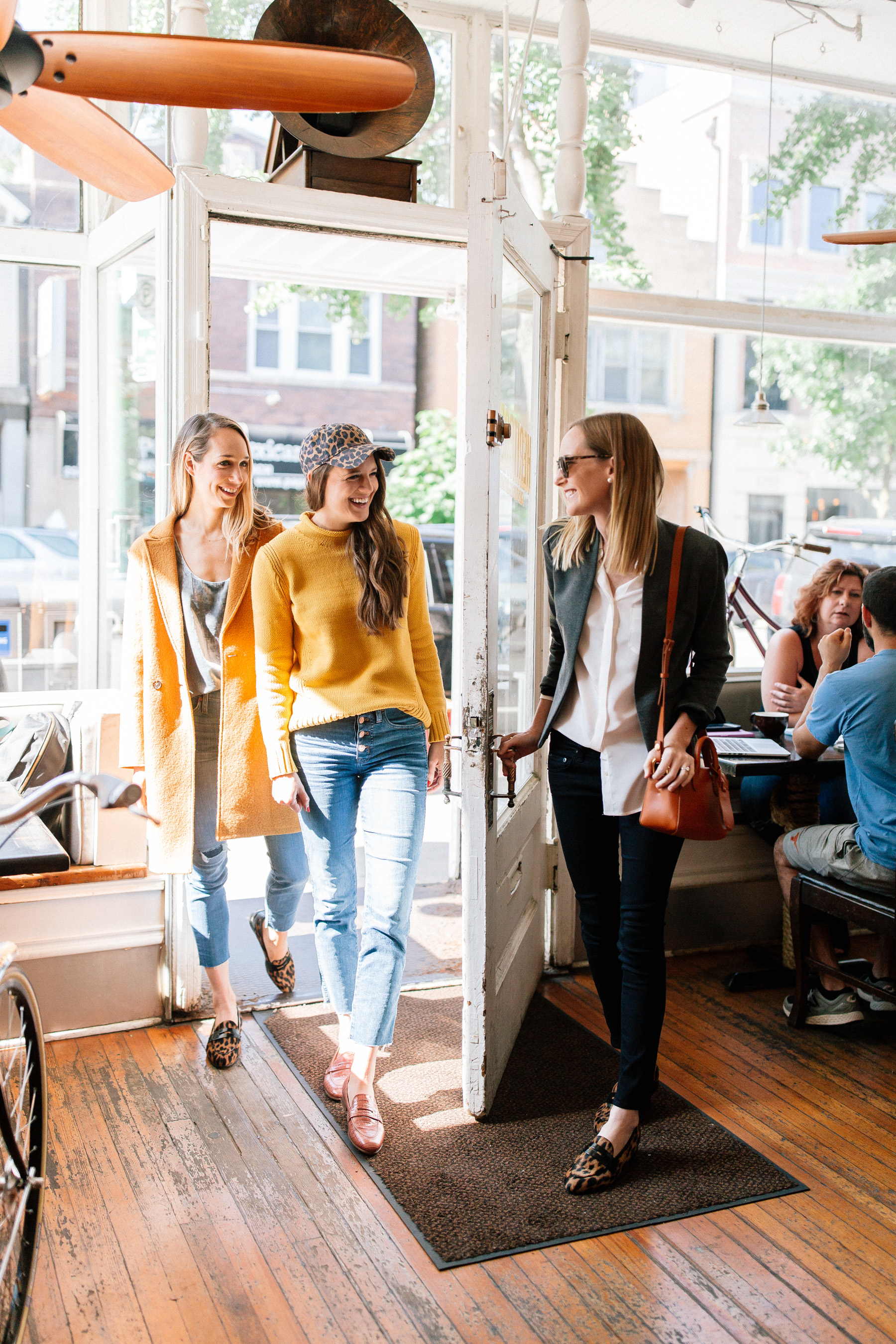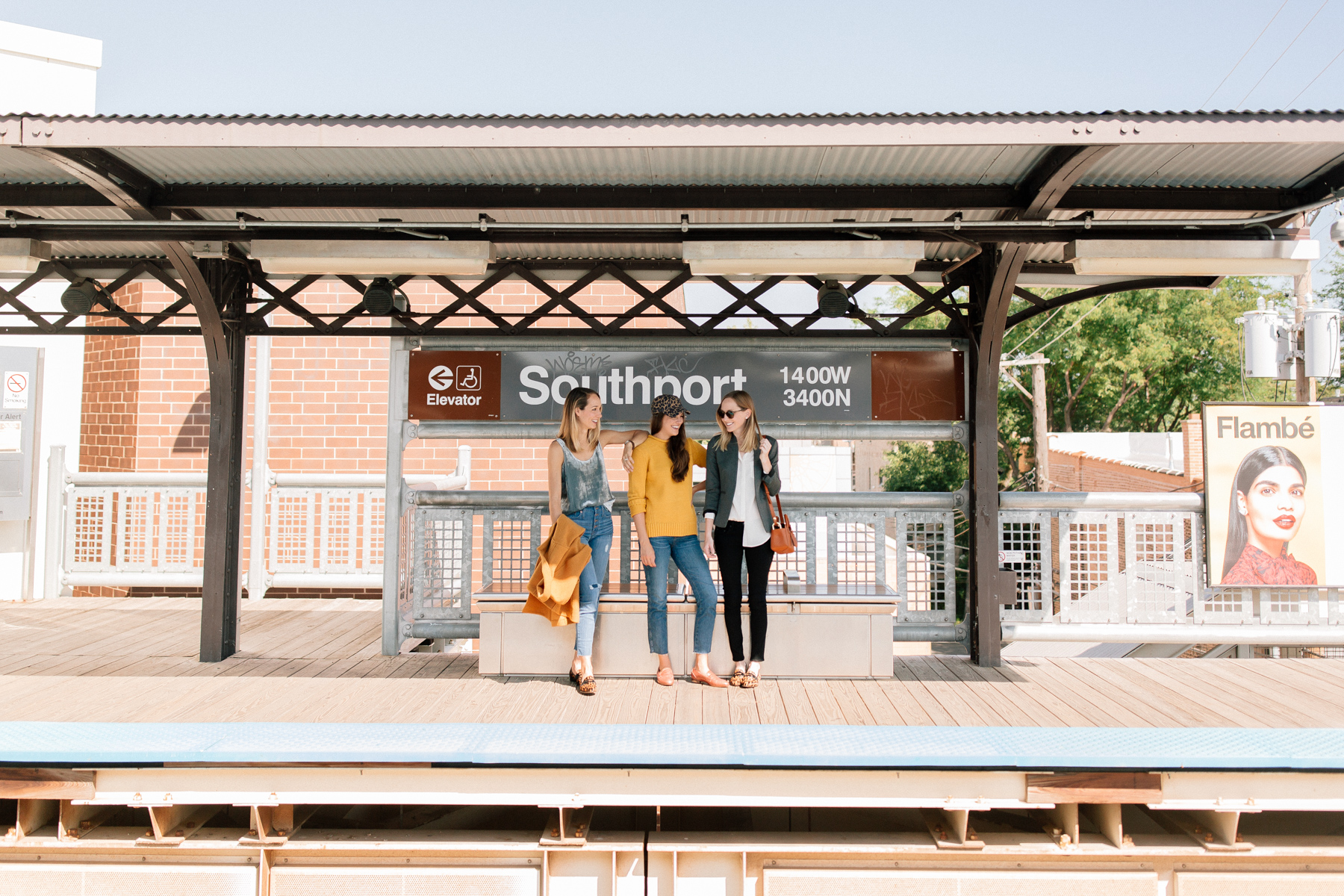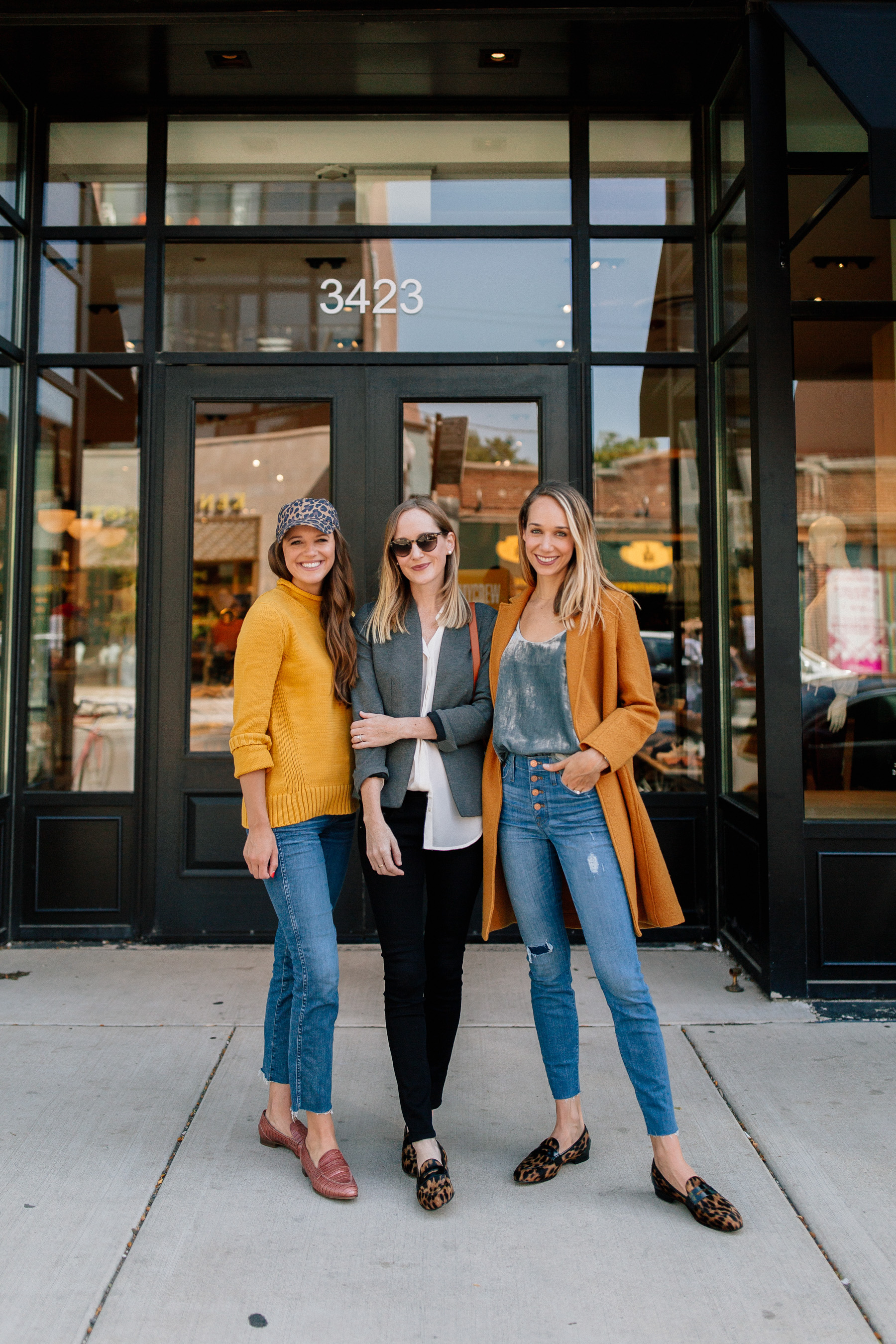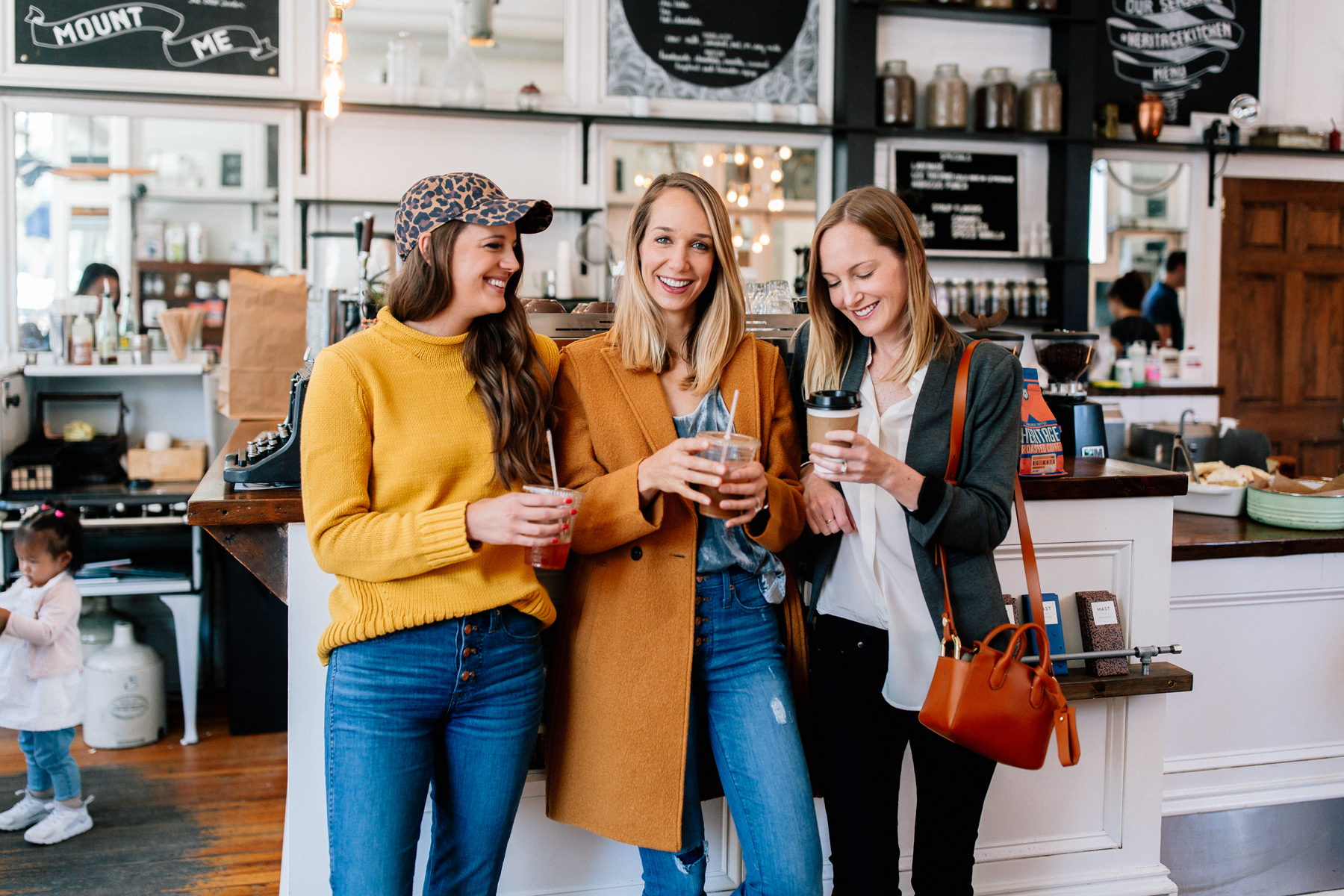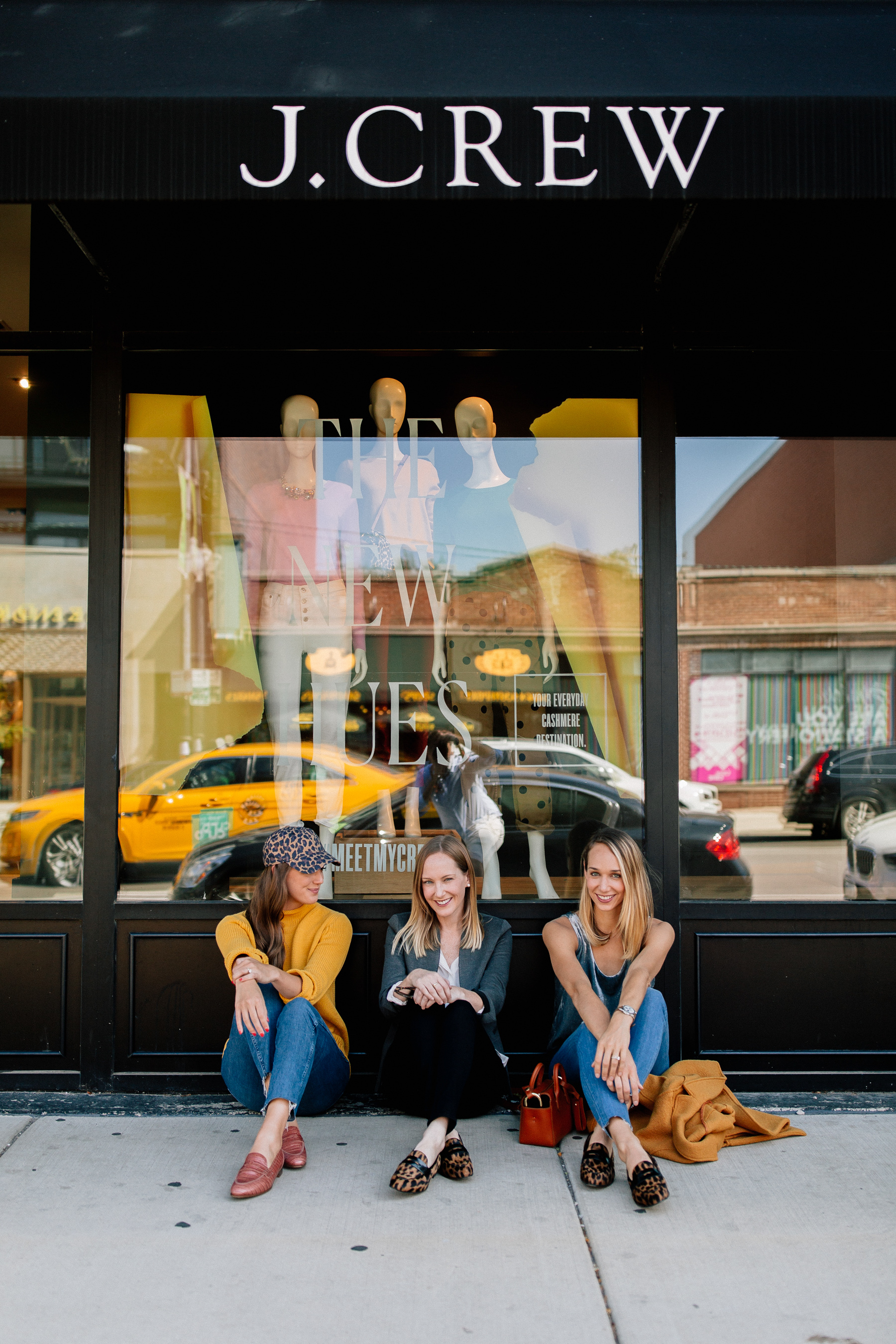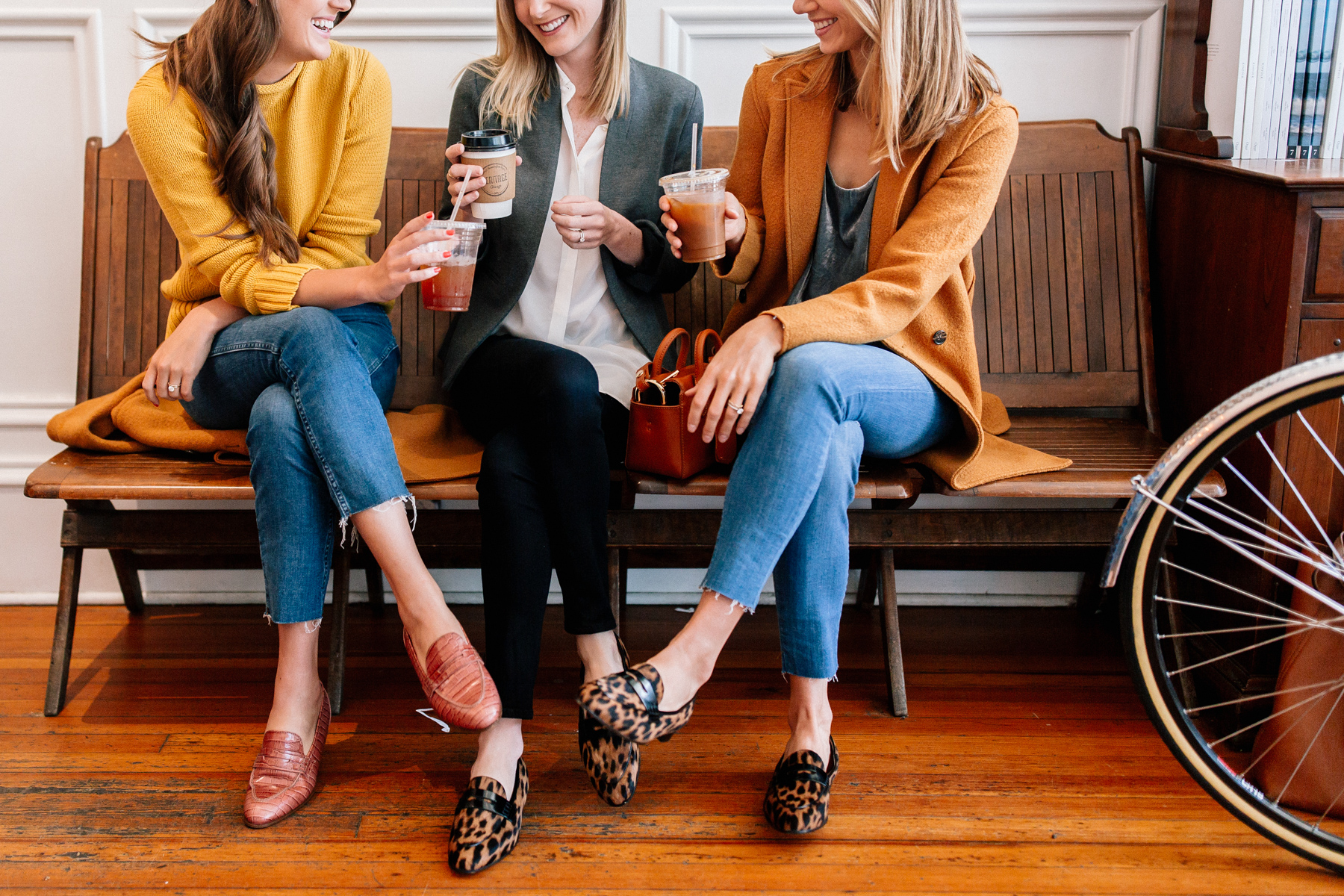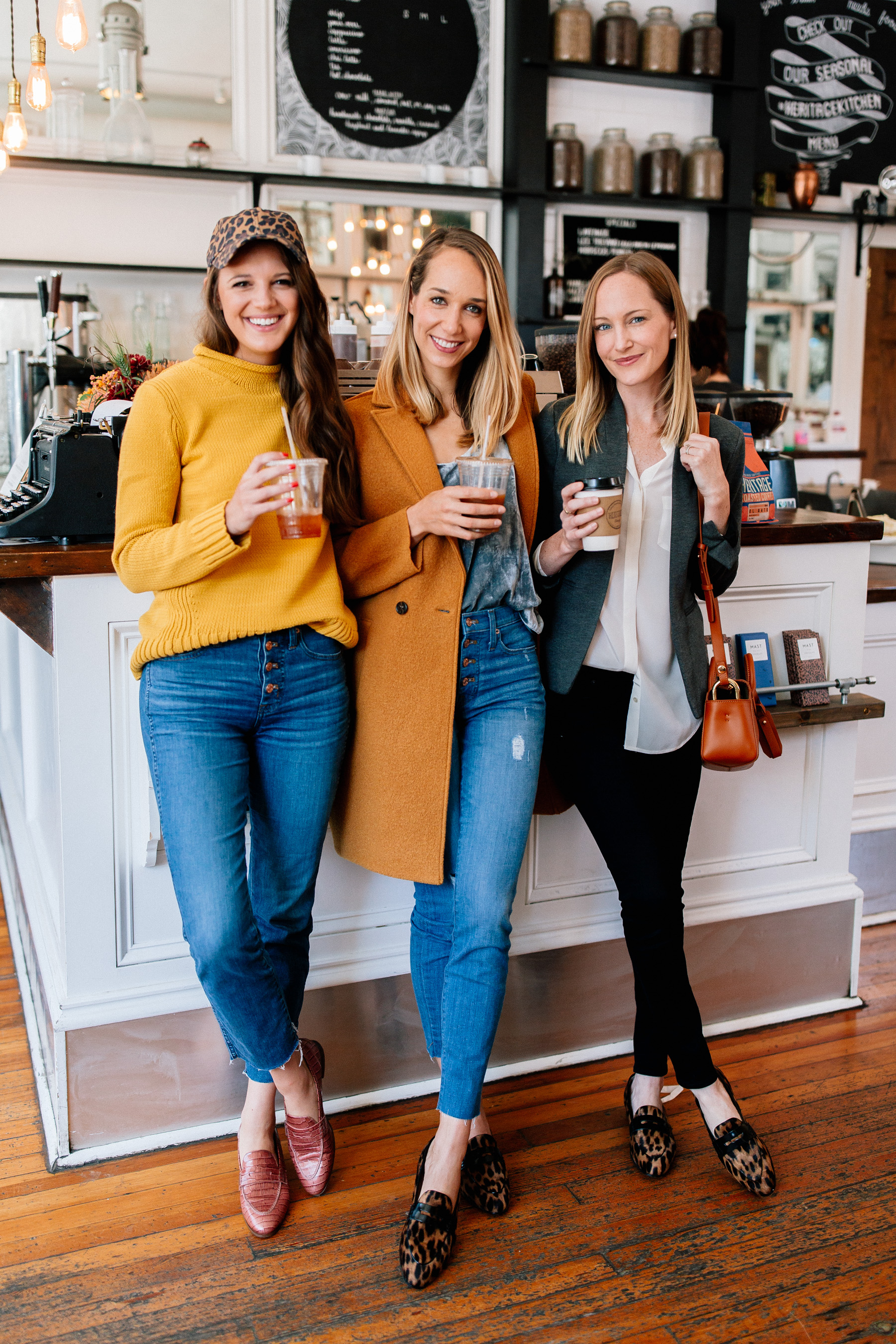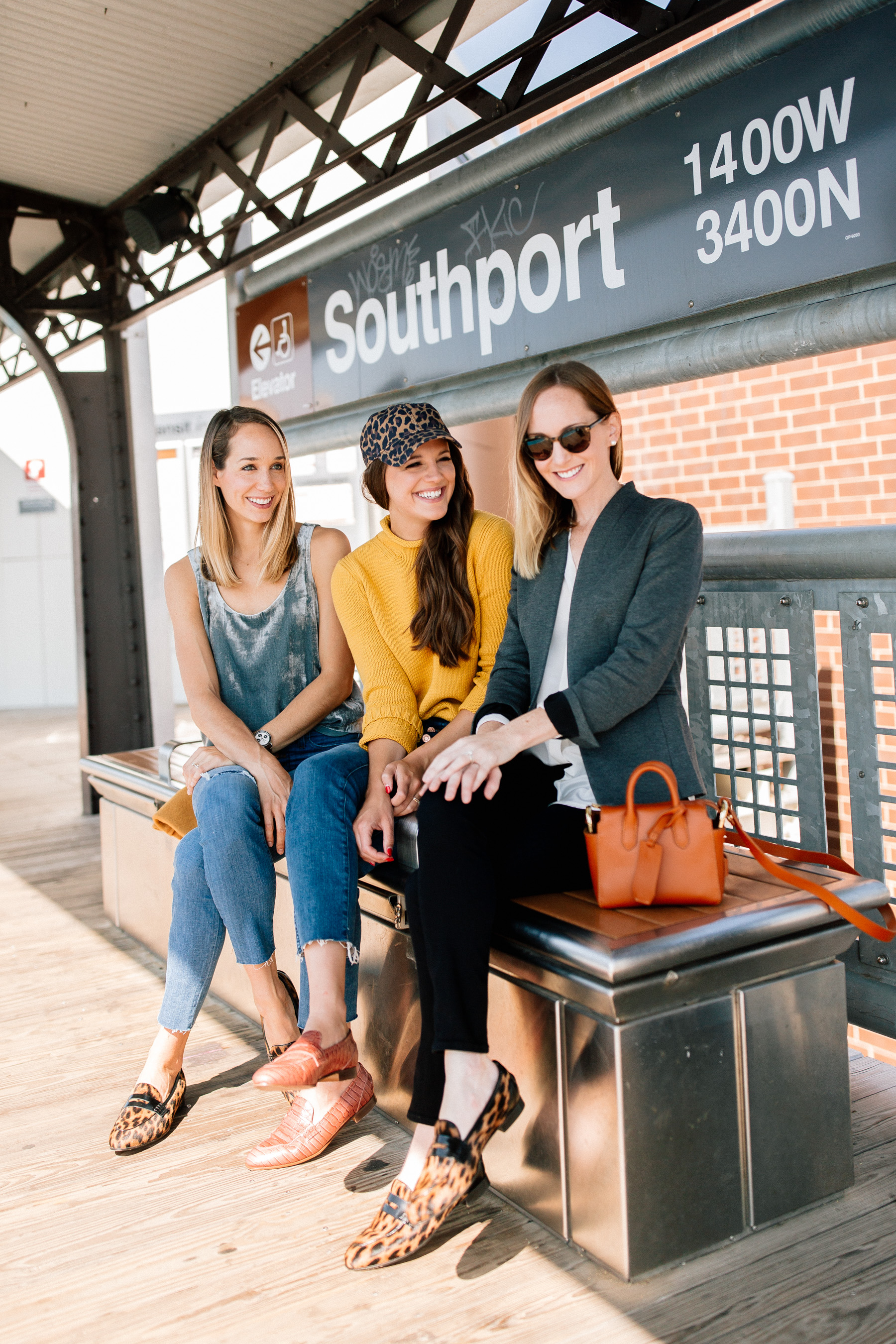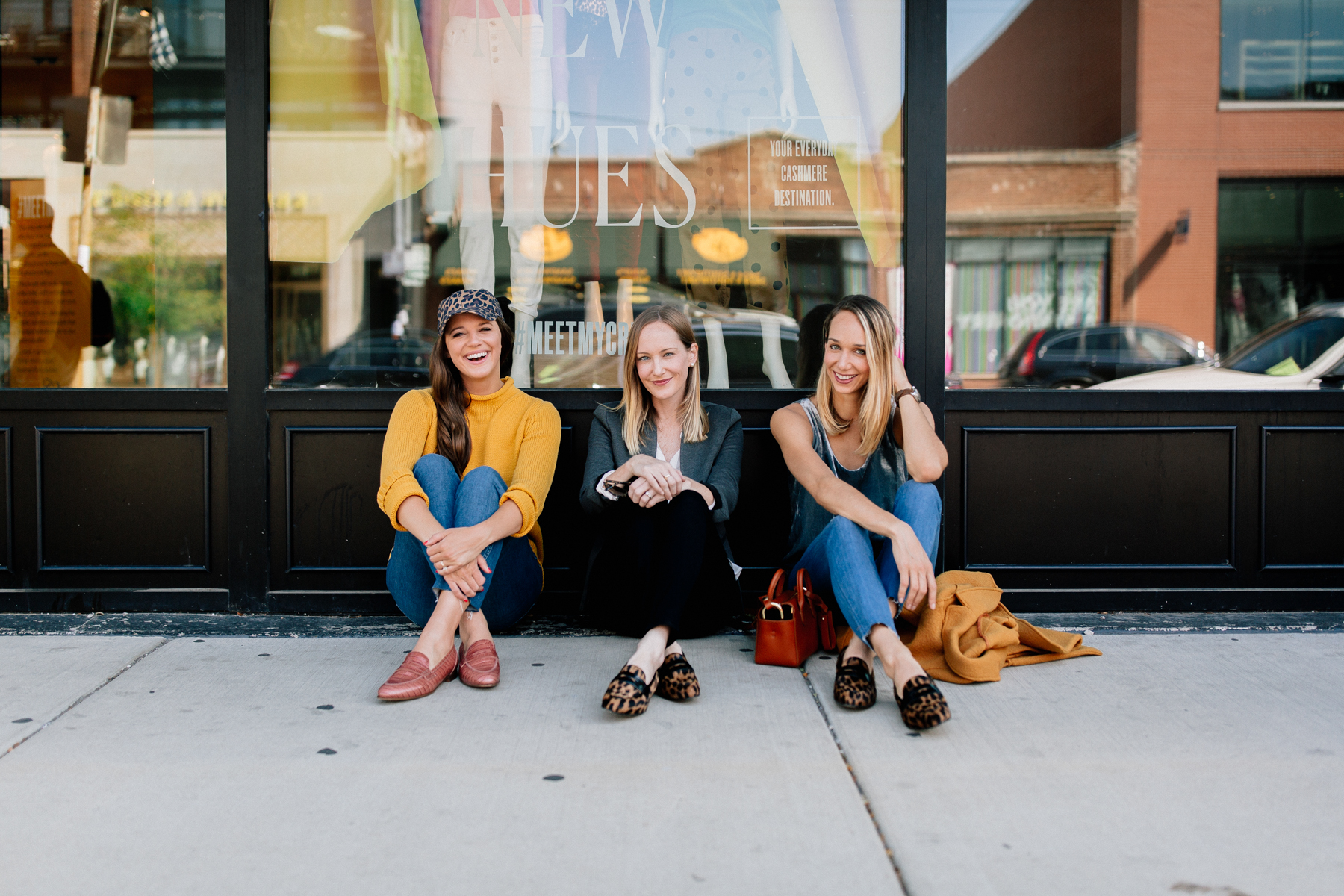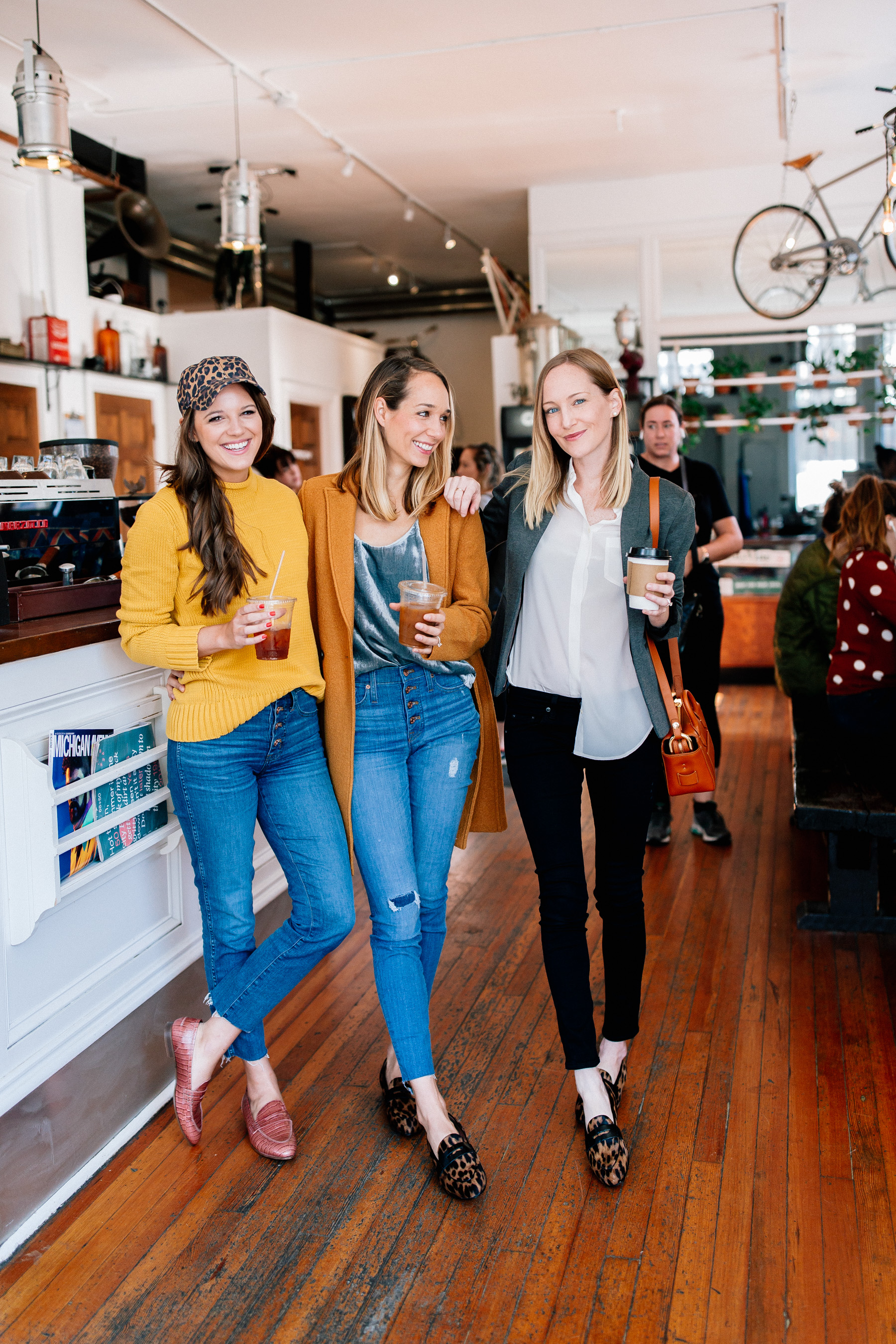 Shop the post:
Leopard Loafers / Pink Loafers (Love these new convertible pink velvet loafers, too.) / Yellow Roll-Neck Sweater (In polka dot here; in stripe here. Love the ruffle neck sweater, too.) / Silk Shirt / Gray Blazer / Leopard Hat coming soon; J.Crew's current leopard line here. / Leather Bag / Camel Wool Coat / Raw Hem Jeans / Distressed Jeans / Newer Black Jeans / Velvet Tank all c/o