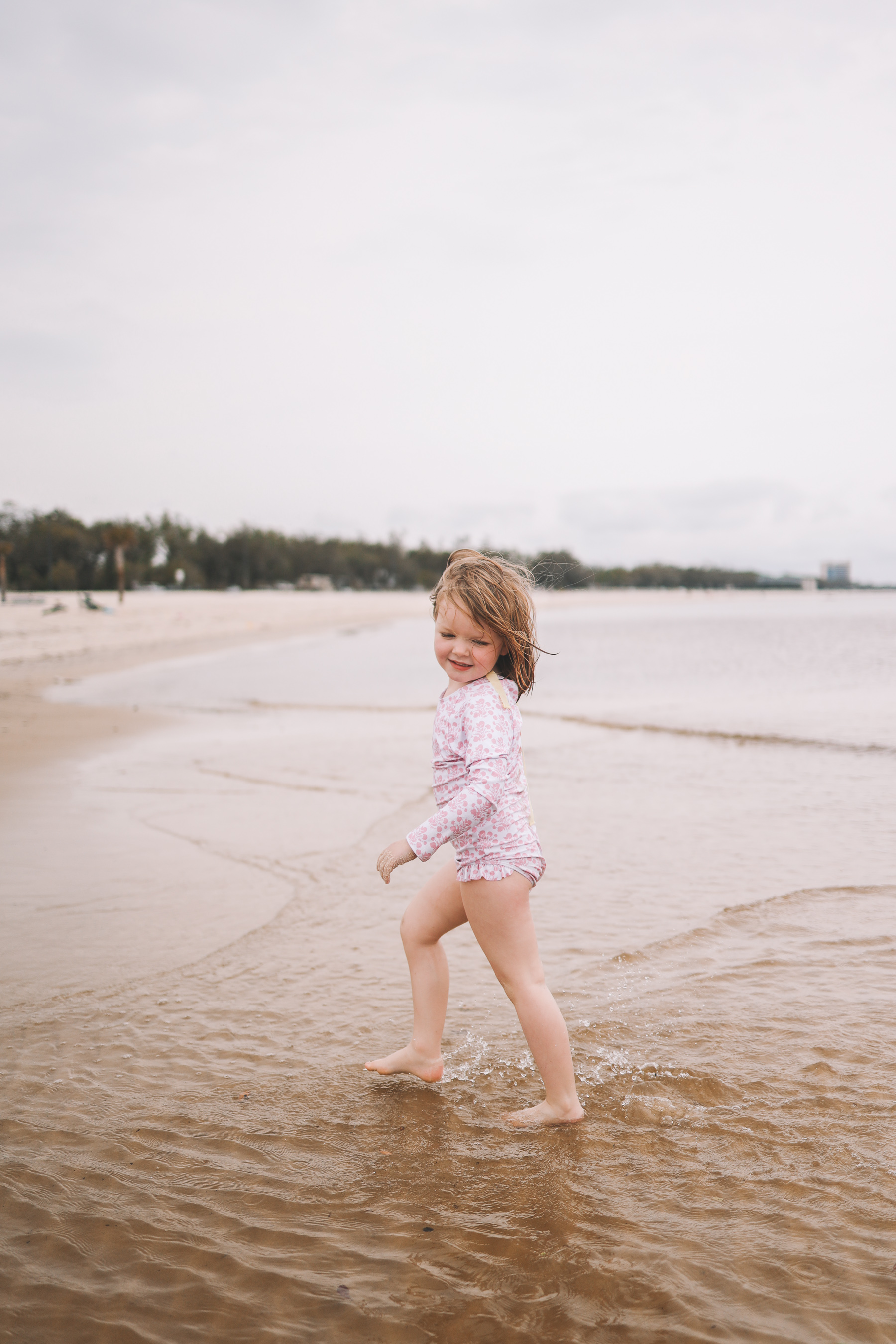 Emma's Minnow Swimsuit / Lucy's Rufflebutts Swimsuit (We also have and love this seersucker number! More sizes for little + big girls here.) / Kelly: Tuckernuck No-Wrinkle Striped Dress (Have you seen the hydrangea version?!), Oversized Jean Jacket, Pearl Earrings, Sunglasses / Mitch: Bathing Suit, Henley T-Shirt (The polo version is his go-to, btw! Both are great.) / Noodle: Vineyard Vines Collar / Beach Chairs / Ice Cream Beach Toys / Shovels
I completely forgot about these photos!
We had a couple of toasty days while in Mississippi—of course I'm in a jacket here 😆 #alwayscold—and hanging out on the beach was a dream. (Especially considering how cold it was back home!) Our Airbnb house was situated right across the street from the water, which was really lovely!
A few things I can't recommend enough:
Emma's Minnow Swimsuit: Minnow is SO nice. This is actually our first suit, but it won't be our last. Yes, they're an investment… but they're made with UPF 50+ and the sleeves provide so much protection. The quality is also off the charts—so soft!—and they'll be passed down to Lucy. (Would love to have matching suits for them but not sure I can justify, haha.)  All the prints are darling, and the bow in the back and the ruffle detailing are adorable, too. In terms of sizing, I would size up so you can get a few years' wear out of it. Emma is almost 5, but I gambled and skipped the size 5/6 in favor of the 7/8. As you can see, it's a little big but not too bad… and with any luck, she'll be able to wear it for 2-3 summers!
Lucy's Rufflebutts Swimsuit: Rufflebutts is the more affordable option here! (More sizes for little and big girls can be found direct from their website.) They feature that same built-in UPF 50+ sun protection along and so many suits have long sleeves, too. All of our Rufflebutts suits were Emma's—I didn't know about Minnow back then—and they still look brand new! I think the nicest ones are the seersucker ones.
Tuckernuck No-Wrinkle Striped Dress: Hands down, this is the best dress I own. Over the years, it's been made available in a bunch of prints—and believe me. I have so much regret that I didn't purchase them, considering how often I wear my Tuckernuck shirt dresses, haha. But the striped one is my most-worn, and my #1 travel dress as it's wrinkle-resistant. It runs slightly on the larger side, so I would suggest ordering your normal size or one down. (I'm wearing the XS here for reference.) And while you're at it, get the black one, because it's wonderfully versatile. Whenever I travel and don't know what I wear, I pack those two dresses and I'm usually covered!
Men's Henley T-Shirt: Along with the polo version, this is Mitch's most-worn tee. I love them because they look a little more elevated than your everyday men's t-shirt… and he loves them because they feel like everyday t-shirts. Win-win, everyone's happy! Ha.
Foldable Lightweight Beach Chairs: THESE ARE GREAT. Especially if you have little kids in tow. They're teeny-tiny yet still amazingly comfy, and they fold up and pop into little carrying bags. I'm not the strongest lady out there but I could easily carry all four if need be! (No WAY I could carry four traditional beach chairs on my own.) Highly recommend; they made our trip so much nicer… and we plan on using them at the Chicago beaches this summer, too!
And with that, some fun family photos:
(Noodle hates the beach. Can't you tell?)
Shop the post:
Emma's Minnow Swimsuit / Lucy's Ruffle Butts Swimsuit (We also have and love this seersucker number! More sizes for little + big girls here.) / Kelly: Tuckernuck No-Wrinkle Striped Dress (Have you seen the hydrangea version?!), Oversized Jean Jacket, Pearl Earrings, Sunglasses / Mitch: Bathing Suit, Henley T-Shirt (The polo version is his go-to, btw! Both are great.) / Noodle: Vineyard Vines Collar / Beach Chairs / Ice Cream Beach Toys / Shovels