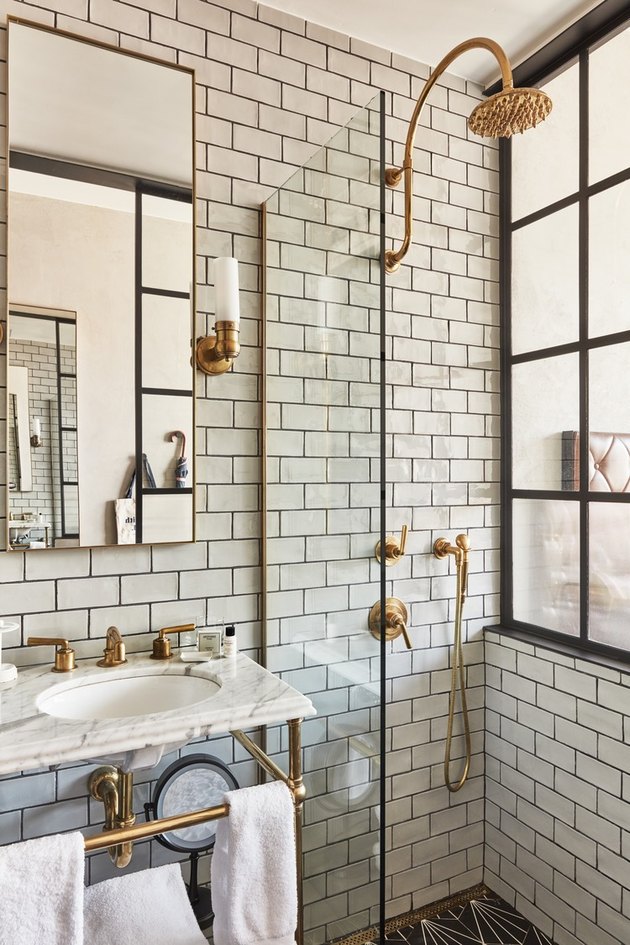 Another project that is a few years out, but the bathroom off Mitch's office in the basement is in need of an update. So not a big deal right now (and so lucky to have a bathroom down there!), but eventually we'd like to use the area as a flex space for guests, and let's just say it could use some work. Things are falling apart in there, haha. (I heard the toilet paper holder randomly fall off the vanity and crash to the ground the other day. 😆)
Mitch has said many times that his dream bathroom is something industrial, and I'm all about it. We're picturing lots of black, white, brass and dark wood. But I also think it's important to make the space functional, so I'm going to insist on no white grout—so much scrubbing!—and a vanity with some storage. (Even though I love the look of those floating vanities with al the exposed pipes, whatever they're called. 😜)
Here's some inspiration I pulled together the other day for Mitch.
Things I love:
Antique vanities
Brass hardware
Brass/wooden frames
Picture frame molding
Marble or quartz countertops
Black and white tile flooring
Amber bottles
Pretty hooks for towels
Laundry storage (Mitch exercises down there.)
Again, we're many years out. But thoughts?!