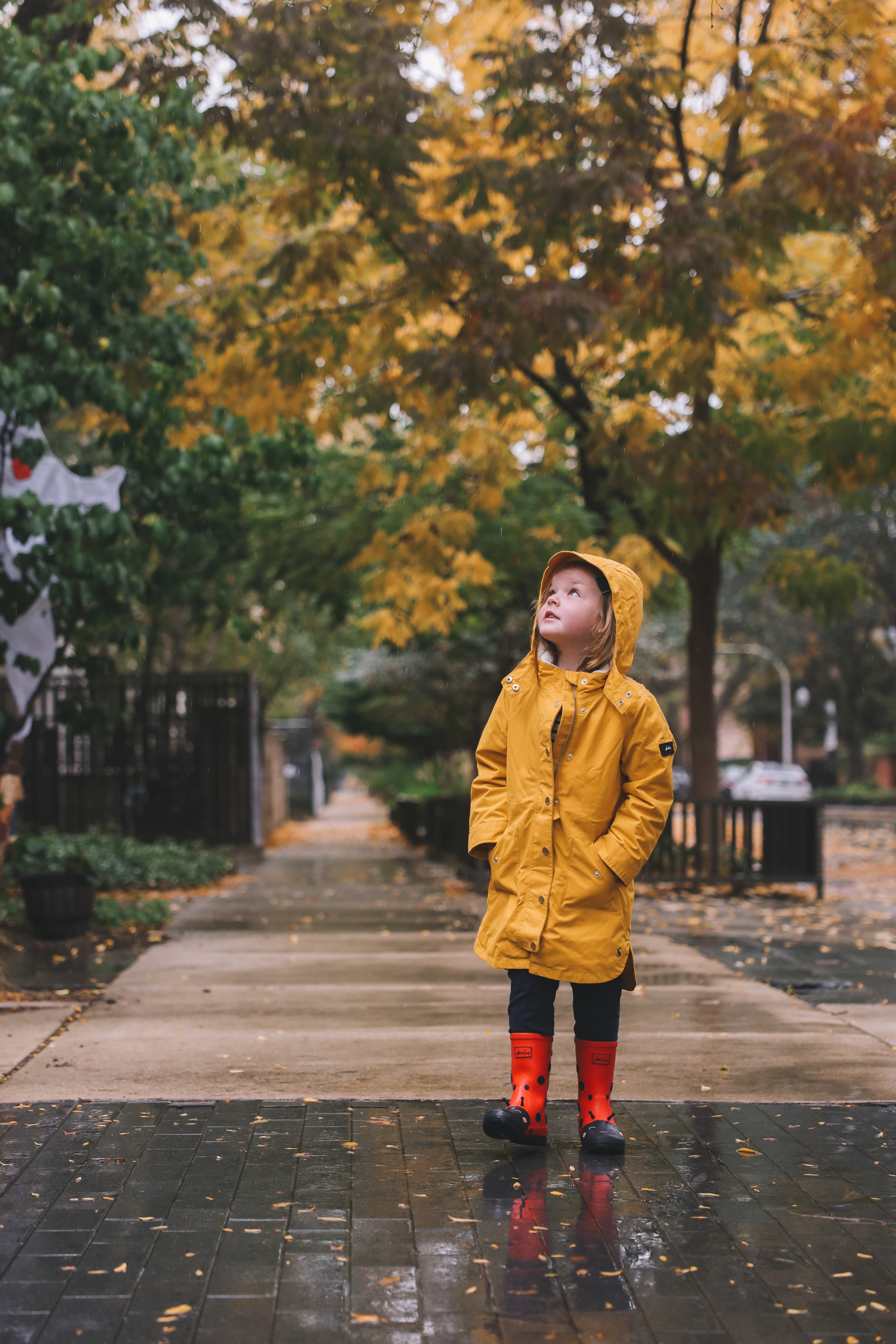 Kelly's Rain Coat and Boots / Girls' Rain Coats and Boots / Mitch's Rain Coat
Use code "KELLY25" to take 25 percent off your Joules purchase!
Yay! Fall photos in yellow rain coats are a Larkin Family tradition, and I love this year's pics! 💛
In case you don't own one yet, Joules is 100-percent where to go for the best rain gear. The quality is out of this world, and the coats are so warm. In Chicago, we have very few warm rainy days—especially in the fall and spring. Most are chilly, so I very much appreciate the cozy linings in Joules coats. The most exciting part? The Joules Friends & Family event is taking place now! Use code "KELLY25" to take 25 percent off your Joules purchase!

Kids' rain coats
I can't tell you how much I love the girls' Loxley Cosy Padded Rain Coats, which come in both yellow and navy. They're waterproof, and the lining features shearling for ultra coziness. I also adore the internal name labels, as coats and jackets are often confused between kids at school. Ours have "LARKIN" written on them in big letters, so they'll come back to us. :) Note: The Loxley runs TTS. Emma is 5 and Lucy is 2, so I ordered them a size 6 and size 3, respectively, so they could wear them next year, too. I think they look great! Joules has some great alternatives, too. Other favorites for little girls include the Rushmere Waterproof Mountain Parka and the Alix Waterproof Parka. As for boys, try the Raynor. Fantastic staples in colors that'll go with everything!
Kids' rain boots
And those ladybug rain boots?! The girls flipped when they saw them. This morning, as we were leaving for school in the rain, they were both chanting, "La-dy-bugs! La-dy-bugs!" 🐞 It was adorable. If they're sold out in your child's size, though, Joules has tons of other options for both girls and boys. The sharks and ducks kill me! And I love the pink puppy boots.

Women's rain coats
Joules has so many wonderful women's rain coats, but I always find myself coming back to my beloved Coast Jacket, which comes in yellow, navy and red. It's fully waterproof and has a detachable hood and cozy striped lining, and I get questions/compliments every time I wear it. It's generous, so if in between sizes, perhaps size down. I'm wearing a size 4, though, which is my usual size in Joules, and it's perfect. You can also try the Shoreside Coastal Waterproof Coat for a similar look. It has a curved hemline, cinches at the waist, and comes in yellow, red, pink, blue and navy. If you're looking for a more muted coat, though, try the Atherstone Waterproof Trench Coat in brown or navy.
Women's rain boots
So many to choose from, but as I'm a big duck fan 😆, I really need to highlight the short duck-print boots, the mid-height duck-print boots, and the tall duck-print boots. I mean, HAVE YOU EVER?! So cute, haha. Though since I already own dachshund-print rain boots, this time I decided to go with classic short black boots with faux fur insoles for warmth. They're so comfy and keep my toes super toasty! If you're a whole size, I'd recommend ordering your regular size. If you're a half size, go down.

Menswear
Sharp, classic rain coats for men are hard to find, but Joules does them so well. Mitch went with the Southport Waterproof Fieldcoat because of the warm checked lining in the hood, quilted interior, and ample pockets. Not to mention that the coat  contains recycled material and reduces waste by reusing items that would have otherwise gone to landfill! Approve. He also considered the Arbury Waterproof Field Coat and the the Maycroft Waterproof Quilted Jacket. As for boots, try the Fieldmoore Tall Rain Boots with Neopene Lining or the Rainwell Slip-On Short Rain Boots.
~
Anyway, as you can probably tell, we're in love with our new rain gear. Below are some of my favorite snaps from our rainy day, "jumping in muddy puddles," as Peppa Pig would say! 😉
Remember: Use code "KELLY25" to take 25 percent off your Joules purchase!
Shop the post:
Kelly's Rain Coat and Boots / Girls' Rain Coats and Boots / Mitch's Rain Coat

Kids

Women

Men
This post is sponsored by Joules; all opinions are my own. As always, thank you so, so much for supporting the partnerships that keep Kelly in the City up and running!
Remember: Use code "KELLY25" to take 25 percent off your Joules purchase!