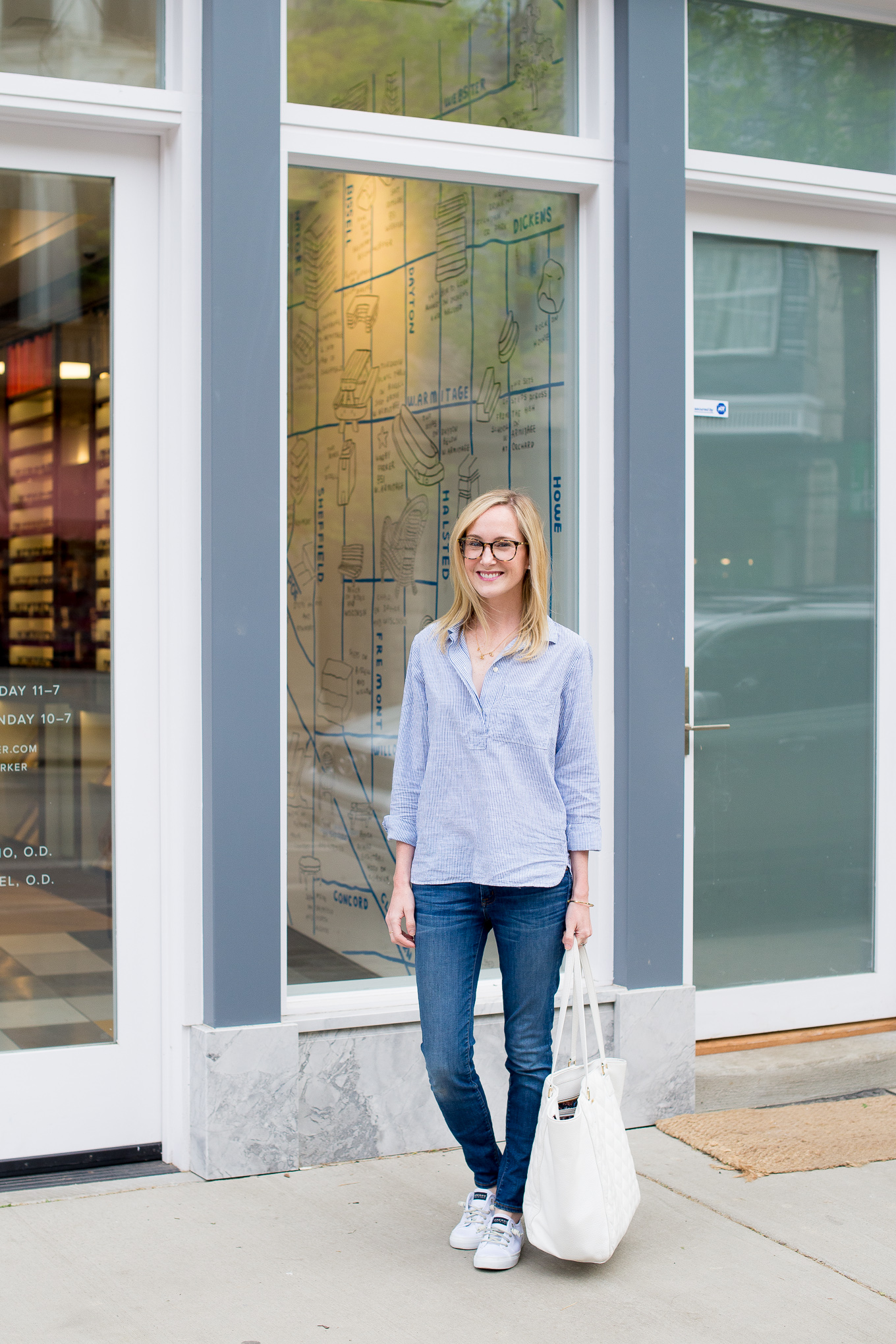 Warby Parker "Durand" Glasses c/o / Gap Popover (Here in seersucker) / J.Crew Jeans and Earrings / Vineyard Vines Bracelet c/o / Emma McKinstry Necklace c/o / Sperry Sneakers c/o (Also love the navy, gold, and floral versions!)  / Vera Bradley Tote c/o
A couple of weeks ago, Jess and I visited the new (beautifully decorated) Warby Parker location on Armitage in Lincoln Park, Chicago. We were both in dire need of new specs–Jess was just getting by with her high school pair, and I was somehow managing with contacts only–and we were really excited about updating our styles.
I'd been to Warby Parker's Soho location on a few occasions, and this past winter, helped my mom pick out the Watts in "Sugar Maple." I went into the LP store thinking I'd go with the same pair, but after talking to the extremely helpful and informative WP staff, realized there were so many options to consider.
One of the reasons I love Warby Parker so much is because the glasses are organized by shape, both in-store and online. (I'm apparently a fan of round frames, but you can also browse by square or rectangle. I should add that the company's online recommendations are spot-on. When you click on a pair, simply scroll down to the bottom of the page and view "You might like these, too." Really helpful!) As I was originally drawn to a particular pair, I quickly found a few other pairs (right next to the Watts) that complemented my face: the Durand in "Woodland Tortoise," the Downing in "Walnut Tortoise," and the Preston in "Gimlet Tortoise."
How do decide, though?!
The Lincoln Park store made it easy. Of course, I studied myself in the mirror for a good 10 minutes, and asked the staff for their opinions. (Loved that they were kind yet honest!) But the photo booth was the real deciding factor. It allows you to take three photos wearing three different pairs of specs… and for some reason, seeing photos of myself in the glasses was far more helpful than looking in the mirror and overanalyzing.
In the end, I went with the Durand in "Woodland Tortoise," and I adore them. For the first time in a long time, I don't get the "funhouse effect" I talk about so often! Way to take accurate pupillary distance measurements, Warby Parker.
I also adore my glasses' price point, and definitely see myself going back for another pair! Because I have such a high prescription, frames and high-index lenses usually cost upwards of $750 for me. But my Warby Parker glasses came to only $95… and the upgrade to high-index lenses was only an additional $30.
Hmmm: $125 vs $750+?
No contest.
(By the way: If you're wondering about logistics, I already had my prescription before visiting the store. If you don't have your prescription, though, Warby Parker has its own doctors on staff! Don't you just love one-stop shops?)
If getting to a Warby Parker location is tough for you, don't fret. The Home Try-On program is easy, too. And it's free. You simply select five frames, and then Warby Parker ships them to you. You try 'em out for five days, and once you decide which pair you like best, you ship the demo frames back to WP in a pre-paid mailer and place your online order. All you need is your prescription.
A huge thank you goes out to the Lincoln Park staff for having Jess and me. We had such a blast, and truly love our new glasses!