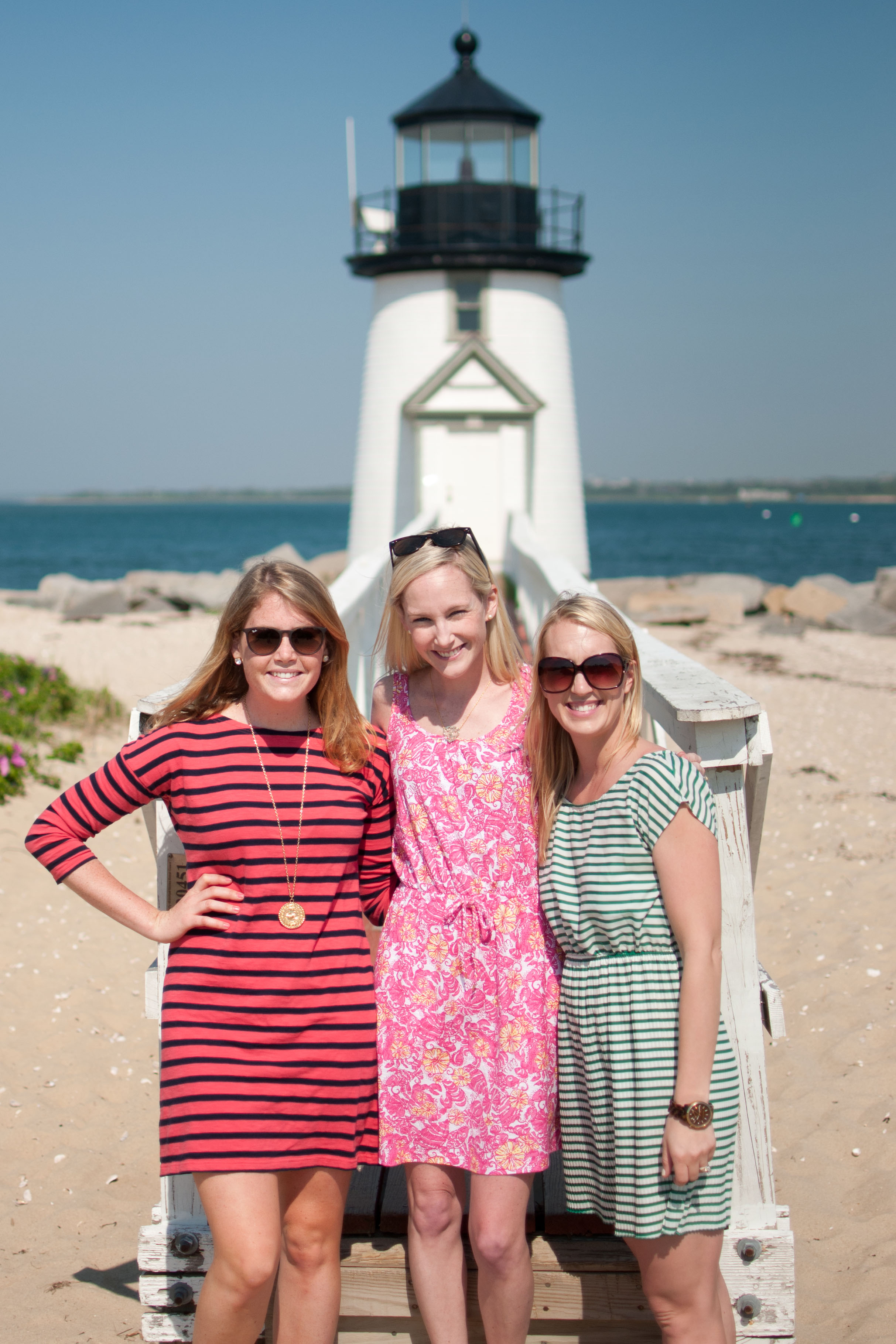 Readers! :) I want to apologize for my spotty responses to blog, Twitter and Instagram comments as well as to emails! I haven't been home in quite some time (running around like crazy for wedding, school and social stuff), but I absolutely love hearing from you! Next week, I have a bit more down time, so I'll be able to catch up… and I can't wait!!
Dress: Lilly Pulitzer, similar here, here, and here / Sandals: Jack Rogers, also loving the cork version, and hello?! The copper version?! What a steal! / Bag: Tory Burch (Sorry, sorry — only bag I brought haha), available in the larger version, navy and black! Perfect for the summer! / Sunnies: Ray-Ban / Necklace: C.Wonder, also available in the longer version, and check out the brand's adorable monogrammed bracelets! / Earrings: J.Crew, more affordable version here** / Watch: Marc Jacobs, also loving the teal, brown, rose gold, black, and multi-colored versions! / Bracelet: J.Crew, also available in colored version, and check out the pave link sandals! (Swoon!)
I also want to announce the winners of the Florence Adams giveaway! Danielle V. and Heather S., congrats! You'll be hearing from Florence Adams and/or me very shortly! :) So fun!
Anyway, these photos were taken at the Brant Point Lighthouse in Nantucket, right after Annie (cousin and M.O.H.) and I picked up Sarah (future sister-in-law) from the ACK airport for my bachelorette! We're clearly preppin' it up. ;) Love my girls!
Dress: Lilly Pulitzer, similar here, here, and here / Sandals: Jack Rogers, also loving the cork version, and hello?! The copper version?! What a steal! / Bag: Tory Burch (Sorry, sorry — only bag I brought haha), available in the larger version, navy and black! Perfect for the summer! / Sunnies: Ray-Ban / Necklace: C.Wonder, also available in the longer version, and check out the brand's adorable monogrammed bracelets! / Earrings: J.Crew, more affordable version here** / Watch: Marc Jacobs, also loving the teal, brown, rose gold, black, and multi-colored versions! / Bracelet: J.Crew, also available in colored version, and check out the pave link sandals! (Swoon!)
On Annie:
Dress: C.Wonder, similar here and here* / Sunnies: Ray-Ban / Necklace: St. Christopher's Medal
*Take 25 percent off (Discount applied automatically at checkout)
**Take an extra 30 percent off with code "SPREE"
On Sarah:
Dress: NYC boutique, similar here / Watch: Michael Kors / Sunnies: Unknown, similar here