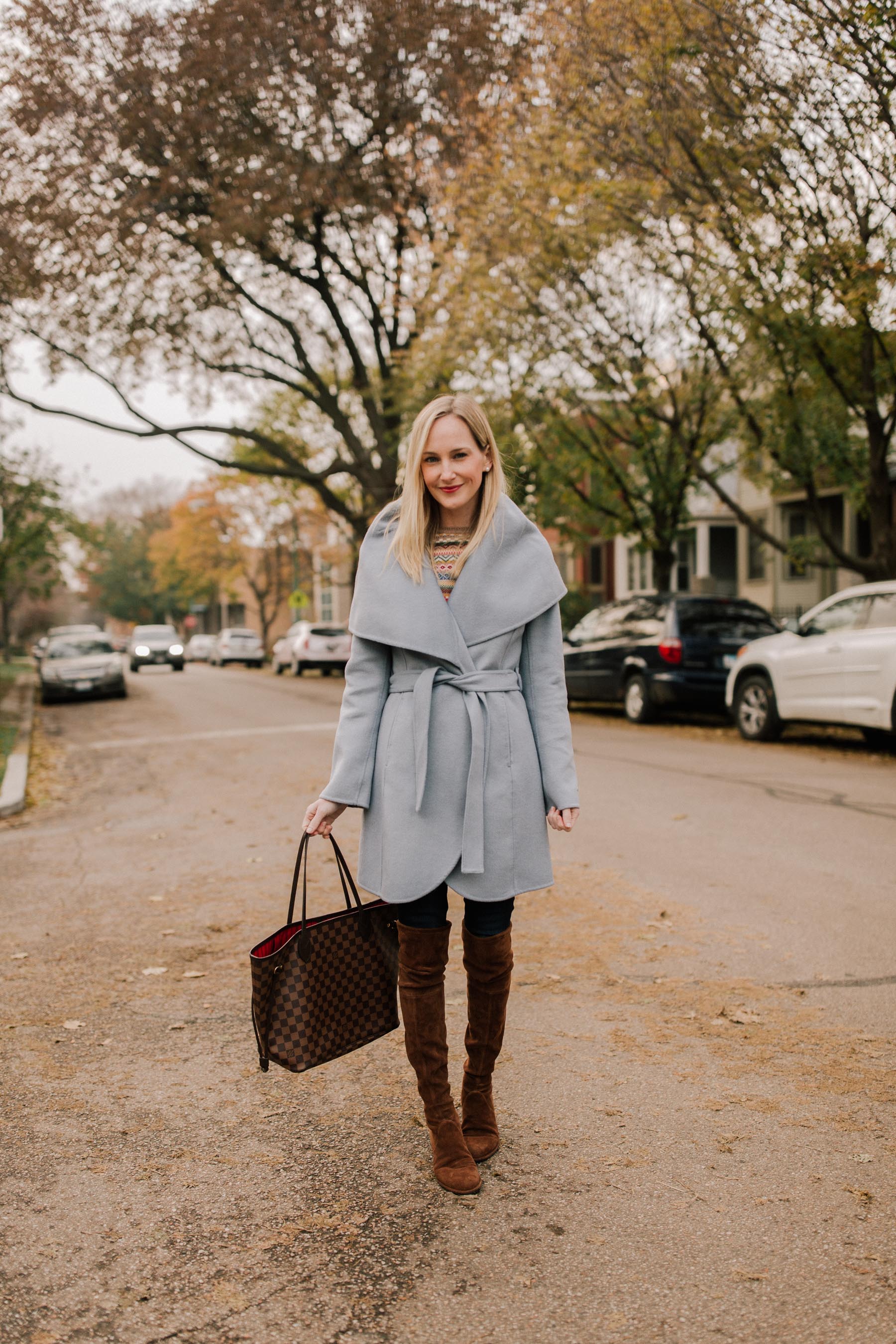 T Tahari Wool Belted Wrap Coat (It's on sale! And it comes in so many other colors. Looking for a new coat that's an absolute steal? My favorite peacoat is on sale for only $38!) / Fair Isle Sweater (Love the matching hat, gloves and scarf! Other great fair isle sweaters here, here and here.) / Stuart Weitzman Boots (More affordable versions here, here and here) / Hudson Jeans (And love this pair.)
Are we sensing a theme in this past week's blog posts? I'm cold, haha. Anyone else far chillier when winter first arrives compared to when we're in the middle of it? It's just such a shock to the system, and I can't seem to warm up. THE STRUGGLE, guys.
Either way, the focus of the next month is going to be on coats and jackets. And today, I'm wearing an all-time fave: the T Tahari Wool Belted Wrap Coat. SO CUTE with that statement neckline, and it has pockets! No, it's not as toasty as the jacket I featured yesterday. But it's pretty warm considering the fact that it's a wool coat… and it totally gets me by when temps are in the 30s. (It's also super cozy, soft and comfy.) While I adore the light blue color, I also love the camel and black versions–perfect for everyday wear or more formal occasions. (For sizing purposes, I'm wearing an XS here, and it's awesome. I'd recommend ordering your normal size, even if you intend on wearing layers underneath.)
Other wrap coats worth chatting about: this camel one from Ralph Lauren, this black one from J.Crew, this camel one from Trina Turk, and this one from Tahari. In other news, my FAVORITE camel wool trench coat is BACK, and the more classic version is available in all sizes.
One last style note: I'm swooning over this fair isle sweater. For some reason, it reminds me of my childhood, which must mean I used to own something similar-looking. Mom can't confirm it, haha, but it gives me all the warm feelings, and I'll take any warm feelings I can get right now. ;)
I will say that it runs VERY true to size, so don't order down assuming that Brooks Bothers sweaters run large. (Like I did.) I'm wearing an XS here, and I wish I'd gone with the small. But a gorgeous sweater, nonetheless!
Anyway, Dad is about to walk in the door. (He's flying in, and I'm SO excited.) But follow along with my family's adventures today on Insta Stories. Emma is the absolute cutest with her grandparents, and god knows I'll be documenting most of  the day. ;)
xx!
Shop the post:
T Tahari Wool Belted Wrap Coat (It's on sale! And it comes in so many other colors. Looking for a new coat that's an absolute steal? My favorite peacoat is on sale for only $38!) / Fair Isle Sweater (Love the matching hat, gloves and scarf! Other great fair isle sweaters here, here and here.) / Stuart Weitzman Boots (More affordable versions here, here and here) / Hudson Jeans (And love this pair.)