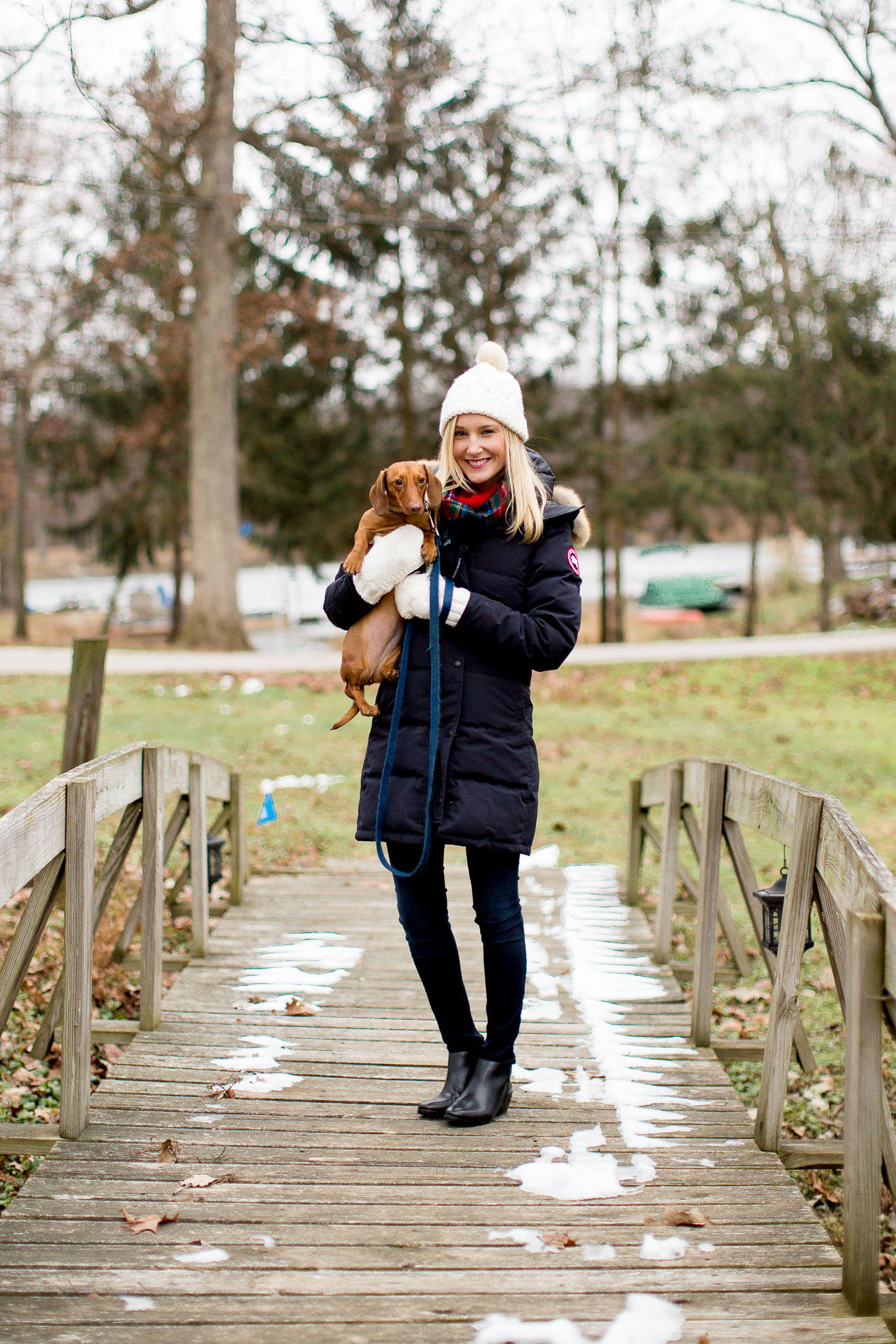 Canada Goose Jacket (Also available at Tuckernuck) / Rag & Bone Jeans / Sam Edelman Booties (On sale!) / Barbour Pom Hat c/o (Also love this one, this one and this one)
Oops. The Larkin family had quite the adventure getting back to Chicago from the lake house last night, and so I'm only checking in now. You might not be able to tell from the above photo, but we were hit with a pretty significant snow storm yesterday… yet school wasn't cancelled for Monday. While we'd been crossing out fingers for an extra day at the lake, we inched our way back home, and when we finally arrived, we decided to forget about unpacking and playing catch up, and we had a really big family dinner at the kitchen table instead. So fun. We put together Emma's high chair, and having her at the table was the cutest thing! (Of course, she passed out pretty quickly, but you have to see it on Insta Stories.) Today, the city is blanketed in snow, and everything is quiet. So we're having a relaxing day at home and finishing up our holiday shopping!
Being at the lake was awesome. Thanksgiving and Christmas are my busiest times of the year, and to tell you the truth, I've been feeling the "burnout factor" lately. ;) Still loving everything, but I was in need of some downtime, and there's no downtime like downtime at the lake! My favorite part of our days was sitting by the fire with coffees (and bottles) every morning, chatting with Mitch's parents. But I have to admit that the huge Christmas party they threw on Saturday night was a blast, too, as was the Christmas dinner we had in town with my brother-in-law. :)
Anyway, Tuckernuck just added a TON of stuff to its sale section, and so much of it would work perfectly for holiday gifts… or for your own holiday looks. ;) I still have a few special ladies left on my list, so I'm definitely finishing that up at Tuckernuck today. Here's what I'm considering:
Such a cute way to get away with feeling comfy yet dressy during celebrations.
I have these in black and tan and LOVE them!
Every girl needs a sparkly bracelet.
I have this dress in gray and love it. It also comes in black!
A classic black party tank. Love this white one, too. And this one, haha.
THIS ONE, THOUGH. (It comes in navy as well.)
This coat is adorable and super affordable.
My favorite Barbour sweater! I've yet to wear it on the blog, but I wear it at least once per week. It comes in pink, too!
I love 525 America sweaters.
I've always loved this Rails shirt. This one is cute, too.
Stripes and ruffles. Need I say more?
If this is in your size, GET IT. So cute!
Isn't this sweater gorgeous? Similar styles here and here.
I'm wearing this cape on the blog soon! :) Isn't it cute in navy?
I adore Devon Baer. How cute is this one, too?
Beautiful turtleneck sweaters here, here, here, here, here and here.
Love this Sail to Sable dress!
I wore this Barbour dress when I was pregnant here. ;)
Such a great price for a Shep Shirt! Also comes in navy. Love the vest, too.
Watermelon-printed tanks are the cutest.
A poncho under $50.
Happy shopping!