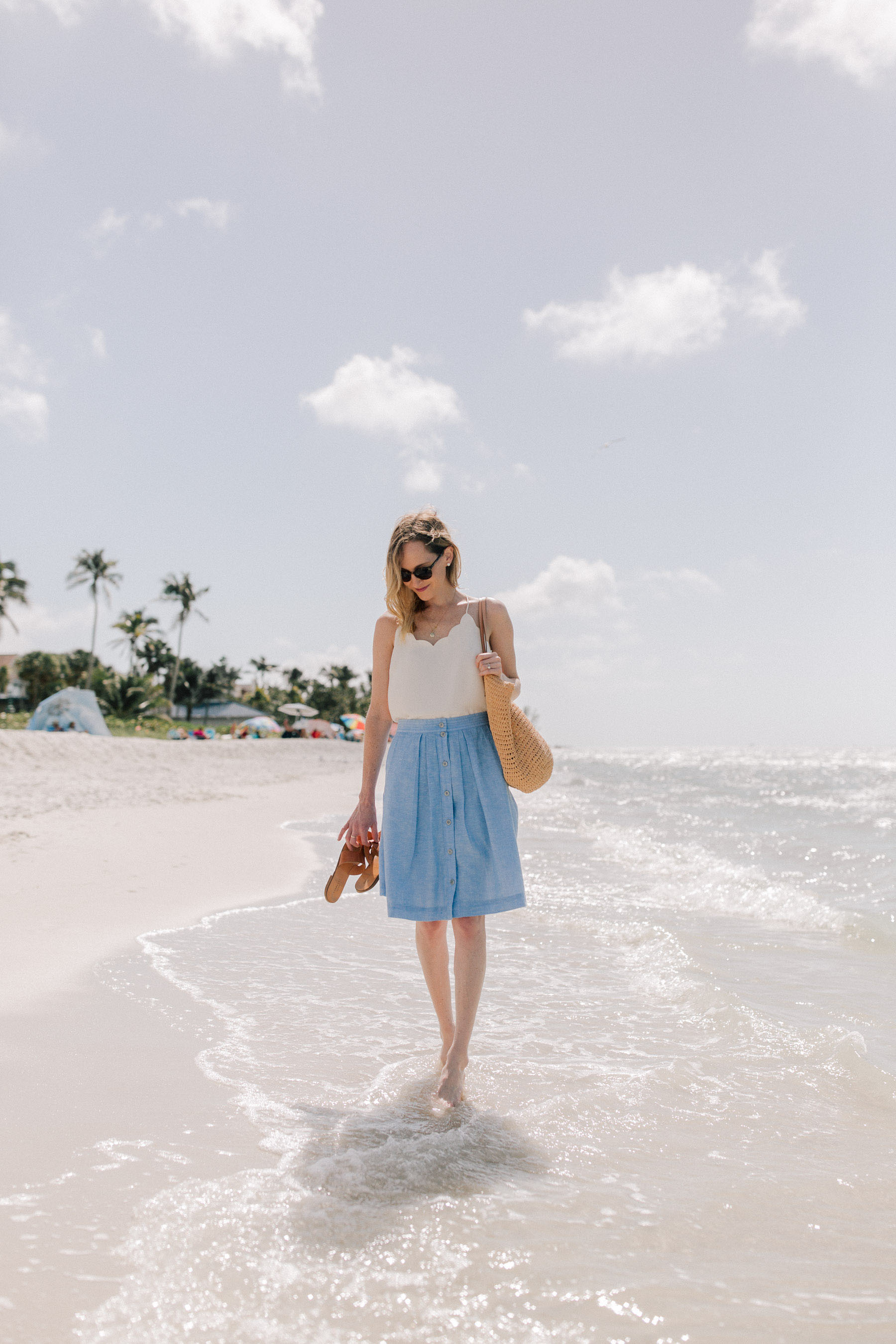 Old Skirt (But love this one from J.Crew Factory, this one from English Factory, this one and this one from Club Monaco, this one from Jack by BB Dakota, and this one from Abercrombie.) / Scalloped Tank / Everlane Sandals (And love this similar pair, also available here!) / Similar Woven Tote /  Similar Sunglasses / Initial Necklace
Mitch here!
If you've gathered anything from this blog over the past week it's that:
Mitch Posts aren't as charming when they show up every day.
We've been doing a bit of travel. Kelly is on a yacht in the Bahamas, furchrissake.
We oscillate between way too much travel and not nearly enough travel, like a pendulum. Either we're feeling overwhelmed from being away or sick of our shoebox of a house and desperate to get away. And we almost never time a trip right.
Many apologies for how many Florida photos have shown up here as of late. Maybe we should just call the blog "Kelly Who Refuses to Take Pictures in Her Chilly City." 😜 But the first day of a trip is always my favorite. I rejoice in my Place Lag in that I can't quite wrap my head around what awaits me on the other side of the jetway. The first five minutes in a new airport feels like I'm on a safari taking–notes on the indigenous fast food restaurants and local dressing norms or something.
It's difficult to comprehend that while I've been freezing in Chicago, other people elsewhere in the world have not been doing that.
Arguably the best part of our Florida trip was the open-air parking garage at the airport, where I realized I could drop the 50-pound weight I've been carrying around in my shoulders since November. (You know when you're so cold that you tense up in the shoulders in a futile effort to warm up?)
It was ecstasy.
That feeling continued as we found our Airbnb and unpacked our suitcases.
Hey, Grandma and Grandpa? Do you mind watching Emma while Kelly and I take a walk on the beach?
In those first few Floridian hours, I found myself touching trees, picking off leaves to hold between my fingers, and loitering near freshly cut lawns for the fun of it. Kelly and I were on the beach a few hours after landing and I think you can tell from these pictures that we are pretty jazzed about it. Place Lag for the win!
These pictures were taken on our first day in Naples, and I think you can see that our senses are fully attuned to our new surroundings. But day after day, those surroundings and sensations dimmed and the 80-degree heat and gorgeous palm trees started to feel normal. I wish I could bottle that special Place Lag feeling and bust it out when I'm feeling down. Like, "Oh, right. Life is good!"
But for now, I'll just dream of taking another tropical vacation.
Mitch. Out!
Shop the post:
Old Skirt (But love this one from J.Crew Factory, this one from English Factory, this one and this one from Club Monaco, this one from Jack by BB Dakota, and this one from Abercrombie.) / Scalloped Tank / Everlane Sandals (And love this similar pair, also available here!) / Similar Woven Tote /  Similar Sunglasses / Initial Necklace

SaveSave