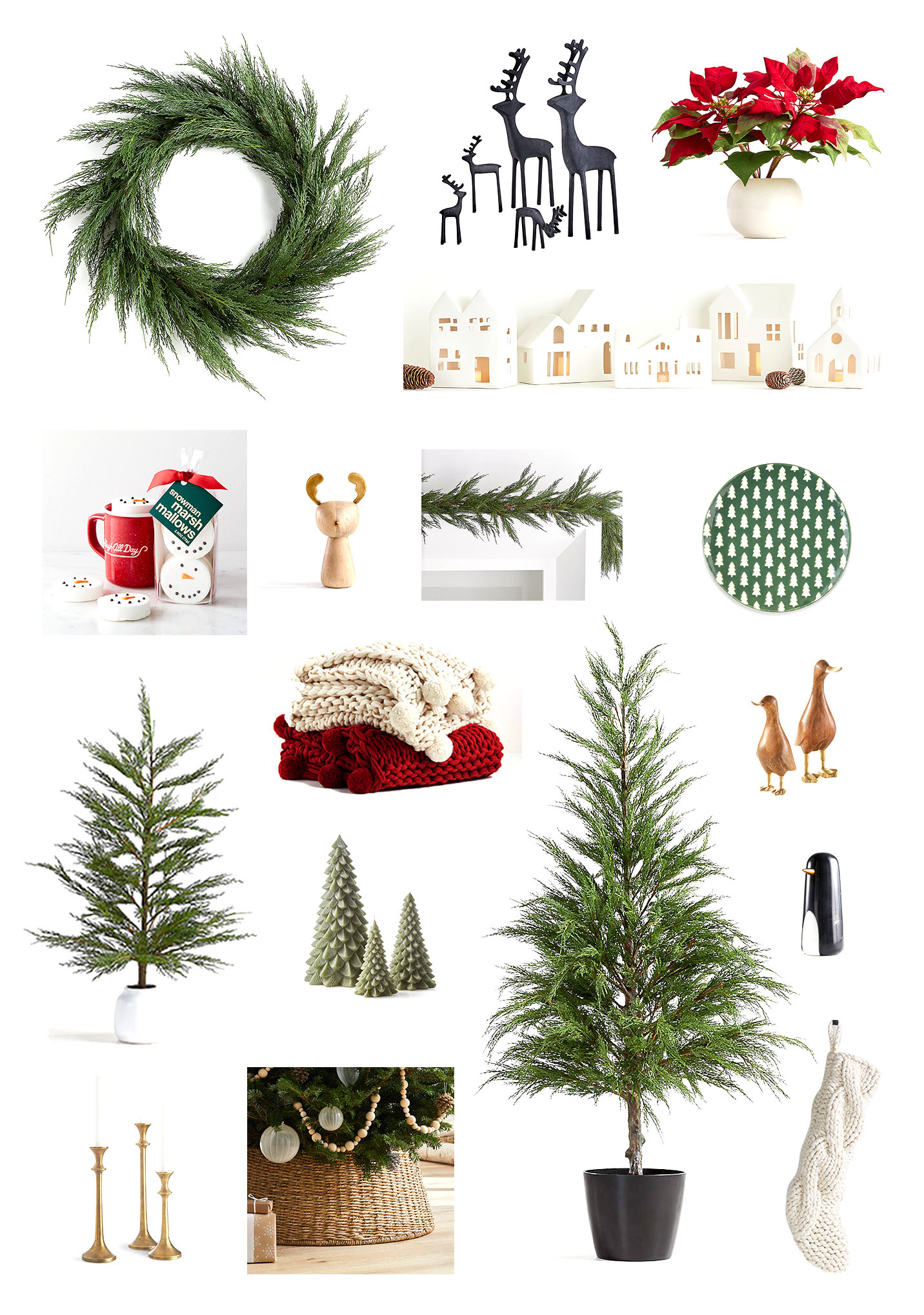 It was raining here all weekend, and since Chicago is currently under a stay-at-home order (starting today), we broke out some of the Christmas decor a little early. I swore I wasn't going to do it until after Thanksgiving, but the tree-trimming activity ate up a few hours and we had the best time doing it so NO REGRETS. 😆
Crate & Barrel always brings it when it comes to holiday decor. It's where the majority of my most-loved and not-played-out stuff is from. And woo-ee. Do they do faux WELL.
Here are my favorites:
6 ft. Cypress Christmas Tree, 33″ Cypress Christmas Tree, and 24″ Cypress Christmas Tree: BEST FAUX TREE EVER. I can't tell you how real it looks. It's baffling, really. We always get a real tree for our living room, but we have a couple these artificial ones as well: one for outdoor decor and one for a hallway. Again, these are by far the best faux Christmas trees I've ever laid eyes on, and there's no assembly! (Actually, the 6-ft. one requires you to put its top on, but that's it.) Highly, highly recommend.
Cypress Wreath: These are the only Christmas wreaths we own because they're that good! They're part of the Cypress line, and they work for both indoors and out. I put a bow on one of them last year, but they honestly don't need anything; they look awesome totally on their own!
Cypress Garland: This sells out extremely quickly, so if you catch it in stock, POUNCE. Unsurprisingly, it's also part of the Cypress line, and it's perfect. I've ordered and tried out countless artificial garlands, and I've hated everything with the exception of this and this. Anyway, keep an eye out for it! It does come back.
Artificial Poinsettia: Haven't tried this but you know I'm here for it.
Zinc Reindeer: Aren't these amazing?! We celebrated Christmas at my aunt's house in Vermont growing up, and she had very similar reindeer on the dining table every holiday. These really bring me back! They come in brass and silver, too.
11″ Wooden Reindeer and 8″ Wooden Reindeer: Oh heavens. Adorable.
Large Mallard Duck and Small Mallard Duck: We own these! We have mommy and daddy ducks and Emma duck and Lucy ducks. Tie ribbons around their necks and they're Christmas ducks!
Snowmen Marshmallows: Wouldn't this be such a cute stocking stuffer?
Tree Plates: I need zero new plates. Hopefully one of you do, though. So sweet!
Brass Candle Holders: Have been looking for the perfect candle holders for a while! These are fantastic. Though question: What do you put under them if you have a circular dining table? Nothing, and just risk it with the wax? STRESS.
Hand-Knit Throws: A great gift. So cozy. And who couldn't use an awesome throw in 2020?
Knit Stockings: Kind of sad we already have our stockings, haha. (Except one of them doesn't have Lucy's name embroidered on it yet! Need to have that handled soon, haha.)
White Ceramic Houses: We have a similar set and I love setting it out on the buffet every season.
Marble Penguin: I love him. That is all.
Woven Christmas Tree Collar: Yes, yes, yes. Perfect for anywhere, really… but exceptional for a coastal holiday.
Christmas Tree Candles: These are so beautiful that burning them would stress me out.
And on that note…
✌️