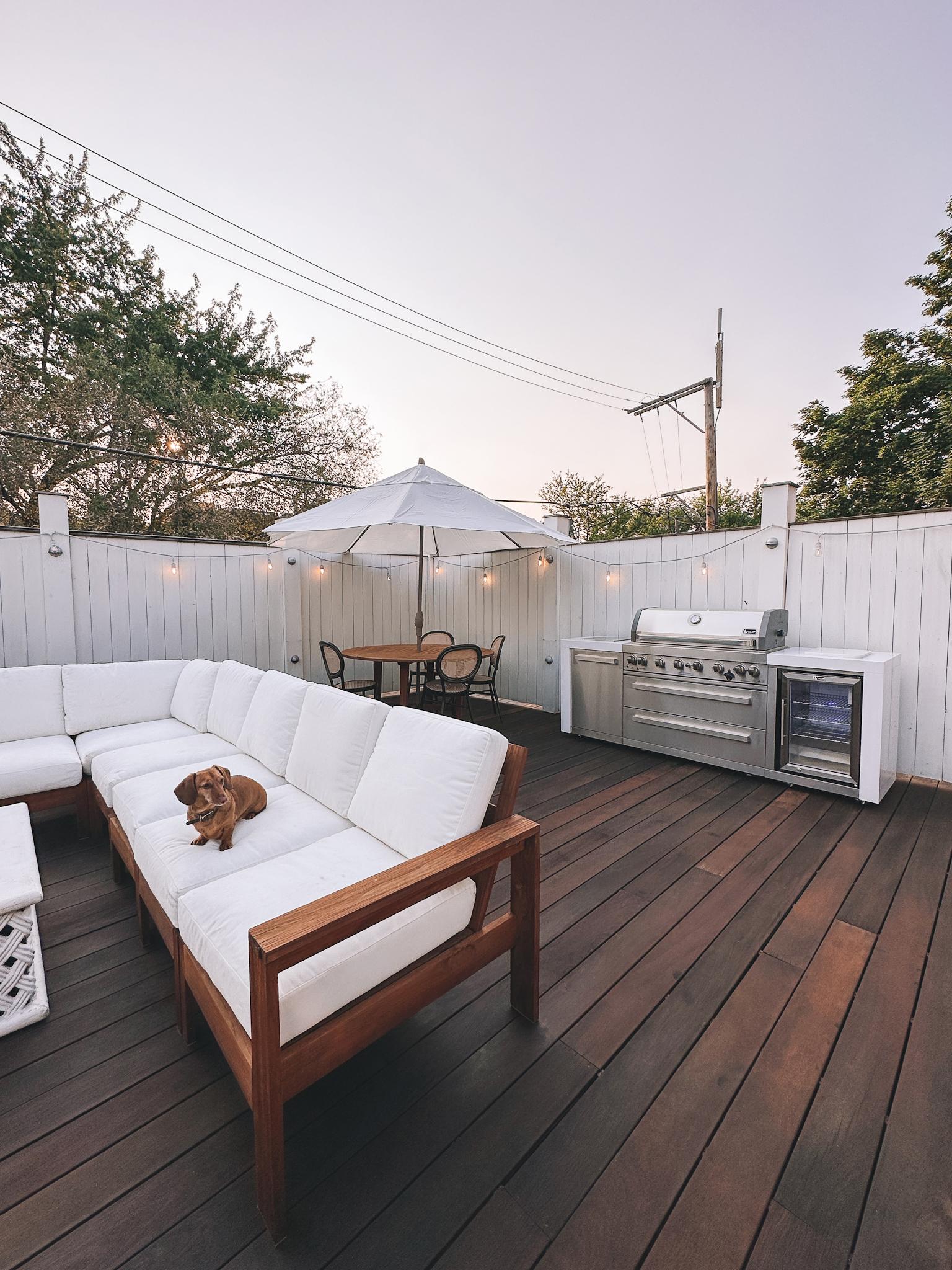 Mitch here!
I'm a dad with a deck and two kids at home. I should be a straight-up grilling machine. But I've got a ghastly grill game. Instead of flipping burgers, I've been flopping them. My poultry is paltry. My franks are freaks.
Ah, the Dad Jokes.
Anyway, I clearly needed to improve my grillmanship, and I found the best grilling partners in the world to help me do just that: BBQ Guys and Mont Alpi Grills. They can instantly and easily elevate any afterthought of an outdoor space and turn it into a gorgeous and functional outdoor kitchen. So let me take you through our journey from Dumpy Deck to Outdoor Oasis!

BBQ Guys
As you can probably imagine, BBQGuys knows a thing or two about grilling. Since the 90s, the company has been the absolute authority on grills and outdoor kitchen equipment, and their website is the single best resource on the internet to learn about, plan, design and purchase equipment. BBQGuys is insanely devoted to customer service with free shipping on most orders, price matching guarantees, and a generous return policy if you need to make adjustments to your setup. This place represents the accumulation of decades of grilling knowledge including expert tutorials, product reviews, incredible selection and (real live) customer service technicians to get you ready for grilling season. They'll even 3D-design and render your outdoor kitchen, which takes all the planning pressure off your shoulders. See above for examples of our design!
Mont Alpi
Mont Alpi
is an international favorite of outdoor chefs around the world. They offer immaculately designed modular outdoor kitchens that cost a fraction of what other brands charge, and they're much easier to assemble. Because the kitchens can be configured every which way, they're awesome for people who move often or have small or oddly shaped outdoor spaces.
Thanks to Mont Alpi's design prowess and incredible variety of products, I was able to design an outdoor kitchen that perfectly fits our city deck and meets my needs—all for less than other outdoor kitchens on the market. Again, the key here is that Mont Alpi's kitchen pieces are modular, each piece is on wheels and rolls into place without any fuss. No need for expensive contractors, handymen, and neighbors with tools—or frantic phone calls to my dad asking for help. Because Mont Alpi is easy.
And let me tell you that the Mont Alpi grill is incredible. The quality of the materials, the effectiveness of the heating elements and the size of the prep space give me everything I need to grill up delicious and fun meals for the family. I'm grilling like every day now.
The before
When looking for houses, a proper outdoor space was at the top of my list. I imagined long summer days with friends and family enjoying meals and drinks, lots of high fives, and the occasional hug. But the reality was that our deck was a mess. I did have a grill, but it was a total piece of junk which didn't reliably light, or heat or cook food. When barbecuing, I had to prep all the food in the kitchen due to lack of prep space on the deck, and then run up and down the stairs with ingredients and cooking utensils. Even worse, the food ended up tasting terrible due to how busy I was running around. Ultimately, I preferred to just cook everything in the kitchen and carry it out on a tray… which defeats the whole purpose.
Without a proper grill, we found ourselves using the deck less and less. During the pandemic, we turned the space into a play area for the girls, but in the years since, the trampoline had rusted and ripped, and the playhouse roof rotted off. The whole thing was an eyesore, and Kelly and I were daunted by how much work we assumed it would require to spruce up. But then I found BBQGuys, designed and ordered the outdoor kitchen, and came up with a plan to recapture our outside space.
Ordering
The ordering process was incredibly easy. I first went to BBQGuys.com and devoured all the information I could find. I then sent over some simple measurements of my space to  BBQGuys' free design service. A few short days later, I received 3D renderings of the space which helped me to finalize the design. After the design work was complete, I was extremely confident in the configuration, so I ordered… and everything shipped for free. The friendly shipping service delivered the kitchen in four easy pieces, which I simply wheeled into place and plugged into the wall. The whole process took far less time than I'd anticipated. And now I have the outdoor kitchen of my dreams just in time for Memorial Day and a summer full of grilling perfection!
Getting the deck ready
Here's what we did:
First, we said goodbye to the rusty and rotted kids' stuff. Kelly's parents gave Lucy a mud kitchen for her birthday, and both girls are thrilled. Really cute since they'll get to "cook" alongside their parents!
Then came power-washing the deck to peel off a decade's worth of grime… and coating it with a beautiful weatherproof stain. ("Natural Cedar" by Ready Seal, in case you're wondering.) The couch and table got the same treatment.
We installed an outdoor television my dad wasn't using, and rearranged the furniture to make TV viewing more comfortable and to free up space for the Mont Alpi kitchen and a more dedicated dining area.
Our new outdoor kitchen
Mont Alpi 805 Deluxe Propane Gas Island Grill with Refrigerator Cabinet, Infrared Side Burner, & Rotisserie Kit
This thing is so sweet. I'm about to nerd out on you so hold on for dear life. This grill has six stainless steel burners which coupled with both rear and side ceramic burners have enough fire power to feed the whole block of hungry neighbors. And if that wasn't enough, there's a powerful side burner grilling area to boot, bringing the total cooking surface on this kitchen to over 800 square inches. Insanity! The grill also has handy LED lights that illuminate the cooking surfaces and cleverly change the color of the knobs when in use.
The kitchen is topped with white heat-resistant and easy-to-clean granite, and it's built from durable 304 stainless steel that guarantees cleanliness, durability and longevity. So important as I plan on cooking on this kitchen for decades! Included in the kit is an outdoor-rated refrigerator which is handily placed within arms reach of the grill, and it has an overall width of 94 inches—meaning ample prep space!
Our kitchen is propane-powered, but it can be easily adapted to work with natural gas if you have a connection. And it comes with all sorts of fun accessories like a heavy-duty rotisserie kit, full-size weather cover, and matching granite chopping board.
And if that wasn't enough, Mont Alpi offers a lifetime warranty just in case I need help down the road.
Not pictured in this post is the best part: a Mont Alpi Kegerator! As mentioned above, Mont Alpi outdoor kitchens are modular and customizable, so I couldn't resist adding a kegator for entertaining. This thing can handle three independent taps—and not just beer! It handles soda, seltzer and other beverages with ease. The kegs are chilled in the base with the outdoor-rated refrigerator, and temperatures are shown on an LED display. The kegerator is made from the same granite and stainless steel materials mentioned above, so it matches, too. After I slide it into place, it will look like it's always been there! It's surprisingly small for such a powerful device (and is on wheels in case I want to move it) but it packs a punch.
The after: a brand new deck!
The kitchen is the center of the the home. Take a look at any house party and see where people gather. It's always the kitchen. It's the place where people gather, converse and share time with each other. So it's no surprise that our deck was underused before. It lacked a kitchen!
Our Mont Alpi Outdoor Kitchen brings that same sense of comfort to our outdoor space, and I love how much it's already changed the way we use our home. Gone are the days of running up and down the stairs to grab a drink or snack… or having to leave the deck to go inside for dinner. We live on this deck now. It's now a real part of our lives.
At the end of every week, our family likes to play the "highs and lows" game where we ask each family member to share their struggles and favorite moments. It's almost a joke to our family now because every single week since the Mont Alpi Outdoor Kitchen was installed, the unanimous "high" of the week has been fun times on the deck. We now come up with any excuse to be up there! Big thanks to Mont Alpi and BBQGuys for changing our lives, and as always…
Mitch. OUT!
In collaboration with BBQGuys. Thank you so much for supporting the partnerships that keep Kelly in the City up and running!