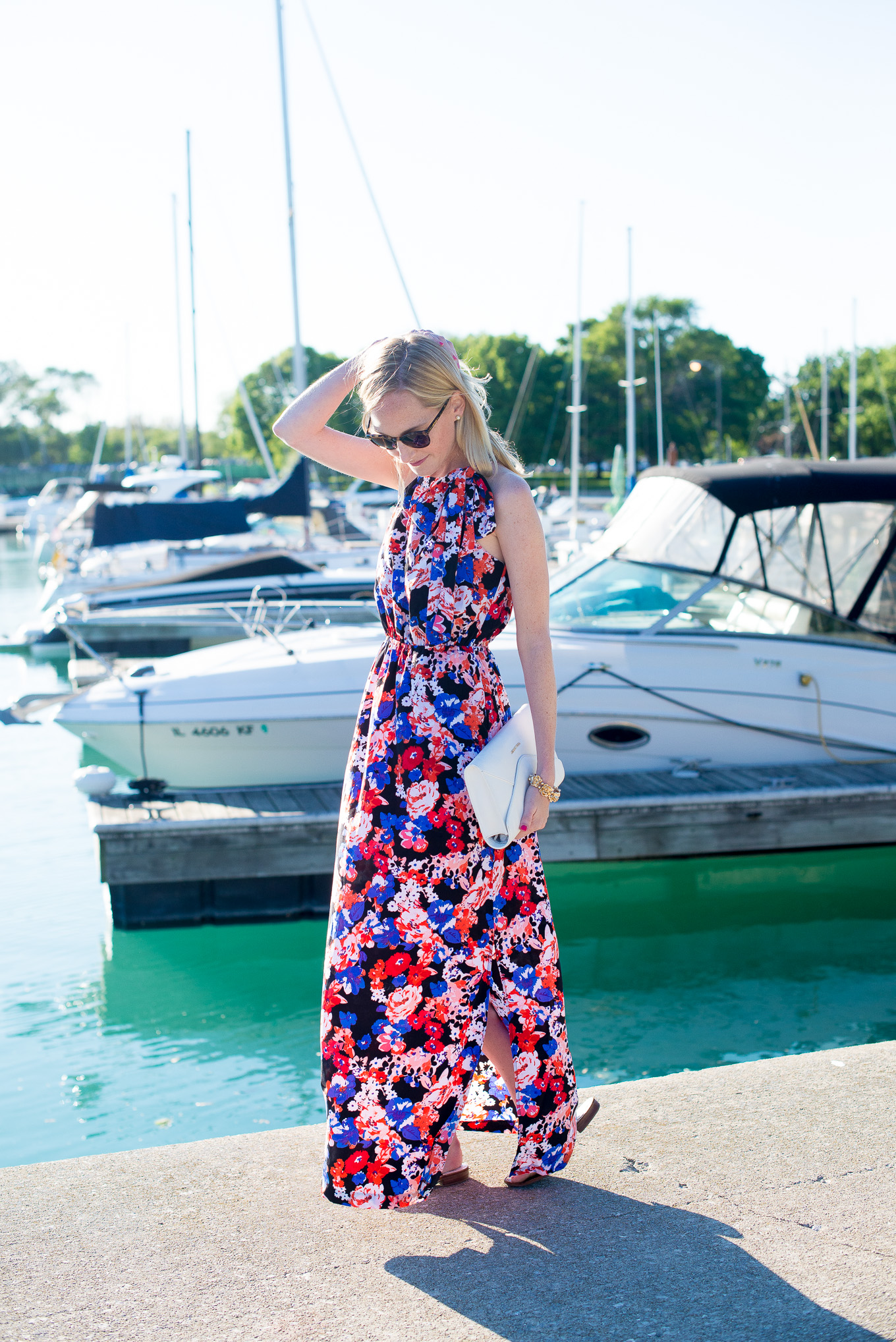 Dressbarn Dress and Bracelet c/o
Whoa. Things got a little crazy last night with the Blackhawks winning the Stanley Cup. (Woo!) Mitch and I live on a busy street, and about a half block away from a pretty hoppin' bar… so, as you can imagine, the cheering and screaming went on into the wee hours of the morning.
Love it.
While I'm not the biggest sports fan, I adore the energy that flows through the city during big games and championships, and how it brings the community together. In New York, I never really felt that energy. Too much going on, I suppose. (Or the fact that most of the venues required long subway rides.)
Here, though, there's so much pride and team spirit. It's infectious! Restaurants and bars overflow into the street, everyone you see is dressed in team colors, and banners hang from residents' windows. Again, I have very little interest in sports, and know next to nothing about 'em (I seriously just learned tonight that there are only three periods in hockey), but I've actually enjoyed watching the Blackhawks as of late.
(Of course I have. They've been winning.)
Side note: my kids are never playing hockey. GOOD LORD. I've seen way too many bloody, toothless mouthes over the last few weeks. We're going to be a baseball or tennis family!
Anyway, let's totally change gears and get back to all things girly. ;)
Because:
This dress. On sale for only $29.99, it's such a steal, and perfect for any beachy wedding you might have this summer. I have a smaller frame, and often times, very sadly, can't fit into brands' dresses unless I order online. (Though please don't think I'm in shape. Because I'm not, haha.) But I got the 4 in this dress, and it fit perfectly! I'm about 5'4, in case you're wondering–and I didn't have to get it hemmed!
While I'm planning on wearing this little number to a friend's beach-themed wedding in a couple of months, I'm totally packing the MiXT by Heidi Weisel Floral Maxi Dress for this year's Fourth of July festivities on the Shore. As it's 100-percent polyester, it doesn't wrinkle easily, and is therefore a dream to pack! :)
Anyone else have a countdown until the Fourth? Crab fests, bike rides, boardwalk ice cream, fireworks over the water… Here I come!
(So serious.)