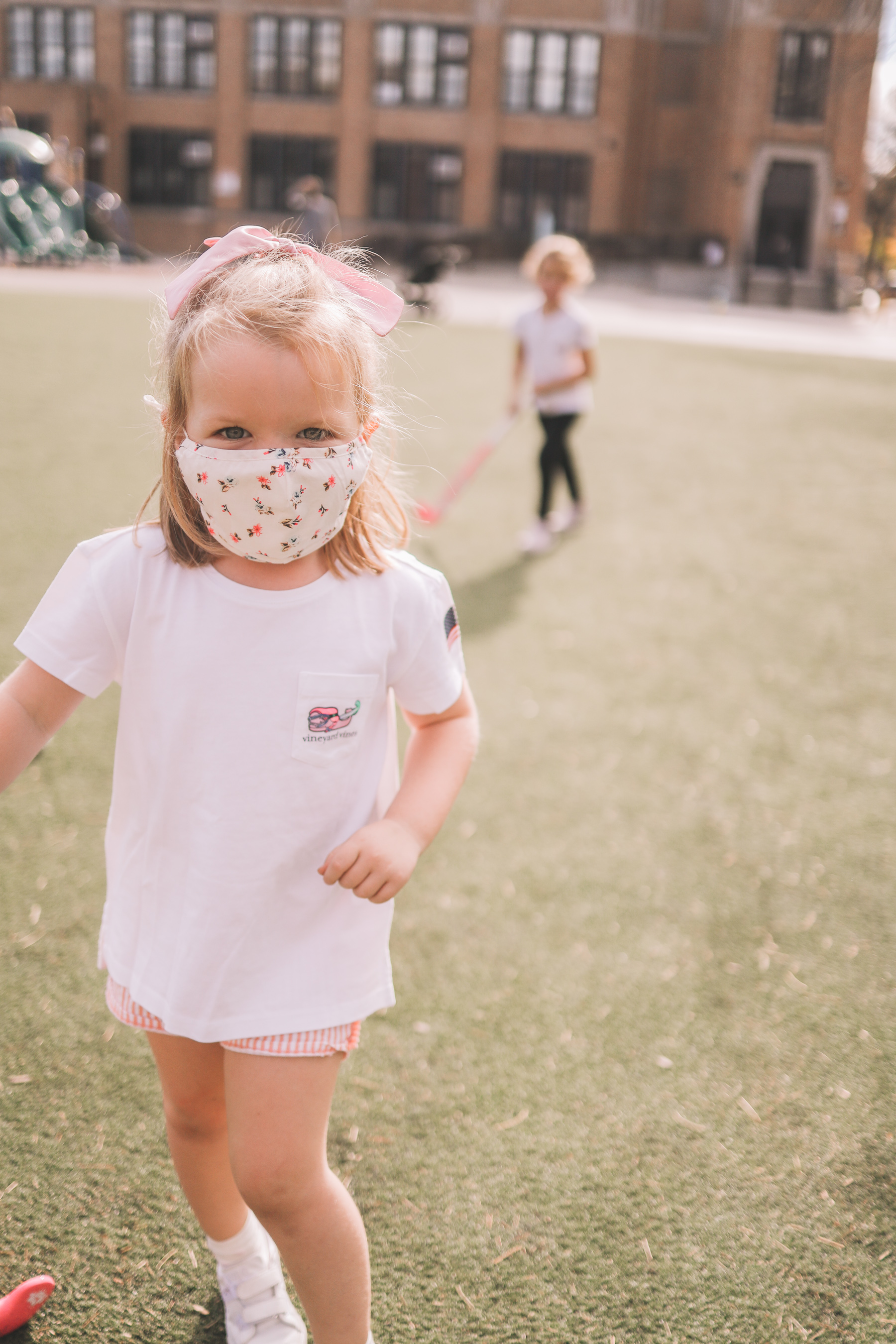 Field Hockey Sticks / Sneakers/ Shorts  / Mask  / Vineyard Vines T-Shirt (You can find them on eBay!) / Bow Scrunchie (Pink versions here, here and here.)
It was nearly 80 degrees for field hockey practice last week—What a dream!
If you caught this post or this post, of my best Chicago mom friends, Barbie, is a former Division 1 University of Connecticut field hockey player, and she's been coaching Emma! It's really the sweetest thing ever.
(The short story is that Barbie's daughter, who used to be in Emma's class, celebrated a birthday over the summer. And to be as pandemic-friendly as possible, Barbie had it outdoors in a park, masks and all, and she gave the kids field hockey sticks and taught them how to play. Emma fell in love, and then Barbie and I decided to start a little "team." Emma adores it, and it's really, really nice that she can safely enjoy some outdoor activity with a couple of her masked school pals, even though learning is still remote! Definitely keeps her spirits up.)
Btw: My friend Nicole over at Vineyard Vines helped me find these t-shirts; she found some in their warehouse and I found the rest on eBay. Haddie and Cole both love VV, too… so it was very special. Thank you so much, Nicole! <3
Anyway, please enjoy these sweet photos of Emma and her friends. Same friends that were featured in these photos a few years ago. TIME FLIES!
Field Hockey Tips from Coach Barbie
Are you in the Chicagoland area and interested in field hockey lessons for your kids? Contact Barbie at risefieldhockeychicago@gmail.com. At the moment, she is fully booked, but things will eventually open up. She coaches all ages!
Looking to buy equipment? Consider Longstreth. It's a small Pennsylvania-based company that has awesome sales.
USAFH put together a great introductory program if you're looking for a basic guide for kids. There's no reason you can't get your children started on your own in 2020!
Shop the post:
Field Hockey Sticks / Sneakers/ Shorts  / Mask  / Vineyard Vines T-Shirt (You can find them on eBay!) / Bow Scrunchie (Pink versions here, here and here.) / Front Porch Decor: Faux Craft Pumpkins / Artificial Pumpkins / Buffalo Check Pumpkins (Also have this one from Ballard, and it's adorable!) / Artificial Mums (Try these potted fall sunflowers if the mums are sold out!) / Artificial Topiaries / Chinoiserie Planters / Dachshund Topiary / Newer Lanterns