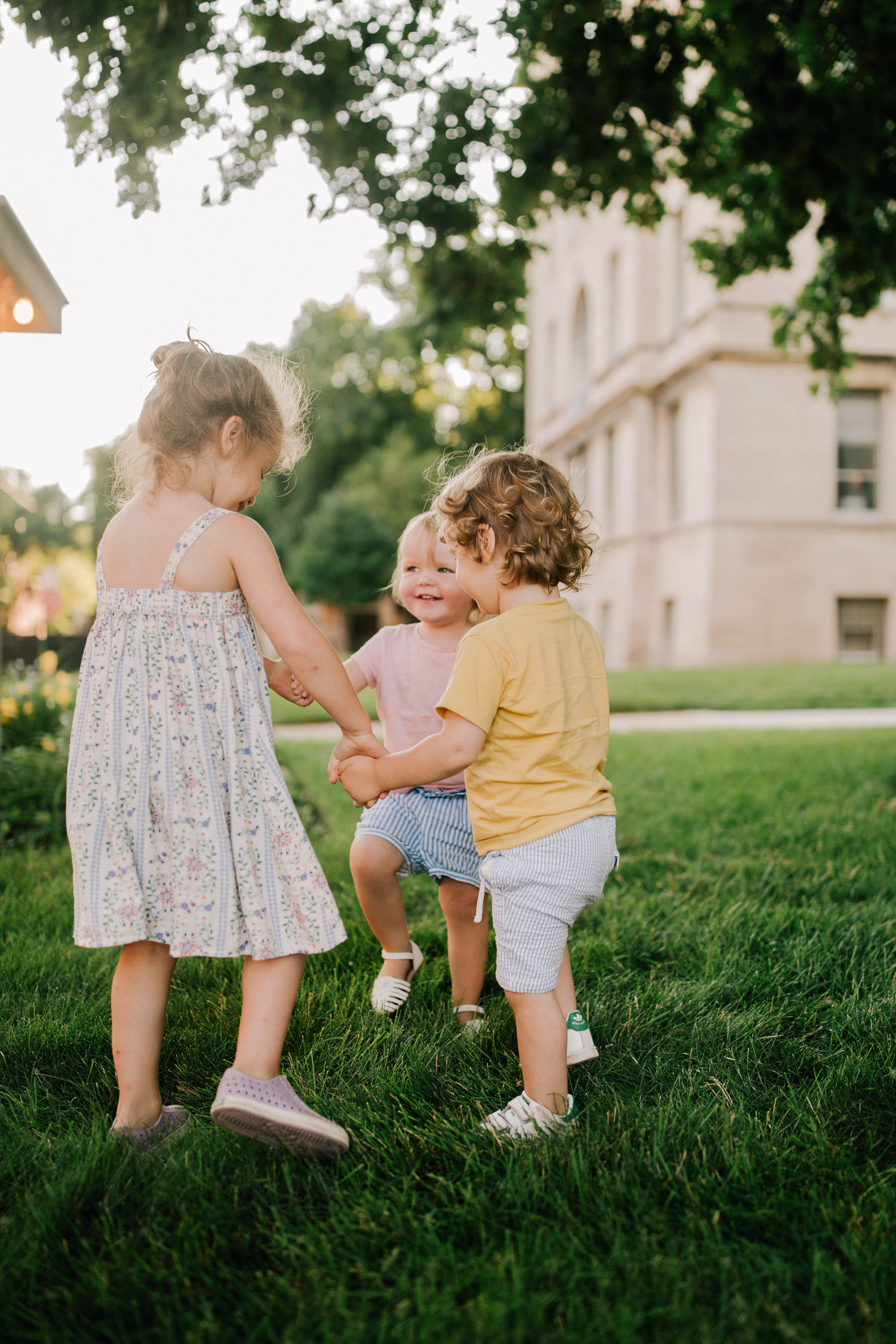 This morning, Mitch and I dropped Emma off for her first day of "school." Clad in a navy polo dress and her little gingham backpack, she took a quick photo with Noodle (who didn't seem pleased), and then proudly marched herself into the classroom. She ran back to hug our legs at first, but then saw all the other kids hanging their backpacks up in the cubbies and joined them.
It's actually not that big of a deal. 😂 Before, Emma went to daycare for a few hours here and there so Mitch and I could work. We have a family membership at a fitness club a couple of blocks from our house in Lincoln Park, and you can pay extra for childcare, which a ton of work-from-home parents with unusual schedules do. (You just need to stay on the premises.) It's been such a great thing for our family, since the club is far more than just a gym: there are lounges, rooftop hangout areas, restaurants, cafes, playrooms and oodles of activities and events for families.
We've also made so many friends there. And while yes, it's an expense, we honestly couldn't survive without it! (In case you've never been, Chicago is COLD. It's an amazing city, but navigating it from November until May is a real challenge with children in tow.)
When kids are about two, they can "graduate" to a peewee morning program, where they stay longer, do more, and start to get comfortable with a school-like environment. There are learning activities, arts & crafts, music classes, yoga session and swim lessons… and I know Emma is going to be so happy. It's everything she loves, with friends. Playdates are the highlight of Emma's week, but between naps and families' travel schedules, they're hard to arrange. Now, though, she gets to hang with her buddies every day! Of course, it was difficult dropping her off. She's growing up so fast! But this is what she needs.
Two of our gym-friends-turned-real-life-friends are Jordan and Barbie. They live around the corner from us, and have a two-year-old son and a daughter who's a couple years older–both of whom attend peewee with Emma. We hit it off immediately, and simply adore them. I really can't tell you what a blessing the whole family has been for us. Not only have they taken us under their wings with the whole parenting thing (they've seriously taught us SO much!), they're truly good people. We try to get together as often as possible for playground, hot dog and ice cream dates… and every once in a while, we'll set up pack n' plays so the kids can go to bed and the parents can hang out later. It's the best.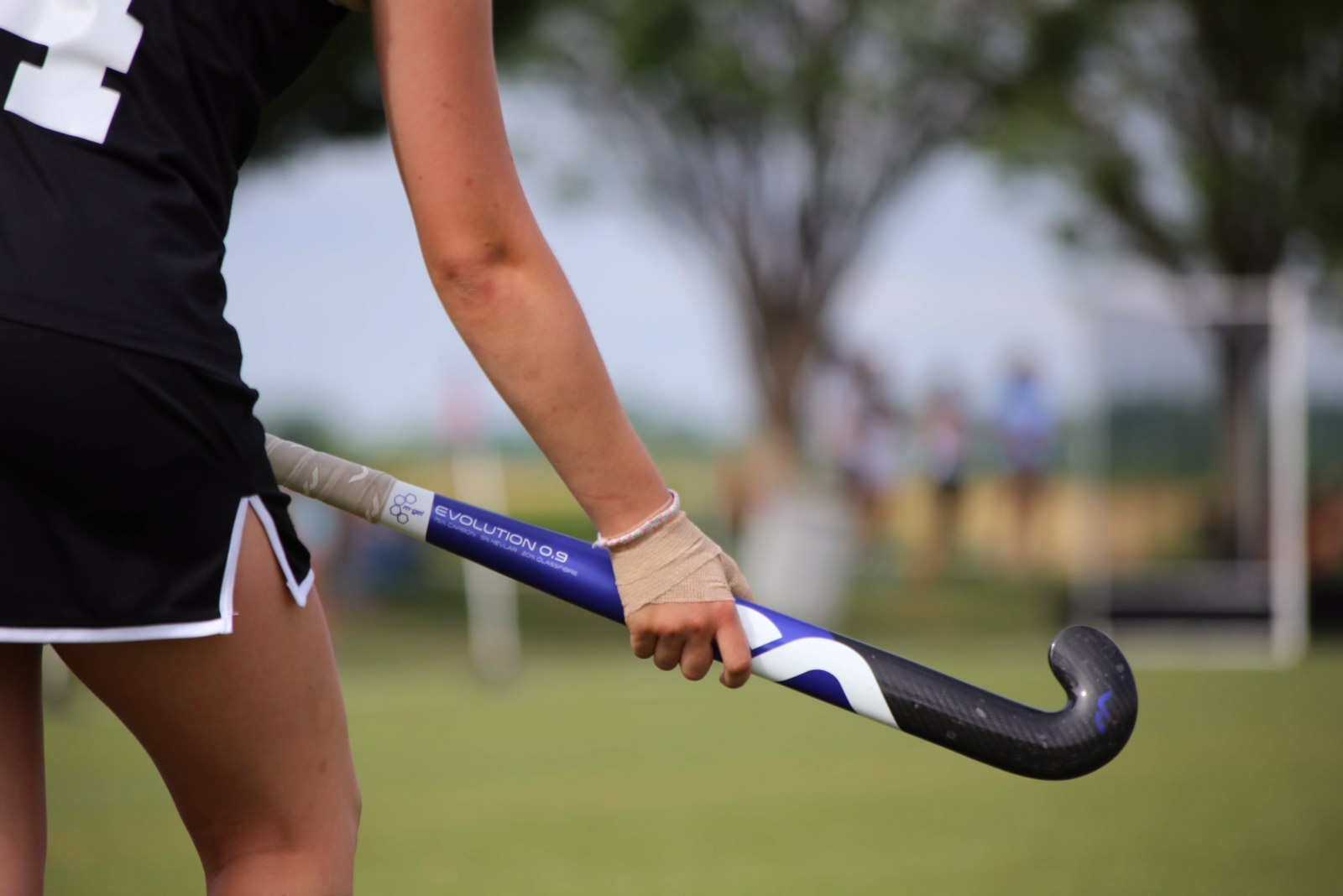 Sign your kid up for Barbie's field hockey program!
A little note for Chicago moms:
Barbie played field hockey at the University of Connecticut, and she's launching a children's field hockey program here in the city! If you have a youngster (Kindergarten – 8th grade!), definitely consider it.
It's going to run on Thursday nights from September 6th to October 18th at the Hawthorne School, located at 3319 Clifton Avenue, and everyone is welcome. If your kid is experienced, that's great. But if she's never picked up a field hockey stick before, that's great, too! Barbie will be grouping athletes so they receive the proper instruction.
K-4th will take place from 4:30-5:30 p.m., and is $165. And then 5-8th will take place from 4:30-6:00 p.m. and is $215. Fees include a jersey. Learn more here, and sign up here!
To give you some background on Barbie, she's basically a superstar. She's going to kill me for telling you this, but she was a four-year letter winner and the captain of the field hockey team at UCONN, where they won three Big East Conference tournament crowns and made it to the NCAA Final Four. She also has multiple years of experience coaching youth and elite players at the University of Connecticut and Northwestern University summer field hockey camps as well as players in the USA Field Hockey Futures Program.
Barbie is FABULOUS with kids.
Like, "fabulous" doesn't even do it justice. She's the best mom in the world, and has the ability to bring Emma from meltdown mode to hysterically laughing in a matter of seconds. She's magic!
Anyway, Barbie and I thought we'd share some photos of the kids rolling around in the grass together. We meant to take pics of them with field hockey sticks, but couldn't get our acts together in time. 😂 We recently met up after work for a playdate, though, and I happened to have my camera with me. These three best friends are too cute for words.
While I don't often share photos of non-blogger friends for privacy reasons, it's fun giving you a peek into another part of our lives and share why we love Lincoln Park so much.
It's this.