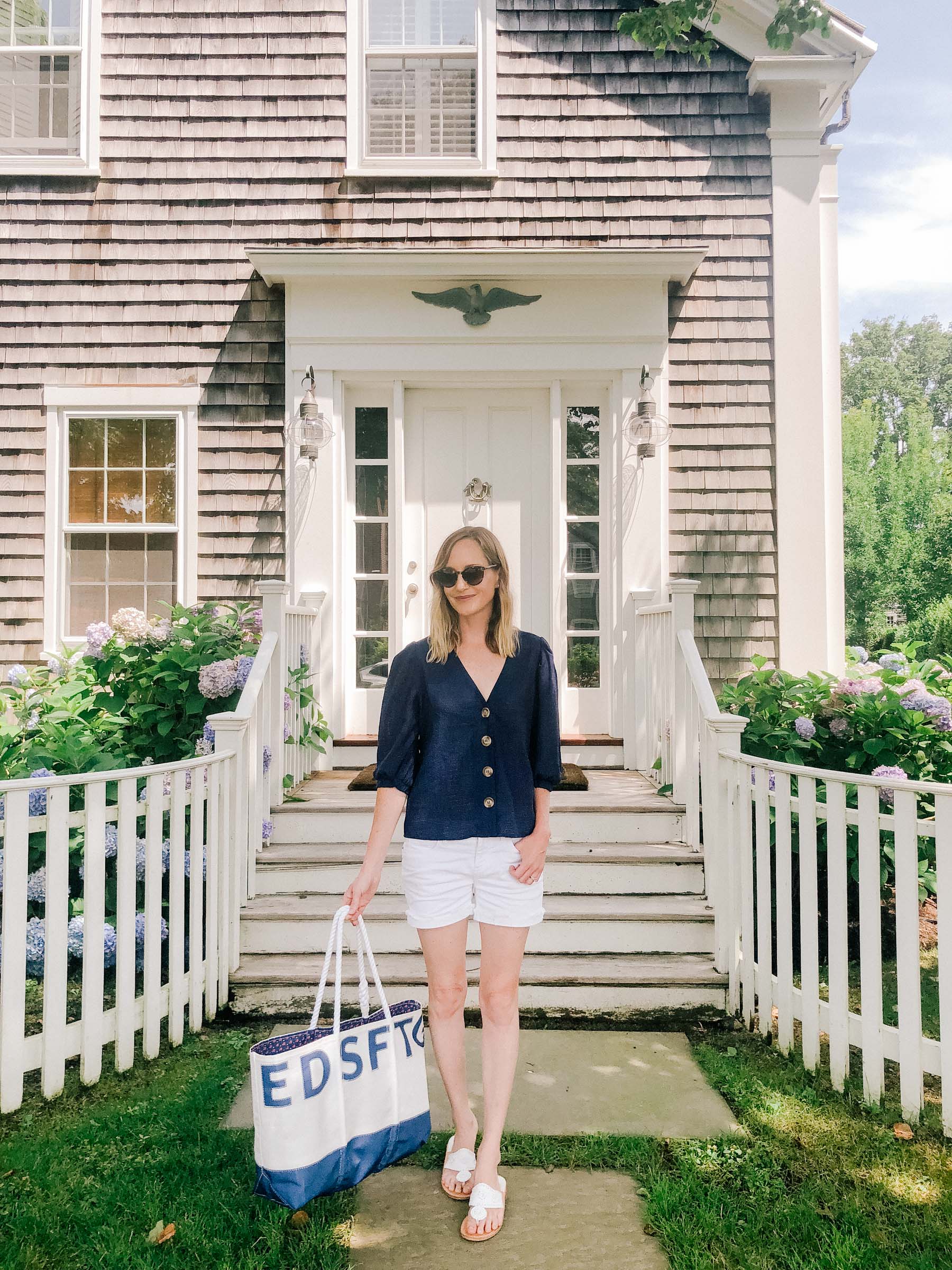 Tuckernuck Navy Top (Also available here, and this is the dress version!) / Vineyard Vines Tote  (Smaller version here) and Shorts c/o / Jack Rogers (On sale! Pounce for next year.) / Nearly Identical Sunglasses

I'm starting a new series! I've actually wanted to do this for like a YEAR, and can't believe I haven't done it until now. (Need to take my own advice.) But better late than never.
In an effort to share more of my day-to-day style, I'm going to start sharing iPhone pics of outfits that perhaps wouldn't otherwise make it to the blog for whatever reason: not enough time to shoot, not interesting enough to necessitate a full post, neglected to do my hair or put on makeup, forgot the camera, etc. etc. 😜
I think the end goal will be to post once per week, and include what I wore during that time, along with some brief stories behind the photos. To get into the groove, though, I'll be focusing on some random looks from the summer for the time being. Some of them have appeared on the blog before, but it's all good.
I'm excited!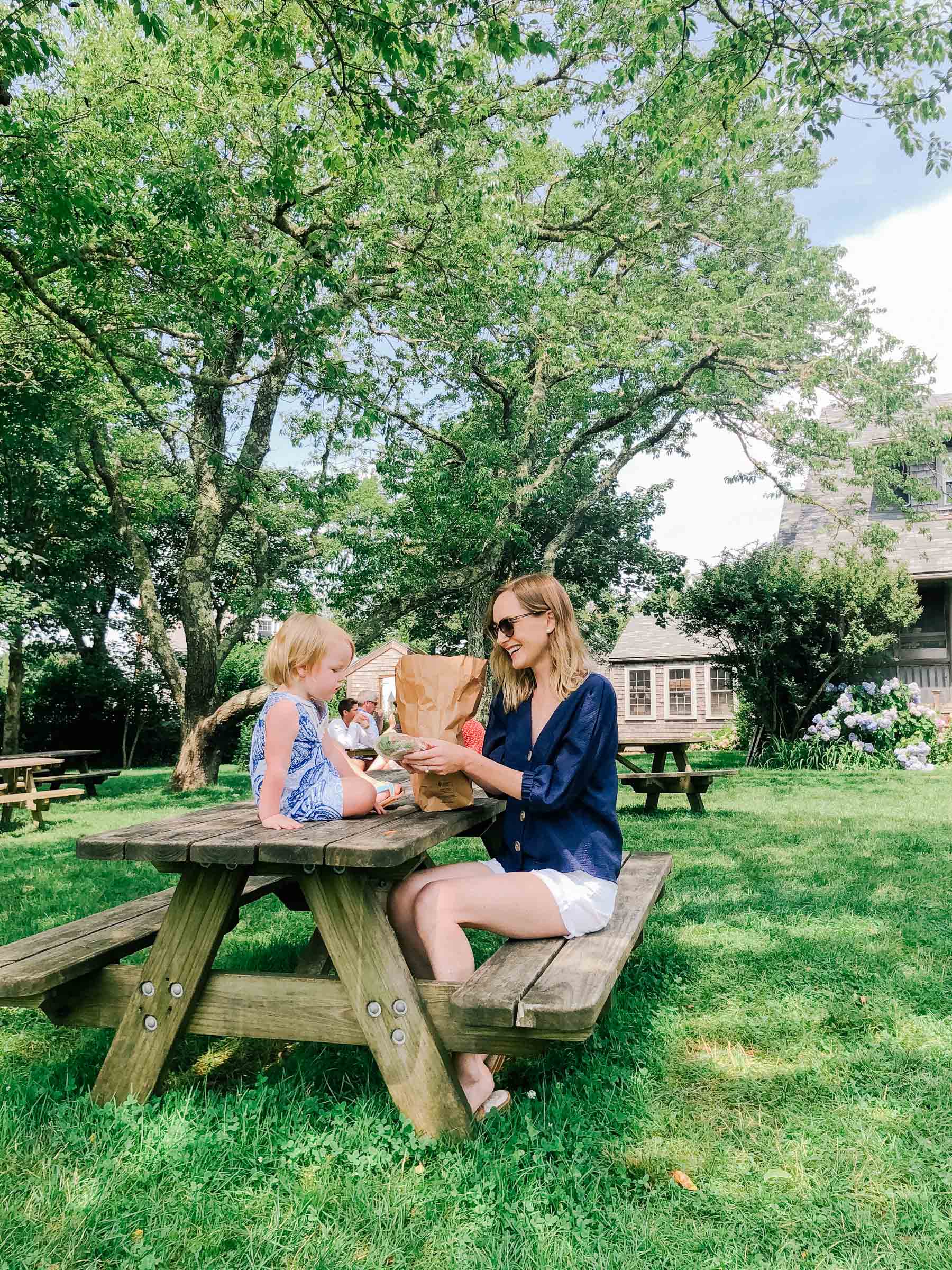 Emma's Lilly Pulitzer Dress c/o / Tuckernuck Navy Top (Also available here, and this is the dress version!) / Vineyard Vines Tote  (Smaller version here) and Shorts c/o / Jack Rogers (On sale! Pounce for next year.) / Nearly Identical Sunglasses

This was one of the BEST days of our week on Nantucket. Mitch, Emma and I started things with a walk to Provisions to get sandwiches, and then we spent the day at a lesser-known beach with Auntie-M, Sammy, Paige and Charls. Afterwards, we headed to Cisco Brewery for drinks and food truck dinners.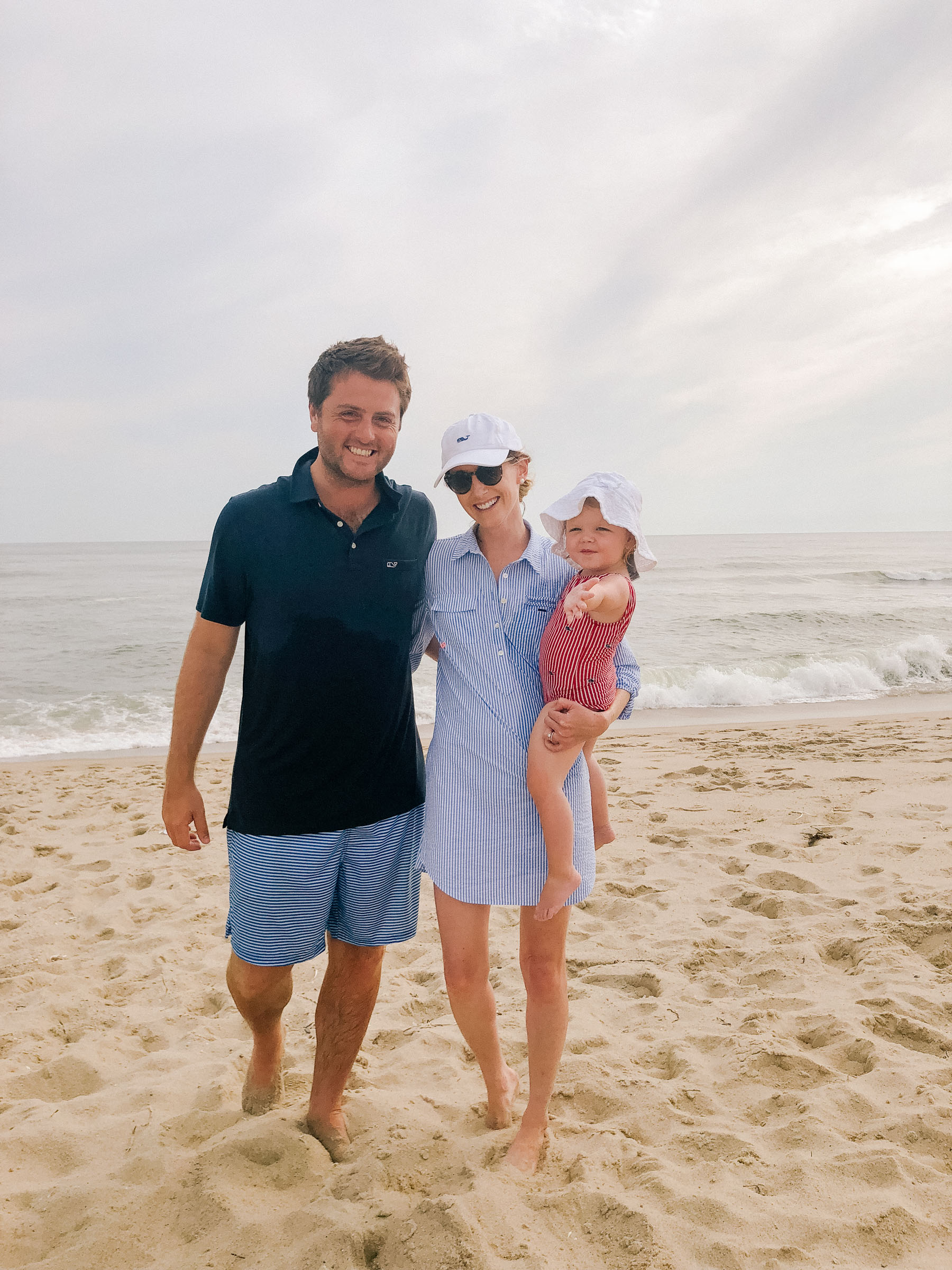 Vineyard Vines Coverup, Hat, Girls' Bathing Suit (On sale!), Polo and Men's Bathing Suit c/o
Here we are at the beach! Just want to take a quick moment to mention how amazingly awesome this seersucker coverup is. I know it's the end of the season, but VV just restocked it, and you should definitely grab it for next summer if your coverup collection is lacking. ;)
I know I'm somewhat obsessed with clothing that doesn't wrinkle easily, but this piece always looks amazing, even when I pull it out of a suitcase. Also, I love that I can get away with wearing it to drinks/dinner after coming off the beach, too. Wore it to Cisco, for example, and it was perfect!
Also, the Larkins have decided to make Nantucket a yearly thing again. I stopped going for a few years because I was intimidated about getting there from Chicago. But I miss my fam, and it honestly wasn't that bad! Yes, we missed our connection and therefore had to spend a night in Queens b/c that's apparently how the Larkin Family rolls. ;) But hoping the curse is lifted by next year, because it's really just a quick flight to NYC and then another quick flight to the island.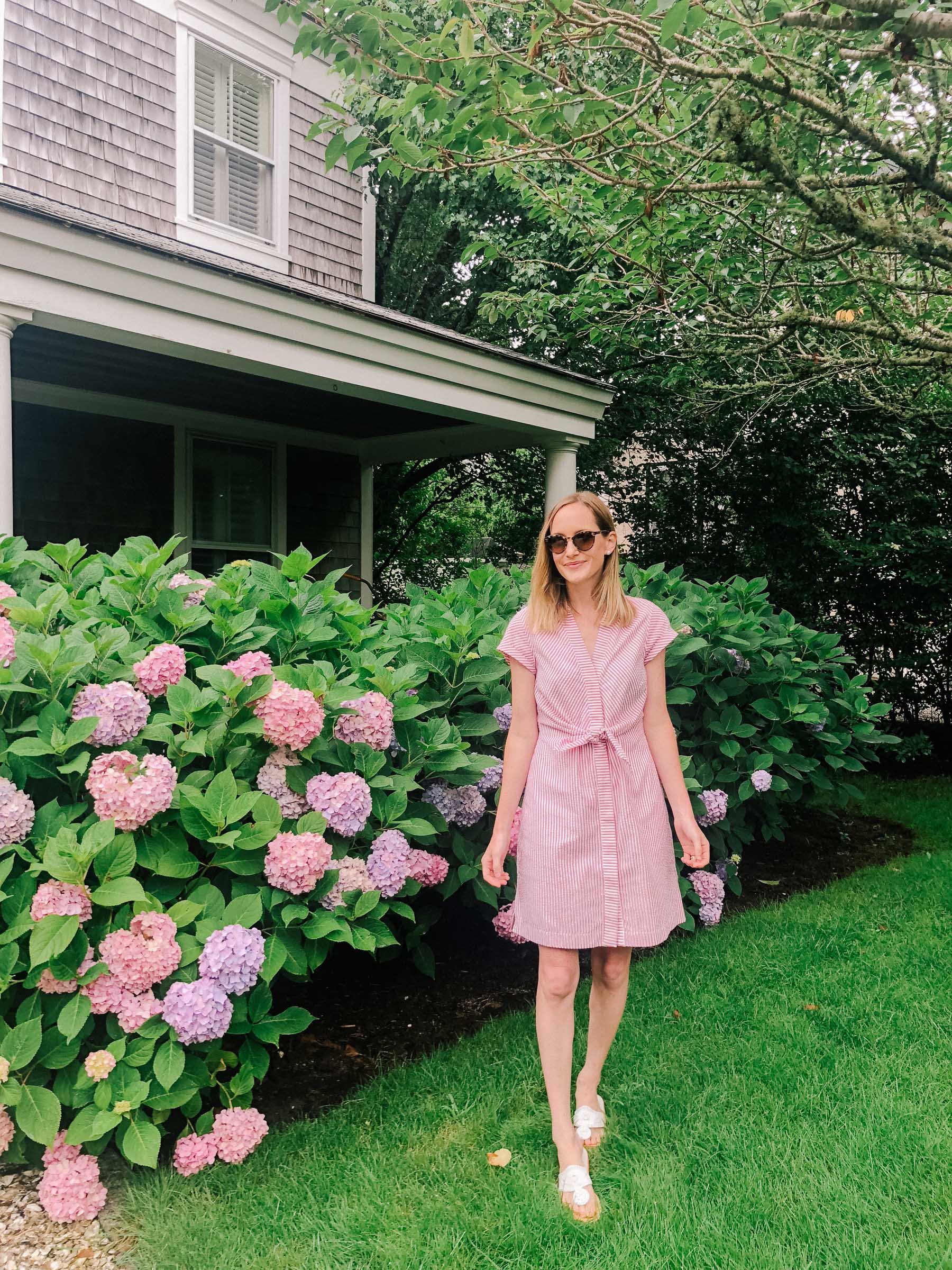 Vineyard Vines Seersucker Tie Dress c/o / Jack Rogers (On sale! Pounce for next year.)
When your dress matches the hydrangeas. 💁🏼‍♀️ (Seriously, how STUNNING are my aunt's flowers?! They went crazy this year, and I'm obsessed.)
I should note that this seersucker dress has been flying off the shelves. But it looks like it was recently restocked, and it's now on sale! Love that little bow in the front.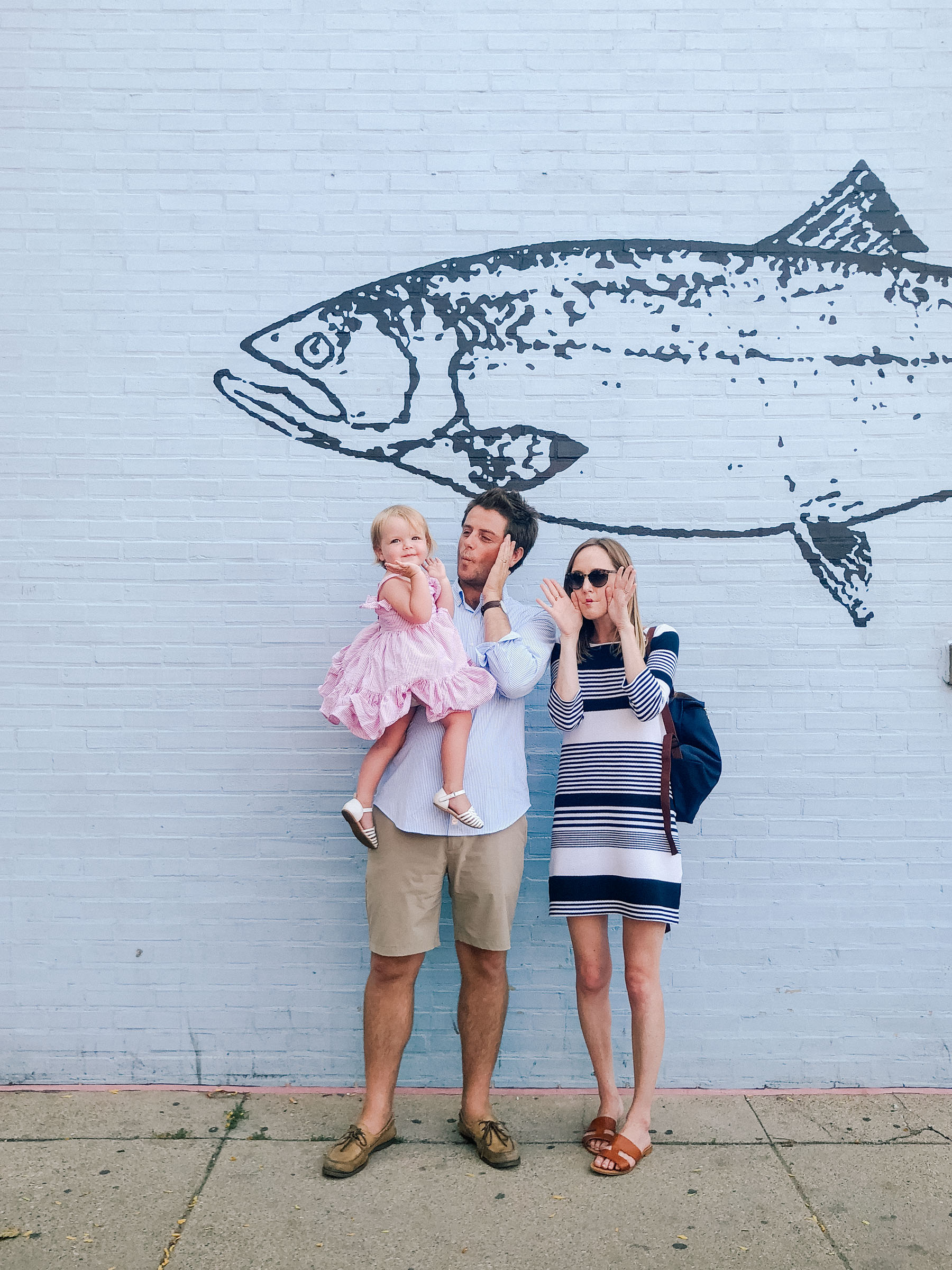 Lilly Pulitzer Dress c/o / Everlane Sandals c/o  / Longchamp Backpack (Classic Large Tote Here. Expandable Version Here.) / Mitch's Sperry Topsiders, Vineyard Vines Performance Striped Shirt, and Breaker Shorts / Emma's Seersucker Dress and Huarache Sandals
Here we are back in Chicago!
As you know, Emma's super into "The Little Mermaid" right now, and when we walked past Fish Bar a couple of weeks ago, she started screaming "FLOUNDER! FLOUNDER!"
Obs had to make my brother Danny take a pic while we were making fish faces.
I did a full blog post on my dress here (and it includes info about the upcoming Lilly Pulitzer After Party Sale). But it's one of my all-time favorite Lilly dresses, and you need it! The stripes are actually tiny scallops. :)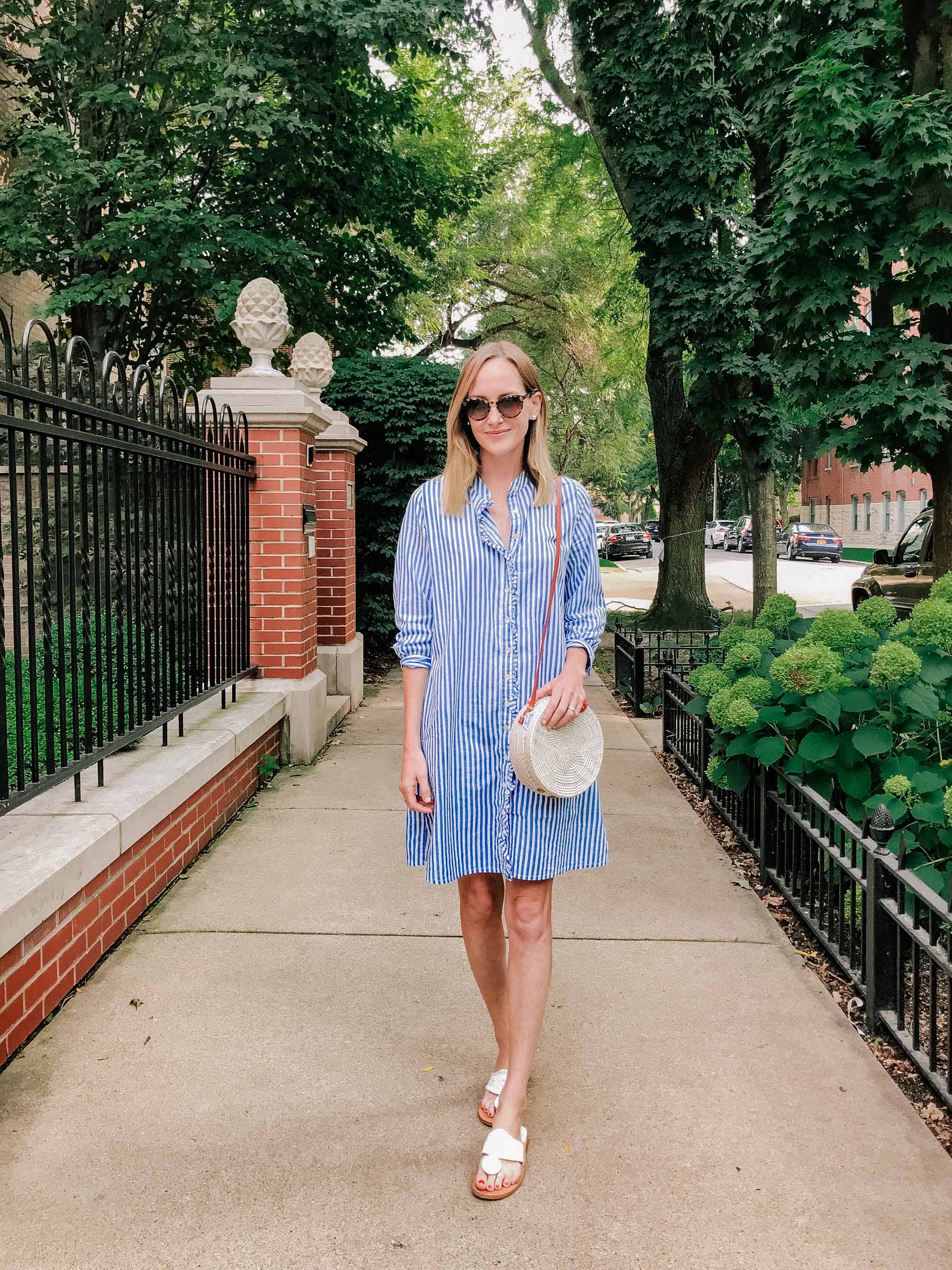 Tuckernuck Ruffled Dress (Runs large. Size down. I'm wearing an XS here. Also love this one, this one and this one!) / Jack Rogers (On sale! Think cork is next on my list!) / Poppy + Sage Bag c/o
Wore this easy outfit the other day. You might remember it from this post, in which I look far more put together. But real talk: this is what I look like after a day of playing with my toddler. ;)
I love this dress because of its ruffles and pockets, and how flowy and flattering it is. Perfect transitional piece for fall, too!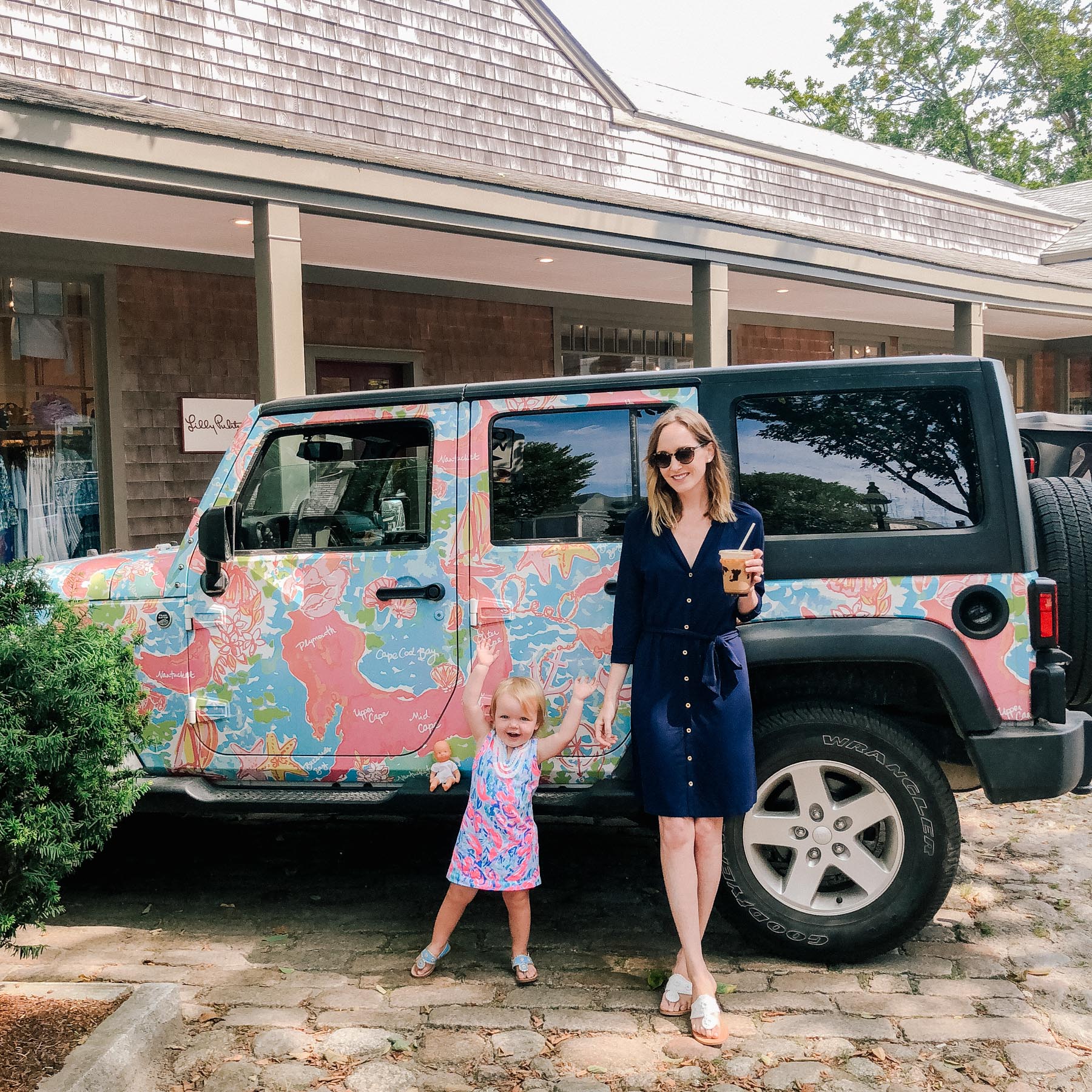 Lilly Pulitzer Bailor Dress c/o (It was just pulled from the site, so it'll likely be included in the upcoming After Party Sale. Everything you need about that here. J.Crew also makes a VERY similar dress which is awesome and wrinkle-resistant. I own the company's sweater dress version, too, because I apparently #cantstopwontstop with this style.) / Jack Rogers Sandals (On sale!) / Emma's Dress and Jack Rogers (Also on Nordstrom!)
Have you seen?! I'm teaming up with a couple of my girlfriends to give away a $600 Lilly Pulitzer gift card! Entering is ridiculously easy, but there are only a couple of days left. Fingers crossed for you!