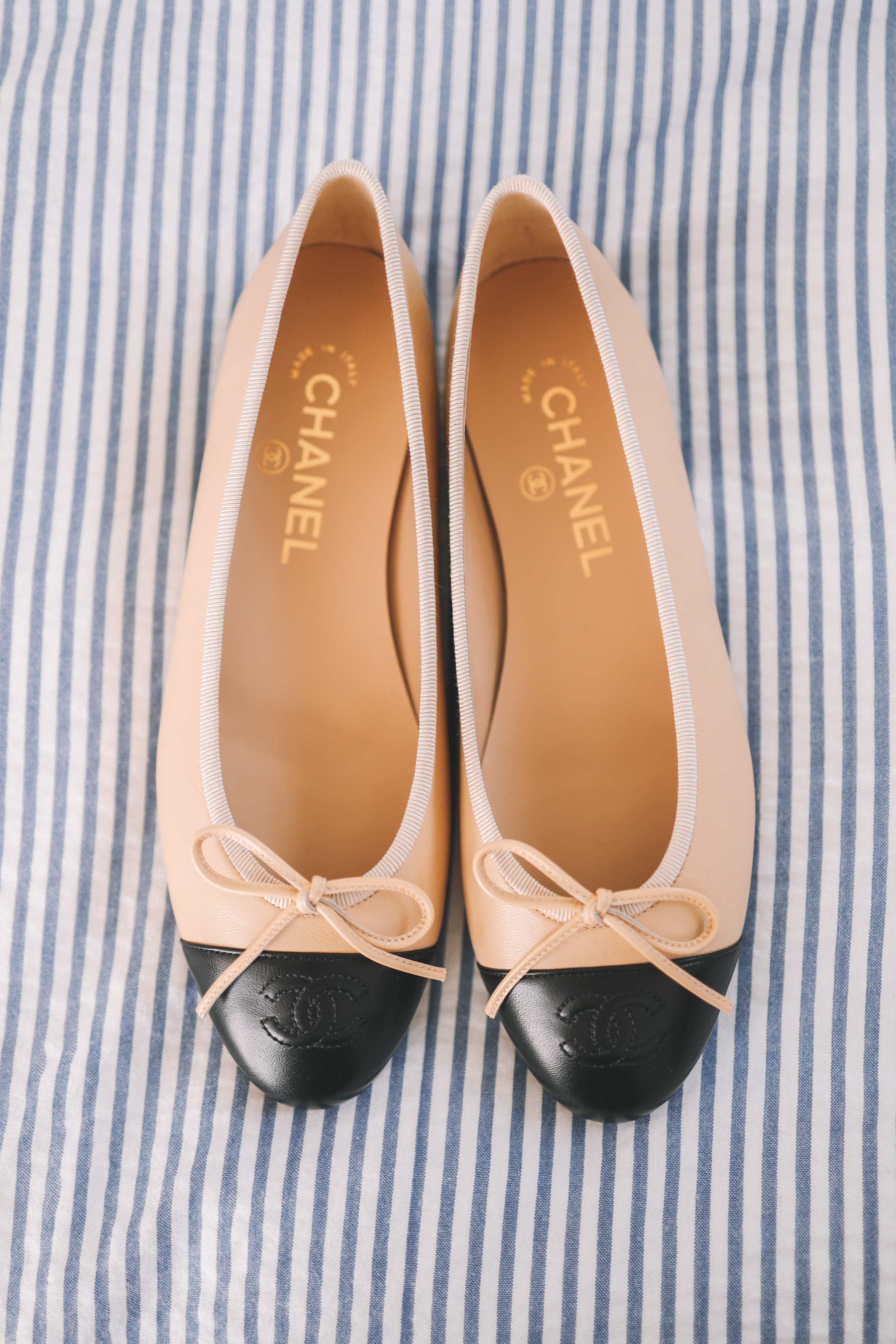 J.Crew Houndstooth Wool Trench Coat (Found on eBay!) / Hudson Barbara Jeans / J.Crew Supersoft Top / Ray-Ban Highstreet Sunglasses / Chanel Ballerina Flats
Mitch gave me a pair of Chanel Ballerinas for my birthday a few years ago. (Eeeee!) They were certainly an investment, but I think he was able to justify it because we'd sold a bunch of my designer products earlier in the year. (Found that I just wasn't using them anymore!) Regardless, I'm in LOVE! It was such an incredible gift, and a practical one, too, as I rarely wear heels these days. I mean, I'm not wearing them to the playground or anything, but I love that they make my otherwise comfy/casual "mom outfits" look more polished. Thaaaaank you, Mitch!
I've personally always been curious about the iconic ballerina flats, so today, I thought I'd review them and also highlight eBay's amazing authenticate program. It's amazing, and one of the safest ways you can get a deal on pre-owned (or new!) luxury products.

Before I get started, though, I should mention that my entire outfit is available via eBay, too! From outerwear and denim to sweaters and shoes, eBay has it all. And this is the perfect time of the year to treat yourself–before the holiday madness begins. It's definitely my favorite time to stock up on basics!
But let's dive in!
Chanel Cap Toe Ballerina Flats Review
How do they run and do they stretch?
I can't lie. Determining what size to buy can be tricky, because each shoe is handmade and therefore they can vary in size–even shoes that come out of the same box!
In general, I found that the flats ran slightly on the larger side. I normally wear a size 7.5 in flats, but my heels slipped out of the 37.5s. The 37s were a teensy bit tight in the heel and toe areas of the right shoe, but I'd been told that the shoes could stretch a little–though not a ton!–because the classic pair is made of lambskin. I also figured that I could have my cobbler stretch the right shoe if it didn't do so on its own.
My local cobbler was successful in giving me a bit of extra length, which ended up fixing the problem. But keep in mind that it's basically impossible to stretch a shoe more than a half size, and I would therefore instead recommend trying to nail down your size beforehand.
My personal preference with shoes is to go with whatever size my heels don't slip out of, but I know that some people are the opposite and prefer to use inserts to obtain the perfect fit. So this is definitely something to consider during the buying process!
Note: I wear a 37 in the Gucci Brixton loafers as well. Hopefully this is helpful!
Are they comfortable and do they require a break-in period?
Once I had the right shoe stretched, I found the Chanel flats to be pretty comfortable. They're certainly not my comfiest shoes; I think the Gucci Brixtons win in this department. (Those are like butter!) But because of the soft lambskin, it does seem like they mold to feet. I noticed a difference in comfort after about a week of wear!
One thing to mention is that they don't have much padding. This isn't necessarily a bad thing; my Gucci Brixtons don't have padding either and they feel like I'm walking on clouds. But if the heels or balls of your feet hurt often, these might not be the best shoes for you. That said, they're not as painful as Jack Rogers sandals can be. So if you're good in Jacks, you'll be good in these!
Note: Not all Chanel flats are made of lambskin, but the iconic classic pair is. More on that below.
What is the quality like and how do they hold up?
Again, this particular pair of Chanel flats is made out of lambkin. The benefit of lambskin is that the leather is very soft and luxurious-feeling. The flats are truly beautiful! The downside, though, is that lambskin isn't the most durable. It'll show wear! (Creases and scuff marks in particular.) Because of this, I'd recommend taking good care of the flats and not wearing them in the rain. Taking them flats to your cobbler to have them cleaned up and/or resoled every once in a while is also a good idea. I know I sound like an old lady, but I'm always astounded by how well cobblers can revive worn shoes!
The general opinion about the shoes' lifespan is that it varies depending on how often they're worn and how well they're taken care of. I have one friend who wears hers constantly, and she says that she had to replace them after three years even though she "brought them in for maintenance" often. Another friend only wears hers to dinners/events and on special occasions, and she's going on five years strong!
Note: You can resole the flats right from the get-go, too. I didn't do this, and it's certainly not required. But I know Chanel says it can extend the shoes' lifespan!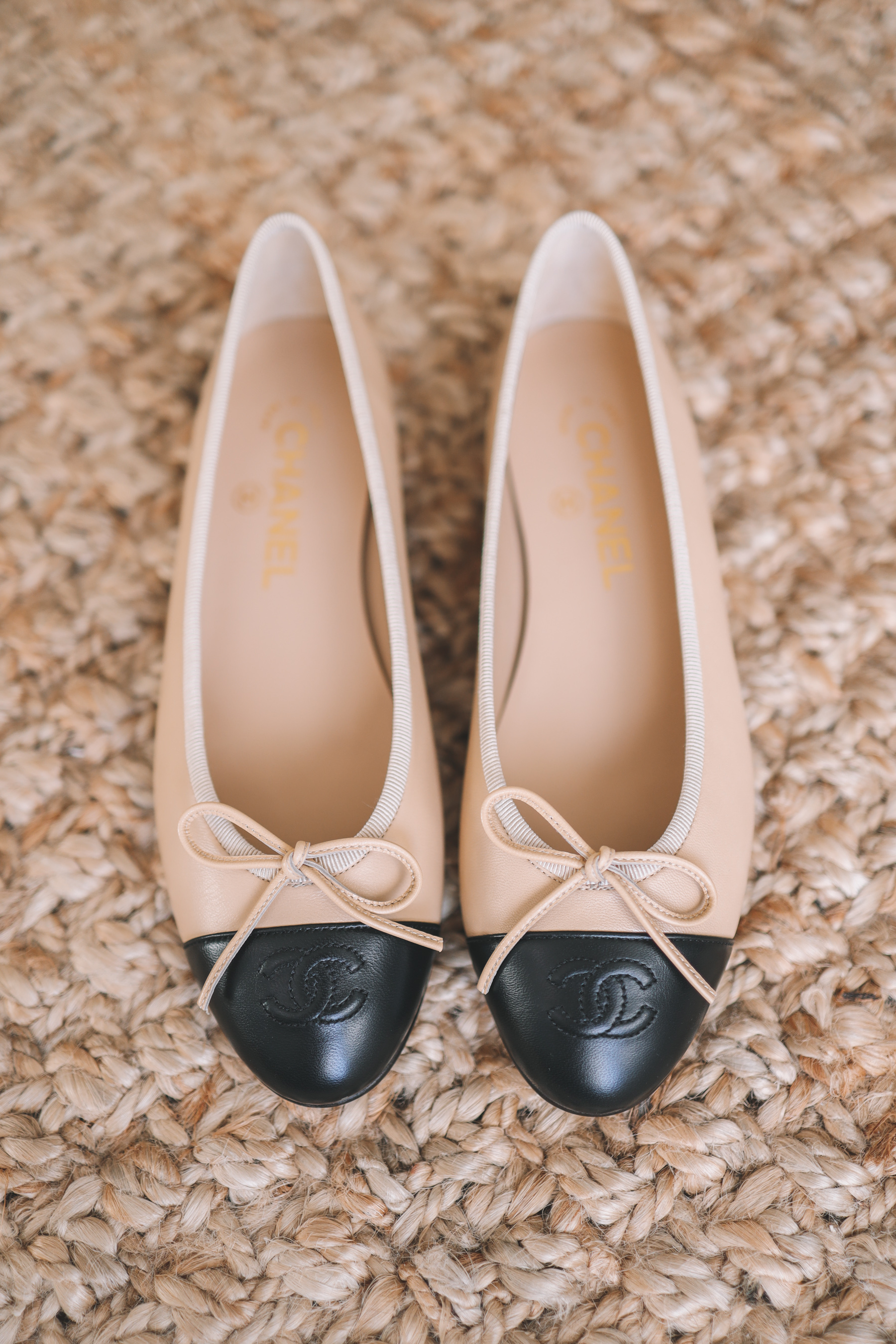 How much do they cost and are the Chanel Ballet Flats worth it?
The retail price for these Chanel flats is $750 plus tax, which is 10.25% in Chicago. It's obviously a lot, haha. But what it comes down to is this: It falls into the category of luxury products, and choosing to buy investment pieces is a person-to-person decision. Likewise, whether it's worth it is subjective.
I (personally) find that investment pieces last me longer because of both the quality and the fact that I normally buy classic, non-trendy products that are unlikely to go out of style. I also tend to make fewer purchases in general because I'm in love with what I already own. (Quality over quantity; less is more! For example, I no longer buy totes because I'm obsessed with my–yes, very basic 😂–Louis Vuitton Neverfull. I used to have TONS of totes. I had a problem. But I'm totes not like that anymore. Tote joke.)
It's a shift in thinking, I suppose. ;)
That said, I'm 35 years old now. I didn't subscribe to this way of thinking in my 20s, and for good reason! Buying luxury wouldn't have been the most responsible decision since I was trying to reach savings goals. (I would have simply gone with more affordable products inspired by the originals. There are a lot out there!) Now that I'm older, though, investing in luxury pieces every once in a while is fine because I'm more established.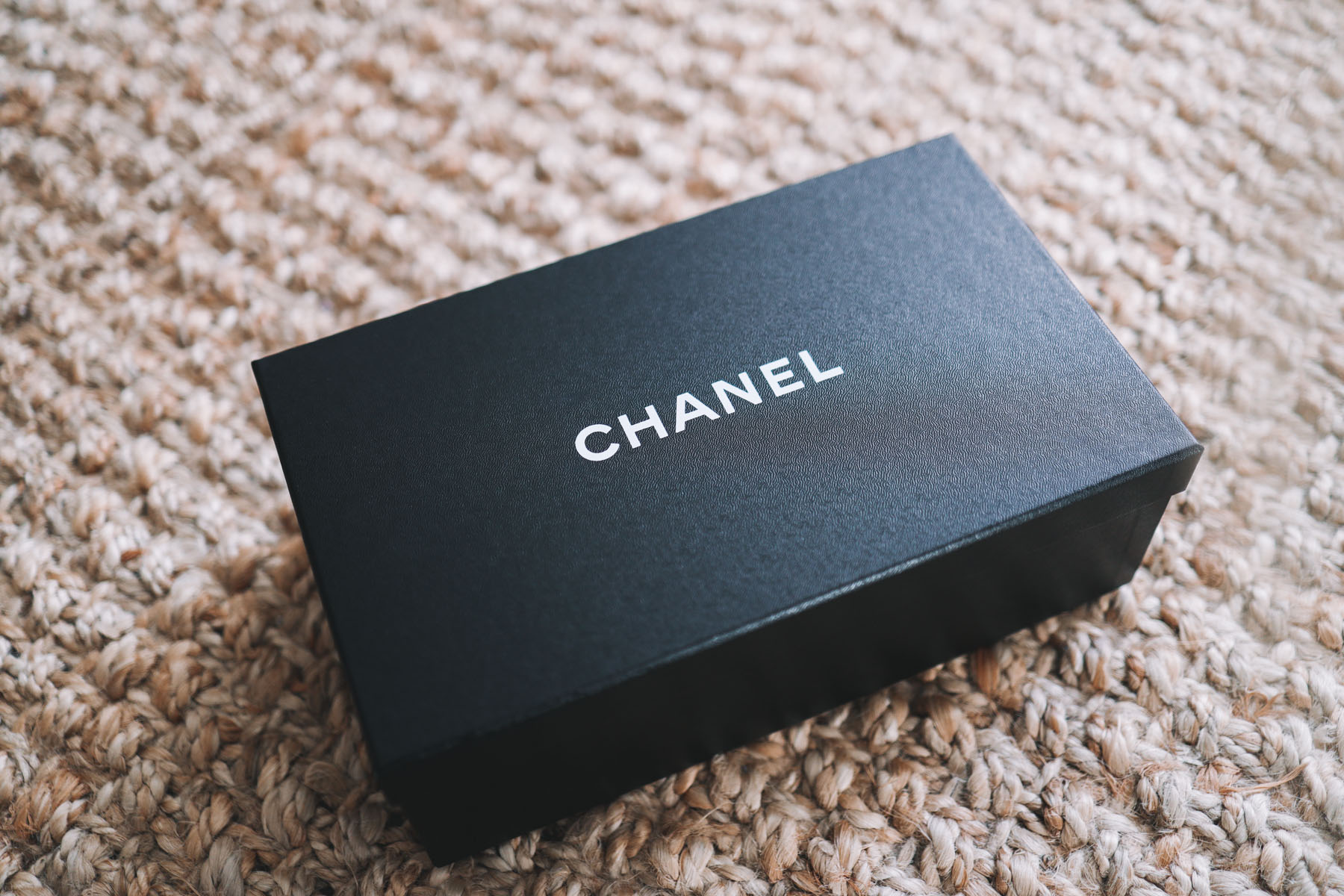 How can I find a deal on Chanel products?
Here's the thing, though! eBay's amazing authenticate program can help you find real luxury products for a deal. It's amazing, great for buyers and sellers, and one of the safest ways you can buy pre-owned (or new!) products from Chanel and other luxury brands. Here's how to use it: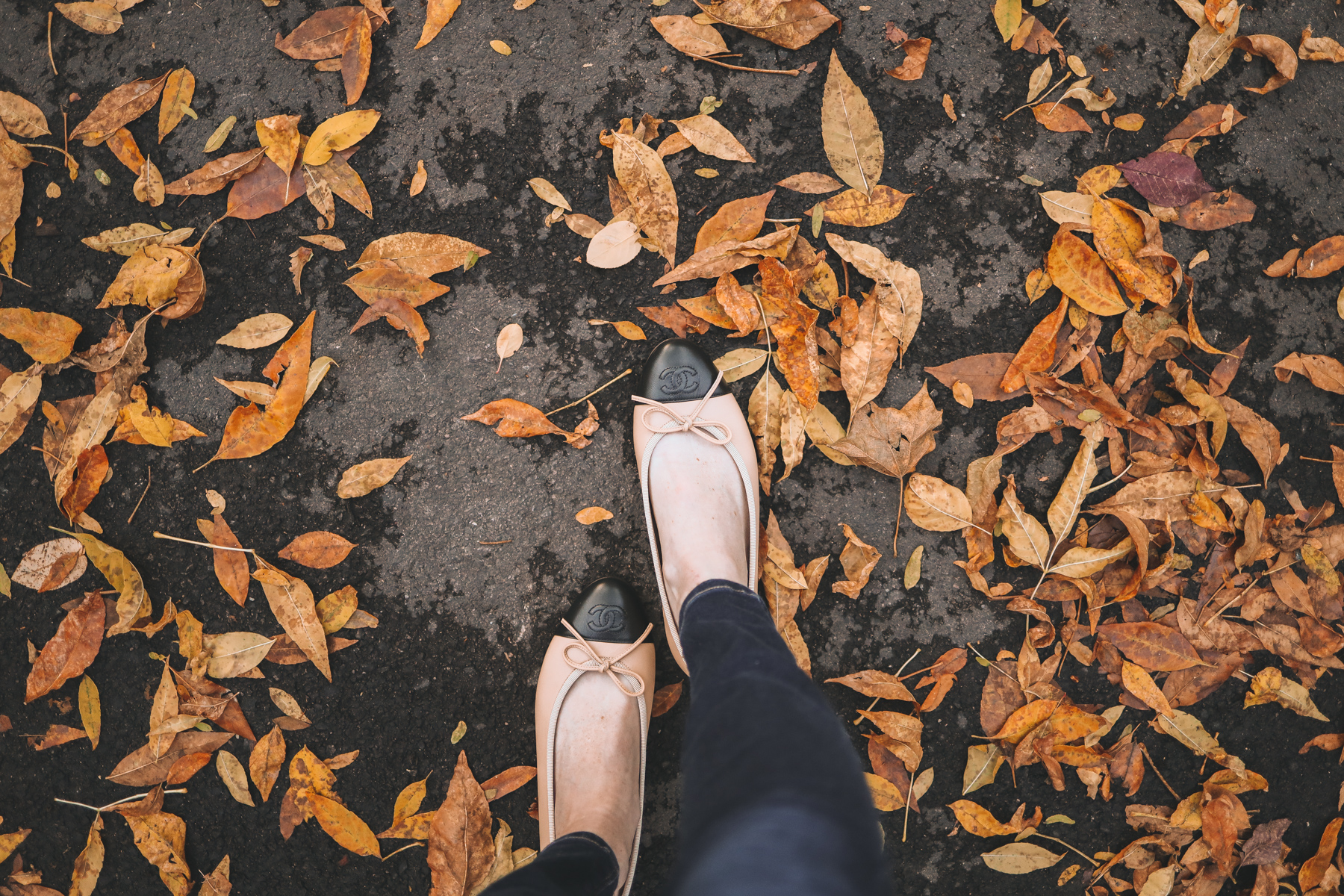 Decide on what you want to buy ahead of time
It's easy to spend hours browsing eBay, and a girl can quickly become overwhelmed as a result! Is your heart set on a particular product? Decide on what you're looking for, and then stick to it and look for that listing for sale. This knowledge will save you from making an impulse buy and it'll guide you in making a purchase that really makes sense for you!
Know what the product retails for
The discount should be significant enough that it makes more sense to buy from eBay rather than direct from the retailer. Everyone wants a good deal. ;)
As long as you see "Authenticity Verified" in red, the luxury product is expert-verified at the authentication center before it's listed so you can be sure that you're getting the real thing.  It's eligible for authenticity guarantee because it has undergone an authentication process. (So helpful for those of us that might be fooled by a fake!)
Everything comes with eBay's "money back guarantee," too, so you can shop with confidence! At the moment, categories include luxury watches, jewelry, handbags, and wallets… but eBay is planning on adding more in the near future, like sports trading cards, electronics, and more. (You can still, however, find Chanel flats on eBay! You'll simply need to do your research and read sellers' reviews.)
Narrow your search using eBay's filters and search bar
It's actually SUPER easy. Type in the name of the product you're looking for and then select "Authenticity Verified" at the very bottom of the filter bar to the left. Searches are also highly tailorable when you select from preferences such as the country of manufacture, size, shipping, buying format, and item location. Pretty cool!
Decide whether your more comfortable with the "Buy it Now" or "Accepts Offers" buying format
For the first, you obviously don't have to deal with other bidders; the authenticated item is yours upon checking out. For the second, you're up against other potential buyers… and while you might end up losing the product, you also might get a really good deal! If you'd be heartbroken to lose the product of your dreams, perhaps "Buy it Now" is the better route. If there are several listed products that appeal to you, however, maybe making an offer makes more sense! (This girl LOVES a good deal, so she usually likes making offers. But it's a personal preference, for sure!)
Pay attention to the condition description and the photos included in the listing
Both are super important! Because when the buyer (you) receives the item, they should know what to expect from the items included. Perhaps small scratches don't matter to you, and you'd gladly take the discount that comes along with them. Or maybe they do matter to you. Either way, take note of the descriptions and photos for anything that might be a deal-breaker for you. I also highly recommend looking for photographic evidence of the serial number or authenticity card, which most designer products come with. If you don't love your purchase, it can be returned to the seller.
Anything that I missed?
If you have experience with the authentication service buying pre-owned (or new!) luxury products from eBay, let me know your best tips for scoring great stuff in the comments below! If you have items you think are eligible for authentication, give selling a try – it's a great way to make some extra cash selling your barely-used items. Many thanks. :) xx
Shop the post:
J.Crew Houndstooth Wool Trench Coat (Found on eBay!) / Hudson Barbara Jeans / J.Crew Supersoft Top / Ray-Ban Highstreet Sunglasses / Chanel Ballerina Flats

This post is sponsored by eBay, but all opinions are my own. As always, thank you so, so much for supporting the partnerships that keep Kelly in the City up and running!