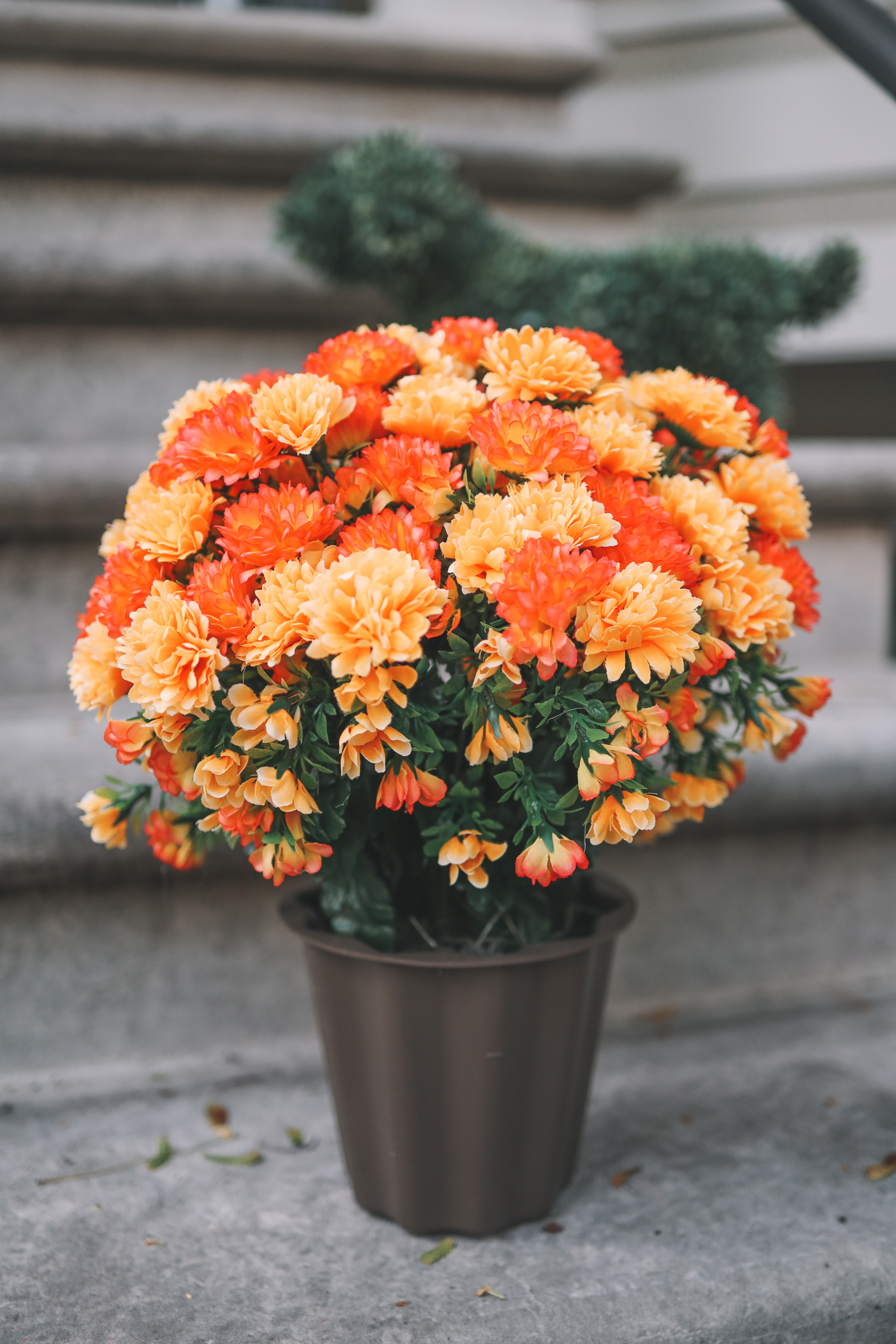 Faux Mums via Etsy / Faux Mums via Walmart*
*If sold out, try these potted artificial fall sunflowers
Big news! Our artificial mums are back in stock via Etsy and Walmart.
And an interesting story:
I put Mitch in charge of buying mums for the front stoop last year, as I was in charge the previous year and they all died within the first two weeks despite constant watering. 😆
So over the summer, we went faux with nearly every outdoor plant, with the exception of the gardens in the front, and never looked back.
These are our boxwoods, and you can find links to all our artificial plants under the "faux greenery" section in this post. NO REGRETS. As I've said before, I'd love to have real plants but it's just not possible for me during this wonderful stage of life I'm in. I'd much rather spend my free time with my young children than with my dying plants! 😉 For now, life is better this way. No guilt, no embarrassment and no sadness over the money I wasted on soon-to-be murdered plants. Though I get it if reading this makes you cringe. ;)
Not surprisingly, Mitch wanted to go faux with the mums. I loved the idea, but I'd scoured the internet the year before for artificial mums and had no luck. Mitch, though, being the tech-savvy genius that he is, immediately found some that honestly looked perfect. He sent me a photo, I quickly approved, and he ordered. And that was that.
A few days ago, they arrived. And WOW. They were perfect. I pulled them out of the boxes and did a double-take, and then hugged my husband as the tears streamed down my face. (Jokes. But the joy was real.)
And then I noticed the manufacturer: Sympathy Silks. (Available via Etsy and Walmart.) A quick Google search told me that yes, Sympathy Silks' products were originally designed for cemeteries. Bah.
But as I scrolled through countless positive reviews, I couldn't believe how many customers explained that they actually use the brand's faux greenery for outdoor home decor, weddings, graduations and other celebratory events because it looks incredibly lifelike and it lasts.
I'll admit that I initially felt very weird and uneasy about the marketing. No other word to describe it! (Wish they'd gone with "Celebratory Silks" for branding.)
But they're amazing. The colors are vivid but not fake-looking, the flowers are extremely lifelike, the pots underneath the unsightly green foil are perfectly fine on their own, there's no shortage of them (so I don't think I should be feeling guilty?), and they don't cost hundreds of dollars. Nice that a company that could rip your eyes out for something like this doesn't, you know? (I'd say that they're about double or triple the price of real mums, but reviewers say that they last years and that they've actually saved money in the long run.)
Anyway, after a long talk with Mitch, haha, we decided to keep them. 😬 They're that good.
Will update you with photos as soon as I wrap 'em in burlap and set 'em out. In the meantime, I highly recommend if you don't want to deal with real mums this year! You can find them via Etsy and Walmart.*
*If sold out, try these potted artificial fall sunflowers.
They're definitely the best of 2021!
Other artificial mums we considered include these from Grandin Road, these from Bed Bath & Beyond, these from Collections Etc., these from Nearly Natural (also via Walmart and the Nearly Natural website), the mum arrangements from Joann Fabrics, and these by OakRidge.