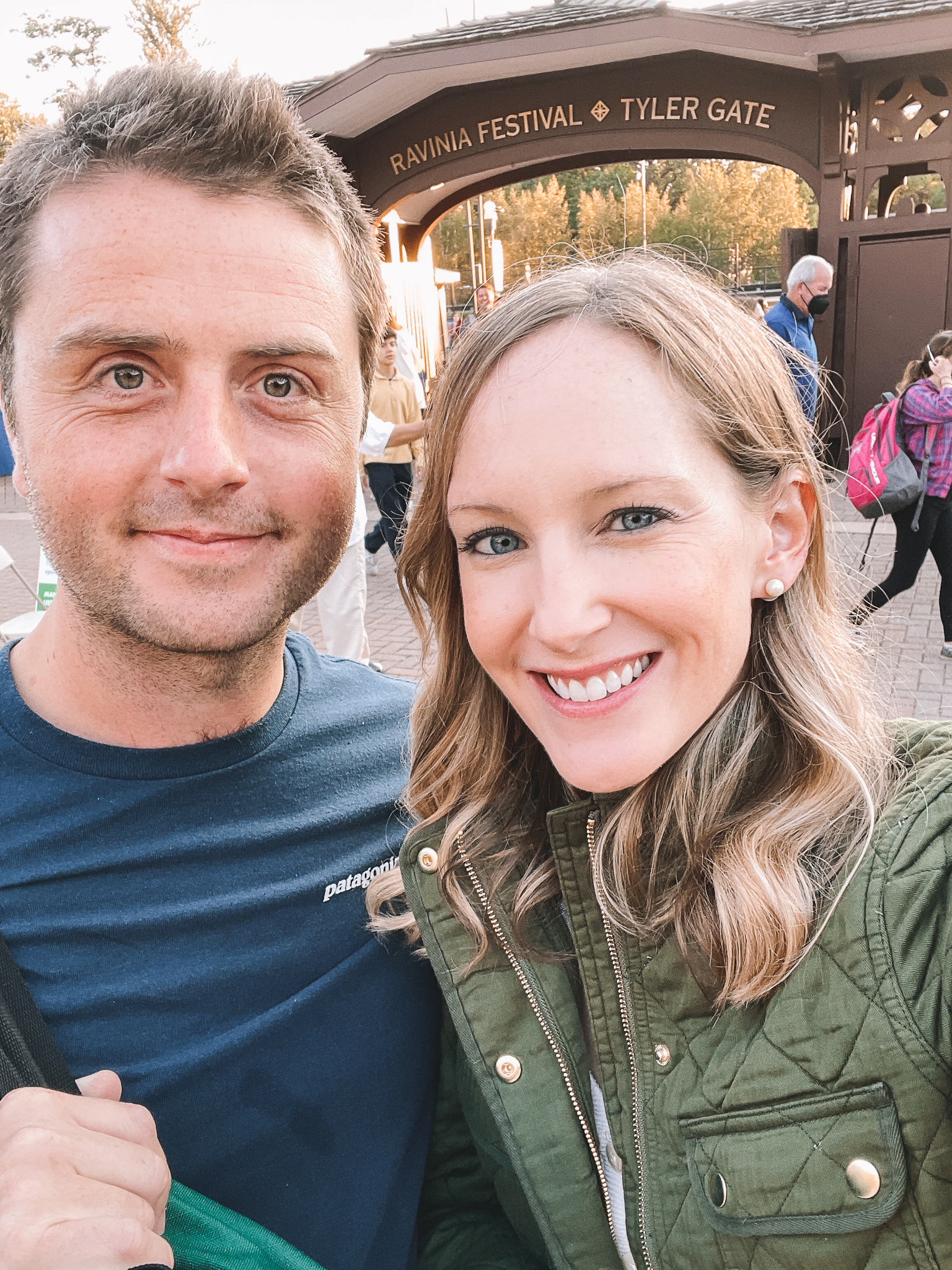 Ravinia to see Ben Folds! Kelly is wearing this "blanket jacket," as she calls it.
Mitch here!
Here are the 10 things that come to mind this week.
I have no idea how football works and at this point I'm too afraid to ask. I mean, I understand the basic rules and can get excited about a play and stuff, but that game is ultra confusing. I've been sitting in front of the TV each Sunday since I was a kid, but the constant breaks and TV commercials make it incredibly difficult to pay attention these days. For the first few weeks of the year, though, I sit there dutifully until my Chicago Bears lose enough games that I can get up off the couch.
And while I'm ranting about football, football TV coverage is garbage. They put the camera perpendicular to the field making it impossible make out what is actually happening on the field. Instead, if they put the camera behind the quarterback, we could see the players running all over the place and watch plays develop. As it is now ,we see a bunch of people lined up, a quarterback throwing the ball to someone off-screen, and… then I'm not really sure. I get bored and stop paying attention.
Football party appetizers, however, are something I pay great attention to. Wow. This is a lot of football talk, and I'm sure I'm boring most of you. But nachos, wings, chili, cheese puffs, beer cheese—whatever it is, I'm in. At best, football is an excuse to eat absurd amounts of food during off-hours throughout the fall. At worst, it's football.
Moving on. I'm working my way through Rolling Stone's new 500 Best Songs list. I'm a big fan of lists on the internet, which might be why I'm in the middle of creating one at this very moment. Rolling Stone did a great job writing about the stories behind each song's creation from the perspective of the songwriters, and it's sent me down some interesting internet rabbit holes. 

Shoutout to

Spotify user Angel

for gathering all the songs into this handy-dandy playlist:

 
I'm a skyscraper enthusiast and there's a big building boom-a-booming in Chicago. Spending half my childhood in the city and then the other half in one of the more mundane geographic areas in the world made me sort of obsessed with the skyscrapers and construction projects that make my surroundings a little more interesting. And lucky for me, it's a fascinating time to live in Chicago. There are dozens of major construction projects underway in the city with a number of them turning over dirt right here in Lincoln Park. This includes nearly 9,000 new residential units planned for the Halsted Point and Lincoln Yards developments. Check out the Chicago YIMBY site that tracks interesting developments around town.
I'm embarking on the Chicago Deep Dish Tournament of Champions. Our new friends, Evan and Olivia, have undertaken a challenge to try every deep dish pizza place in Chicago and then to rank them according to their deliciousness. I'm thinking I should do the same. You may be sitting there thinking to yourself something like, Mitch, deep dish pizza isn't even pizza. It's a casserole. But you know what? I don't want to hear it. I roll deep for deep dish. (Also, Evan and Olivia, LET'S GET TOGETHER AND DO THIS THING.)
Emma is teaching me yoga after school. And she's a great teacher! Like many other thirty-something dads, my back is killing me. My doctor suggested that I start a daily stretching routine. Emma overheard me talking about it and has taken it as her duty to help me learn to stretch. We roll out our yoga mats in the playroom, watch a Cosmic Yoga video, and get to work. She's a great teacher and is surprisingly knowledgeable about yoga. I'm not really sure how that happened but I'm having fun with it!
It's new iPhone season and I'm getting cold feet. This is coming from a guy who has been obsessed with Apple and iPhones and gadgets and stuff for decades. I typically wake up in the middle of the night to order the newest stuff, count down the minutes until I can unbox it, and I walk around all proud telling everyone who will listen about it. But this year, I think I'm going to do the rational thing and just not get the new phone. Don't get me wrong; the new phone is dope. It's got a significantly improved camera with macro photography capabilities and cinematic videography settings, but you know what? I'm all good. Not this year, Apple! Ah crap, who am I kidding? I'm definitely going to get this phone.
I just ordered a full cord of firewood for the fall. And I'm totally stoked. Shoutout to Firewood Chicago for making it so easy. Now it's time to set out the Solo Stove, pour a pumpkin beer and sit there watching the fire for like six hours in a row. Here's my review of the Solo Stove.
We're traveling to New Orleans for Kelly's family Christmas this year! Pretty sure she already told you about this, but let's talk about it some more. While I'll take any excuse to spend time in New Orleans, Christmas there is the best. Apparently the billions of dollars spent to protect the city from hurricanes was well-spent and that the city is actually recovering from Ida fairly well, despite its shortcomings. We'll spend the time with family and with, ahem, built-in babysitters so we can sneak out for some jambalaya and maybe a trip to The Quarter. I can't wait! Thank you to Patrick and Kim for hosting.