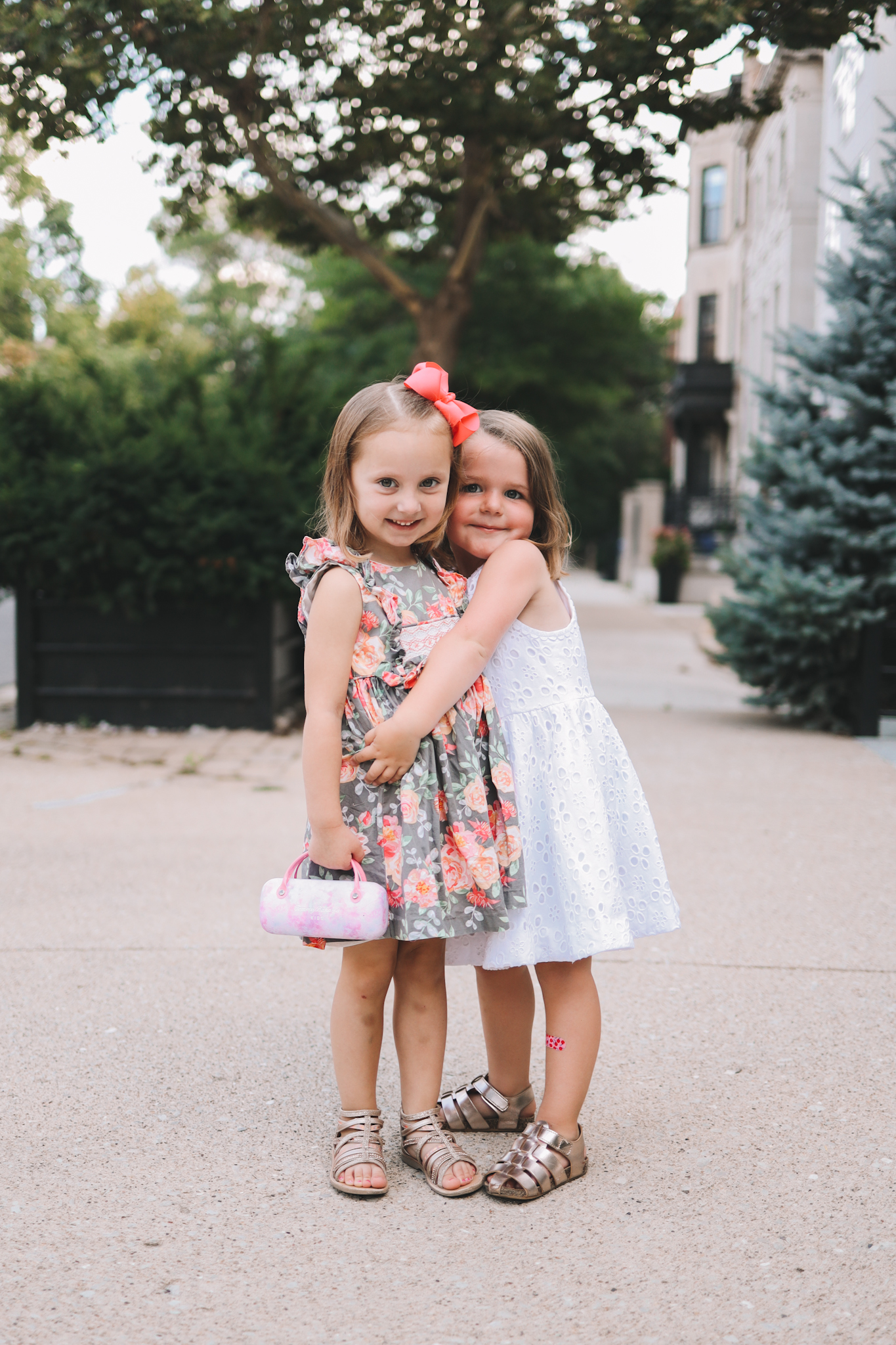 Lilly Pulitzer Kinley Dress (Last seen on Emma here!)
And I'm back with my weekly check-in! Here are the first 10+ things that come to mind today:
Emma's very small birthday party was a smash hit! I'm incredibly proud of our six-year-old. She recognized in herself—all on her own, too—that she is not a "huge party" kind of girl. She decided instead to have a small celebration with her three best friends (and Lucy's best friend). It was great. We baked, painted pottery at Glazed Expressions, went out for sushi, had a dance competition, did crafts and had the most epic sleepover—and then the next day we got pizza and had our nails done. It really was perfect, and when it was over, Emma said to me, "You know, Mom. I really like going out. With my girls." Oh, College Emma. 😉 You can see the video of the celebration in my Instagram Stories today!

I'm in love with Mille and Alice Walk. Specifically the first four products featured above! The brands are certainly an investment, but their pieces are so beautiful and well-made that they'll remain in closets for years.
I'm giving this banged up old play kitchen set—along with these play pots and pans and this coffee set—a little makeover with these acrylic paints. I'm not the craftiest person out there, but I do enjoy doing simple projects—especially when they're for the enjoyment of Emma and Lucy. Our beloved play kitchen (which my parents gave Emma when she was one!) is our most-loved toy, but the accessories are hurting. The wooden stuff, however, can totally be revived! Emma's really into pastels and anything metallic, so I'm hoping she'll love the updates. I'm doing it at night when the girls are asleep because acrylic paints + kids do not mix. ;)
Have you watched "The Bear" on Hulu? A+ from us! I feel like I probably talked about this last week, but I loved it. I also loved that it was set in Chicago. (Though the River North neighborhood is actually very, very nice in my opinion, haha.) We told my brother Patrick to watch it and he binged it in only a couple of days while taking care of the new baby. If you're looking for a new show, make this it!
I've fallen behind on this blog but loving life with the girls. We only did a week of camp this summer due to wanting to spend large chunks of time together in Chicago and wanting to travel to see family, and that was definitely the right decision for us. The blog's been down a lot but my cup is full and when I'm able to post more regularly, I know I'll be inspired and excited and not overwhelmed and depleted. ☺️

Above is what's caught my eye recently. My favorite Veja sneakers are on sale! Get them discounted here, but read my full review here.
Mitch's German exchange student from his high school days is coming in a couple of weeks! I'm excited. I've heard so many stories about Thomas from the Larkin Family over the years, but have never met him. He'll be in the Florida for work but is going to fly to Chicago to see us. How kind, right?!
We booked a date to spend a weekend with our friends Emily and Doug (and their three kids). Emily and Doug are some of our best friends, and we're always trying to get together. (They moved to Michigan a few years ago.) But somehow our schedules never line up. We've finally secured a weekend in September, though, and it's happening. The best part about our friendship is that we always pick up right where we left off. It feels like no time has passed—and that's something very special.
We got awesome new neighbors—with a dachshund mix. As you may know because I talked about it ad nauseam 😆, we were really bummed to lose two fantastic families on our block this year. We did, however, just gain new neighbors who are absolutely lovely. They don't have kids but they do have this adorable dachshund mix that Noodle is obsessed with. (Sorry, guys.) I know we're going to have many different chapters here on our block, and while it's been difficult to close this past one, opening new ones can be exciting and wonderful, too.

I adore this new J.Crew print. There's a lot of little girls' stuff in the print in the new arrivals section, too. It's obviously very similar to some Liberty prints, which is why I love it. 😜
Emma wants to go to Dubai. Really badly. She did an architecture unit in school last year, and has been obsessed with tall buildings ever since—namely the Burj Khalifa in Dubai. For now, we're putting together this Dubai lego set and watching videos about the city. 😉
We turned the girls' iPads into purely educational tablets. We actually put them away entirely this summer since life has returned to normal here. But there are some educational apps that we started to miss! (Math Wizard, Khan Academy Kids, Simply Piano, NatGeo/GeoBee, ChessKid, Times Tables, and Merlin Bird ID.) Our plan is to add games, Disney+ and YouTube Kids for travel (long car rides/flights) only. And day to day, we're going to have a 45-minute time limit. Fingers crossed this works well!
Lucy has a best friend. They're SO cute together. Lucy had a rough go of things early in life due to the pandemic, and she missed out on most playdates and mommy-and-me activities where great friendships often stem from. So I'm incredibly grateful that Lucy and Harper have each other. (And that her parents have become some of our best friends!) Kira is actually responsible for all of this. Thank you for linking us up, Kira!
Speaking of Kira, HAPPY BIRTHDAY, dear friend! It feels like just yesterday we were with your parents, surprising you on that cute patio under the twinkle lights. Sometimes I wish really badly we could go back to that time, but also, let's be serious: you and I were hot messes. BUT WE WERE HOT MESSES TOGETHER! 😆 I'm so proud of you for the life (and tbh, empire) you've built for yourself. Love you!
School starts next week. 🤯 I need to spend some time and re-read all the details and e-mails, go over important dates and whatnot, and make sure our uniforms still fit. I'm not ready, haha, but thank goodness Lands' End is on Amazon now.
Amazon Finds:
Have you visited Crumbl in Old Town yet? The sweetest family owns and runs it, and the cookies are amazing! A great place to visit the next time you're in the area.
One Home Project Every Day:

We hung a borrowed-from-my-inlaws outdoor TV on the deck! My father-in-law wasn't using it so he offered to let us use it for a while. It's raining today but we're really looking forward to doing family movie nights up there. :)
We made some BIG updates to the garage. Our garage has been a total disaster since we moved in. But we're slowly etching away at it and making progress. Last week, we installed a garage door opener, installed motion sensor lights, and bought a new lock for the actual door. Oh! We also installed a doorstop for it since it's always slamming shut on us.
We fixed our garbage disposal. The button was just attached to a chord that was kind of floating around the under-sink cabinet, and now it's installed onto the wall down there. Much better.
We replaced the ejector pump in the basement and installed a water alarm. Nothing happened, but we often think and panic about the flood we had in our first Chicago home. The ejector pump was 20 years old so it needed to go, and the water alarms give us great peace of mind.
We installed outdoor security cameras. Also peace of mind!
We practiced "one in, one out" and donated some old toys. Emma and Lucy donate old toys before their birthdays each year to keep the playroom under control and to share with children who are less fortunate. It's such a great life lesson, and I'm proud of them for their attitudes toward it—because it can be hard!
We hardwired the Ring doorbell, which used to run on batteries. It was always dying, and that obviously wasn't helpful, haha. Nice to have it always functioning now!