Ruffled Gingham Top (In chambray here) / Rag & Bone Jeans / Sam Edelman Sandals (Also love these! I have them in nude.) / Madewell Tote (More affordable here and here. Also obsessed with this gingham clutch and the new gold version, too! Here's the classic leopard.) / Monica Vinader Bracelet c/o
Yesterday was glorious. After a ridiculous week and a half, I took the entirety of Friday off because it was 78 degrees. Emma and roamed around the Armitage area of Lincoln Park in dresses, wandering in and out of stores and coffee shops… and then we met Kira at LPQ for coffee and snuggles. (Emma snuggled with Kira. I love Kira so much, but we just hug.)
What are you guys up to this weekend? Here are our plans:
We're driving down to my in-laws' lake house! It's about a 2.5-hour drive, but it's so worth it. The minute I step into the house, I feel completely relaxed. I love catching up with John and Lisa and seeing them with Emma.
My brother-in-law owns a chicken farm, and he's hosting an exhibit at the McLean County Museum of History today. Stop by and say hi! (Also, Mitch designed the ANE website. Isn't it cool?!)
We're visiting Mitch's grandparents!
We're drinking a lot of coffee, playing with Emma, and spending time outside if the rain holds off. It's supposed to be in the 60s today. :)
We're not working. I worked super hard this week to have a work-free weekend, and I can't believe that I'm completely free. :) This is the first time in a long time that my efforts have paid off, and I think a lot of it has to do with the One Month Challenge. (Update here!)
In other news, I LOVE this top. (It also comes in chambray.) As I'm sure you guys have noticed, I'm on a blue top/white jeans tear right now. But listen: It's takes a 70-degree day for me to break out the dresses. (Which I totes did yesterday. Tune back in on Monday for a cute outfit post!) I love, though, that I can look completely springing without sacrificing leg warmth by simply pairing bright tops with those white jeans and bright shoes.
And BAH! Guys, these pink sandals are such the staple for me this season. I have the worst feet in the world, but these are actually comfortable for me–which is crazy rare. It's probably the block heel and flexible leather, but whatever the case, I'm in love with them, and I apologize for how often I'll be wearing them this spring and summer. They just add the perfect punch to my looks!
(Also, in case you're wondering, the wrap top runs relatively true to size, but don't size up–especially if you're small in the chest area like I am. I'm wearing a size small, and it works… but I certainly couldn't go up another size.)
In other news, Noodle just ate all the cheese doodles out of my purse as I was writing this, so I'm going to go clean up that mess. ;) Happy weekend, guys! I'll be back tomorrow with another "Recent Finds" post. It's a good one!
xx
Kelly (& Noodle)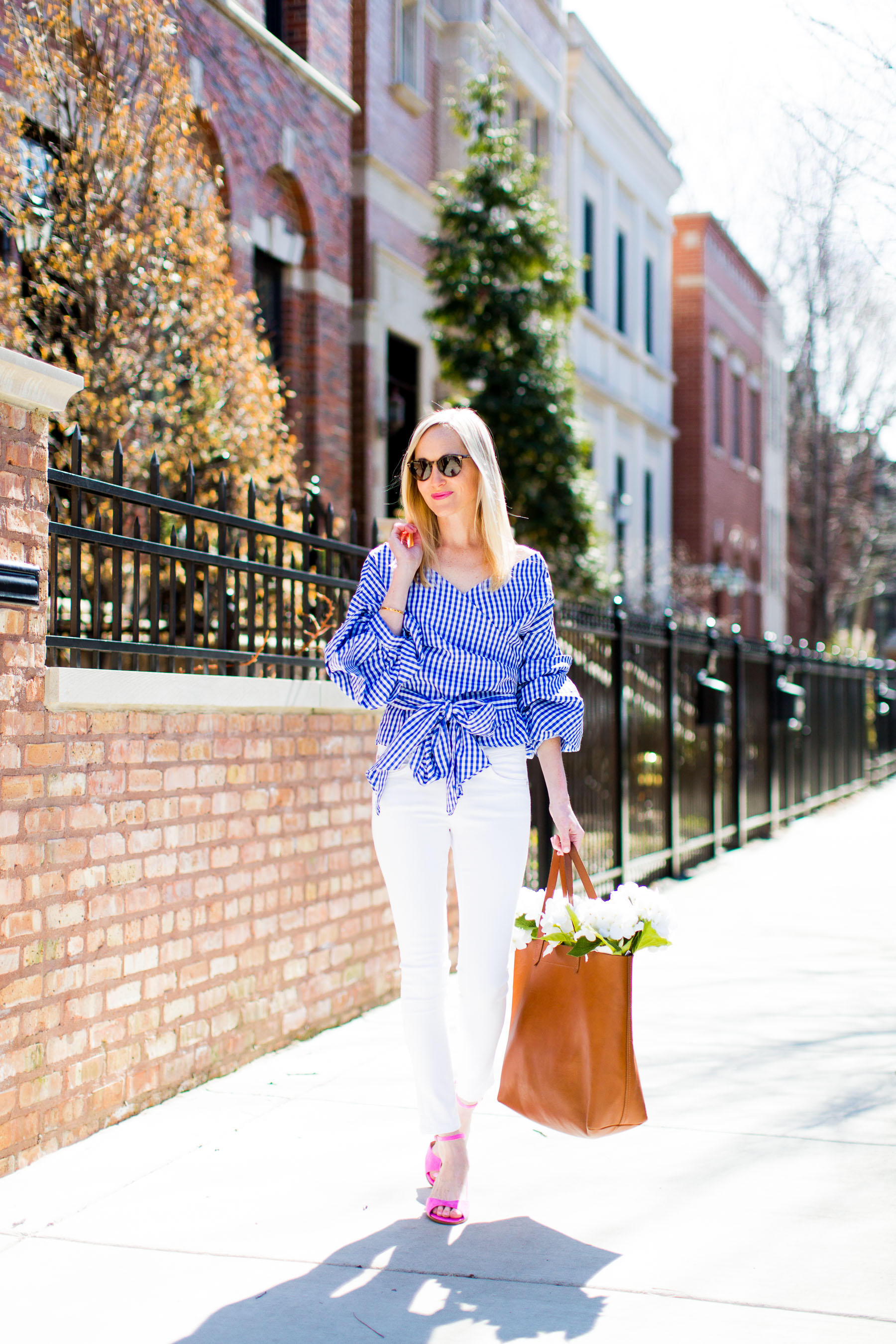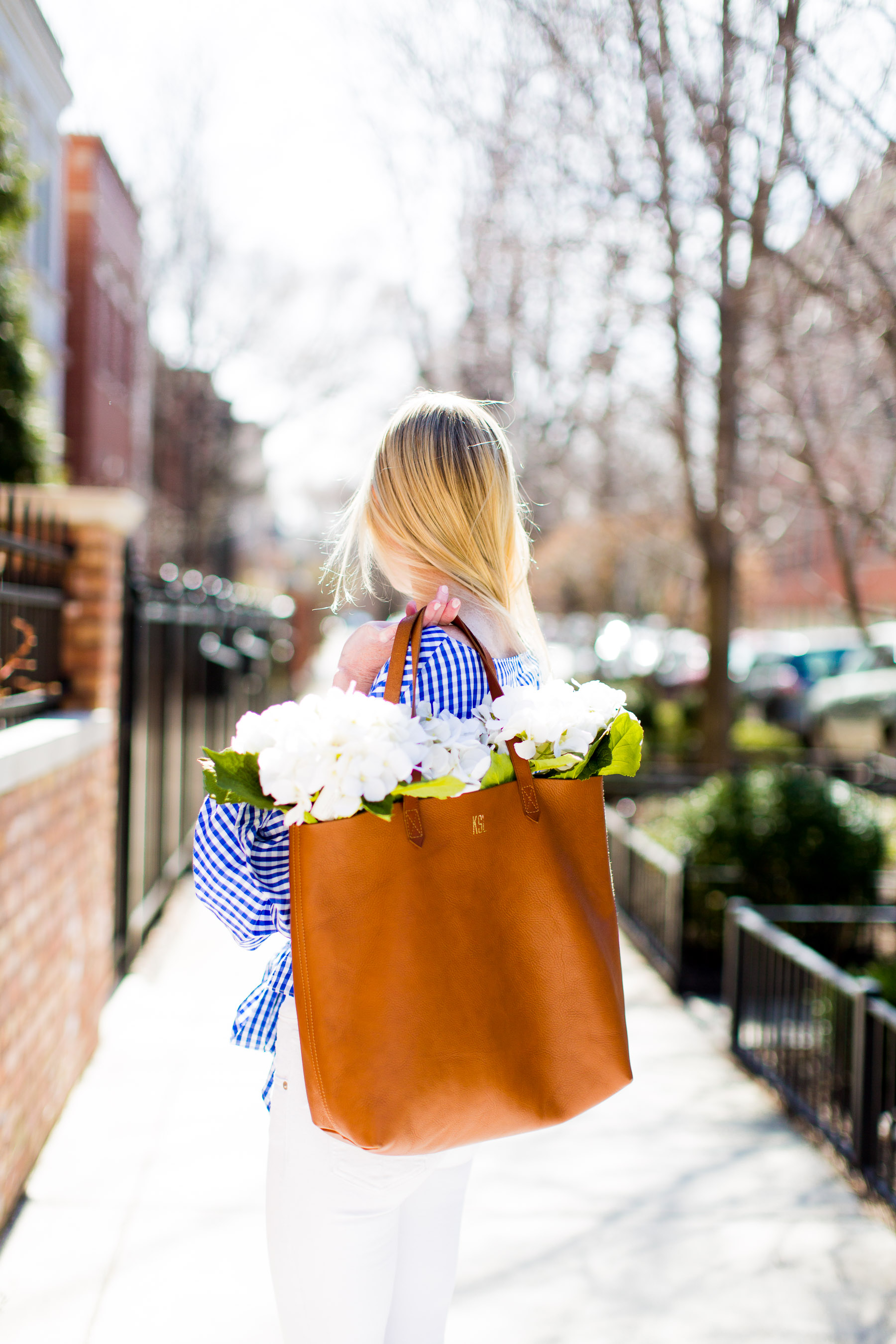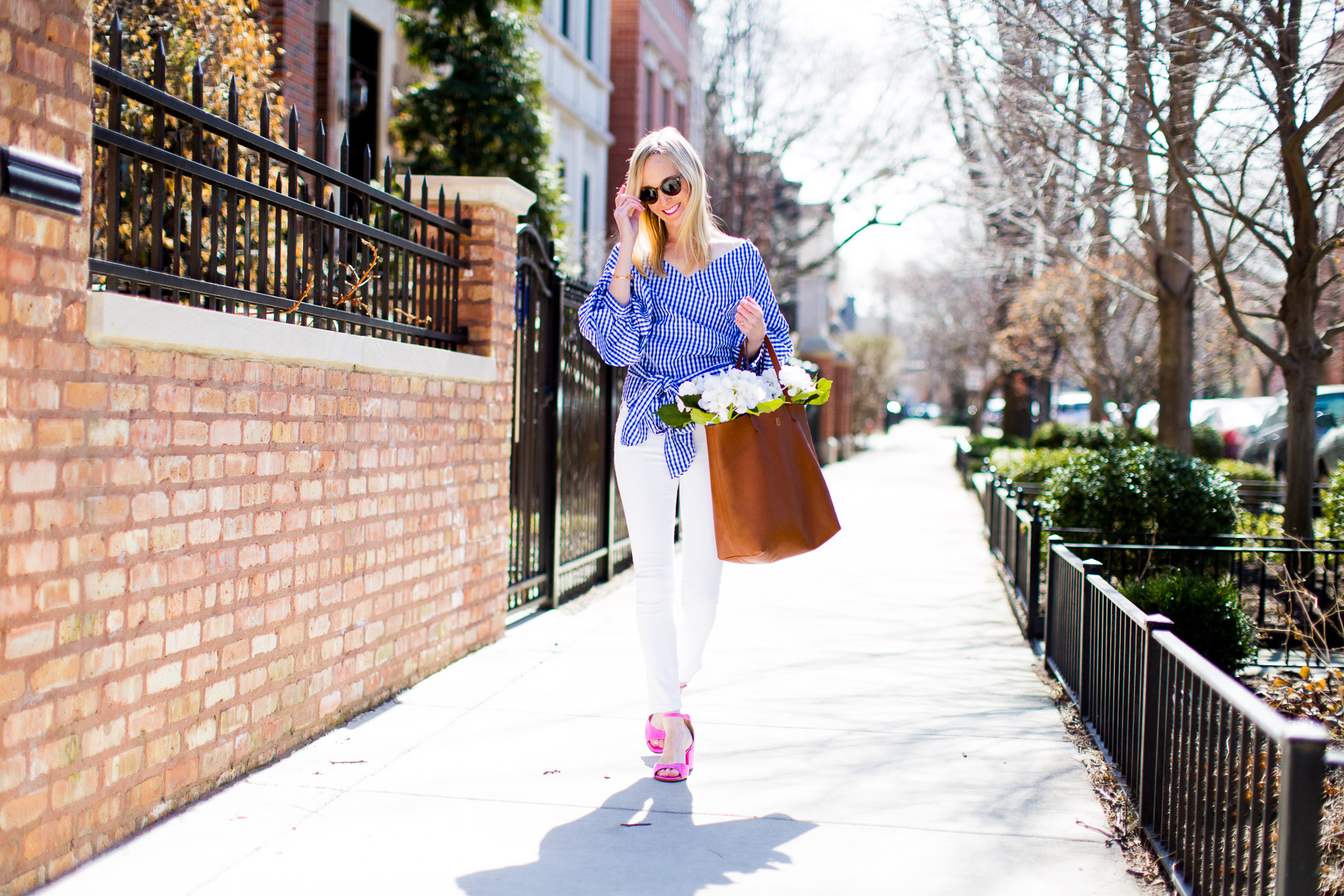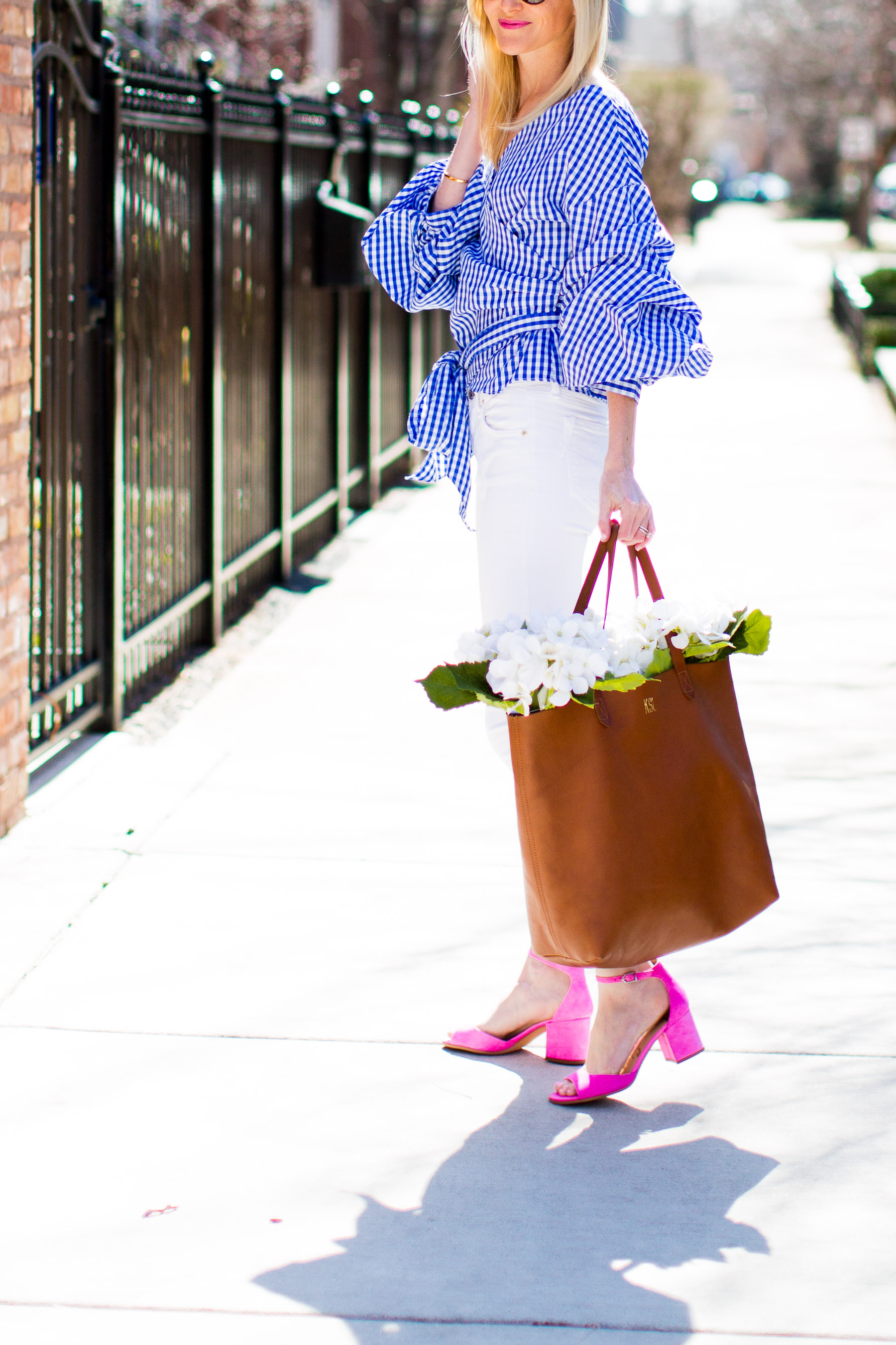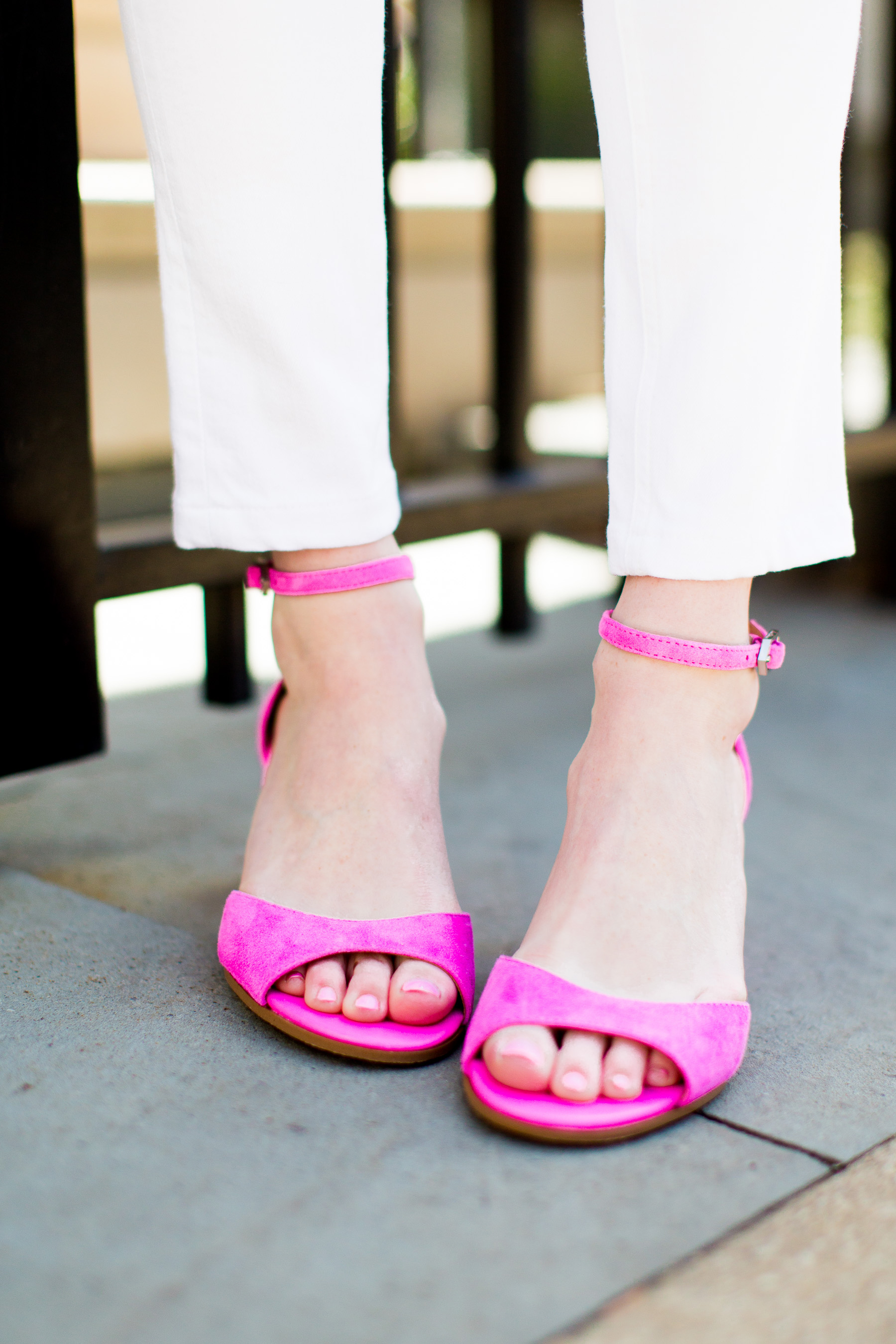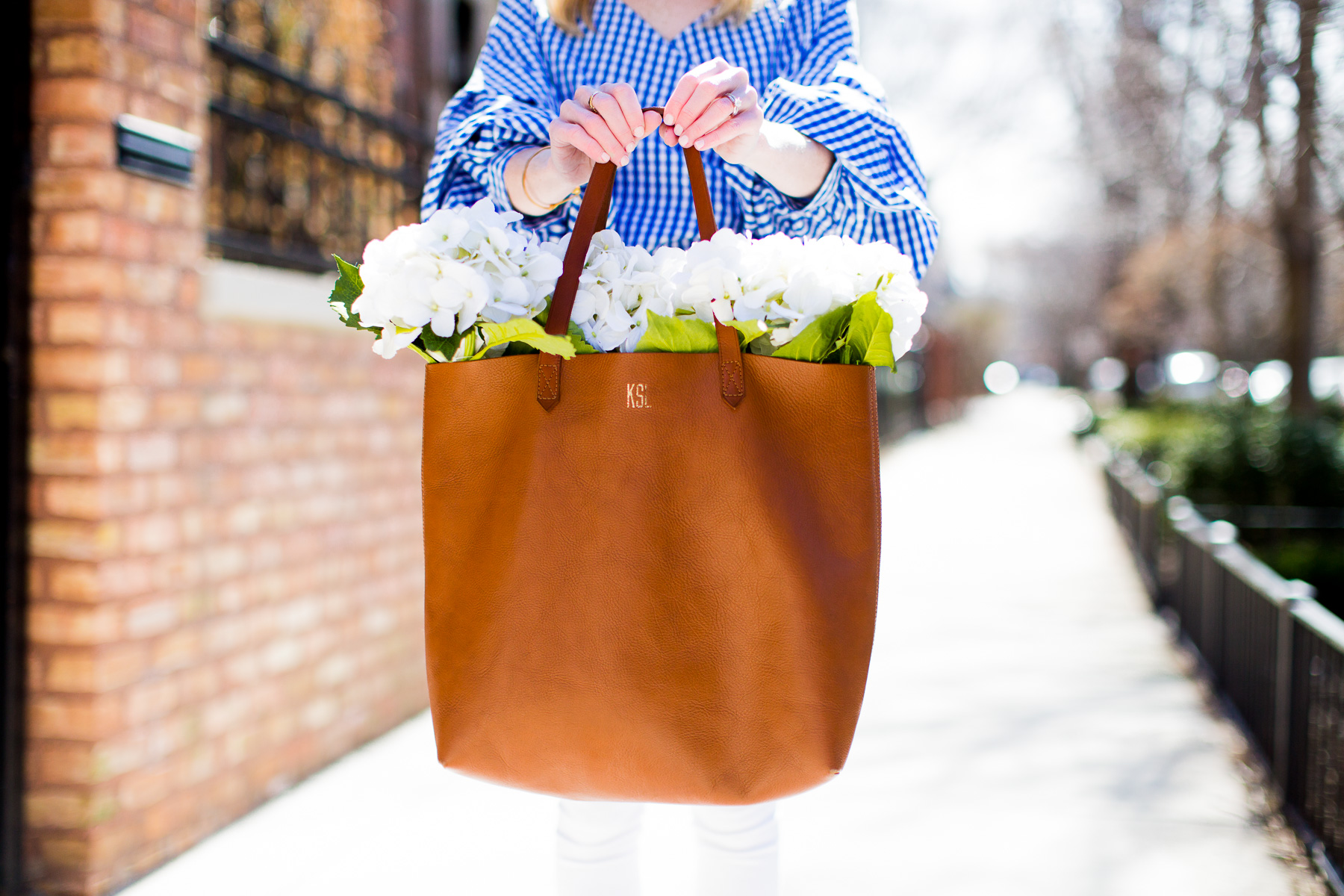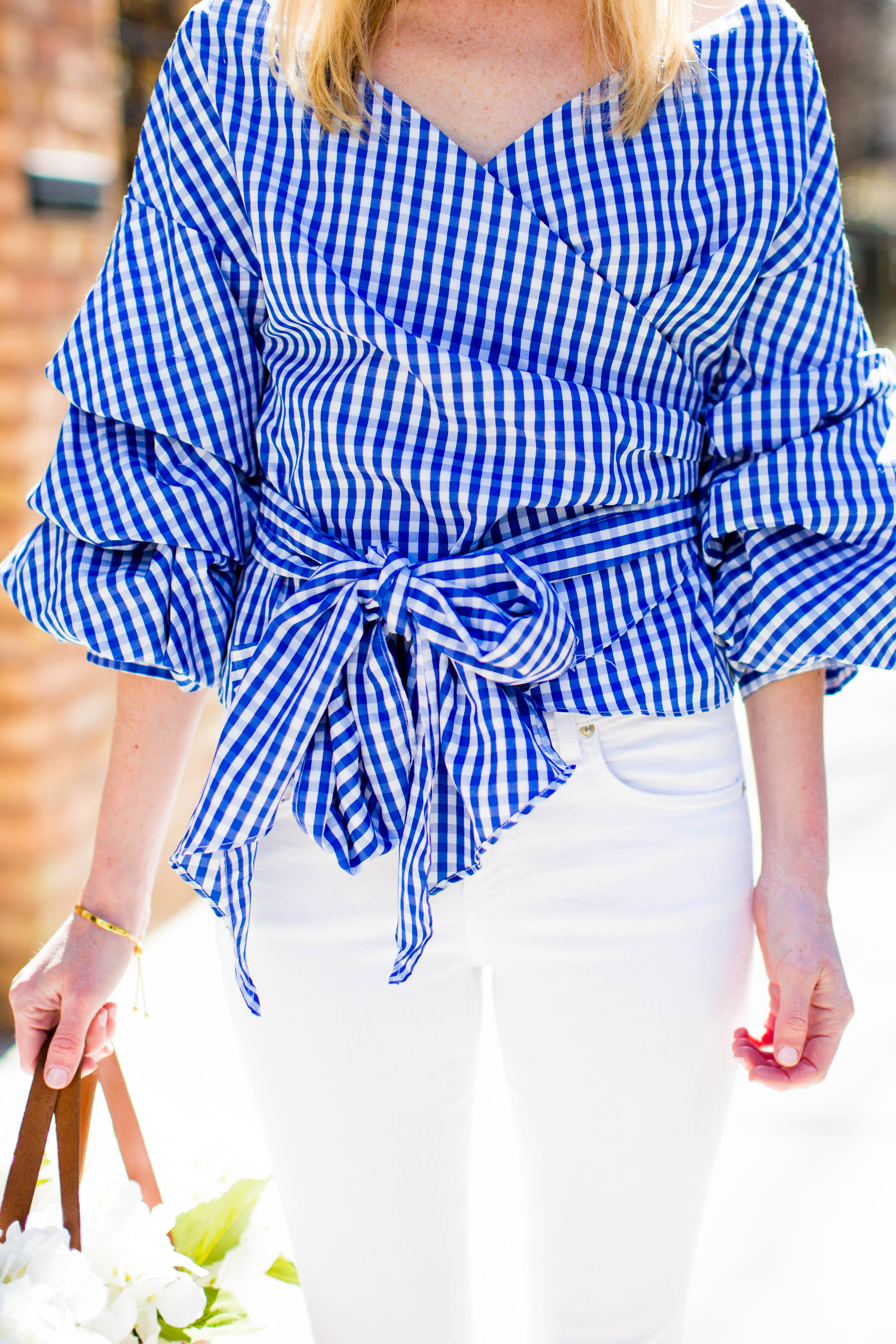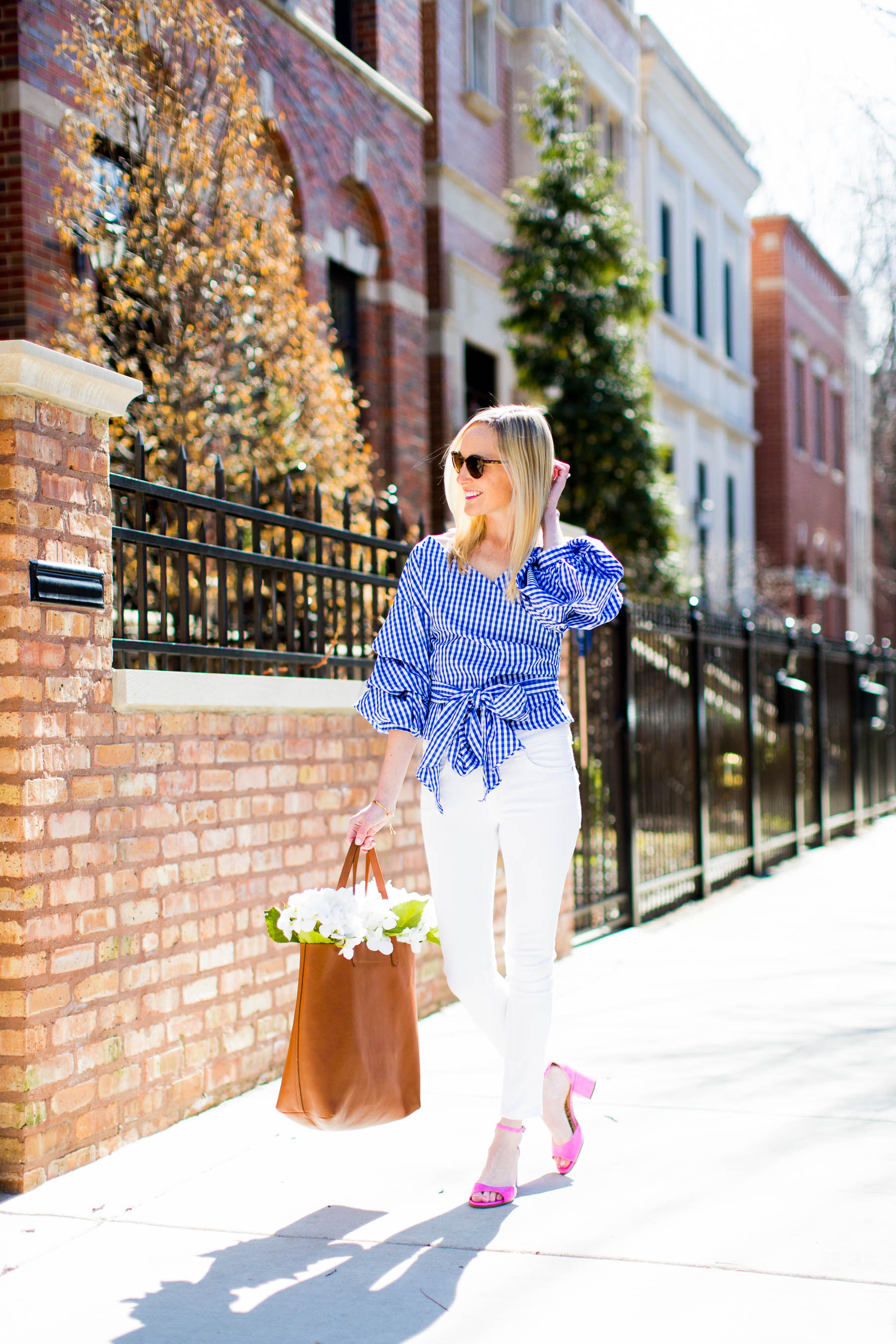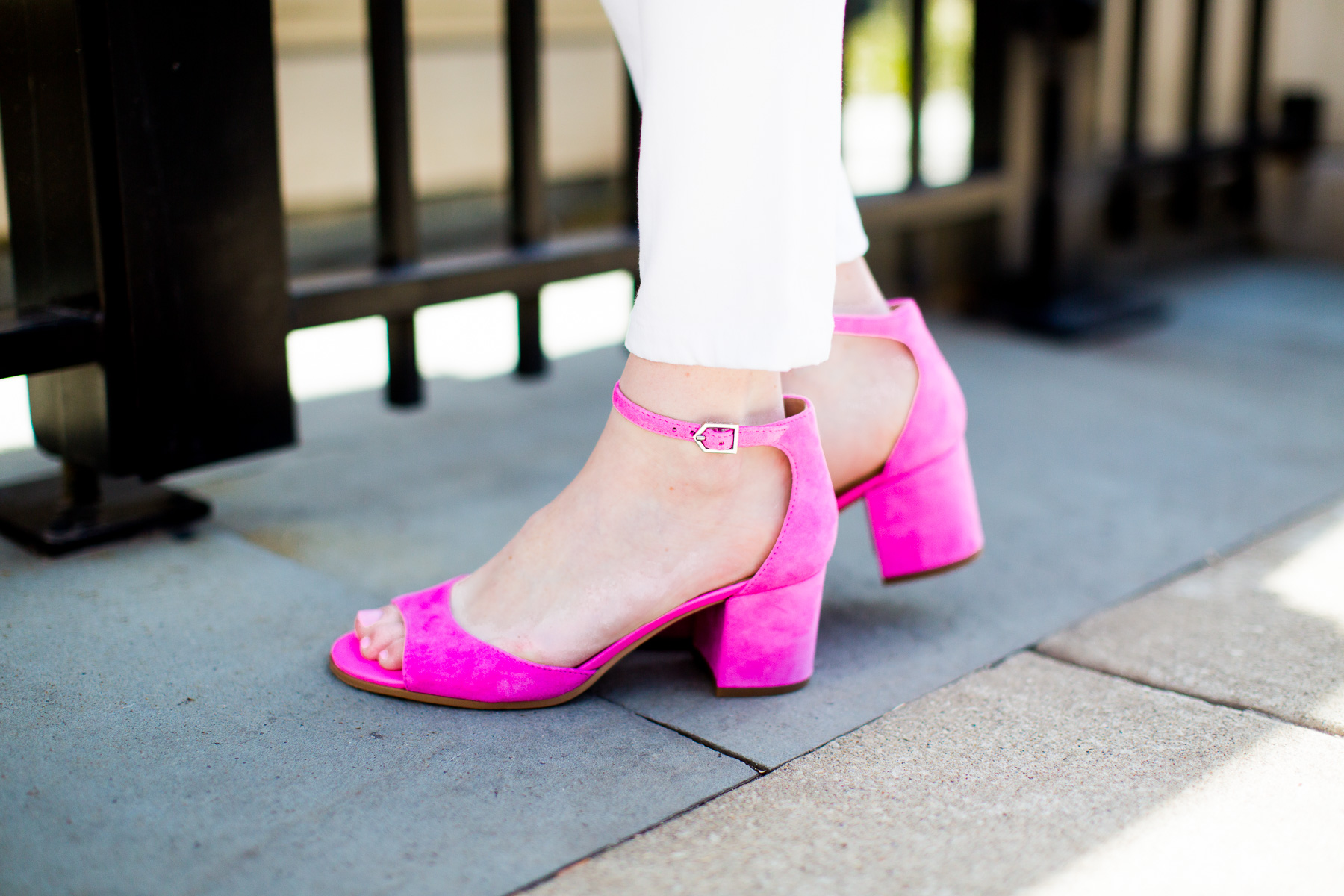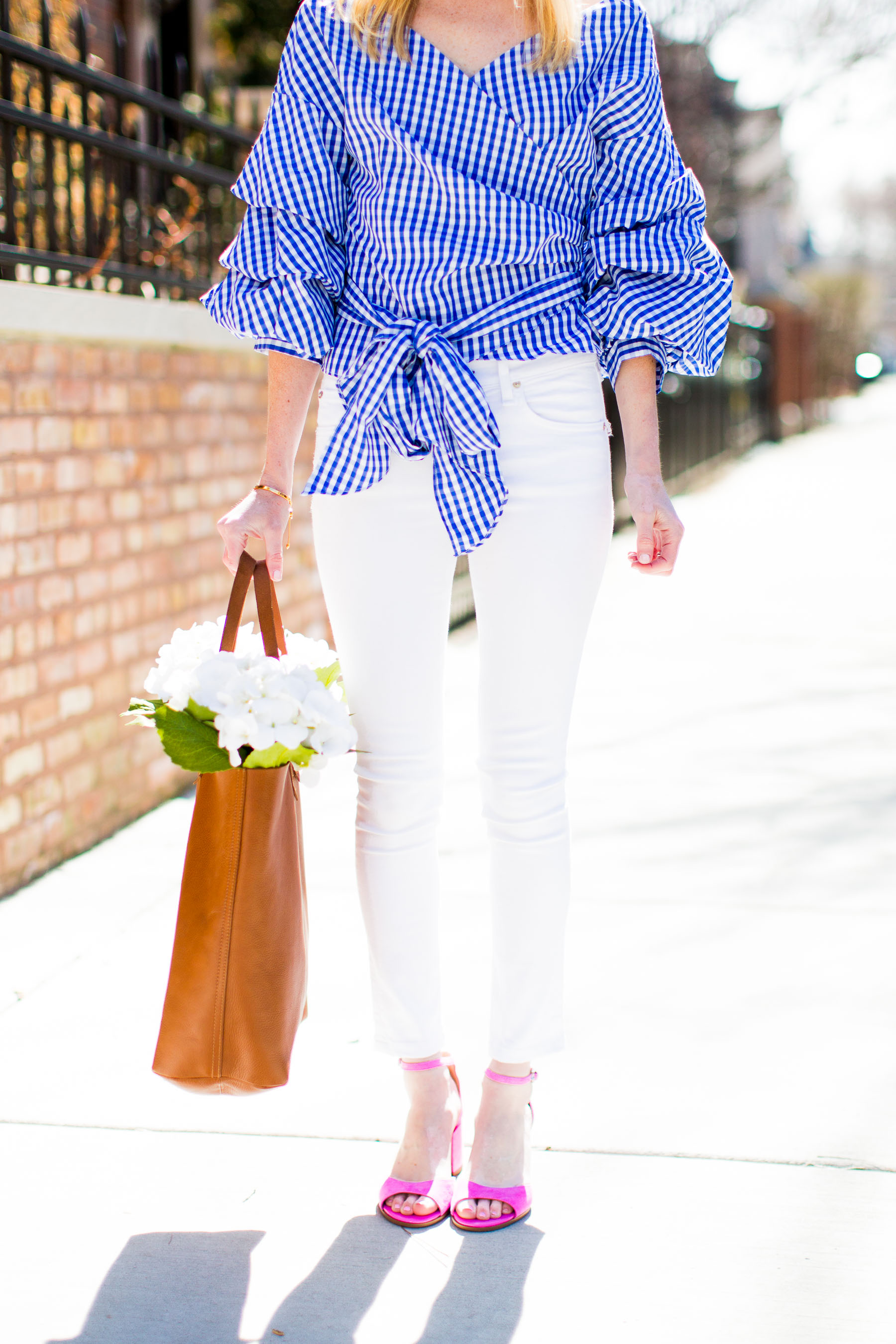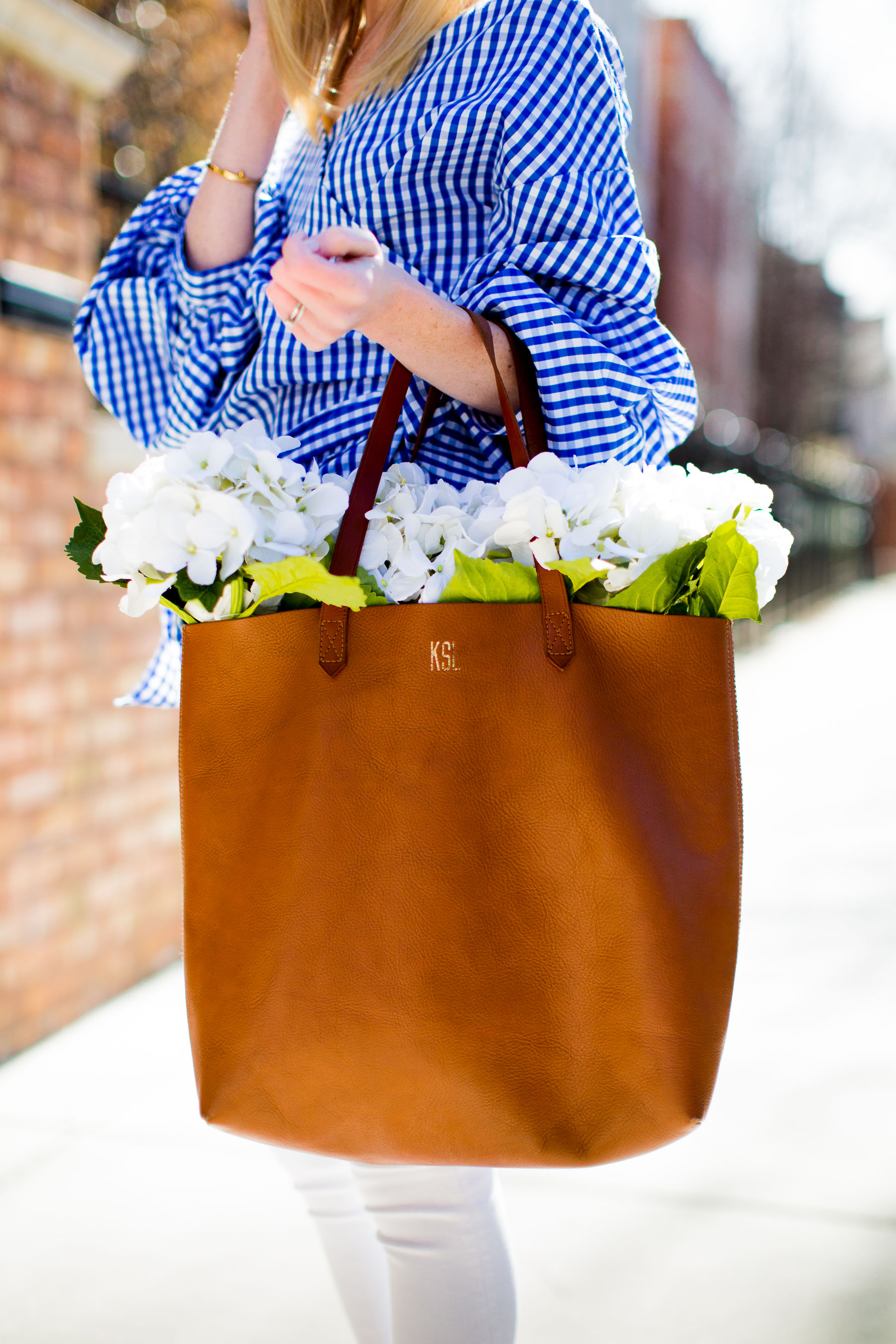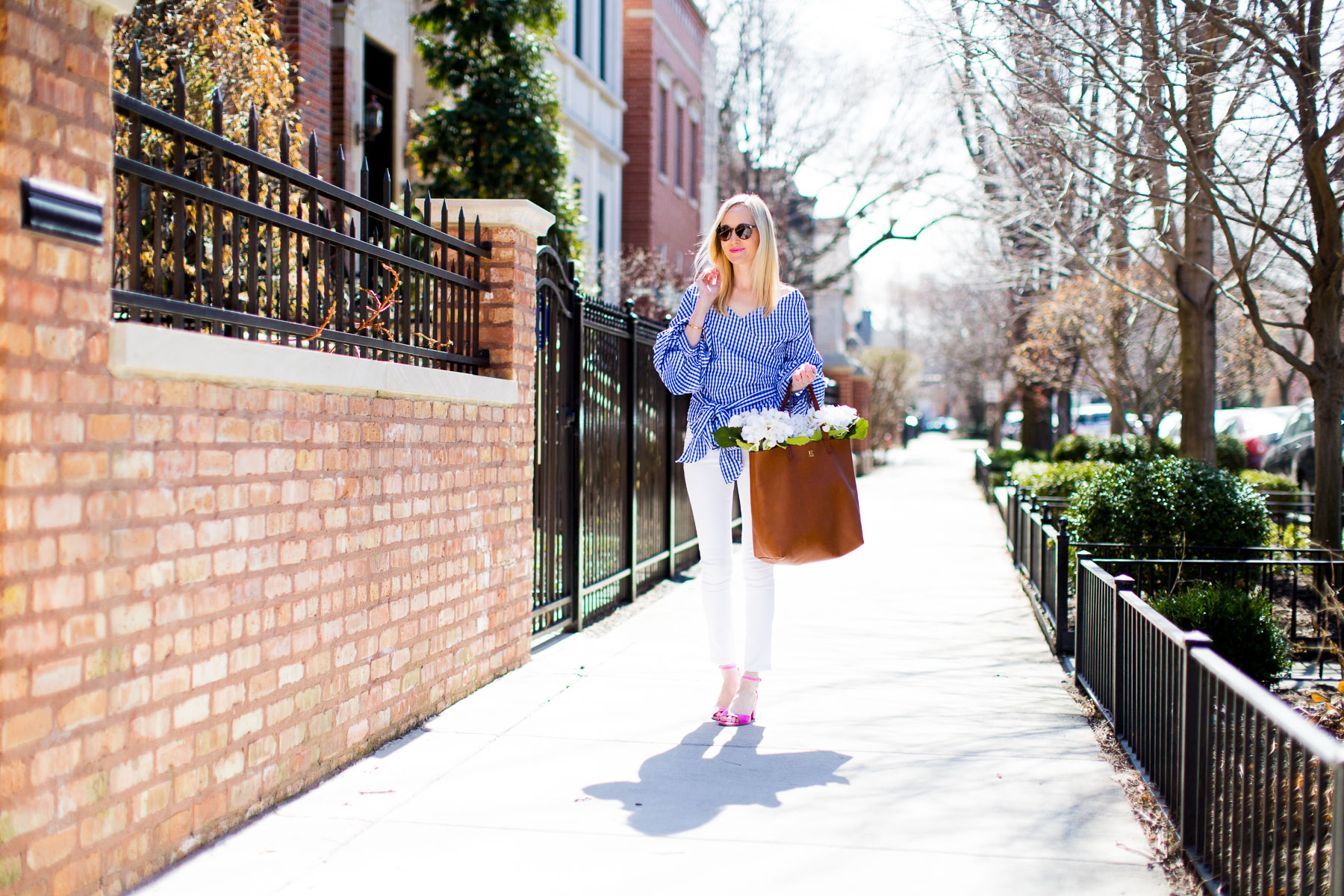 Shop the post:
Ruffled Gingham Top (In chambray here) / Rag & Bone Jeans / Sam Edelman Sandals (Also love these! I have them in nude.) / Madewell Tote (More affordable here and here. Also obsessed with this gingham clutch and the new gold version, too! Here's the classic leopard.) / Monica Vinader Bracelet c/o