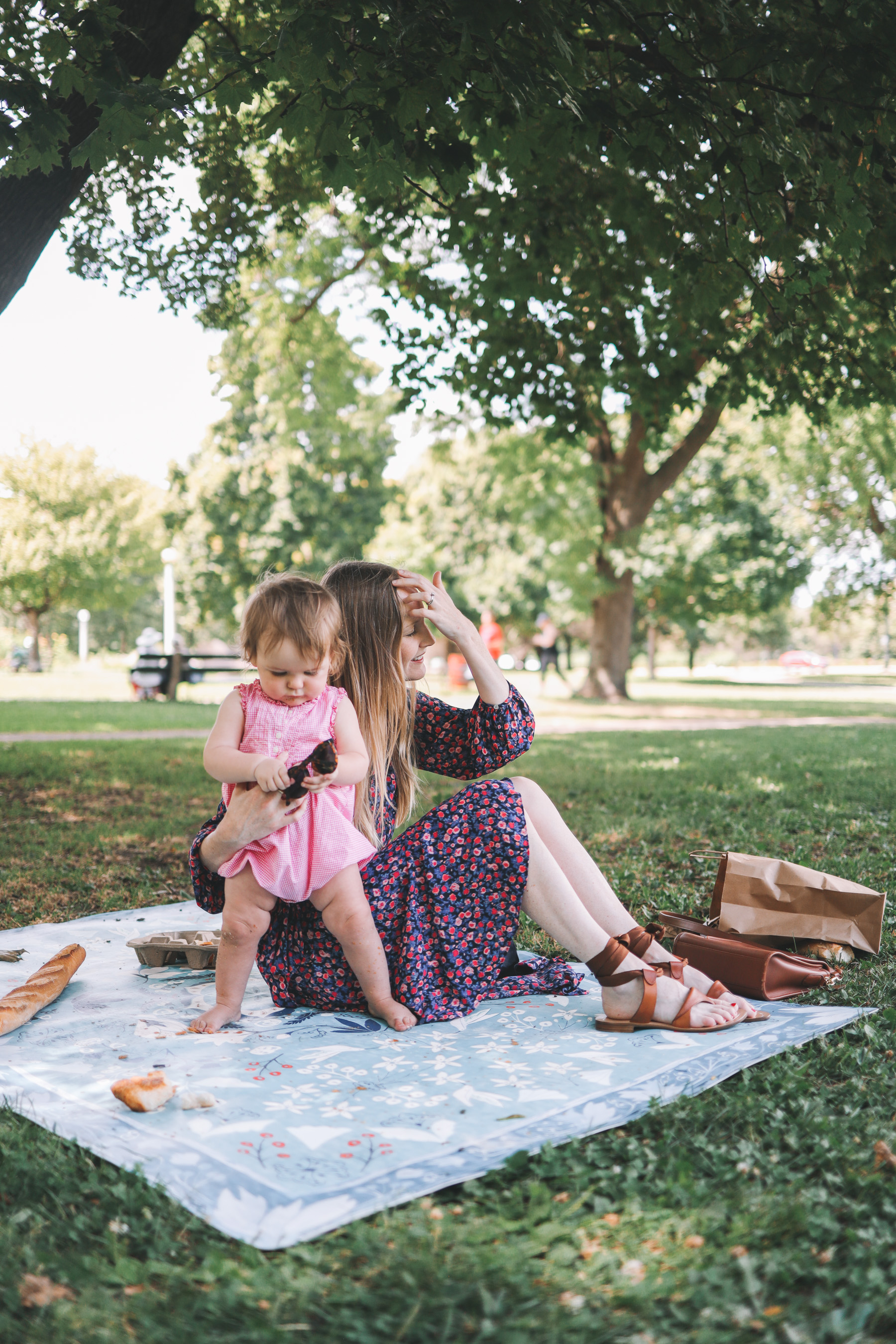 Old Dress (Similar Here, Here, Here and Here) / Sarah Flint Sandals c/o / Classic Coach Bag (Also at Coach) / Emma's Dress (Available Here and Here. Printed Version Here.) / Emma's Huarache Sandals / Lucy's Bubble (Old Ralph Lauren; Newer Version Here) / House of Noa Play Mat / Mitch's Vineyard Vines Polo
Don't say I didn't warn you.
There are a LOT of photos here. 😜 So feel free to skip over this post.
But if you're like me and enjoy mindlessly scrolling through photos these days–it's a calming activity, no?–then boom! This is for you. 😆
Despite the rainy forecast, Mitch and I decided to take Emma and Lucy over to the park one morning last week because we were all going stir-crazy. I'm so glad we did; it sprinkled on and off, but the air was thick with humidity and it was absolutely lovely. Mitch picked up baguettes and croissants at La Fournette (an incredible French bakery on Wells in Old Town), and we let the girls go to town.
The light was beautiful so I took my camera/lens out and probably snapped over 200 photos. My favorites are the ones of Emma running through the field and the ones of Lucy walking with me. (She's so close!) I prefer to be behind the camera–ironic, yes 😉–but I'm grateful that Mitch picked up the camera for those. :)
Oh! And I should add that Emma is responsible for the photo of the leaves. Every once in a while she asks to "be a photographer," and while it definitely makes me nervous to hand over my most prized possession, I always let her. (Strap around the neck at all times!) She's spectacular, if you ask me. Here are a few other pics she snapped last year with her kiddie camera!
Other than that, I should add that Coach brought its classic crossbody bag BACK. (Also available direct from Coach.) It's slightly different than mine, but man is it close. I can't tell you how much I adore mine; it was a gift from my parents years ago and it remains my favorite bag I own! The new version looks awesome, too.
Okay. Bored? Yes? Here you go.
Shop the post:
Old Dress (Similar Here, Here, Here and Here) / Sarah Flint Sandals c/o / Classic Coach Bag (Also at Coach) / Emma's Dress (Available Here and Here. Printed Version Here.) / Emma's Huarache Sandals / Lucy's Bubble (Old Ralph Lauren; Newer Version Here) / House of Noa Play Mat / Mitch's Vineyard Vines Polo