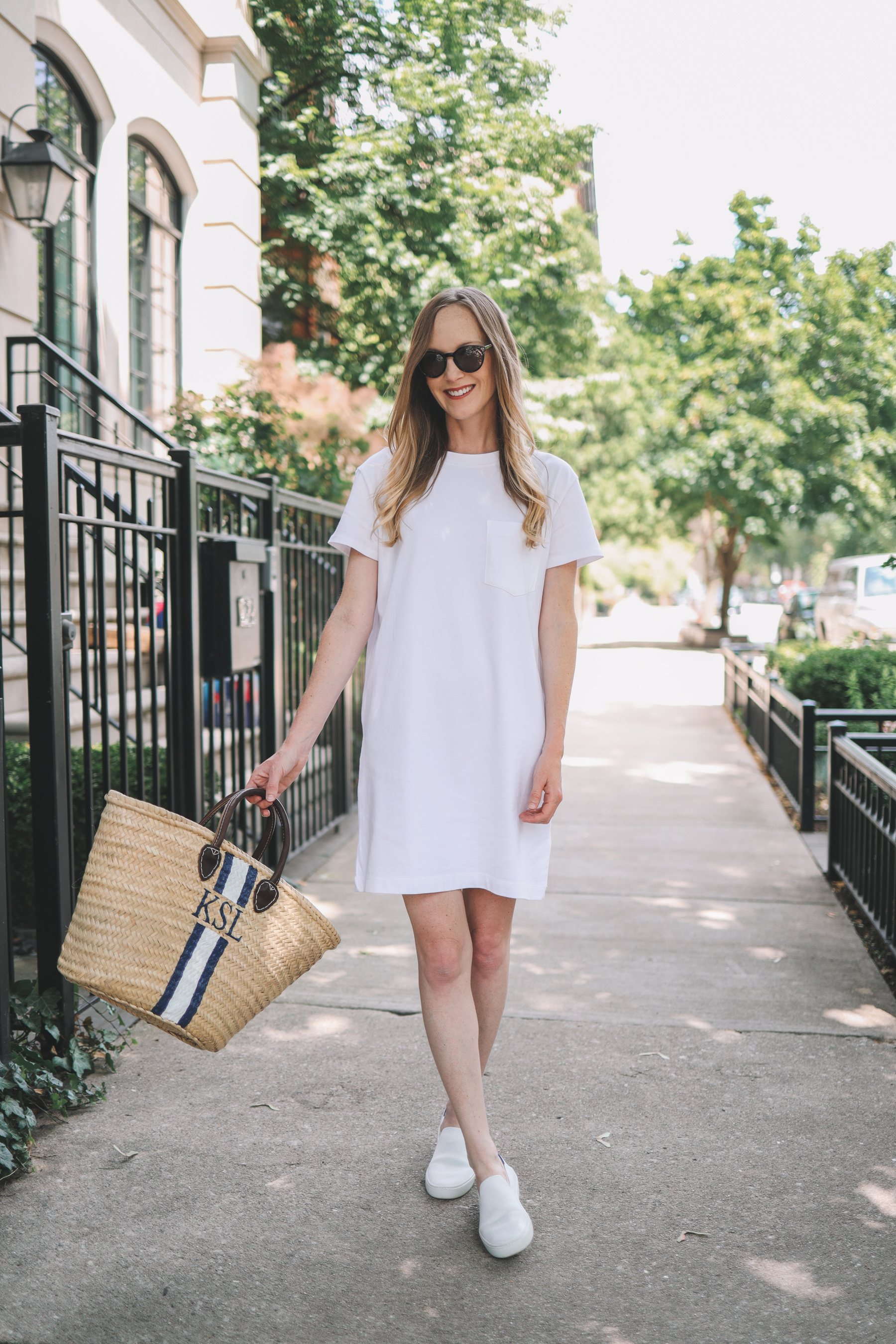 Gap T-Shirt Dress (Runs big! This gray t-shirt dress and this black t-shirt dress are AMAZING, too.) / Mark & Graham Tote / Rothy's Washable Sneakers / Similar Sunglasses here, here and here
As a followup to this post, let me introduce you to the pocket tee dress!
I looked at a bunch of different pocket t-shirt dresses, and this was my favorite. It's well-made and substantial… and it's not see-through but also not too thick to wear in the summer. Just right.
In terms of sizing, I would definitely recommend sizing down. I went one down from my preferred size, and it's still a little loose but in a great way. :)
I also need to be honest and say that I've been wearing these washable sneakers in most of my outfit posts because I keep them by the front door. 😆 I've had them for a long time and adore them, but if you're more of a lace-up kind of gal, try these. They're faves, too!
Hmmm… what else can I say here? I use this monogrammed bag as decor in our house but also occasionally grab it when I'm in a rush and need something to tote all the crap kids require. ;) It makes for a great gift, too!
Also, I put my mask in the tote for these photos because there was no one on the block. But please remember to put your mask up when near others. Let's keep each other safe! <3
Shop the post:
Gap T-Shirt Dress (Runs big! This gray t-shirt dress and this black t-shirt dress are AMAZING, too.) / Mark & Graham Tote / Rothy's Washable Sneakers / Similar Sunglasses here, here and here